By CAPosts 30 November, 2020 - 11:14am 80 views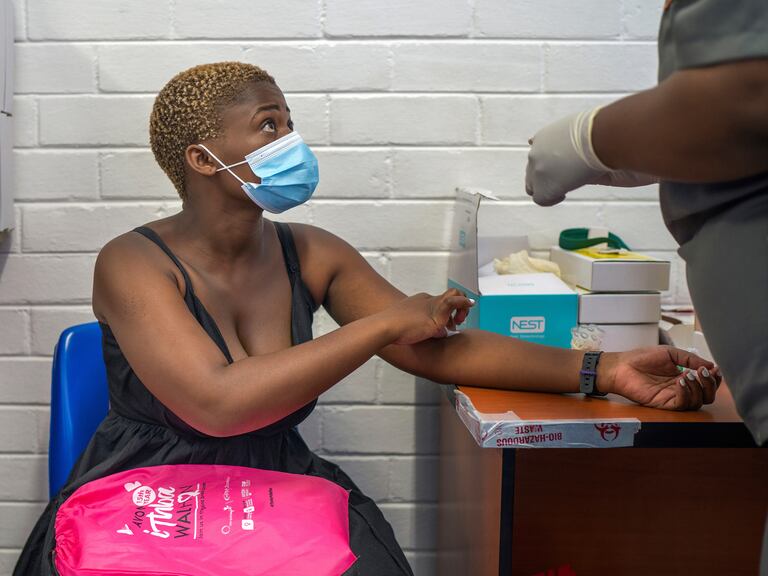 A volunteer receives the second dose of the AstraZeneca vaccine, in Johannesburg, South Africa, this Monday.Jerome Delay / A
P Despite the big announcements that the pharmaceutical companies have been making almost every day in recent weeks, the official procedure requires restraint. If this morning the American company Moderna announced that it was going to immediately request authorization for its vaccine against covid-19 from the European Medicines Agency (EMA, for its acronym in English), after ensuring that large-scale trials have shown a 94.1% effectiveness without any notable incident, sources from the Amsterdam-based agency responded, however, that they still have no news of that request.
The European Commission last week closed a contract with the Moderna company to acquire up to 160 million doses (with which 80 million people could be vaccinated, since it is double prick) as part of the so-called European Vaccine Strategy. At the moment, Brussels has signed agreements to acquire around 1,300 million doses from a diversified portfolio of six laboratories, among which are the three most advanced: Moderna, as well as BioNTech / Pfizer and AstraZeneca. .
Sources from the European Medicines Agency explain that they could issue their opinion on vaccines "if all goes well at the end of this year or the beginning of next year", in line with what European politicians have recently been affirming. The president of the European Commission, Ursula Von der Leyen, said 10 days ago that Moderna and BioNTech could receive approval from the EMA "in the second half of December."
The approval procedure requires that the so-called Committee meet of Medicines for Human Use (CHMP, for its acronym in English), whose members review all the data provided by the laboratories and claim, where appropriate, additional information they deem appropriate. Once all the evidence has been supervised and any doubts that may have arisen are resolved, they express their opinion. This EMA report then goes to the Commission, which is the one who makes the final decision on whether or not to commercialize the vaccine for the entire EU.
Normally, this evaluation process carried out by the EMA is slower. But given the exceptional circumstances caused by the pandemic, mechanisms have been enabled to shorten times. Since the beginning of the coronavirus crisis, they point out from the agency, they have been "available" to vaccine developers, who have been able to address them with any kind of questions. And they have also implemented a specific review procedure, which allows the data to be monitored "continuously" as it has been released. The three most advanced vaccines (Moderna, BioNTech, AstraZeneca) have been used for this specific procedure.
This "ongoing review" is one of the tools available to the EMA to accelerate the evaluation of promising vaccines or drugs during emergency situations . In the usual process, all data on the efficacy, safety and quality of a medicine as well as the necessary documents must be submitted before the evaluation of a marketing application. In this other case, the EMA can review the data as the studies become available, even before the laboratories submit a formal request. In this way, once the official marketing request has been submitted, as Moderna is supposed to do now, the way is paved for a much faster verdict from the agency
On the other hand, the European Commission confirmed today that Hungary will be able to approve On its own, the commercialization of the vaccine against covid developed by Russia, the so-called Sputnik V. To do so, Budapest will be able to take advantage of a "specific emergency procedure", allowed to all Member States, as reported by a Commission spokesperson . Although in this case, by declining from the centralized procedure of the EMA, it will also be the Hungarian authorities who "will have full responsibility for monitoring" and the commercial approval will only have national effects. "The vaccine can only circulate in Hungary," said the spokesman, who has made Brussels' preference clear: "We are in favor of an authorization through the EMA; this is the agency that exhaustively studies the safety and efficacy of vaccines before reaching the market. "
Source: Elpais
Related News