By CAPosts 28 February, 2021 - 01:59pm 73 views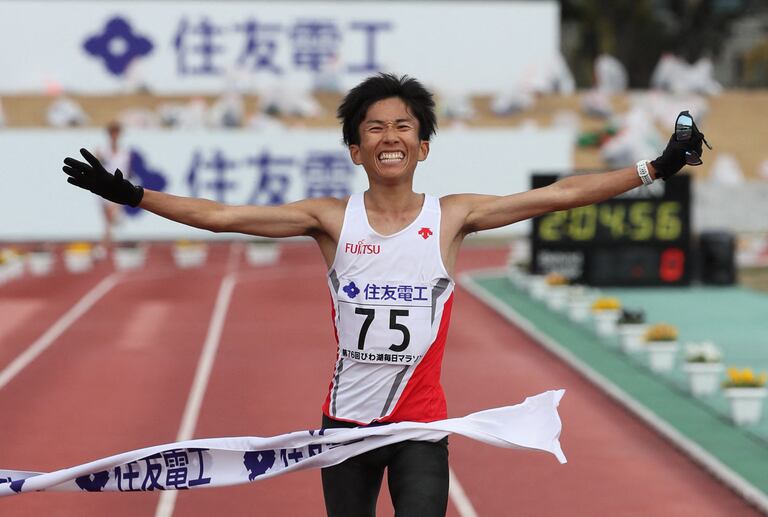 Kengo Suzuki, victorious in the Lake Biwa marathon.NAOKI MAEDA / AF
P In April 2003, when Kenyan Paul Tergat set the world marathon record at 2h 4m 55s, the world was amazed - if it can be lowered from 2h 5m, the last frontier, where are the limits of the human being, he wondered - and the specialists began a lively debate about the physiological characteristics that should be met to be a great marathoner and if in the future it would be mandatory to have been able to run the 10,000m in less than 27 minutes (like Tergat, who had done it in 26m 27s).
Tergat's record lasted four years. It was improved in 29s by another specialist in 10,000m, and in losing 27 minutes, the Ethiopian Haile Gebrselassie.
In the last world ranking , Tergat's mark occupies only 57th place, only one ahead of that occupied since yesterday by a Japanese 25-year-old named Kengo Suzuki, who by winning the historic Lake Biwa marathon with a time of 2h 4m 56s became the first non-African-born athlete to run the 42.195 kilometers in less than 2h 5m.
Suzuki's feat - an athlete whose best mark in 10,000m is a mediocre 27m 49.16s and who in the marathon had not dropped below 2h10m — arrives accompanied by a barrage of extraordinary marks from dozens of participants equipped with the latest models of shoes. "42 Japanese athletes have dropped from 2h 10m; Throughout history, 21 Spaniards or 17 British have achieved it. Eight Japanese fell from 2h 10m in 2019, today there were 42. And be careful, 174 have fallen from 2h 20m! ", The Spanish statistician Miguel Villaseñor tweeted yesterday, stunned. This river of records has not been received with enthusiasm and praise for the great depth and great love that exists in Japan for cross-country athletics, but with weariness, almost sadness, by a hobby that recalls the times when the EPO did ravages records and accepts as prophetic the recent words of Geoff Burns, a specialist in biomechanics and athletic shoes: "Time is the currency of athletics, but a number of shoe manufacturers have printed a lot of banknotes. more, and that has led to unstoppable inflation. So we should stop getting excited about big brands. Everything has changed. "
Burns refers to the shoe revolution initiated by Nike almost five years ago with the widening of the soles to 40 millimeters thanks to the use of very light foams and carbon plates that secure them and reach act as springs. The international federation has accepted them in its latest footwear regulation and there is no large manufacturer that does not already have its atomic model .
"I did not expect this brand at all," acknowledged Suzuki, who wears Nike shoes . "In the last marathons I always sank in the last kilometers, and this time I have even accelerated."
"The improvements that have allowed so many long-distance athletics records in the last three years are technological and not physiological," he warned just one year ago. couple of months a group of researchers in biomechanics, physiology and sports science, among which is the Spanish, from the University of Zaragoza, Borja Muñiz, and the British Yannis Pitsiladis, physiological trainer of the great Kenenisa Bekele, who never benefited of the new shoes, in his frustrated attempt to get off two hours. "In the physiology of the human being, the great leap, the great event, has not been taken, which explains that in three years all world records of 5,000 meters onwards have been improved," reads his study, published in the Sports magazine Medicine. "However, in technology there has been that great leap forward."
"When technology allows so much energy savings that the physiological value of athletes is distorted, we must act," says Muñiz, who recalls how inflation swimming records led the international federation to ban full-length swimsuits in 2009. "The soles should be reduced to a maximum of 20 millimeters, a thickness that hardly influences, and erase the records achieved with current shoes."
Source: Elpais
Related News