By CAPosts 23 February, 2021 - 07:27am 73 views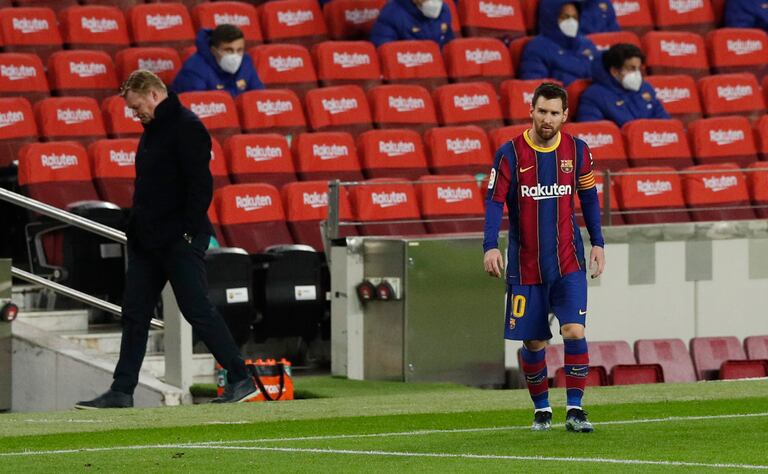 Koeman and Messi, during a game this season.ALBERT GEA / Reuters
When Ronald Koeman arrived at the Barcelona dressing room, he dedicated himself to having individual talks with each player to explain what he expected of him and how things were going to work out. "Very direct and very clear. It doesn't fool you. And in the end that is what a footballer wants, to know where he is ", says a veteran of the Barça dressing room. Over time, the relationship between the dressing room and the coach is more than good because the group considers that it is quite fair with its decisions, even though it pulled gallons against PSG with the return of Piqué after three months without competing. But they suffered a hit (1-4) and the central, Alba and Busquets came out in front of the buses to exonerate the coach. Now, however, the ball has returned to his court. "The results of Paris and Seville (2-0 cup defeat in the first leg of the semifinals) have hurt us. But we are Barça and we should be proud to play here. The captains and experienced players have to create the environment to go for it all. " It all starts with Elche (Wednesday, at 9:00 pm; Movistar) , now that the team is eight points behind the leader, Atlético.
Koeman, after the draw against Cádiz: "I'm more disappointed than against PSG" Barça He is also leaving the
League. It is known that Messi does not convince with words but with his feet, while Busquets and Sergi Roberto prefer dialogue to a scream. I hammered yes that imposed his voice before the PSG , but of little served. "I think we have leaders and captains like Piqué, Sergi Roberto, Alba, Busquets and Leo . There is enough personality. But these are the ones who have to lead the way because they have quality, a lot of personality, they have won a lot and they are important to demonstrate to young people, "explained the coach. It happens, however, that for the moment the path is crooked, the Super Cup team has dropped and the titles are about to expire. "The mood has dropped a bit. It is normal. But in football there is a game every three days and if we win tomorrow it will be totally different ", agreed Koeman, who has gone from saying that the Cup is the shortest path to the title to focusing again on the League. "I feel responsible and it affects me. But I can't lower my arms or my confidence because I tell the team that we can because no rival is going to win every game, "he reasoned. But he insisted: "That is why we must put the energy that we exhibited during the last matches. Going back to that image is important. "
Although it will not be easy for this Barça, punished without remission for its weakness in the areas, as foolish in the shot as wrong in the key plays near Ter Stegen. As against Cádiz, when Lenglet committed a penalty on the horn that cost Barça the draw. "I have spoken with him and as he is a serious player, a very good professional, he takes it too personal. But it is not only a player to blame. Yes, it is a play in which he can do better, but more mistakes have been made by other players because we were able to sentence well, "said Koeman, who elaborated:" It may be that we are a little afraid when we only have one goal difference on the scoreboard and that has cost us games. But we can't go for a defense alone. It's hard for us to play the last leg of the game because we failed up and back… But it's also very bad luck. It seems that the opponents with very little score ". And the Barça does not do it neither to the rainbow. "The problem is not that we don't believe, that that would be worse. But I do have to ask for more effectiveness because this season we are missing, "he slipped while pointing out Dembélé:" One of the two he had against Cádiz should have gotten into it. Not only him, but we lack the effectiveness of several midfield players upwards. "
Barcelona is playing its future in these two weeks -" we have three vital games for our ambition ", warned the coach - and Koeman, who has always given opportunities and reel to young people (Ansu, Pedri, Dest and De Jong as well as Riqui, Araujo or Mingueza) once again made the roadmap clear:" We give many opportunities for young people because we have them and they are very good. But I don't think now is the time to take on more people… I always think of the young, I'm fair, but to get the chestnuts we need the experienced ". The ball is yours.
Source: Elpais
Related News