By CAPosts 02 December, 2020 - 02:54am 214 views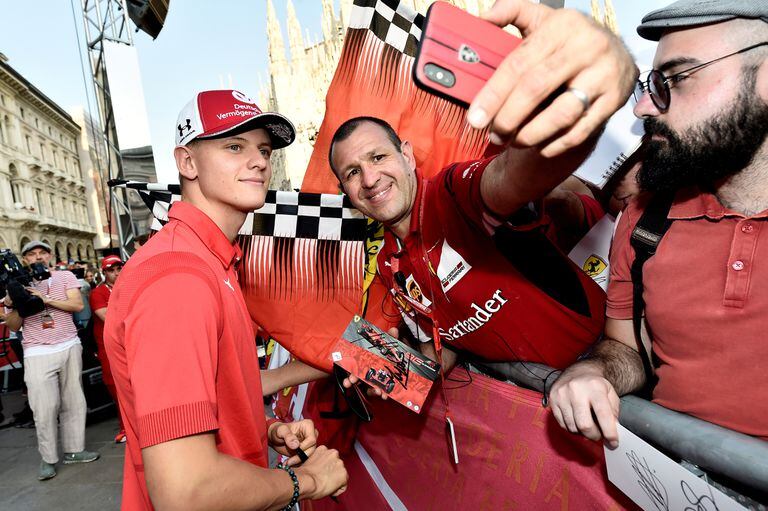 The pilot Mick Schumacher poses for a 'selfie' at an event in Milan.FLAVIO LO SCALZO / Reuters
With the title already in Lewis Hamilton's bag, a week that was predictably soporific has turned into a volcano erupting in big news significance for the Formula 1 World Championship, both this season and the one to come. Apart from the horrifying accident that Romain Grsojean suffered last Sunday in Bahrain - the Frenchman was discharged from hospital this Wednesday morning - the most relevant operation, or at least striking, is the one that will lead Mick Schumacher to debut the course that comes in the contest that made his father, Michael, a true icon of car racing. Schumacher, 21, who is about to be proclaimed F2 champion this coming weekend, at the Sakhir circuit, will promote F1 with Haas and a grant from Ferrari. The German is part of the Scuderia's driver development program, which, in turn, has the right to choose one of the two riders of the American structure, to whom he supplies the engines of his single-seaters.
"The fact that he will be part of the F1 grid next year makes me extremely happy and leaves me speechless, "agreed Schumacher in the statement issued this Wednesday. "Apart from thanking Haas, Ferrari and their training program for the trust they have placed in me, I want to make evident the love I feel for my parents, to whom I owe everything," added the boy, who in 2021 will share a garage with another rookie, Russian Nikita Mazepin. The Kaiser's son, who was due to make his official F1 debut with Alfa Romeo during free trials of the last Eiffel Grand Prix that were canceled due to bad weather, will hit the track on Friday next week, in Abu Dabi and Haas, in the first free practice of the last stop of the season
First exam for Mick Schumacher Mick Schumacher will test with Ferrari at the wheel of a formula one Ferrari takes over Mick Schumacher
Another issue that monopolized the spotlight Of attention in the last hours was the positive in coronavirus of Lewis Hamilton, who will be forced to miss the Sakhir Grand Prix that this Sunday will be held again at the Bahrain circuit. The Briton, who remains isolated and with mild flu symptoms, will be replaced by Goerge Russell, the current Williams driver who competes under the Mercedes umbrella. Russell, one of the top-rated young British talents, is last in the overall standings, failing to score a point, although most of the responsibility for that lies with the car he drives. The 22-year-old from Norfolk will in turn be replaced by his compatriot Jack Aitken, who currently disputes the Formula 2 championship with Campos and is 12th in the table.
Source: Elpais