By CAPosts 13 January, 2021 - 09:11am 46 views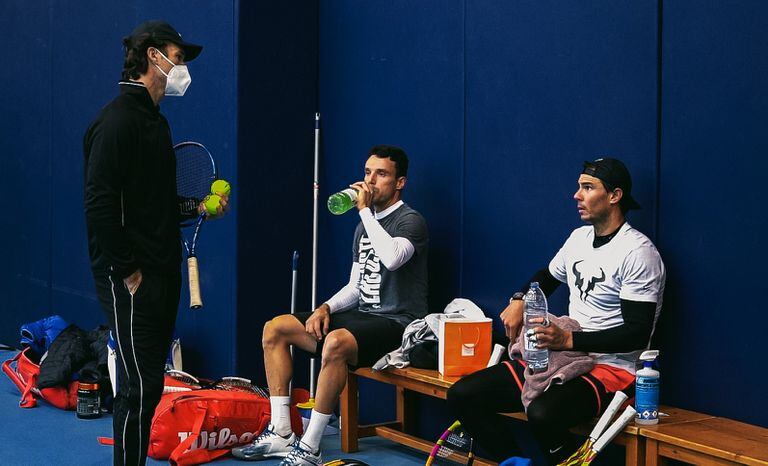 Moyà, Bautista and Nadal, during a recent training session in Manacor.Rafa Nadal Academy by Movistar / GTRES
The protocol designed by the Australian authorities for the celebration of the Australian Open, as well as the events prior to the first big of the season, will prevent Carlos Moyà accompany Rafael Nadal on the bench at the tournament that will take place in Melbourne from February 8 to 21. This was transmitted by the coach this Wednesday, in an information that was later expanded by the team of the champion of 20 majors.
"After talking with Rafa we have decided that I will not travel to Melbourne with the team. My intention was to be there as every year, but the Australian government does not authorize to travel separately and arrive for the beginning of the tournament ", explained in a statement Moyà, former number one and winner of Roland Garros in 1998; "This time it will be my turn to see him from home, since it is time to be with my family, parents and children, due to the delicate situation that is being experienced in Spain with the coronavirus."
In this way, it will be the Barcelona-born Francis Roig the to lead Nadal in the first big appointment of the season, which had to be delayed for three weeks due to the spread of the pandemic and will take place under a demanding protocol imposed by the country's government and health authorities. Following this script, the Manacor tennis player must land in Melbourne from January 15 to 16, and once there, attend to a series of mandatory measures that were already implemented in the last campaign both at the US Open and at Roland Garros. Like the rest of the tennis players, Nadal, 34, will comply with the strict quarantine and will live in the bubble designed by Tennis Australia (the local Federation) to try to minimize the risks involved in holding an event of such characteristics, which finally it will have 50% of the capacity that traditionally goes to the extensive Melbourne Park complex. The Balearic, champion in 2009 and finalist two years ago, will prepare together with Marc López, with whom he won gold in the doubles of Rio 2016.
Before competing in the first major, Nadal will participate in an exhibition in Adelaide (at like the Serbian Novak Djokovic) and later (from February 1 to 5) in the ATP Cup, the World Cup organized by the ATP since last year. In this last Australian expedition, the Balearic will be accompanied in Melbourne by his agent, Carlos Costa; his physiotherapist, Rafael Maymò; and its communication manager, Benito Pérez-Barbadillo.
Source: Elpais
Related News