By CAPosts 22 November, 2020 - 07:05am 82 views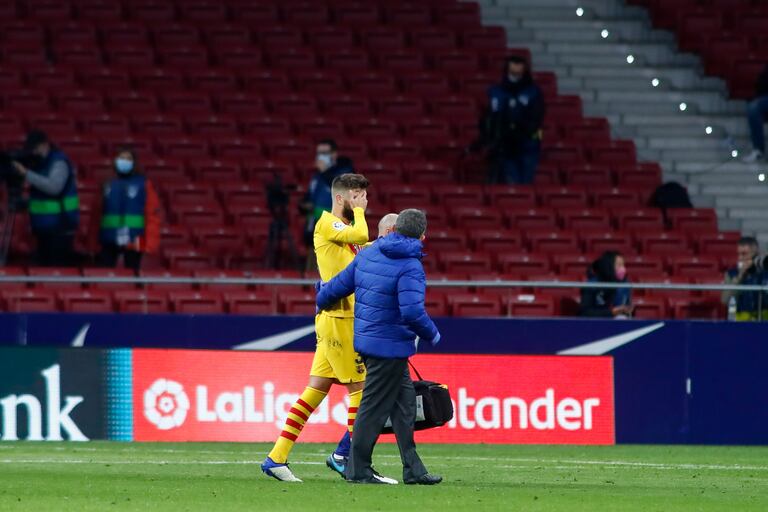 Piqué leaves the field against Atlético after the clash with Correa.AFP7 via Europa Press / Europa Press
Gerard Piqué , 33, suffers a grade three sprain to the internal ligament and also has a partial injury to the anterior cruciate ligament of the knee right. "It is low and its evolution will mark availability", informed Barcelona. The club did not reveal how long Piqué will not be with his teammates. He did, instead, to report the injury to Sergi Roberto, who broke the rectus femoris in his right leg. "Approximately two months", explained the statement of the Barcelona club. Two sensible losses for Ronald Koeman in the rear, especially that of the Catalan central defender. The Dutch coach only has Araújo and Lenglet. Still without news of the state of form of Umtiti, injured since last September 10.
In a fortuitous play, in the duel this Saturday against Atlético, Ángel Correa lost his balance in the dispute for the ball with Jordi Alba and fell on the right leg I hammered. The central defender's knee buckled and, as soon as he touched the ground, Piqué called the doctors. The center-back had never suffered a serious injury. In his career, the Catalan had spent 12 times in the infirmary and the one in which he had been out the longest was due to a hip problem (eight weeks), precisely also in a duel against Atlético, on that occasion after a clash with Diego Costa.
This Saturday, Piqué left the field on his feet, very sore, but essentially dejected. He couldn't hold back the tears. The first scans, in the Wanda, were optimistic: "Knee sprain." However, after medical tests this Sunday morning it was confirmed that the cruciate ligament is also affected. "The Piqué thing is surgical", assures a doctor formerly linked to Barcelona; "In a person with a sedentary life it would not be necessary to operate. But in an amateur athlete and, much more, in a professional one has to operate. You risk the stability of the knee ". The same source explains how the Catalan central defender's injury is: "The crusader has two fascicles, it is like a rope that has two small cords. Of these two strings one has broken. There are two techniques: one is to replace the two and the other is to keep the healthy one and only replace the damaged rope. It is an injury that the time of absence is approximately between seven and eight months. "
Another medical source contacted by EL PAÍS explains that there is the option of performing a conservative treatment and treating the affected ligament with growth factors. In this way, the time of sick leave can go down to four or five months. In any case, in the case of undergoing surgery, he understands that Piqué will be away from the fields for eight months.
Related News