By CAPosts 25 October, 2020 - 04:16pm 212 views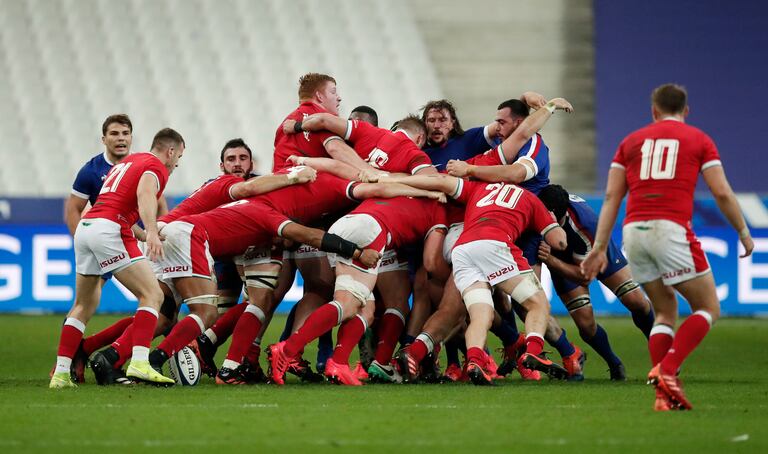 The players from Wales and France collide in a scrum during the match played last Saturday at the Stade de France BENOIT TESSIER / Reuters
The way in which European rugby recovered this past Saturday its great showcase, the Six Nations , illustrates their unequal struggle against the pandemic. The Irish government made an exception so that professional sport could be practiced in its confined capital, Dublin. Teams such as Ireland and Italy represent the elite of a sport marked in its genome by the coronavirus: no discipline like this goes from isolation to breathing down the neck of the rival in the famous melés. But while the most traditional tournament has returned after a 32-week hiatus , modest rugby is experiencing an exercise in survival
The world governance of rugby suggested regulatory changes in May to reduce the risks of contagion, but they have not been applied to the maximum level. World Rugby - the international federation - conducted a study with multidisciplinary experts with a sample of 60 matches and relied on the precepts of the World Health Organization so that the modifications were optional. The second lines, the position that spends the most time with rival players, is an average of 13.5 minutes per game below the safety distance of five feet; WHO speaks of a high risk of contagion after 15 minutes
Economic inequality does the rest. Despite their heavy losses, federations and clubs in the UK, Ireland and France can afford a constant battery of tests. For this reason, rugby decided to leave things as they are at the top, relying on isolation bubbles and early detection, even though there are wayward such as former English captain Chris Robshaw alternating after hours in bars
The changes in the regulations such as reducing the melés - the phase that forces eight players from each team to be pushed, which represents a 50% risk of contagion and raises the exposure time to 17 minutes - remained as a laboratory for the base. Thus, the Six Nations will conclude next Saturday without an audience, and Oceania, less affected by the pandemic, celebrates matches with more than 30,000 spectators. And the calendar has been completed: the last two weeks have concluded the Champions League and the English Premiership. In all there were melés, a weapon exploited on Saturday by Ireland or by France in their friendly against Wales in Paris.
In these, Spanish rugby pays for the worst in professional and amateur sports. Its players, who mostly have other professions, do not have the privilege of bubbles, and its clubs, more precarious due to the pandemic, are looking for formulas such as pool testing to test their squad in a war economy. This is the common sample of 10 players that costs the same as a PCR. If there were positives in their analysis, 10 PRCs would be made, but if not, the clubs save nine tests. In addition, the Federation has bought 12,000 antigen tests that it has distributed at cost price, about five euros, to the clubs, and has ordered 10,000 more.
Spanish rugby is looking for a formula to keep going. On Sunday 18 the final of last year's Cup was played in Burgos and this weekend the league was resumed. The regulations allow the club to play if it has up to five positives. The attendance of the public varies depending on the regulations of each community.
The national teams are the most professionalized nuclei of Spanish rugby. The men's rugby at seven spent a month in Sierra Nevada without positives and played in Germany. Instead, the female one concentrated in Getxo, there were two positives and they dissolved their group. The men's XV rugby team is in Uruguay; there was a infected player who stayed at home and the rest traveled. They will be isolated in the hotel for 10 days before playing against Teros. Meanwhile, the XV girls have not played since February and the format of their qualification for the World Cup, scheduled for December, is up in the air. The first wound of the pandemic in rugby is the growth of inequality.
Related News