By CAPosts 14 December, 2020 - 12:28pm 221 views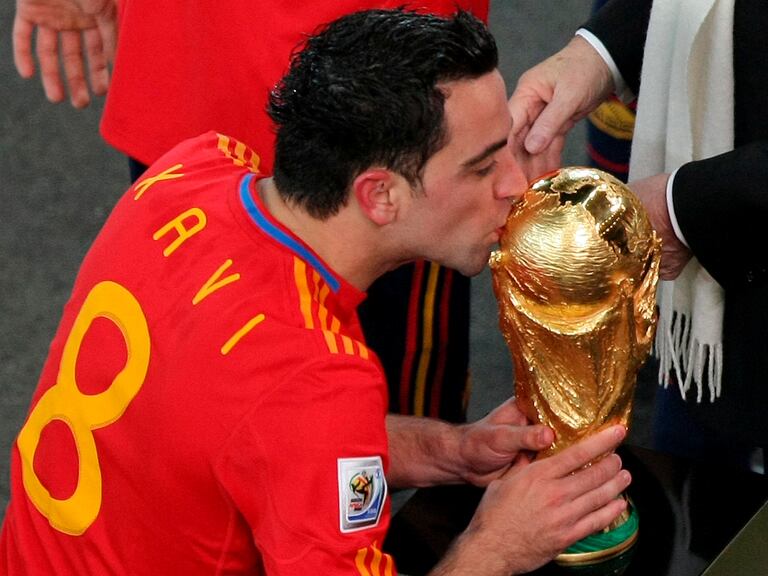 Xavi Hernandez kisses the World Cup after defeating the Netherlands in the 2010 World Cup final HALDEN KROG / EFE
The Spanish midfielder Xavi Hernández has been chosen this Monday to be part of the Ballon d'Or Dream Team, an award launched by France Football and voted by 140 specialized journalists from all over the world. The former player of Barça, the national team and Al-Sadd is the only Spanish athlete in the line-up of the considered best team in history. The full eleven is made up of goalkeeper Lev Yashin, center-back Franz Beckenbauer, full-backs Cafu and Paolo Maldini, midfielders Xavi Hernández and Lothar Matthaus, also midfielders –although with a more offensive look– Diego Armando Maradona and Pelé; and the forwards Leo Messi, Cristiano Ronaldo and Ronaldo Nazario.
La Ballon d'Or Dream Team in une de @francefootball demain dans vos kiosques et available in numérique ici: https://t.co/RrFtSRTYjW #BOdreamteam pic.twitter.com/5qUYulJSeJ

@francefootball) December 14, 2020
Xavi never won the individual Ballon d'Or throughout his career, but he has finally been recognized in this group version that the French publication promoted due to the pandemic, since he refused to award in 2020 his traditional annual award to the best player in the world. world.
In fact, the closest the former Spanish player was to winning the award was in 2009, 2010 and 2011, when he finished third in the respective votes. In all those years the Ballon d'Or went to Leo Messi, his teammate in Barcelona
Tarrasa's is the only Spaniard in the best all-time eleven, for which his compatriots Iker Casillas, Sergio Ramos, Sergio Busquets, were also nominated. Pep Guardiola, Xabi Alonso and Luis Suárez, who continues to be the only Spaniard to have won the individual Ballon d'Or. The line-up chosen by the 140 journalists leaves out, for example, footballers such as Alfredo Di Stéfano, Johan Cruyff, Zinedine Zidane, Michel Platini and Van Basten.
Last July, the French magazine announced that, for the first time since its creation in 1956, the Ballon d'Or would not be distributed this year due to the "lack of adequate conditions" due to the coronavirus pandemic. The publication, which belonged to the L'Équipe group, chose to vacate the 2020 edition because "protecting the credibility and legitimacy of such an award also means ensuring that it is irreproachable over time."
Previous Ballon d'Or winners were Lionel Messi (33 years old) and Megan Rapinoe (35) ―as well as Mathias De Ligt (20) and Alisson Becker (27), winners of the Kopa and Yashin trophies for best U21 player and goalkeeper―. All of them will have to wait until 2021 to choose to revalidate their crown or to see who will succeed them.
Source: Elpais
Related News