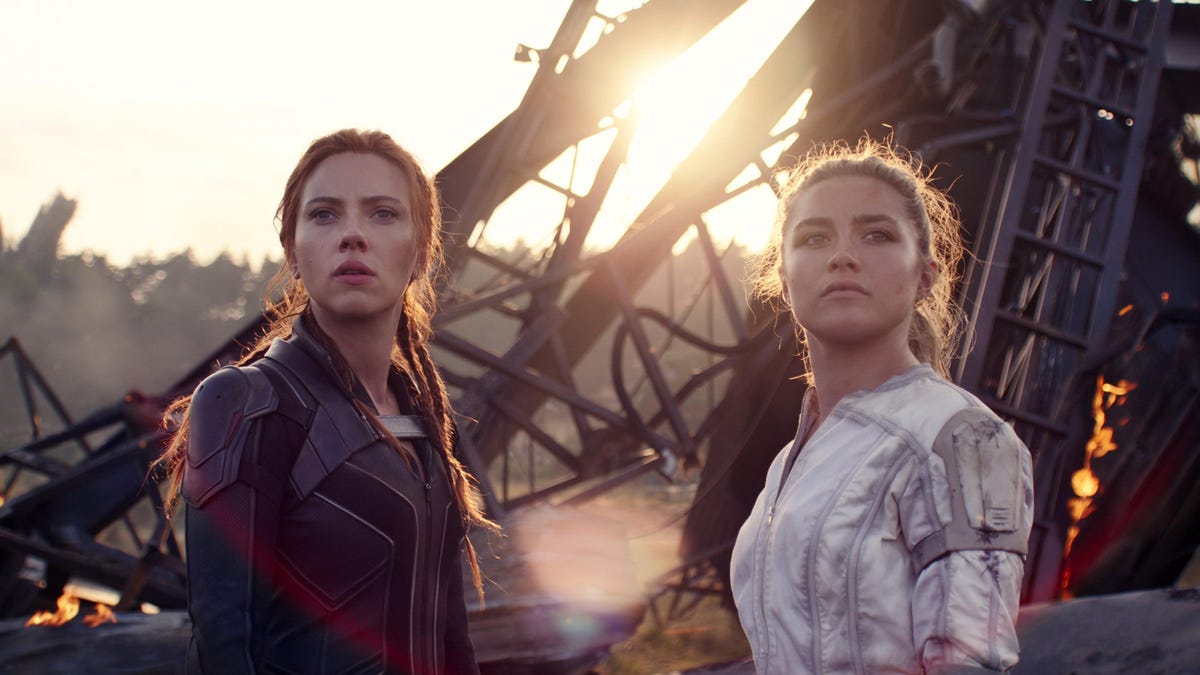 Like almost every movie in the Marvel Cinematic Universe, Black Widow features a post-credits scene, and this one carries some real emotional weight. The film proper ends with Natasha Romanoff (Scarlett Johansson), a.k.a. Black Widow, having successfully reunited her fake Russian family, then setting out to do the same for her chosen family of costumed Avengers, half of whom are still languishing in prison. (This is, after all, technically a prequel, set after the events of Captain America: Civil War.) But as every MCU fans know, the story never ends with the end credits. After they roll, we get one final scene: fellow Widow Yelena (Florence Pugh), standing somberly before her sort-of sister Natasha's grave. "Oh right," the viewer remembers, as we're jumped forward to the MCU's current, post-Endgame reality. "She's dead." It's a cheap button to push, but an undeniably effective one, too.
Quickly, however, the somberness of the scene is punctured by some snarky wit, delivered by a voice behind Yelena. It comes from Contessa Valentina Allegra de Fontaine, played with relish by ace comic actor Julia Louis-Dreyfus. Yelena, it seems, is now working for this ethically ambiguous character, and her boss has interrupted some personal time at her adopted big sister's grave with a new mission: take down Clint Barton, a.k.a. Hawkeye, the person Valentina claims is responsible for Natasha's death.
We learn nothing more about Valentina in this scene. She shows up like Tony Stark at the end of The Incredible Hulk, like a character who requires little introduction because we've met her before. And audiences have met her: She first appeared back in April, in the fifth episode of Disney+'s The Falcon And The Winter Soldier. But the brusqueness of her reveal here isn't really due to an assumed familiarity with the character, because the scene in Black Widow was originally intended to be her big introduction, back before COVID scuttled plans to release the movie in May of 2020. That Valentina's appearance didn't need to be tweaked is a good demonstration of how rearrangeable this supposedly precisely sequenced series of films and TV shows actually is.
But if you look at Thanos' appearances, it becomes clear that Marvel builds some leeway for itself into the supposedly grand design of its super franchise. His first cameo reveals nothing about what might subsequently happen; Marvel could've gone anywhere with the character. It wasn't until the end of Age Of Ultron that the studio definitively revealed that the bad guy would be going after all the Infinity Stones—and even then, nothing was given away about how that might happen. It was merely a confirmation that the scripting for the next Avengers film was in the planning stages. Most of the subsequent Marvel films had nothing to do with any of the impending Thanos of it all: Ant-Man, Captain America: Civil War, Doctor Strange, and more could all easily have swapped release dates with little to no effect on the overarching MCU narrative. True, not all the films can be rearranged like photos in a family album—Captain Marvel's appearance in Endgame wouldn't have worked at all had her solo movie not come out first. But sometimes, it's only the teaser at the end that situates the solo Marvel movies within the larger Avengers narrative.
But here's the thing: While changing the order of release may have affected the content of one of those post-credits "tune in next time!" teases, it likely didn't alter the trajectory of the franchise in any way. The stingers really are just teasers; by design, they give away almost nothing.
It would track, too, with Valentina's comic-book origins, where she's had several reversals of fortune and identity, going from secret agent to Russian sleeper agent to love interest for Nick Fury. Making her responsible for bringing together the Thunderbolts would allow Marvel to really get its money's worth; the company has made no secret of its desire to put Louis-Dreyfus to work, now that her role in the MCU has been revealed. By slowly building a team of ambiguously good heroes led by a potentially sinister schemer like the Contessa, the studio can stock up on potential spin-off characters for years, while creating an Avengers-rivaling force that could provide material well beyond Phase 4. And, as the latest post-credits stinger reminds us, all of those plans could turn on a dime, and it wouldn't matter in the slightest to an audience eager for promises of further adventures—for the tiniest scraps of foreshadowing, devoid of any hints of how those adventures will actually play out.
Read full article at BuzzFeed
J-14 Magazine 09 July, 2021 - 05:36pm