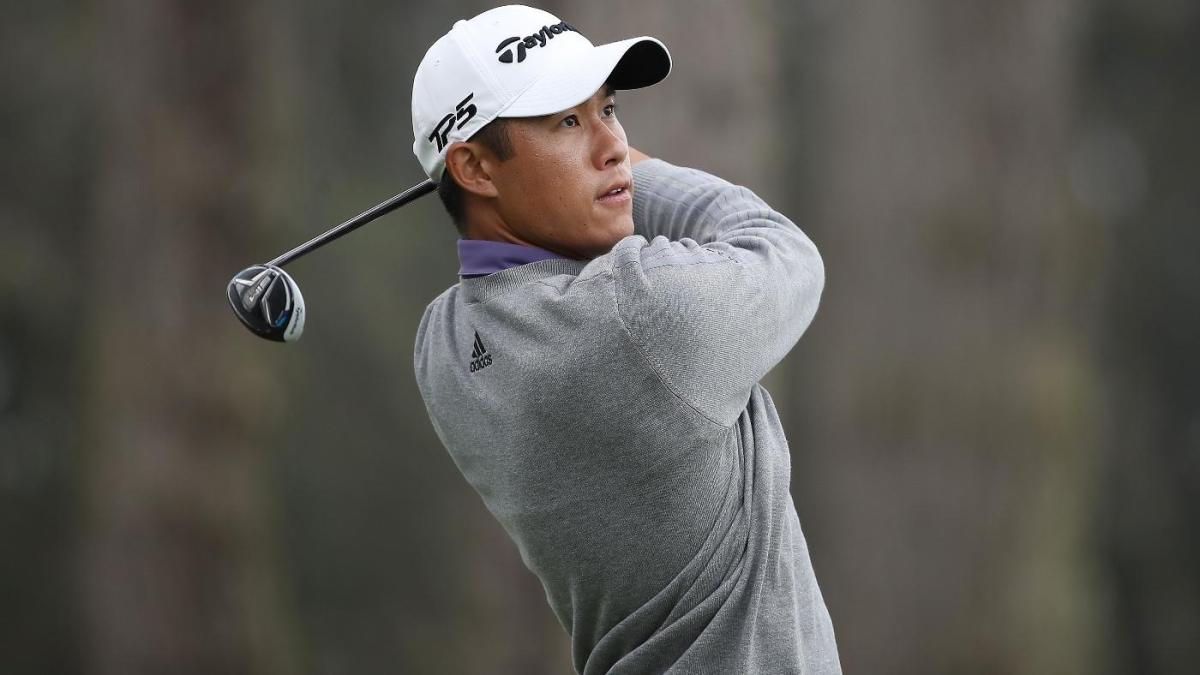 The Baltimore area finally hosts another PGA Tour event starting Thursday as the 2021 FedEx Cup Playoffs continue with the 2021 BMW Championship at Caves Valley Golf Club. This is the third-oldest tournament in golf, with only the U.S. Open and British Open contested longer, but the Baltimore area has not hosted a PGA Tour event since the 1962 Eastern Open. The unfamiliar course could open things up for an unlikely contender, but a star-studded 2021 BMW Championship field headlined by world No. 1 Jon Rahm will be fighting hard for FedEx Cup points. Fellow major champions like Dustin Johnson, Collin Morikawa, Rory McIlroy and Brooks Koepka also are expected to be in the thick of it.
Rahm comes in off his third straight top-five finish and is the 13-2 favorite in Caesars Sportsbook's latest 2021 BMW Championship golf odds. Olympic gold medalist Xander Schauffele is getting 18-1 odds, followed by Johnson (20-1), Justin Thomas (20-1) and Jordan Spieth (20-1). Before locking in any BMW Championship 2021 bets or making any PGA Tour predictions, you have to see what proven golf insider Sal Johnson has to say.
The media legend and esteemed golf insider has a strong track record on picks, and he knows what it takes to win in the FedEx Cup Playoffs. Before last year's BMW Championship, he had both Rahm and Johnson in his best bets, and they battled into the playoff. Johnson had won by 11 strokes the previous week, but It was Rahm, whose game the golf expert noted had been "shaping up," who came out on top with a dramatic birdie on the first extra hole.
And in 2019, he had Patrick Cantlay in his best bets and Thomas among his other top contenders. Johnson said Thomas' game was "finally coming together after his wrist injury." and he proved that by going 25 under at Medinah. He held off Cantlay, who was the runner-up after a 7-under 65 in the final round.
The golf expert has been on fire all season. He was one of the few to say Kevin Kisner had a legitimate chance before he got his first stroke-play win in more than four years at the Wyndham Championship. And before the Olympics, he had Xander Schauffele, Collin Morikawa, Rory McIlroy and Hideki Matsuyama among his top five golfers. Schauffele won the gold medal for Team USA, while the other three made the playoff for the bronze. Anyone who has followed Johnson's advice has cashed in huge.
Now Johnson, the first producer of "Inside the PGA Tour," a longtime ABC Sports golf producer who worked with Jack Nicklaus and Arnold Palmer, and founder of the world's top golf stats database, has released his highly confident 2021 BMW Championship golf picks, and they will surprise you. You can only see Johnson's expert golf picks and FedEx Cup Playoffs predictions at SportsLine.
Shockingly, the golf expert is fading Rory McIlroy, even though he has won the FedEx Cup title twice (2016 and 2019). The Northern Irishman went 66-70 in the final two rounds at the Northern Trust, and that underscored his problems. He finished 43rd, and he has a stubborn habit of firing a round (or two) to derail his chances. The 32-year-old's drought-breaking victory at the Wells Fargo was a positive sign, but he hasn't been able to capitalize on it. His inconsistency makes him a player to avoid, and Johnson has numerous better options.
Johnson is also impressed with what he's seen from Rahm this season. He's overcome a pair of positive COVID-19 tests to put up some impressive results. He let a lead slip away at the Northern Trust and Johnson Rahm will "be looking for retribution" this week as the playoffs continue. He ranks first on the PGA Tour in strokes gained tee-to-green and he's tied for second in greens in regulation. But if he wants to win this week, he'll need to putt better. He's only 87th in strokes gained via putting, so that'll be his challenge this week at Caves Valley.
The golf expert also is impressed with Morikawa's skills. The 24-year-old already has two major wins on his resume and has two victories and a runner-up this season. He had a run of four straight top-five finishes, including his British Open victory, before a T-26 at the St. Jude and a missed cut in Jersey City. Still, entering the Northern Trust, he led the tour in strokes gained tee-to-green and was fourth in scoring average (69.674). His ball-striking ability is almost unmatched, and he ranked second in greens in regulation, hitting almost 72 percent.
This week, Johnson is backing a massive long shot who comes in at well over 50-1. This veteran consistently and quietly hangs around inside the top 25 and is capable of pulling off a stunning victory. Anyone who backs this underdog could cash in huge. Head to SportsLine to see who it is.
© 2004-2021 CBS Interactive. All Rights Reserved.
CBS Sports is a registered trademark of CBS Broadcasting Inc. Commissioner.com is a registered trademark of CBS Interactive Inc.
Images by Getty Images and US Presswire
These cookies are essential for the proper functioning of our Services. Essential cookies cannot be switched off in our systems. You can set your device to block or alert you about these cookies, but some parts of the Service will not work.
These Cookies allow us to collect information about how visitors use our properties. Some examples include counting visits and traffic sources, so we can measure and improve the performance of our services. If you do not allow these Cookies we will not know when users have visited our properties and will not be able to monitor performance.
These Cookies enable the services to provide enhanced functionality and personalization. They may be set by us or by third party providers whose services we have added to our services. If you do not allow these Cookies then some or all of these services may not function properly.
These Cookies may be set by us or through our services by our advertising partners. They may be used by those companies to build a profile of your interests and show you relevant advertising on this and on other properties. If you do not allow these Cookies, you will still see ads, but you will experience less relevant advertising.
These Cookies are set by a range of social media services that we have added to the services to enable you to share our content with your friends and networks. They are capable of tracking your browser across other sites, building up a profile of your interests to show you relevant content and advertisements on the relevant social networks. If you do not allow these Cookies you may not be able to use or see these sharing tools.
Read full article at CBS Sports
WJZ 25 August, 2021 - 12:11am
The Action Network 24 August, 2021 - 11:42am
In case you somehow missed it, Tony Finau was downright clutch down the stretch of the Northern Trust on Monday afternoon, playing five holes on the back nine in 5-under, making a clutch up-and-down on the final hole of regulation and carding an easy par on the first playoff hole to claim his first PGA TOUR victory in more than a half-decade.
This comes on the heels of Abraham Ancer's title at the WGC-FedEx St. Jude two weeks earlier, as the pair of forlorn nearly men finally broke through in the same month.
It's what I referred to in a column this past weekend as "turnstile golf" — essentially, the idea that at some point, every ultra-talented player will walk through the proverbial turnstile and claim a trophy. In fact, other than Louis Oosthuizen, every player ranked 18th-or-better in the OWGR has won a tournament during this calendar year.
There's an old adage often associated with the stock market which states: Past performance isn't an indicator of future results.
I've thought about that one a lot over the last few weeks. People tend to believe only what they've seen has happened, then somehow extrapolate that into believing that anything they haven't seen can't happen.
It's the reason why, if you suggest a player such as Scottie Scheffler, Oosthuizen or Cameron Tringale — my three OAD selections below, by the way — can win on a certain week, a large subsection of the golf fan population will immediately dismiss that thought because they haven't seen it happen before.
If we've learned anything in the betting community, where we are investing in golfers on a regular basis, it's that just because a player hasn't closed out a title before, it doesn't mean he can't do so in the future.
(I had some Twitter debates with a few followers on what exactly "past performance" and "indicator" can mean; I can understand the argument that previous results have shown that a player like Finau has the ability to win, but in this instance, the statement is referring to past performance with an opportunity to win. I'll admit: It's a very fine line.)
One thing I often tell golf fans who aren't bettors is that you can consume our content to make you a smarter observer — and this one is a great example, as fewer bettors than fans would be surprised by these recent victories.
OK, enough with the soapbox. Let's get to the most pressing matter at hand: Looking back at the 2007 Palmer Cup.
An annual amateur event between the U.S. and Europe, back then it included eight players on each side — and during that year, the Americans cruised to victory on home soil, winning by a score of 18-6.
Two relevant points to make here.
First of all, that U.S. team had some staying power, with six of those eight players reaching the FedEx Cup playoffs this season, 14 years later. They are Dustin Johnson, Webb Simpson, Brian Harman, Billy Horschel, Chris Kirk and Luke List.
"We had a hell of a team," Horschel told me last week. "It was the first time I played in a team competition. 'I'm young, I'm cocky, I think I'm the American Sergio Garcia, the antagonist,' so I came up with FTE.
"You can think of what that means. Every time we're winning a hole, we're saying, 'FTE! FTE!' Obviously, you look back and there were a lot of guys on their team who I respect. It wasn't anything against them, it was just a way to pump ourselves up."
It was definitely brash — and it definitely helped.
The other, more relevant reason to bring up this competition from so long ago is that it was hosted at Caves Valley, the site of this week's BMW Championship, the first time it will hold a PGA TOUR event.
From all accounts, there have been massive changes to the course since 2007, including clearing out a major number of trees, Oakmont-style. There are, though, some lingering memories of this track which will endure this week, so I asked a few of those team members what they remember about it.
"I love that golf course," Simpson said. "We had nationals there my freshman year [in 2005], so I've played there a few times. A lot of drivers, fairly wide landing areas, pretty hilly golf course. I don't remember a whole lot after that."
"It was a great golf course," Horschel added. "I'm shocked we've never played a tournament there since then. I've heard they've lengthened it and made some changes, but it's a great course."
It's only a coincidence that one of those 2007 team members is my favorite play on this week's board, as another description of Caves Valley had a bigger impact on that decision. Let's get to that pick and more for this week's second FedExCup Playoff event.
"It's just a big, Northeast, bentgrass golf course."
Those were the words of Denny McCarthy when I spoke with him about Caves Valley last week. A native of Maryland, I thought McCarthy might have some local knowledge, but he told me there were no State Open or State Amateur events there when he was playing in them, so his "local knowledge" is reduced to 2-3 rounds, none of which occurred in the past 10 years.
As mentioned above, there have been plenty of changes to Caves during that time, but "big, long, Northeast golf course" is still an apt description.
Immediately when he said those words, my mind went right to DJ, who has won a major at Oakmont, playoff events at TPC Boston, Glen Oaks and Plainfield, a WGC event at Firestone and has generally thrived on these kinds of tracks.
Now, I get that one could argue Johnson has thrived on just about every course over the past decade and a half, but he seems to have an extra gear on this exact type. I also like the number on him, coming off a second MC in his last three starts.
Johnson posted rounds of 70-72 at Liberty National and had negative strokes-gained numbers tee-to-green, but I'll give him a pass considering his driver cracked minutes before his opening round and he didn't have a backup. For a player who ranks 20th off the tee this season and relies on having an advantage with the big stick, I expect those numbers to be much improved this week.
There's another reason to like him that has everything to do with that MC: Like 13 other players who advanced despite not reaching the weekend at Northern Trust, he didn't have to deal with the extra day of delays and should come into this one a little less physically and mentally exhausted than 56 of his colleagues.
If we're looking for an edge, this one could be staring us right in the face.
As detailed above, there's an obvious trend taking place lately, so we should be seeking that next player to walk through the turnstile.
It wouldn't surprise anybody if that player is Scheffler, as he's risen to inside the world's top 20 without a PGA TOUR victory yet. I thought there was a chance of it happening last week, but while his numbers off the tee were solid, his approach game was neutral and his putting was below field average.
Even so, I'll take some young legs this late in the summer with a player who is probably hungrier than most of his peers.
Am I extending this trend idea too far? Perhaps, as I'm offering up a guy who's WD'd from each of his last two potential starts.
If he's healthy, though, Oosthuizen is yet another player who will obviously come into this week fresher and more well rested than anyone else. The world's seventh-ranked player has finished 18th-or-better in seven of his last eight starts, dating back to May, so there's reason to believe that as long as he tees it up, he should play well again.
OK, at this point, you probably get where I'm going with this, but in order to find the next Finau or Ancer, we've got to turn over every stone.
I wouldn't recommend Tringale if you've got a big lead in your OAD and want to simply Heisman everyone else for the next few weeks. But if you're playing catch-up, he's finished 26th-or-better in five of his last six starts — and I doubt (m)any others will have him.
As always, don't be afraid of taking Tringale for FRL, too.
Limited field? Check. No cut? Check.
We are officially in Xander's Wheelhouse for the next two weeks.
Three of his four previous victories have occurred at these types of events — and that doesn't even include the recent Olympics or last year's 72-hole-low score at the TOUR Championship, which garnered first-place OWGR points, but no official victory based on the staggered scoring.
Fresh off a solid ball-striking week at Liberty National, this one should be right up his alley.
I'm grouping these two guys together for a few different reasons: I liked each of them last week, they both shot 70-72 to MC and, like DJ, there's reason to believe that missing the three-day weekend of Northern Trust festivities could be a blessing in disguise moving forward.
Kokrak carded a dozen birdies during his two rounds last week but was undone by a handful of squares (and a couple of double-squares) on his scorecards. Vegas didn't play his best golf, but he still owns six top-20 finishes in his last nine starts.
I think they're both candidates for bounce-back finishes at this one.
With a birdie-birdie-birdie finish on Monday to shoot 69 and finish T-8, Mitchell earned enough FedEx Cup points to advance to the second playoff event — and just in case you assumed that doesn't mean too much to a professional golfer, his emotions and words prove you wrong.
"I just love competing, I love playing golf," said Mitchell, who compared the pressure to that of winning his long PGA TOUR title at the Honda Classic two years ago. "I love being out here and I reminded myself, two days playing in the last group with Justin Thomas, these are the nerves that you want. These are the kind of moments that you practice and play for.
"That's kind of the attitude I had this week, and coming down the stretch with three birdies is the same kind of thing, where you just really are just enjoying being out here and enjoying competing and trying to do your best."
Mitchell said he'd celebrate by driving his BMW to Baltimore, big smile splashed across his face. He's now playing with house money and fully confident in his game — two things we should love about him this week on a course where his prolific driving skills (11th in strokes gained off the tee this season) should be a major asset.
This is pretty much an auto-play for me in this category lately. That doesn't mean I'm jamming Rahm into every lineup — not at all — but if the outright number has you a little queasy and you still want to own some shares, then DFS might be the best space to make this investment.
I'll also give you another reason to like Rahm this week. Prior to last week's opening round, I asked Rahm whether the extra rest from not playing for a month due to a second positive COVID-19 result could be an advantage in that one. He insisted the real edge wouldn't come immediately, telling me, "Maybe not this week, but looking into the next few weeks, probably physically, mentally, I've been more rested than everybody else. So that could be my advantage."
After his second round, when Rahm had jumped out to the lead, I asked him whether he had a sense that he was fresher than many of his fellow players. To his credit, he stuck with his original take, explaining that it would be more of a long-term advantage.
"I think you would feel it more the third week," Rahm said. "… When you're playing three in a row at the end of a long season and a long summer, I think towards the end is when you're going to feel it. East Lake and Atlanta, that course is not the easiest walk and it's hot and humid, and you can get dehydrated easily, and that's where I think it's going to come to play. I don't think it's going to be that much of an advantage this week."
It's almost as if Rahm was trying to tell us something. It's almost as if he knew that the Northern Trust ultimately wouldn't be his week, but that he'll own more of an advantage next week, at the season finale. That's something to file away for the TOUR Championship, but I do think that edge can start showing itself this week, too.
As you undoubtedly noticed, there's been a running theme through many of my picks for this event in that I'm trying to identify players who still have some gas left in the tank.
It's largely been a Hoffman-free summer, as the Northern Trust was just his fifth start since the beginning of June. If we're seeking some sort of sign that his scheduling strategy could pay off, we only need to look at this past week as evidence. Hoffman's share of 21st-place was his best result in those five summer starts, so there's reason to believe he can keep it going this week.
I've had the utterly annoying habit this year of coming much closer to hitting these FRLs the following week, so I'm trying to outsmart myself and use a bit of reverse psychology to double up here on Bradley.
When I mentioned the prospect of betting him for FRL on my PGA TOUR Radio show last week, he immediately jumped on the idea, explaining that a hot start is often a key to sticking around the leaderboard on the weekend, as well.
I like the idea of picking a player for this wager who not only understands the importance of a low Thursday round, but comes in with his foot on the gas pedal.
One statistic that I always enjoy looking at are final-round ball-striking numbers, especially for players who are also competing the next week.
On Monday, Rahm led the Northern Trust field in strokes gained on approach shots, which should hardly come as a shock. Scott Piercy was second, but a closing 66 wasn't nearly enough for him to advance.
Next on that list was Streelman, who's been deviously solid throughout the entire summer.
I think East Lake suits his game better than Caves Valley, but that's a Catch-22, as he'll have to play really well at Caves into order to get into East Lake, since he enters this week at 64th on the points list.
Even so, this could be a nice week for a guy who's largely gone unnoticed with some strong play this season.
The two-time major champion is a ball-striking stud and one of the brightest stars in the golf universe. I actually liked his chances to claim the FedEx Cup, not only due to his points lead entering the playoffs, but because East Lake should perfectly suit his game.
In missing the cut at Liberty National, though, he looked like he tweaked a back injury that first crept up during the opening round of the Olympics — and later confirmed as much to Rex Hoggard of Golf Channel. "It was healing through Memphis [at the WGC-FedEx St. Jude Invitational], but I was hitting these slap-cuts and then Wednesday of last week I pinched [a nerve] in my back, it was completely different," said Morikawa, who also revealed that he didn't play any practice rounds prior to the Northern Trust.
I'll take a wait-and-see approach with Morikawa. With a spot in the finale already locked up and a guaranteed four rounds this week, though, playing him in any format runs the risk of an in-tourney WD if he feels he'll only do further damage by continuing to play.
How would you rate this article?
DISCLAIMER: This site is 100% for entertainment purposes only and does not involve real money betting.
If you or someone you know has a gambling problem and wants help, call 1-800 GAMBLER. This service is intended for adult users only.