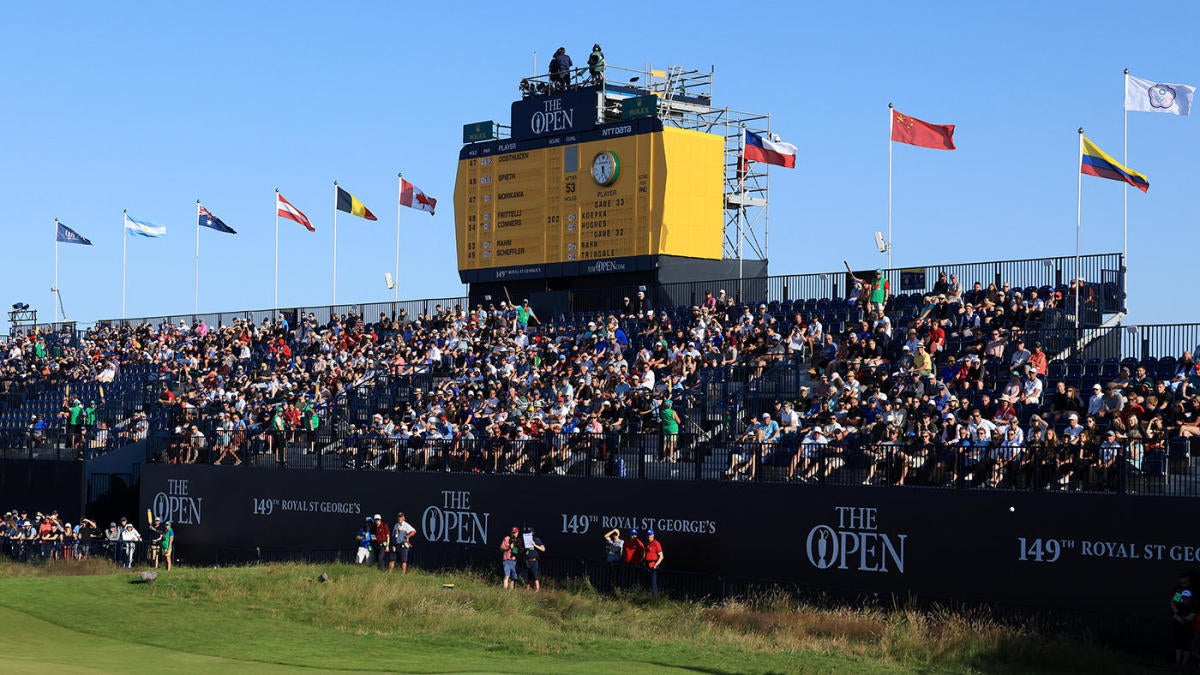 The four-month season of major championship golf in 2021 comes to a close Sunday as the 149th Open Championship prepares for its final 18 holes at Royal St. George's. The tournament thus far has belonged to Louis Oosthuizen, who is trying to claim his second Claret Jug and second career major championship.
It's probably going to take one of the great rounds of his career to get the job done with Collin Morikawa, Jordan Spieth and Jon Rahm chasing him over the final 18 holes in Sandwich, England. Should he succeed, Oosthuizen would become the first golfer to go wire to wire at an The Open since Rory McIlroy in 2014 and just the 28th to win this event multiple times, joining names like Greg Norman, Seve Ballesteros, Nick Faldo, Bobby Jones, Tiger Woods, Tom Watson and Jack Nicklaus.
Oosthuizen -- the 18-, 36- and 54-hole leader -- has been spectacular all week (and all major season), but Morikawa and Spieth have been nearly as good and sit one and there shots back, respectively. Throw in an unleashed Rahm -- he's going for it all on Sunday because he has nothing to lose finishing fifth or eighth -- and the final round should be quite a show, just as it has been for most of the last decade at this event.
Here's to another one on Sunday before the long, cold march to the next major (the 2022 Masters is nine months away). CBS Sports will update this story with scores and highlights from The Open below. Check out the live scores at the top of this story, a more detailed leaderboard, Round 4 tee times and our complete viewer's guide.
That par from Spieth on No. 8 was world class. MEANWHILE, Louis just went bunker to bunker on No. 7 and made a bogey to drop to -10. He's two back of Morikawa and just one ahead of Spieth.
Spieth eagles No. 7, and he's two back. Incredible. He was all but dead, and now he's within two of both Oosthuizen and Morikawa.
HUGE response from Jordan Spieth with an eagle on the par-5 seventh after bogeys on Nos. 4 and 6. He's 9 under and right back into the mix.
Rahm nearly holed out for albatross on No. 7 to get it to -8, within three of the lead. He's three back of the leaders and tied with Koepka and Frittlli. Big-time close coming.
Bogey-free 65 for Brooks Koepka -- his first bogey-free round all week -- and he's in at T3 to finish the championship 8 under. Missed a birdie chance at the par-5 14th and another few coming in. Could've easily been a 63 for him today if he had caught a few breaks.
I wonder if Brooks knew that his birdie try on 18 was also a chance to beat Bryson by one stroke. Both of our beefy rivals shot a 65 on Sunday and will walk away from the week with good feelings about the kind of golf they played at the end. Koepka's bogey-free 65 included a couple of near misses on birdie tries so we know it could have been 64 or 63. That still might not have been good enough to win though
Spieth's Open is teetering a bit right now. Short, horrible shot on the par-3 6th, and he's currently three back with a putt to drop to four. Not panic time, but my hand is on the button. Koepka, by the way, is on No. 18 and needs to birdie to get to -9 and post.
At the risk of being overly dramatic, I think Spieth's run at the Claret Jug is going to be determined by his next six or seven strokes. Two bogeys in three holes is unacceptable and if he can't birdie No. 7 then he's giving up strokes to the field. Spieth needs to tap into whatever he's got or he's going to be cooked by the time he hits the back nine.
Collin is walking with an unreasonable amount of swagger. Crispness. He's off and moving *directly* after Louis makes contact. Nothing quite like youthful confidence.
Bogey from leader Louis Oosthuizen on No. 4 after missing his approach right of the green. That's his first bogey on the front nine at Royal St. George's all *week* and now Collin Morikawa is co-leading after he made par on the same hole.
Not a single birdie yet from the final three groups. The opening five holes is the toughest stretch of the course but even they were playing a little easier for the morning wave. Still, while Louis and Morikawa are riding par trains we haven't seen a big move from Rahm or anyone else who teed off later
© 2004-2021 CBS Interactive. All Rights Reserved.
CBS Sports is a registered trademark of CBS Broadcasting Inc. Commissioner.com is a registered trademark of CBS Interactive Inc.
Images by Getty Images and US Presswire
Read full article at CBSSports.com
The Independent 18 July, 2021 - 10:14am
The South African, who broke the low-scoring record at the halfway stage, did not reach those same spectacular heights on Saturday but battled valiantly nonetheless to a round of 69 that keeps his hopes of a wire-to-wire victory intact. He will be paired with Collin Morikawa again in the final group after the 24-year-old Open debutant recovered from a shaky start with four birdies in the space of eight holes, and the young American has already proved he has what it takes to win a major after becoming the third-youngest PGA champion in history last year.
Jordan Spieth had shared the lead for much of the third round after a spectacular start but the 2017 champion was left infuriated after missing a two-foot putt on the 18th green that leaves him three back. Corey Conners and Scottie Scheffler lie one shot further adrift, but Jon Rahm may have too much ground to recover as the US Open champion starts the final round five shots back. Follow all the action from what promises to be a thrilling afternoon at Royal St George's:
Morikawa tidies up for his birdie, the first from the leading group today, and takes a two-shot lead in the Open.
Corey Conners drops a shot at the 8th after getting into a tough spot on the back bank of the green. Spieth made par but is now three shots off the pace.
Disaster for Oosthuizen! From the bunker, he catches the ball too clean and sends it skimming across the green, into the opposite bunker! It's right at the back of the trap too, which will make it a tough shot to play.
Meanwhile, Morikawa sends a beautiful chip to within inches of the hole. There's going to be a huge swing at the top here.
Oosthuizen finds the greenside bunker with his second shot at the par-five, we'll have to wait and see how his ball is sitting. Morikawa is in a better position, just short of the green but on the fairway.
Up ahead, Spieth finds the bunker with his approach at the 8th.
What a round this is turning out to be for Robert MacIntyre. He makes his second birdie in a row at the 13th with another excellent putt from distance. He moves to -8, in a tie for third place, and is -4 for the day with the second par five to come.
Oosthuizen and Morikawa find the fairway with their drives at 7, while Rahm immediately drops a shot on the 8th as his par putt from 10 or so feet misses the hole.
The 7th hole has been the easiest on the course today, with a 4.31 average. As Rahm, Spieth and Conners have shown in the past 20 minutes, there is an eagle chance to be had if you can reach the green in two.
That's more like it! After bogies in two of the previous three holes, Spieth makes eagle at the par-five 7th with a cool putt from 10 feet to move to -9. He's then joined by Conners, who also makes eagle to join him in a tie for second.
Oosthuizen and Morikawa both find the 6th green but have length birdie putts at the par-three. Oosthuizen goes closest with a great attempt from 20 feet, but both players move on with par - neck and neck with a third of their round complete.
John Rahm, after a sensational approach shot at the par-five 7th, sinks the eagle putt to move to -8 and within three shots of the lead.
Dustin Johnson is also making moves, as he birdies the par-five 14th, before MacIntyre joins him at -7 with a brilliant birdie putt at 13.
An impressive effort from Koepka, who dropped to his knees after his final attempt at birdie at the 18th stopped short. Three birdies and an eagle for Koepka today, who just couldn't make the most of his opportunities down the stretch.
-8 won't be enough for top spot but it may be enough for Koepka to finish in the top five by the end of the day.
Spieth got out of the bunker at the first attempt but he still had plenty to do to save par from 10 feet. His downhill putt stops short, and he drops to -7 after back-to-back bogeys.
Oosthuizen and Morikawa find the heart of the green at 5 to set up 20+ foot birdie putts.
Corey Conners pulls a shot back at 6 after he started his round with back-to-back bogeys. Frittelli joins Koepka at -8 after he makes his second birdie in a row at the 7th.
More problems for Spieth at the 6th, perhaps, as he finds the bunker with his tee shot at the par-three.
Viktor Hovland birdies the last to complete an impressive round of 66 and move to -6 overall. The Norwegian joins a pack of players on that score, and he technically has the clubhouse lead at this stage! Although Koepka is coming down the 18th next...