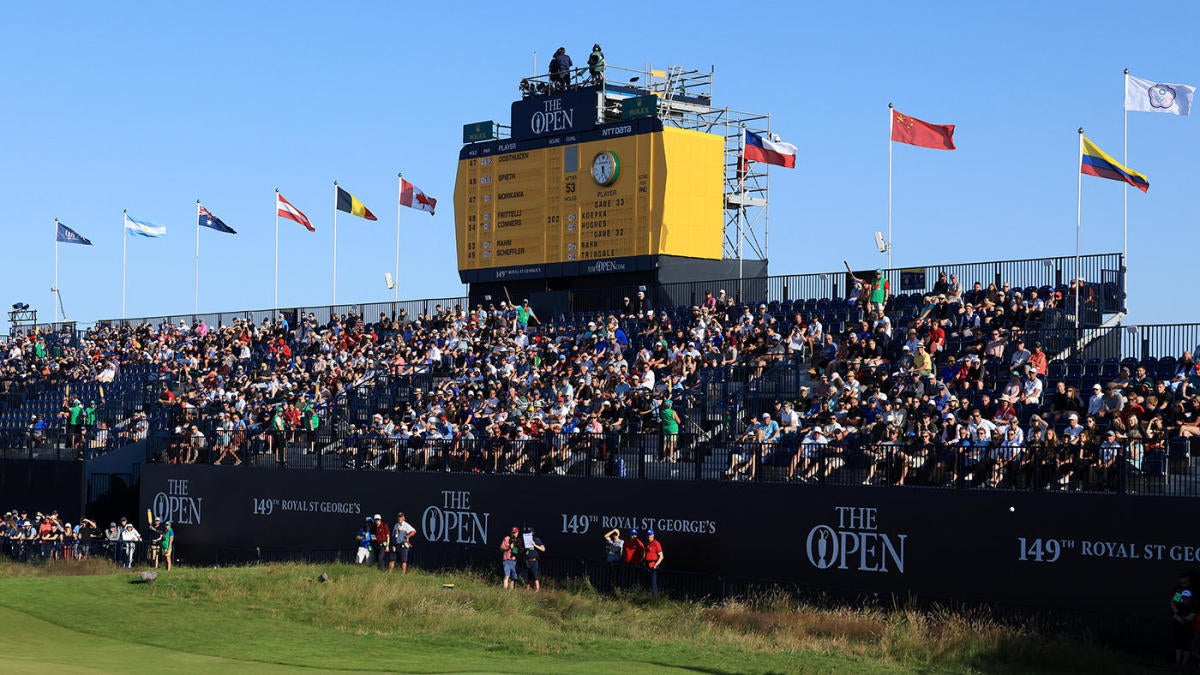 The four-month season of major championship golf in 2021 comes to a close Sunday as the 149th Open Championship is wrapping up its final 18 holes at Royal St. George's. The tournament entering Round 4 belonged to Louis Oosthuizen, who is trying to claim his second Claret Jug and second career major championship.
However, Oosthuizen has fallen off midway through the round and is now looking up at the leaderboard behind 24-year-old Collin Morikawa, who is looking to become just the eighth man to win two majors before the age of 25. Should Morikawa win, he would also be just the third golfer in history to win two or more majors in eight or fewer starts at such events. Jordan Spieth and Jon Rahm are also chasing in Sandwich, England, with Spieth pushing hard over the back nine.
CBS Sports will update this story with scores and highlights from The Open below. Check out the live scores at the top of this story, a more detailed leaderboard and our complete viewer's guide.
Congratulations to #TheOpen champion, Collin Morikawa pic.twitter.com/fYZ8Ihhve6
Jordan Spieth is in with a final-round 66. One heck of a run today. Morikawa a few shots away now from winning his second career major.
The English equivalent of Vince.gif pic.twitter.com/OZlhNCvTXR
Jordan Spieth's 72-hole total of 267 would tie the lowest ever by a runner-up finisher at #TheOpen (Phil Mickelson, 2016)
Collin Morikawa has a two shot lead with one to play #TheOpen pic.twitter.com/Z0blSkO4od
Spieth has a birdie look on No. 18, but Morikawa is on the green nearly pin high on No. 17. It's over.
Rahm has lost to nine golfers in his last four events. Seven of them at the Scottish Open last week.
A red hot back nine for @JonRahmpga 🔥 He finishes with a 66 #TheOpen pic.twitter.com/uS8gAPOQij
Within his sights 🏆 #TheOpen pic.twitter.com/Vsi4mC0ABU
How many wins would Morikawa have if PGA Tour played courses every week that rolled 10 on the stimp?
Unreal save for Morikawa on 15. He's a monster. He's two clear with three holes left. Could not be more impressed.
Says it all. pic.twitter.com/e49yyg6imp
The only thing that matters is that we need to make sure Jordan doesn't lose by one. That's the only thing that can't happen. We can't live with that putt on 18 Saturday forever.
Morikawa is in some trouble on No. 15. Pulled his second way out to the left and is in some really thick heather. Par from here would be massive as Spieth makes par right ahead of him on No. 16.
When it's Sunday, the sun is shining, and some of the best golfers in the world are putting on a show #TheOpen pic.twitter.com/SsVuEVLGbN
Surreal 4 from Morikawa on No. 14. Had nothing, and he turned it into birdie from deep. He's two clear of Spieth, who has a birdie look on No. 15.
Late push from Oosty includes a brilliant shot that sets up a tap-in birdie at the par-5 14th hole. At this point I don't know if I'm hoping that he does or doesn't finish as a runner-up to make it seven second place finishes since his first (and only) major win 11 years ago to the day at St. Andrew's.
Three straight birdies for Jon Rahm, who is 54-under-par in his last 16 rounds worldwide. Approach tight at 16.
Don't worry everyone. We have dispatched medical personnel to the home of @KylePorterCBS and we can confirm that he is doing ok. #Spieth @FirstCutPod
Louis is probably cooked after bogey at No. 13, and it's down to Spieth and Morikawa. Surely that par putt on No. 18 on Saturday won't factor in here.
Spieth knocks his chip to a close distance, but it's not a tap-in birdie by any means. He's got that look to get to -13 and one stroke behind Morikawa, who by the way continues to come dangerously close to running away with the championship but can't quite seem to pull away.
PUMPED. @JordanSpieth #TheOpen pic.twitter.com/rLE4yHIF4z
Maybe he had a bad number, but Spieth just played back on the par-5 14th. Has to be pretty much perfect from here on in.
I'm dying over here. Spieth walks in another one to get to -12. He's within two and has life. Morikawa narrowly skirts a fairway bunker on No. 13. Whew buddy, I'm sweating.
© 2004-2021 CBS Interactive. All Rights Reserved.
CBS Sports is a registered trademark of CBS Broadcasting Inc. Commissioner.com is a registered trademark of CBS Interactive Inc.
Images by Getty Images and US Presswire
Read full article at CBSSports.com