When is the NBA Draft 2021?
NBA Draft 2021 presented by State Farm will be held on Thursday, July 29 at 8 p.m. ET. ESPN platforms will exclusively televise the NBA Draft for the 19th consecutive year and for the first time it will air on both ABC and ESPN. NBA.comNBA Draft 2021 to be held at Barclays Center on July 29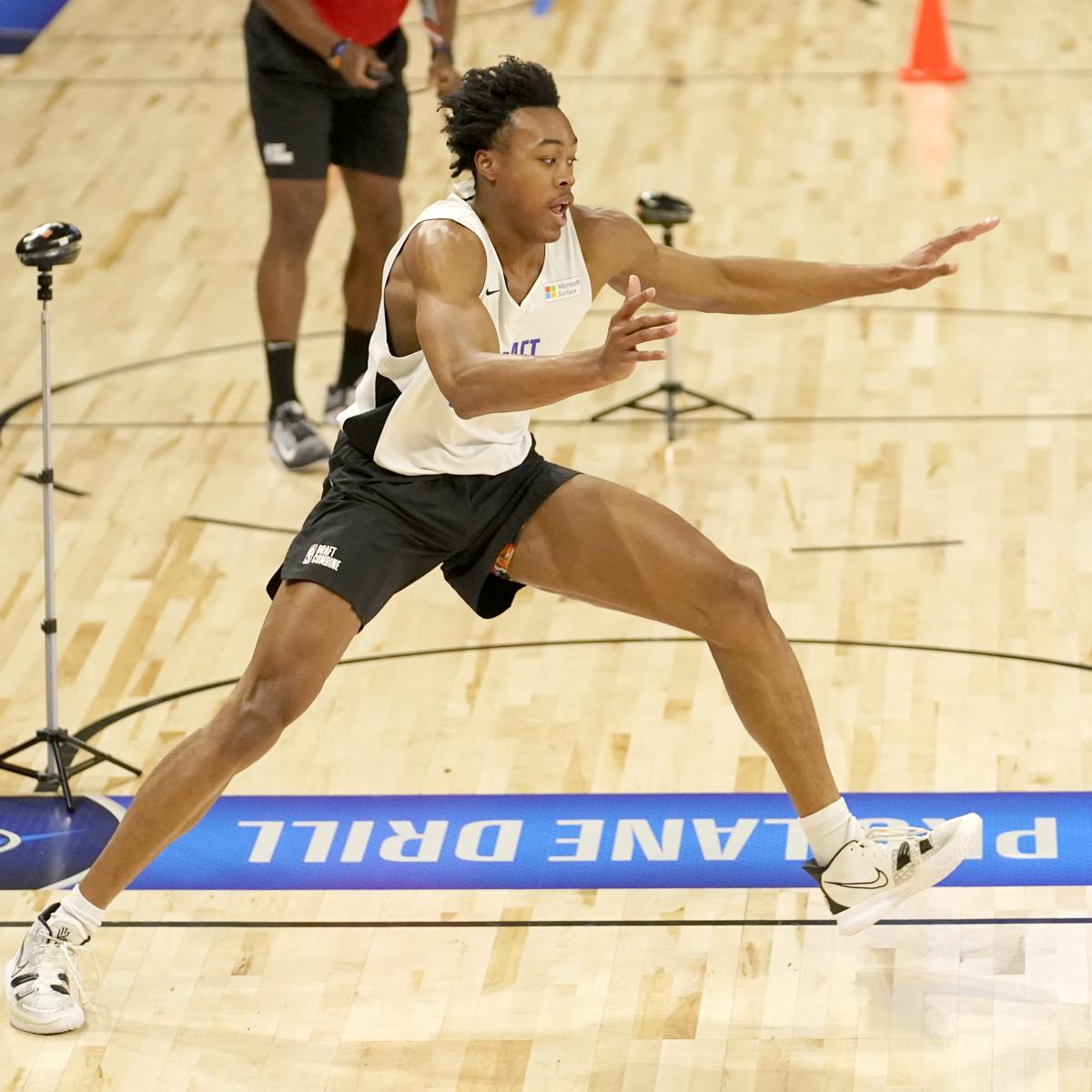 Love for Scottie Barnes has snowballed to the point scouts and executives expect he's going in the top five of the NBA draft.
Sources tell Bleacher Report the Orlando Magic are a good possibility for Barnes at No. 5, and if not, the Oklahoma City Thunder would take him at No. 6. Rivals teams are assuming the Toronto Raptors will consider him at No. 4, especially if they have interest in bringing back Kyle Lowry (making Jalen Suggs less desirable). 
There is a belief Barnes has star potential, even if it's the unconventional type. Scouts see zero downside and only unique upside tied to his 6'8", 225-pound frame, 7'2¾" wingspan, ball-handling and passing for playmaking, and surefire defense.
And they talk about the likability factor. Barnes' energy, passion and unselfishness were evident during the season and easy to detect during interviews.
He's trending at the right time, like a year ago when interest in Patrick Williams felt contagious and gradually spread to the Chicago Bulls at No. 4 overall. Similarly, Barnes is now being viewed as one of the class' premier prospects, having seemingly broken free from the second tier that includes Connecticut's James Bouknight, Tennessee's Keon Johnson, Michigan's Franz Wagner, Australia's Josh Giddey, Texas' Kai Jones, Gonzaga's Corey Kispert, Arkansas' Moses Moody, Baylor's Davion Mitchell and Duke's Jalen Johnson.
Barnes going top five likely means Jonathan Kuminga could be available at No. 6. Teams ultimately see more bust potential with Kuminga, who only played 13 games, registered a 49.7 true shooting percentage (second lowest among projected first-round prospects) and doesn't possess standout intangibles or ancillary skills. 
Logic suggests Suggs will go fourth to the Raptors with 35-year-old Lowry entering free agency and Toronto coming off a 27-win season. But it also sounds like Barnes has become a hot enough name for the Raptors to think about. Otherwise, he's the new favorite at No. 5, either to Orlando or a team looking to trade up for someone rare and more exciting.
Teams in the late-lottery range are contemplating Kispert.
There has been discussion asking how early is too early for a 22-year-old wing who doesn't create, particularly since there will be higher-upside freshmen and sophomores available. But teams have cited the success of Phoenix Suns' 2019 No. 11 pick Cameron Johnson as a way to justify taking a shooter like Kispert. 
Teams feel confident that they know what they're going to get from the Gonzaga senior, and what they're getting will be valuable. The 6'7" forward shot 44.0 percent from three and 87.8 percent from the line while leading the nation in points per possession in transition, per Synergy Sports.
Based on conversations around the league, Kispert could wind up going top 10 in this draft.
Multiple teams have expressed surprise with how explosive Springer looks in workouts.
He only dunked four times as a freshman while dealing with ankle problems. But Springer is now fully healed and 100 percent healthy. His 34.5-inch standing vertical tied for fifth highest at the combine. 
It's sounding like Springer is helping himself during the predraft process after a season of leaving scouts on the fence about his NBA position and upside as a scorer and playmaker. 
Springer so far has worked out for the New York Knicks, Oklahoma City Thunder, Indiana Pacers, Charlotte Hornets, New Orleans Pelicans and San Antonio Spurs. He still has eight teams left to visit. 
Teams began to wonder about Sharpe after he skipped the NBA combine. And now some are having a tough time getting him in for workouts. 
Teams are trying to figure out if Sharpe has a promise and where he'll wind up going. The mystery seems to be raising interest. 
Video via ESPN's Mike Schmitz surfaced showing Sharpe down 18 pounds and shooting an easy ball. Coveted mostly for his offensive rebounding and passing, Sharpe becoming quicker and more threatening from outside could be a significant development.
Mitchell is widely considered one of the first names likely to be called once the top five or six prospects are off the board. But not every scout sees that upside. 
Mitchell worked out for the Golden State Warriors on Wednesday (per San Francisco Chronicle's Connor Letourneau), and prior to the workout, I'm told there were voices against taking the Baylor guard at No. 7.
Despite Mitchell's reputation for lockdown defense, skeptics don't buy the defensive upside for a player who measured 6'0" in socks. And there is some doubt surrounding his late breakout at 22 years old.
There is enough interest in Mitchell to keep him from slipping, however. But there is plenty of debate within front offices about whether he projects as a star lead guard or a Patrick Beverley-type role player.   
Enjoy our content? Join our newsletter to get the latest in sports news delivered straight to your inbox!
Read full article at Bleacher Report
Grind City Media 16 July, 2021 - 02:00pm
ClutchPoints 16 July, 2021 - 02:00pm
The Toronto Raptors are at a bit of a crossroads right now, having been just two years removed from winning their first NBA championship. After staying near the top of the East in the 2019-20 season, Toronto fell off the playoff picture entirely in 2020-21. Nonetheless, their dismal campaign this past year rewarded them with the 4th overall pick in the upcoming 2021 NBA draft. Majority of mock drafts are billing Gonzaga star Jalen Suggs to fall to the Raptors.
Oklahoma State star Cade Cunningham is the consensus no. 1 overall pick, while Suggs, G-League ignite guard Jalen Green, and USC round out the top 4. Mock drafts are all over the place in terms of who goes after Cunningham. Nonetheless, the Raptors should be more than satisfied to have the 6-foot-4 guard fall onto their laps at 4th. Many draft experts believe Suggs has the potential to become a face of the franchise for any team that lands him. Here are four reasons why Jalen Suggs would be a perfect fit for the Raptors.
Suggs should be the perfect lead general to run the point for Nick Nurse's offense. He and Pascal Siakam should thrive off each other as a solid one-two combo. With Nurse running a system that is heavy on ball movement, Suggs should be able to locate the open man with his court vision and passing.
Jalen Suggs also makes sound decisions in the pick-and-roll and is able to make the right reads depending on how the defense plays it. He is adept at hitting the roller in his spot and this is where he and Siakam can do some damage. In addition, he also knows when to hit the corner when the low man commits to the roll man.
Suggs also presented promising potential on the defensive side of the ball, which should be music to the ears of Nick Nurse. While he probably won't have the same impact Kyle Lowry had on that end of the floor, Suggs should still be able to bring some of the intangibles that the veteran did throughout his tenure in Toronto.
The former Bulldog has great athleticism to become a lockdown perimeter defender and his size and NBA-ready body could really help him in making a defensive impact early. In addition, the 20-year old moves well laterally that helps him stay in front of his man. Like Lowry, Suggs isn't afraid to do the dirty work and makes hustle and energy plays that Raptors fans would love.
Jalen Suggs also possesses high I.Q. on defense, particularly in playing the passing lanes. The 20-year old has shown tremendous chops on when to do so and is often able to make the right reads on when to help and pounce for the steal. Nick Nurse should allow the feisty guard to roam free and gamble on these given Toronto's strong defense and recovery.
This is a pretty strong statement considering the Raptors had greats like Chris Bosh, DeMar DeRozan, Kyle Lowry, and even a year of Kawhi Leonard in the past. Still, this may very well be true when it's all said and down.
Suggs should instantly bring a lot of excitement to this Raptors squad. He is an absolute dynamo on the open floor with his ability to burst to the basket with a quick first step. In addition, Suggs also has crazy bounce that allows him to soar for dunks and alley-oops. Just imagine how he could bring the raucous Raptors fans to their feet with a high-flying highlight.
Jalen Suggs is also terrific in finishing at the basket and does so with a lot of flare and athleticism. The degree of difficulty he finishes with on his drives to the basket makes for possible appearances on your SportsCenter highlight reels or daily top 10's.
With the impending free agency of Kyle Lowry, the Raptors should easily give the reigns to Suggs as their next franchise point guard.  The Raptors are far away from going back to championship contention. Therefore, it may be best for Toronto to take these next couple of years to build a foundation with Suggs as the franchise centerpiece. Perhaps this may be the right time for the Raptors to make a changing of the guard.
As much as he loves Toronto, parting ways makes sense on Lowry's end as well. At 36-years old, it may not be in Lowry's best interests to stick around for a semi-rebuild. Toronto will definitely miss Lowry and everything he brought to the franchise. He means so much to the city of Toronto and was their heart and soul during his time there.
Still, Raptors fans shouldn't sulk too much as Suggs will be a great heir to hold down the point guard spot for Toronto over the next decade or so. Based on his defense, hustle, and energy, it's possible for Suggs to replicate the kind of grit and heart that brought Raptors fans to fall in love with Lowry. If Jalen Suggs brings the give-it-his-all play and mentality to Toronto, it shouldn't take long for Raps fans to shower him with the same kind of love.
Copyright © ClutchPoints. Partner of iOne Digital / Cassius Network.
The Athletic 16 July, 2021 - 02:00pm
NBA draft prospect profiles: Analyzing Gonzaga's Jalen Suggs with college hoops expert Seth Davis
Sports Illustrated 16 July, 2021 - 12:00pm
At 6-foot-8, 225-pounds, Barnes is a dynamic defender and passer, and shows potential to develop as a scorer in the NBA. His combine numbers and performances were more than notable.
Wasserman cited that Barnes has, for all intents and purposes, broken away from the second tier of prospects and into the upper echelon along with the top five.
This comes as a bittersweet note for Thunder fans, most of which had grown on Florida State's unconventional prospect. But it also means that one of the formerly clearly-cut top five prospects will be falling to Oklahoma City at No. 6.
Wasserman also noted that teams ultimately see more bust potential in Jonathan Kuminga, who was the likely choice at No. 5. Orlando is the most likely spot for Barnes to land, but Toronto is also considering him with the fourth overall pick.
That Raptors passing on Gonzaga guard Jalen Suggs would certainly be one of the most interesting draft night scenarios.
The NBA Draft will be held on Thursday, July 29 at 7:30 p.m.