NBA
NBA
With the next pick in the 2021 NBA Draft, the NBA selects Terrence Clarke from the University of Kentucky. #LLTC5 💙🤍 pic.twitter.com/fJYvShrgK3
Shams Charania
ShamsCharania
The Washington Wizards have agreed to trade Russell Westbrook, 2024 second-round pick, 2028 second-round pick to the Los Angeles Lakers for Kyle Kuzma, Kentavious Caldwell-Pope, Montrezl Harrell and No. 22 tonight, sources tell @TheAthletic @Stadium.
Houston Rockets
HoustonRockets
Houston looks good on you, @JalenGreen. 🚀 pic.twitter.com/QD5qy2oN1n
Adrian Wojnarowski
wojespn
ESPN Sources: The Detroit Pistons have landed on a decision to select Oklahoma State's Cade Cunningham with the No. 1 pick in tonight's NBA Draft (ESPN and ABC at 8 PM ET).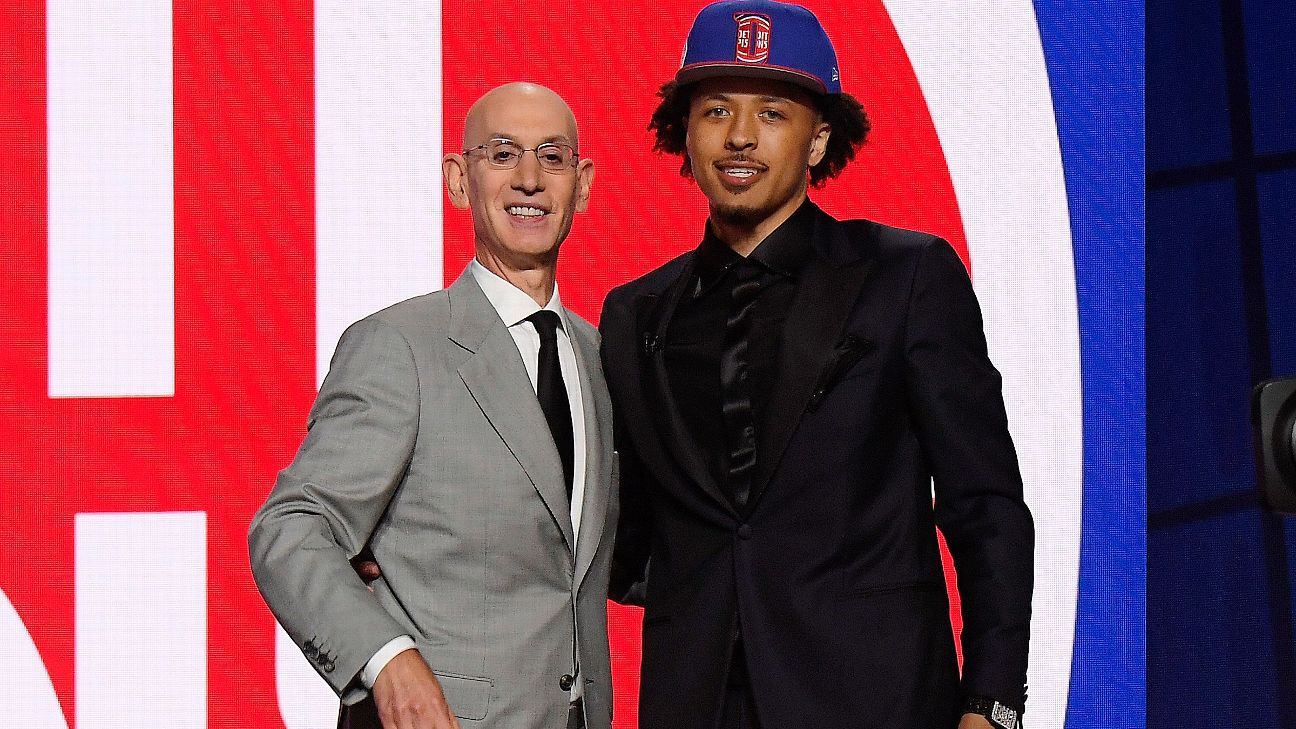 No teams in your favorites yet.
It's been a long time since the Detroit Pistons were a factor in the Eastern Conference.
They're hoping Cade Cunningham can be the player to finally get them back to prominence after making the Oklahoma State star the top overall pick in the 2021 NBA draft on Thursday night at Barclays Center in New York.
"It's still crazy to be in the moment," Cunningham, wearing an all-black suit, shirt and tie, said in an interview with ESPN's Malika Andrews after the selection was made. "Words can't really explain the emotions ... everybody is so happy, my family is all here. To be able to celebrate this moment with them, it's a blessing.
"I love it. Detroit, I'm all the way in. Detroit Pistons, I'm all the way in. Let's do it."
The 2021 NBA draft is underway, with Cade Cunningham going No. 1 to Detroit. Draftcast: Analysis, picks as they happen
As expected, the Houston Rockets and Cleveland Cavaliers took Jalen Green and Evan Mobley with picks No. 2 and 3, respectively. The Toronto Raptors opted for Scottie Barnes at No. 4, with former Gonzaga star Jalen Suggs dropping to the Orlando Magic at No. 5. The Golden State Warriors, who had two picks in the lottery, used them on Jonathan Kuminga and Moses Moody.
But it all started with Cunningham.
The 6-foot-8 guard from Dallas will be asked to try to lead the Pistons back into the playoff mix in the Eastern Conference. Detroit has made the postseason three times in the past 12 seasons but hasn't won a single playoff game since reaching the East finals for a sixth straight time in 2008.
The Pistons will hope that can finally change after some luck in last month's NBA draft lottery landed them the top overall pick for the first time since 1970. That year, Detroit drafted a future Hall of Famer in St. Bonaventure center Bob Lanier.
The Pistons will be thrilled to get anywhere near the same outcome this time around, as Cunningham joins a roster featuring a couple of impressive players from last year's draft in forward Saddiq Bey and center Isaiah Stewart, plus last year's free-agent signing Jerami Grant, who is now playing with Team USA at the Summer Olympics in Tokyo.
"I think having a great young core will definitely help our chemistry because we will have to work harder for everything because we won't have a lot of experience,'' Cunningham said. "The Pistons had a huge draft last year and got guys who are hungry and super gifted.
"I'm excited to come and do what I can to help those guys speed up the process of getting back to winning championships.''
The Rockets followed Detroit by taking the player they had been linked to heavily for weeks: Green, the explosive shooting guard who made history last year by being part of the inaugural G League Ignite team.
Green averaged 17.9 points and shot 36.5% from 3-point range for the Ignite during the G League's bubble in Orlando, Florida, showing off the kind of ability that made him a five-star recruit.
Green now will be the centerpiece of Houston's rebuilding efforts in the wake of it trading away franchise icon James Harden last season, as he'll play alongside big man Christian Wood with the Rockets under coach Stephen Silas.
According to ESPN Analytics, Cunningham has a 58% chance to be at an All-Star level in his first four seasons, the sixth-highest percentage among draft picks since 2010. A look at who was ahead of him:
"I can be that piece," Green said. "I think I can bring that dog mentality, that defensive mindset ... they already got a lot of star players, a lot of excitement on the team. I think they're just missing one more piece and I think I can fulfill that."
That left the Cavaliers with an easy choice at No. 3: USC big man Mobley.
Not only was Mobley a good positional fit for the Cavs -- who took perimeter players in Collin Sexton (No. 8), Darius Garland and Isaac Okoro (both No. 5) in the lottery in each of the past three NBA drafts -- but he also was the consensus choice as the top talent left on the board.
Mobley was dominant at USC in his lone season on campus, sweeping the Pac-12's major awards -- conference player of the year, freshman of the year and defensive player of the year -- after averaging 16.4 points, 8.7 rebounds, 2.4 assists and 2.9 blocks in 33 games for the Trojans.
Teams tried to trade up to No. 3, but the Cavaliers kept the pick and now hope Mobley will begin to turn the Cavaliers around after three ugly years in the wake of LeBron James departing for Los Angeles in 2018.
Some thought the draft really started at No. 4, as in the days leading up to it, there had been speculation the Raptors might not take Suggs. And, ultimately, that buzz was accurate, as the Raptors went on to take 6-foot-9 forward Barnes, the latest long and versatile forward to come out of coach Leonard Hamilton's Florida State program in recent years.
Like last year's top-five pick out of FSU, Patrick Williams -- who went to the Chicago Bulls at No. 4 -- Barnes will have to improve his shooting after making just 27.5% of his attempts from beyond the 3-point arc in his one season with the Seminoles.
But the 6-foot-9 forward is capable of doing plenty of other things right now, and he can slot in alongside Fred VanVleet, Pascal Siakam and OG Anunoby with the Raptors.
That left Suggs to surprisingly fall to the Magic with the fifth overall selection.
Suggs helped lead the Bulldogs into the national championship game -- his buzzer-beating 3-pointer beat UCLA in the Final Four -- before an 86-70 loss to Baylor prevented Gonzaga from becoming the first team since Indiana in 1976 to go undefeated in an NCAA season.
Still, Suggs -- who also starred at quarterback in high school in Minnesota -- more than impressed with his two-way ability, making him a consensus top-five choice.
Orlando leapt at the chance to add a floor general to its roster, and the Magic will hope Suggs can develop the same rapport with new coach Jamahl Mosley that Mosley did with Luka Doncic the past few years as an assistant in Dallas.
The Magic also had the No. 8 pick and used it to select Michigan forward Franz Wagner, the younger brother of center Moritz Wagner, who happened to end the season on Orlando's roster. Unlike his brother, however, Franz is a big wing player who can guard multiple positions, which should allow him to slot in nicely alongside Jonathan Isaac -- assuming he's able to recover successfully from the knee injury that knocked him out of all of last season -- in Orlando's frontcourt.
"It was a great night for the Magic,'' Orlando president of basketball operations Jeff Weltman said. "We added two talented, high-character, team-oriented players. It's not often you get to add, not one, but two of these guys on the same night.''
With the sixth pick, the Oklahoma City Thunder -- a team with more first-rounders than one can count over the next several years -- took Australian guard Josh Giddey.
Want to forecast where your favorite NBA stars could wind up? Create your own deals with ESPN's Trade Machine.
The fifth Australian drafted in the lottery -- and the first since Ben Simmons went first overall five years ago -- Giddey had three triple-doubles in the Australian league last season, when he averaged 10.9 points, 7.3 rebounds and 7.9 assists. He gives the Thunder another long, lanky ball handler to play alongside Shai Gilgeous-Alexander. Giddey played against Nigeria with the Australian national team earlier this month in Las Vegas, scoring 14 points to go with 4 rebounds and 3 assists in that game with plenty of NBA scouts in attendance.
The Thunder had two more picks in the middle of the first round -- 16th and 18th overall -- entering the draft. They wound up turning the first one (received for taking Kemba Walker from the Boston Celtics earlier this offseason) into more future first-round picks -- one each from the Pistons (2022) and Washington Wizards ('23) -- in a trade with the Rockets. Houston took the pick and drafted Turkish big man Alperen Sengun to pair with Green. Oklahoma City then kept the 18th pick and took Florida guard Tre Mann.
The Warriors then found themselves on the clock for the first of their two lottery picks at No. 7, which they used to take the second G League Ignite player to go in the lottery in Kuminga.
After a huge start to his play in the G League bubble in Orlando, the forward was seen as a potential candidate for the top overall selection. But feelings cooled on him as things went along, leaving him as an option for Golden State in the middle of the lottery. Still, Kuminga -- a big forward who averaged 15.8 points and 7.2 rebounds per game for the Ignite -- is a raw talent, but one with quick feet who can guard multiple positions and could be a nice fit alongside Golden State's Big Three of Stephen Curry, Klay Thompson and Draymond Green.
Golden State used its second lottery selection on Moody, the Arkansas guard who is one of the youngest players in the draft and wasn't expected to be on the board with the 14th selection. He, like Kuminga, has some defensive chops and could become the kind of ideal 3-and-D wing to play alongside Golden State's stars.
Last year, the Sacramento Kings drafted a guard in the lottery who immediately walked in and had an impact in Tyrese Haliburton. This year, the Kings got another one they hope can have a similar impact in guard Davion Mitchell at No. 9.
After leading Baylor to its first national championship, Mitchell will now hope to help turn around Sacramento, which enters this year with the league's longest playoff drought (15 years).
Earlier this week, the Memphis Grizzlies slid into the 10th pick by trading Jonas Valanciunas and the 17th selection to the New Orleans Pelicans in exchange for taking on the salaries of Steven Adams and Eric Bledsoe, in addition to getting a future first-round selection. The reward Memphis got for doing so was drafting forward Ziaire Williams out of Stanford.
Williams had one of the wider ranges of outcomes entering Thursday night's draft after an up-and-down freshman season at Stanford. But he was a highly rated recruit entering college, and Memphis is betting that talent will translate to being part of an exciting young core for the Grizzlies alongside Ja Morant and Jaren Jackson Jr.
While Cunningham's selection officially kicked off the draft, the action began much earlier Thursday, with several trades consummated.
One, however, dwarfed the rest: former MVP Russell Westbrook going from the Washington Wizards to his hometown Los Angeles Lakers for a package featuring forward Kyle Kuzma, guard Kentavious Caldwell-Pope and center Montrezl Harrell and the No. 22 overall pick in Thursday's draft, sources told ESPN's Adrian Wojnarowski.
Meanwhile, Detroit shipped center Mason Plumlee to the Charlotte Hornets, along with the No. 37 overall selection, for the No. 57 pick.
The New York Knicks had two picks -- No. 19 and 21 -- but traded them both. New York shipped No. 19 to Charlotte for a future protected first-round pick, with the Hornets taking Texas center Kai Jones there. The Knicks then moved back four spots to No. 25, along with getting a future Detroit second-rounder from the LA Clippers, who took Tennessee guard Keon Johnson at No. 21. The Knicks finally stood pat with their pick at No. 25, and they took Houston guard Quentin Grimes.
The Philadelphia 76ers paid cash to acquire the No. 53 selection from the New Orleans Pelicans, while the Brooklyn Nets sent guard Landry Shamet to the Phoenix Suns in exchange for the No. 29 pick (Day'Ron Sharpe) and guard Jevon Carter.
The Cavaliers acquired veteran guard Ricky Rubio from the Minnesota Timberwolves in exchange for forward Taurean Prince, a 2022 second-round pick and cash considerations.
With the final pick of the first round, the Utah Jazz made the final trade of the first round, sending it to the Grizzlies for the No. 40 selection in the 2021 draft, as well as two future second round picks. With the pick, Memphis took Loyola (MD) forward Santi Aldama.
Read full article at CBSSports.com
The Spun 30 July, 2021 - 07:30am
What's trending in the sports world today.
The Detroit Pistons are on the clock as they'll select first overall in the 2021 NBA Draft this evening. It appears there won't be much drama surrounding who they'll pick.
According to NBA insider Adrian Wojnarowski, the Pistons will take former Oklahoma State star Cade Cunningham with the No. 1 pick. This is a no-brainer for an organization needing a potential superstar.
Cunningham was sensational for the Cowboys last season. He scored 20.1 points per game to go along with 6.2 rebounds and 3.5 assists. He's been coined the best player in this year's draft class for some time now.
It sounds like Cunningham will be the newest member of the Detroit Pistons by the end of the night.
ESPN Sources: The Detroit Pistons have landed on a decision to select Oklahoma State's Cade Cunningham with the No. 1 pick in tonight's NBA Draft (ESPN and ABC at 8 PM ET).
— Adrian Wojnarowski (@wojespn) July 29, 2021
There were some rumblings the Pistons would trade out of the top-overall pick to bolster their draft and player assets. But trading out of the top-four picks could prove costly.
Four players in this year's NBA Draft are considered sure-fire stars, including Cade Cunningham, Jalen Green, Evan Mobley and Jalen Suggs. The Pistons have their pick of the four. Trading out of the position would be a massive mistake.
Cunningham is probably the best top-to-bottom player in the draft. He's an excellent defender, finishes strong at the rim and is a high-basketball IQ player. He also made massive improvements to his mid- and long-range shot during his time at Oklahoma State.
It sounds like Cunningham is on his way to the Pistons. The NBA Draft starts tonight at 8 p.m. ET on ESPN and ABC.
Alek is a Writer at The Spun.
Copyright © 2021 The Spun · All Rights Reserved · Powered by BizBudding Inc.
Rappler 30 July, 2021 - 07:30am
We need your support to make FanGraphs sustainable so you can continue to enjoy all of the articles you've come to rely on and enjoy, like this one.
We're asking for your help to make it through the offseason and ensure that we're here to cover baseball in the 2021 season and beyond. You can read more about the state of the site here.
On May 14, I wrote about how despite some early excitement, the Tigers were struggling to meet the expectations of their rebuild and were on course for a historically bad 2021 season, or at least the first overall pick in the draft. Since then, however, some things have changed, and while they likely won't be making any kind of a postseason push (our Playoff Odds still have their chances at 0.0%), what they have been doing is playing exciting, fun, winning baseball.
Case in point: their Wednesday afternoon game against the Twins. That 17–14 slugfest exemplified pretty much everything that is going right and wrong for the club over the past few months: an aggressive offense with two legitimate Rookie of the Year contenders, and a pitching staff that can turn even a 10–0 lead into something uncertain.
The improvements in the offense have been the biggest part of Detroit's success. In April, the team was dead last in wRC+ at a dismal 63; now, the offense ranks 18th overall at 93. That looks even better if we narrow it down to just July, in which Detroit ranked 12th at 107. Oddly, the Tigers have been excellent in high-leverage situations; for the season, they rank eighth in that split with a 108 wRC+, and if we look solely at the month of July, that goes up to an incredible 164. Similarly, with runners in scoring position, the team has a wRC+ of 103 on the season and 135 in July, up from 92 in April.
Where are the Tigers finding this surge? One of the biggest stories here has to be the incredible rookie season of Akil Baddoo, who made waves by hitting a home run in his first major league plate appearance, struggled slightly at the beginning of May, and has since found his rhythm once more, slashing .309/.394/.497 in his last 56 games. If not for an already loaded class, Baddoo would likely be garnering some attention for Rookie of the Year discussions; he's currently hitting .273/.345/.494 with a 126 wRC+ and a team-leading 1.9 WAR.
Quietly, we've also seen two of the Tigers' young catchers put together an impressive show, both of whom joined the club in mid-May. Jake Rogers was relegated to the alternate site for the entire 2020 season, but this season he's demonstrated that he may be the catcher of the future the team hoped for, with a spectacular 57% caught stealing percentage (though his pitch framing still leaves something to be desired). He's also done an excellent job of leading the team's young pitching staff, most of whom he was already familiar with from his time in the minors.
The more surprising turn has been that of Eric Haase, who caught Spencer Turnbull's no-hitter and has been used as a catcher, designated hitter, and fielder at various points of the season. He had previously seen some short stints in the majors but is having an impressive breakout season, hitting .242/.290/.552 with a 124 wRC+ and 17 home runs — no small feat, having missed almost the first six weeks of the year. Haase has been so consistently good in the Tigers' lineup that, much like Baddoo, he should garner at least a little Rookie of the Year chatter.
Two of Detroit's offseason signings, Robbie Grossman and Jonathan Schoop, are also starting to pay dividends. Grossman — a rare longer-term signing by the Tigers, who have been largely focused on one-year rentals to fill holes in their lineup — is hitting .231/.357/.414 with a 114 wRC+ and 1.6 WAR. Schoop, whose 2020 season was cut short by injury, has proven himself to be a great addition for a second year in a row, hitting .284/.326/.463 with a 113 wRC+. Their production plus the arrivals of Baddoo and Haase has given Detroit a genuine core to the lineup, albeit not a long-term one, most likely.
That's not to say the Tigers are offensive juggernauts, but they're making improvements. At the end of April, Detroit had a -48 run differential and was almost as bad at home (-21) as on the road (-27); now, at almost the end of July, that run differential has sunk to -57, but it's skewed differently, with a +3 mark at home and a -60 on the road. The Tigers have also climbed from being dead last in run differential overall at the end of April to 24th as of this point in July. They did that despite that figure getting worse simply by scoring more runs, going from 75 in April to 119 in May to 130 in June to 119 in July with three games to go.
Where the Tigers' offense seems to be making progress since April, things aren't looking as bright for the pitching staff; while they had strong numbers in May, they've otherwise been consistently poor. That's not to say there aren't some signs of improvement since last season, though. During the 2020 season, Tigers pitchers combined barely managed a positive WAR, notching a mere 0.9 for starters and 1.0 for relievers. What quality there was can be primarily attributed to Turnbull, who offset quite a bit of the damage done by the unexpectedly poor seasons turned in by Casey Mize and Tarik Skubal.
It's been a somewhat different story this year. Turnbull tossed a no-hitter but has subsequently been lost for the season thanks to Tommy John surgery. With both him and Matthew Boyd sidelined, Detroit has been forced to turn to its pitching prospects: Mize, Skubal and Matt Manning. Mize is sitting on a 3.63 ERA, a 4.58 FIP, and 1.1 WAR, a huge step up from his 2020 (a 6.99 ERA, a 6.47 FIP, and a -0.1 WAR). He hasn't made major shifts in terms of pitch usage, though he's relying a bit more heavily on his cutter (a 26.9% usage rate this year compared to 22.8% last year) and less on his curveball (6.8% this year, 10.1% last year) but he's giving up fewer home runs (1.38 HR/9 versus 2.22 last year) and walking fewer batters, posting a three-point drop in walk rate.
Likewise, Skubal is showing signs of becoming the pitcher the Tigers hoped he'd be, making longer starts and showing better command of his stuff as the season progresses. The big positive is his strikeout rate, a solid 26.3%, and like Mize, his home run numbers are beginning to decline (from 2.53 per nine last season to 1.99). He has begun to rely more heavily on the aforementioned new slider and is only using his fastball about 55% of the time.
Detroit has managed to do all of this despite — or perhaps because of — a substantial amount of roster turnover. The aforementioned injuries to Boyd, Turnbull, and Michael Fulmer, as well as the early-season loss of starter Julio Teheran, created early holes for the rotation, and all four of those pitchers are still out. Over the winter, the Tigers tried to patch up the catcher spot with veteran Wilson Ramos, but he hit .200/.238/.392 with a 68 wRC+ before getting injured in May and released in June. Another offseason addition, Nomar Mazara, was hoping to bounce back after a dismal 2020 campaign with the White Sox but only managed a .212/.305/.403 line and a 64 wRC+ before being jettisoned. But while Ramos and Mazara failed to produce, their struggles and eventual departures opened up time for Rogers and Haase behind the plate and more opportunities in the outfield for younger players like Derek Hill, who is hitting .256/.383/.256 with a 92 wRC+, and the rotation injuries created space for Mize, Skubal and others to continue their much-needed development. The Tigers, in other words, seem to be making themselves stronger through the process of elimination.
Amidst the roster shuffle, the Tigers continue to win games. They had a seven-game winning streak following the All-Star break, won their most recent series in Minneapolis, and are heading home again for seven more games at Comerica, where they have been playing their best baseball. In fact, if Detroit can win one of its next three games against Baltimore, the franchise will have its first season with three straight above-.500 months since 2016, which was also the last year the Tigers had even more than one month with a winning record.
None of the changes the Tigers have made since April have been monumental. A slightly improved quality of pitching, strengthening the core lineup, and impressive development from the new generation of players are all a factor leading the team toward what might end up being a .500 season, something fans in the Midwest haven't seen since 2016. For the first time in a while, there are signs of something good happening in Detroit. And whether or not the Tigers get anywhere near a postseason position, simply fielding a winning team for the first time in five years will go a long way to bolstering support and giving beleaguered fans what they've wanted for quite some time: hope.
I wonder what the Tigers do next year. Do they make a splash in free agency? Can't imagine Tork or Greene are that far off, and with the emergence of Baddoo and Haase (who should be on the field most days imo) I could see them looking at a few of the bigger free agents. Verlander even mentioned something about coming back to Detroit. Verlander and Scherzer? Maybe Porcello can eat some innings, ha.
They definitely should. They've built some confidence after having a good year and play in a weak division. Teams like the 2015 Cubs, 2018 Braves, and 2021 Giants show how teams can make huge jumps after being bad for a while but then investing in a product that's clearly getting better.
JV, Mad Max. Oh god no! Tork, Greene probably not until 2023. Still a long way to go.
You're being way too bearish on Tork and Greene. The Tigers have moved them aggressively. I'd be shocked if we didn't see them next year.
Tork just got to AA and the Tigers are trying to see if he can play a serviceable 3B. Maybe he gets a Sept call up late next year if things go smoothly but I wouldnt bet on him being a MLB starter any sooner than 2023.
If they do make a splash, they should go hard at Carlos Correa. He's only 27 and is on a short list of the best players who will be available. Seager is the second most likely since he's 28, but he might have to move to 3B (where they have at least a couple plausible candidates already) and he might actually have been hurt more than Correa.
Otherwise, I don't really know that you should be doing anything except signing pitchers they can flip at the trade deadline.
I would also listen if the Padres wanted to dump Hosmer and was willing to trade a prospect to help facilitate it. I bet Mackenzie Gore or Robert Hassell would look good in that uniform…
The time for them to take on a bad contract was a couple years ago. They would be better off just spending the money that Hosmer would cost on a good player instead of hoping they can fix Gore.
they do not need Starting pitching that much though. They need starting SSs and 2Bs. They have to replace Grossman and Schoop with as good or better 1B and OF. They have nice depth pieces that should not start in Castro and Goodman. they need an everyday above average SS and 2B.
Grossman is signed through next year
Miggy is going to play. Grossman is good. Haase isn't likely this good, but I think he has shown enough that he warrants a look in the outfield as well. I was joking clearly on getting those old pitchers, but I do not think their timeline is that far off.
tbh I think Verlander makes a ton of sense.
The Athletic 30 July, 2021 - 04:22am
Luka Garza goes to the Detroit Pistons: Here's what they're getting