Could Chris Duarte be who the Lakers are really after in the 2021 NBA Draft? Other teams in the league apparently think so.
If you buy something from an SB Nation link, Vox Media may earn a commission. See our ethics statement.
Why? We aren't really sure, but according to Sam Vecenie of The Athletic, there are multiple organizations that think the Lakers gave Duarte a promise to draft him, even if Vecenie himself says he doesn't totally buy the rumors (emphasis mine):
Duarte remains the name that comes up most for the Lakers. He is working out for teams above the Lakers in the draft order, so I'm a bit dubious that there is a "promise" here — or anywhere — for Duarte, something that teams around the league have speculated on throughout the pre-draft process.
To Vecenie's point, usually, in draft parlance, a so-called "promise" is given in exchange for a player shutting down workouts and information for other teams in the hopes that they'll fall to the team that gave them said promise. In exchange, the player gets an absolute bottom floor for where they could end up in the draft, and potentially gets to join an organization they want to go to.
The rumors that Duarte has a promise go all the way back to the combine:
Oregon's Chris Duarte declined his 2021 NBA Draft Combine invite, fueling talk among teams that the combo guard could have a first-round promise, per sources.
But promise or no promise, Duarte does sound like the type of player who could help the Lakers. Check out this scouting report from our own Ricky O'Donnell, who ranks Duarte as the 24th-best prospect in this class:
Duarte will start his rookie season as a 24-year-old who took an unlikely path to become a possible first round pick. A native of the Dominican Republic, Duarte moved to New York for his final years of high school ball and ended up playing two seasons at the JUCO level. When he transferred into Oregon, Duarte quickly showed off his skill as a three-point shooter and perimeter defender in the body of a 6'6 wing. Duarte showed good awareness as a rotational defender that helped produce a 3.2 steal rate that is one of the highest in this draft class. He hit 42.4 percent of his threes on 144 attempts this season, and also made 81 percent of his free throws.
It's easy to project Duarte into an off-ball role in the NBA as someone who can spot-up along the arc for catch-and-shoot jumpers while defending well in a team context. He doesn't have much creation ability on the ball which limits his ceiling, and also has a thin frame that hinders him against bigger forwards, but he feels like a solid bet for a rotational wing role player at the end of the first round.
Given how much the Lakers struggled to shoot last season, and how much Frank Vogel loves defense, it's not hard to see Duarte fitting in well in Los Angeles. Still, it's not really clear where the idea that the Lakers were the team to give him a promise came from, so take this rumor with a grain of salt, even if other NBA teams believe it.
But all that noted, as an "older" draft prospect, Duarte does fit a mold of player this scouting department has seemed to indicate in year's past that it feels is undervalued. The Lakers' picks of Kyle Kuzma (three years in college) and Larry Nance. Jr. (four years), for example, were viewed as reaches in some circles in recent years — in part due to their age — and both of those guys have become solid NBA players. Josh Hart (four years) was also an older college guy, although he was viewed much more favorably by draftniks than the prior two choices. Moe Wagner (three years) and Anthony Brown (five years) were also elderly prospects.
Is Duarte next in that esteemed line of old young guys? We'll find out when the draft takes place on July 29.
Read full article at Silver Screen and Roll
Piston Powered 22 July, 2021 - 03:00am
Michigan Wolverines forward Isaiah Livers (2) . Mandatory Credit: Joshua Bickel-USA TODAY Sports
That the Detroit Pistons need shooters is not a secret and they might not have to look far for some help. Isaiah Livers was a great three-point shooter for the Michigan Wolverines, and he might slip through the cracks of the NBA Draft due to injury.
If the phrase 'Out of sight, out of mind' is true when it comes to the draft, the Detroit Pistons might be able to get Michigan's Isaiah Livers with one of their later second-round picks (they have three total).
Livers has never played basketball outside of the state of Michigan. He played in high school for Kalamazoo Central, where he was voted Mr. Michigan Basketball.
Livers was a standout shooter for the Wolverines this past season. He suffered a stress injury to his right foot in the Big 10 quarterfinals and was out for the rest of the post-season. Michigan still reached the Elite Eight, but Go Blue fans will always wonder how far they would have gone with a healthy Livers.
Even though the 6-foot-7, 235-pound forward was a senior, he could have returned for another year to Ann Arbor. But on April 16th, Livers declared for the NBA Draft.
Livers can shoot from three-point range, really, really well.
That is a skill even more important in the NBA than college. He made 43.1 percent of his attempts from three his senior year, and made 41.2 percent of his shots from beyond the arc in four years with the Wolverines.
Livers averaged 13.1 points, 6.0 rebounds and 2.0 assists a game for Michigan last season. The Wolverines were a deep and talented squad, so no one was going to be able to pile up eye-popping stats.
He is also a leader, being a team captain at Michigan.
Although he could not play in the recent NBA Combine held in Chicago due to his injury (he had surgery on April 6 and hopes to be ready to play by September), Livers did attend. He told the media there what he thinks he would bring to an NBA team, via 247 Sports.
"First of all, I'm a long-term thinker," Livers said. "I'm not really thinking about short-term. Being drafted is a priority, but playing in the league is my main priority. So definitely just getting on the court my first year, because I know I can affect the game with winning (basketball). Whatever coach wants me to do, I can do it. Be a shooter, I can be a shooter, I can create. It's all about getting trust with the coach first. I'm going to come in and play my minutes as hard as I can, then get more minutes the next game hopefully."
Livers is known as a gritty, tough player with a high motor, the exact kind of characteristics that Pistons general manager Troy Weaver likes in a player.
The fact Livers has four years of college and turns 23 before the start of the NBA season means he will be able to contribute faster than some raw 18/19-year-old, who gets taken for potential.
He does not have a major weakness, but, outside of shooting (and he is not bad at driving to the basket), he does not have another great skill, which is why he will go in the second round.
And, despite the injury, it looks like Livers will be drafted. Almost every mock draft has Livers going somewhere in the second round. Hoops Hype's aggregate of all drafts has Livers going at No. 57.
Of course, Detroit has inside information on Livers, as John Beilein, who coached him his first two seasons at Michigan, is now a Senior Advisor in Player Development for the Pistons.
Despite having some standout three-point shooters in Wayne Ellington and Saddiq Bey, the Pistons were a below average team (20th out of 30) shooting three-pointers. Ellington is also a free agent, so Detroit is looking for shooters even more.
With his size and bulk, Livers could play either the small or power forward positions. That flexibility will help, as the Pistons will need shooting when starting forwards Jerami Grant and Saddiq Bey need a break.
As a high character shooter with a high motor, Livers fits in very well with the Pistons. (We say this, admittedly, without the key information of whether Livers makes his bed in the morning)
Also, a consideration might also be made that the Pistons are starting their own G-League team, the Motor City Cruise, at Wayne State.Livers, particularly coming off an injury, probably will start his career playing a lot in the G-League. Having a local college name playing might help with attendance..
Isaiah Livers has a skill that the Detroit Pistons could use. The fact he can not work out for any teams due to the injury, might cause him to slip in the draft. With his former college coach Beilein part of the Pistons coaching staff, they will not forget about him.
Livers could end up being a real sleeper pick for the Pistons.
Build your custom FanSided Daily email newsletter with news and analysis on Detroit Pistons and all your favorite sports teams, TV shows, and more.
Your favorite teams, topics, and players all on your favorite mobile devices.
Powered by Minute Media © 2021 All Rights Reserved.
Grind City Media 22 July, 2021 - 03:00am
NBC Sports 22 July, 2021 - 03:00am
Probably. Almost certainly. But GM Troy Weaver continues to do his due diligence, and is working out some of the other top prospects, including Jalen Green and Jalen Suggs, reports Jonathan Givony and Adrian Wojnarowski of ESPN.
The Pistons hosted Cade Cunningham for a light workout in Detroit on Tuesday, and are slated to bring Jalen Green and Jalen Suggs in for private workouts in the coming days. The Pistons would like to bring Evan Mobley in, but have yet to schedule a visit, sources said.
Cunningham, the longtime front-runner for the top overall selection, is not planning on conducting any additional visits, sources said, and would be extremely pleased to land in Detroit.
Ultimately, Cunningham will go No. 1 to Detroit, and Green is likely picked second by Houston.
That leaves the Cavaliers and Raptors, with the No. 3 and 4 picks, likely selecting Suggs and Mobley in some order — most scouts and teams have a clear top four. After that, the draft opens up with the Magic at No. 5, who could take Scottie Barnes out of Florida State, Jonathan Kuminga from the G-League Ignite, or surprise everyone and go another direction altogether.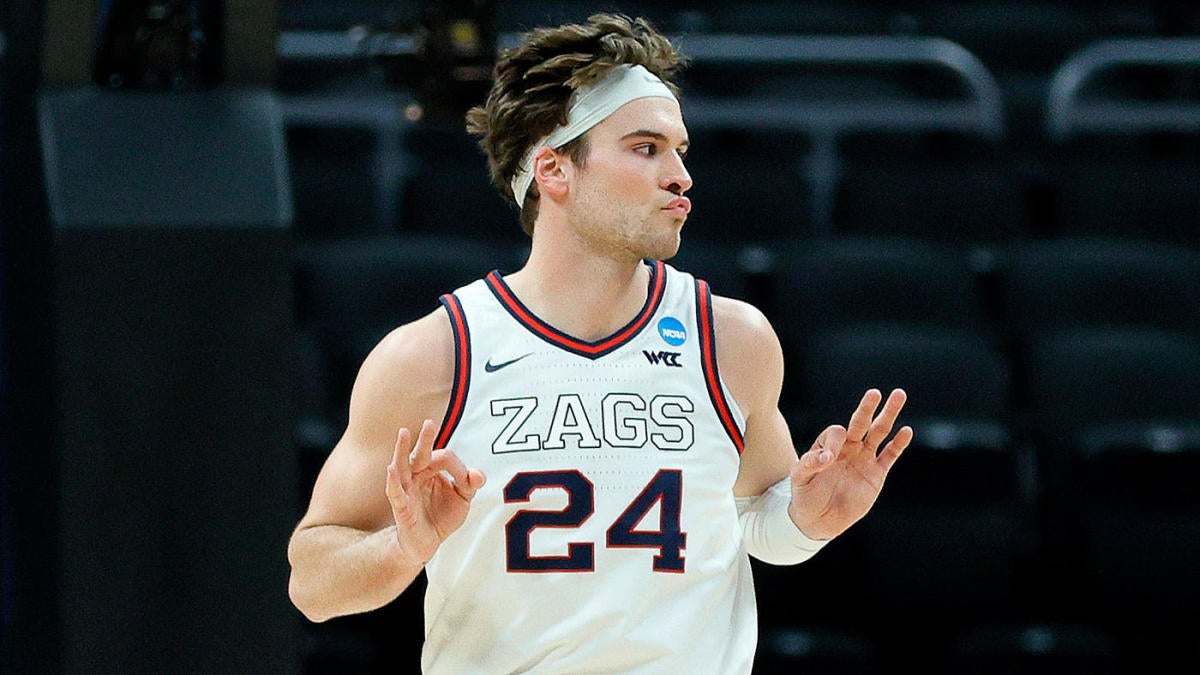 CBS Sports 22 July, 2021 - 03:00am
The NBA Draft is coming up next week, and as always, the event will result in the extraction of some elite young talent from college basketball as a fresh crop of one-and-done stars like Cade Cunningham and Jalen Suggs hear their names called by NBA commissioner Adam Silver. However, there might be a few college players selected who will actually be able to (legally) raise a glass of champagne in celebration.
It's rare that players with four years of college experience sneak into the lottery, but there are usually a handful of seniors who end up getting drafted and making an impact in the NBA. One of those recent impact seniors has been showcasing his game this month with Suns forward Cam Johnson playing a key role for Phoenix during its run to the NBA Finals in just his second year as a pro after a five-year college career. 
More recently, Desmond Bane of the Grizzlies and Payton Pritchard of the Celtics turned in solid rookie seasons this year after playing four seasons of college ball. So who is the four-year (or more) college player from this season's draft class who will have the best NBA career? Our writers weighed in on the topic for this week's edition of the dribble handoff.
I'm not certain where Duarte will be selected next week -- maybe the late lottery, perhaps just outside of that, possibly in the 20s. But here's my prediction: he'll be one of the 10 best rookies next season and, yes, he'll have the best career of any four-year college player from the 2021 NBA Draft. The 6-6 guard was the National Junior College Player of the Year before enrolling at Oregon, where he led Dana Altman's program to back-to-back outright Pac-12 titles. As a senior, Duarte averaged 17.1 points, 4.6 rebounds and 2.7 assists while shooting 53.2% from the field, 42.4% from 3 and 81.0% from the free throw line. I know some front offices might be bothered by the fact that he's already 24 years old, which is more than four years older than presumed No. 1 overall pick Cade Cunningham, but I'm genuinely not because all that suggests is that Duarte is ready to plug-and-play from the jump. If I'm a contender looking for a piece who can help immediately, this is somebody I'm targeting and happy to add to my franchise. -- Gary Parrish
Our Dribble Handoff normally has us providing four different answers for the question at hand, but as you'll see in this edition, we had to double up. Kispert seems obviously best-positioned to have the most successful and long-lasting NBA career of any senior entering the draft. He improved as a basketball player with each season while at Gonzaga -- you know, the way this sort of thing used to happen 25 years ago -- and was part of a program that posted a 127-12 record during his time there. His career numbers: 82.4% foul shooter, 58.5% from 2-point range, 40.8% beyond the arc on a collective 1,399 attempts. 
We have ample evidence to suggest that the 6-6 Kispert is good enough to stick in the league as a spot-up shooter. He has the size, the form, is great off the catch and will have the range. His floor is among the very best of any prospect in this draft, and I expect him to play at least 10 years in the NBA. -- Matt Norlander
I scanned the list of seniors in the draft and couldn't prevent from echoing Norlander's response. Kispert's an NBA-ready shooter primed for a long career. He made 43.8% of his 3s two seasons ago at Gonzaga on 178 then backed up the outside shooting prowess again by making 44% of his 3s on 207 attempts as a senior on a Gonzaga team that lost once all season. 
His ability to take a high volume of outside shots and make them at an elite clip makes him one of the most coveted seniors in this draft class, and he is the one I feel most confident projecting to have the best career among the peers in his same classification. -- Kyle Boone
After a promising second season in the NBA, former four-year Florida State guard Terance Mann looks like a solid building block for the Clippers, but you might not have predicted that outcome when he was drafted 48th overall in 2019. Mann shot just 32.7% from 3-point range for his career at FSU, and although he raised that mark to 39% as a senior, he flew under the radar partially because of the system from which he came.
Florida State rarely produces flashy superstars with gaudy statistics or over-the-top personalities. Instead, the Seminoles have become one of college basketball's top programs under Leonard Hamilton by prioritizing defense, hustle and unselfishness on the offensive end. That's why M.J. Walker has staying power in the NBA, despite landing at just No. 56 on the latest CBS Sports NBA Draft Big Board. At 6-foot-5, he aligns with Mann both in terms of frame and game.
While his offensive game inside the arc is less efficient than Mann's, Walker shot it better from the outside (42.3% in 2020-21) at FSU and has a better wingspan. Like Mann, Walker is defensively indoctrinated by Hamilton and has a high floor on that end. Mann has managed to become a solid 3-and-D wing at the next level, and Walker looks like he could do it just as well, if not better. -- David Cobb
© 2004-2021 CBS Interactive. All Rights Reserved.
CBS Sports is a registered trademark of CBS Broadcasting Inc. Commissioner.com is a registered trademark of CBS Interactive Inc.
Images by Getty Images and US Presswire