What happened at Red Sox Yankees game?
The game between the Boston Red Sox and New York Yankees at Yankee Stadium on Saturday was delayed briefly after a fan threw a baseball at Boston outfielder Alex Verdugo in the sixth inning, hitting him in the back, which led Red Sox manager Alex Cora to pull his team from the field. The AthleticRed Sox-Yankees delayed after fan throws baseball at Alex Verdugo
Why is the Yankees game delayed?
NEW YORK (CBSNewYork/AP) — The New York Yankees announced that Thursday's series-opening game against the Boston Red Sox has been postponed due to positive COVID-19 tests within the organization. Major League Baseball released a statement saying the postponement is to allow for continued testing and contact tracing. CBS New YorkYankees Game Postponed Following Multiple Positive COVID Tests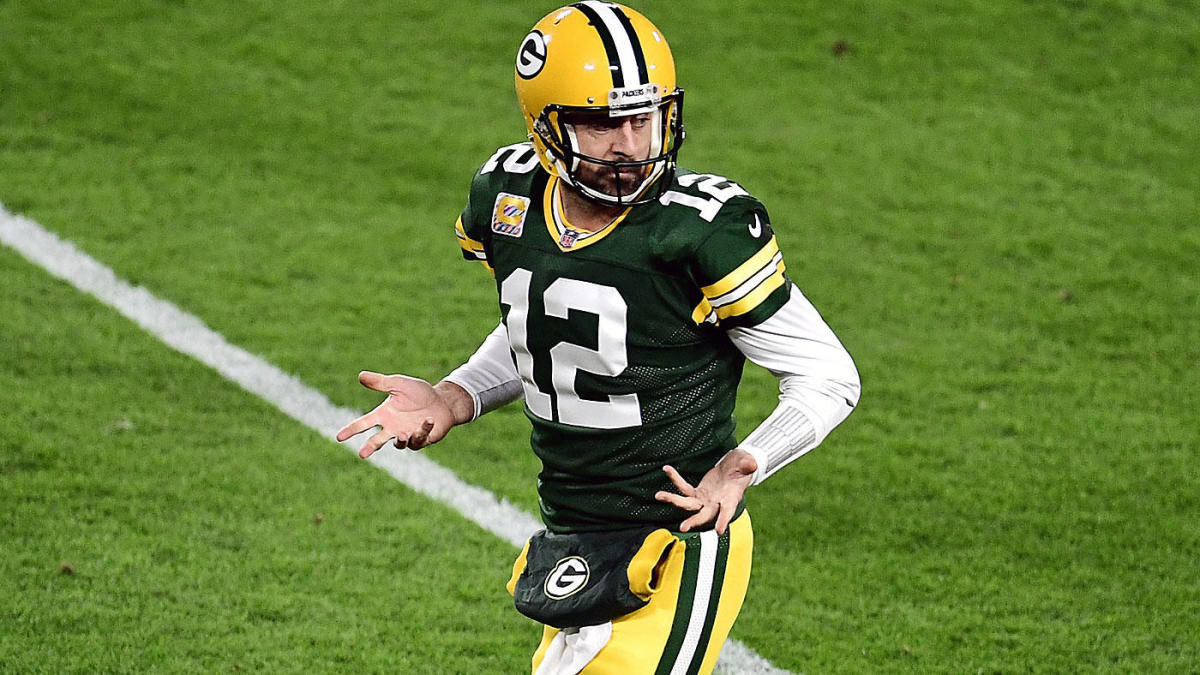 Training camp is just around the corner. But some teams could still have some major changes up their sleeves ahead of the 2021 NFL season. Most blockbuster moves are in the rear view, but that doesn't mean clubs aren't making calls for emergency scenarios, or putting out feelers for some of the biggest names still perceived to be available.
With that in mind, here are nine of the most notable surprise camp trade candidates as we dive deeper into the summer: 
It's clear as day that Rodgers, as it stands, is not happy in Green Bay. Some are convinced that he's convinced his Packers days are over. But even if that's totally true, the team will almost assuredly play hardball in any future trade talks, perhaps to the point of letting Rodgers sit at home while the season kicks off. In other words, even if a deal goes down, it probably won't be during -- and especially not early in -- training camp. The Rodgers rumors are good drama, but because of his legacy in green and yellow, a trade would still be a surprise, not to mention an instant financial boon for the Packers, saving the club an instant $22.85 million.
The former Chargers back got decent money (two years, $16M) to headline Denver's backfield in 2020 and fared relatively well, but the Broncos are under new management and just spent a second-rounder on Javonte Williams. New general manager George Paton also added Mike Boone, an ex-Vikings reserve he helped bring to Minnesota, and could save $6.9M by dealing Gordon.
The current regime used its franchise tag on A-Rob partly because 2021 is a critical year, and without him, the Bears would be devoid of any proven No. 1 pass catcher. But that doesn't change the fact these two sides have been "talking" about a new deal for ages without resolution. Robinson has no guarantees in regards to if/when the Bears will turn the keys over to new quarterback Justin Fields, and with extension negotiations tabled once more, it's not inconceivable that his representation could quietly request permission to seek a move elsewhere. Chicago wouldn't budge easily, but at least GM Ryan Pace could sell a potential deal -- which would free up almost $18M -- as a move to go all in on a post-2021 roster.
GM Joe Douglas is all about building from the trenches first, and with new QB Zach Wilson in tow, keeping the pocket clean is of the utmost importance. He also just gave the ex-Broncos veteran a three-year, $27M deal in 2020. This offseason, however, he invested a ton in Alijah Vera-Tucker, who has center experience; and added guard Dan Feeney for over $4M. By trading McGovern ahead of a make-or-break year, Douglas could recoup $8M immediately.
It was just a year ago that Chicago rewarded Quinn's Cowboys breakout with a five-year, $70M deal. Yes, you read that right. The Bears would be decimating their pass-rushing depth by dealing Quinn, 31, but would assuredly also welcome any chance to walk back their cap-crunching commitment. A trade this summer would net them $11.6M right off the bat. They currently have less than $6M free.
Like Rodgers, he's been the subject of plenty of trade speculation, and yet his team isn't necessarily likely to pull the trigger on a move. Entering his age-31 season, Gilmore doesn't seem in a rush to leave New England; he just wants a raise. The Pats will likely try to appease the perennial Pro Bowler before even fielding calls, but if/when the two sides don't strike a new deal, suitors will be there. New England would save $7.7M by dealing their No. 1 cover man, and Bill Belichick has shown a willingness to part with big names too soon rather than too late, but he'll want to be darn sure Gilmore wants/needs out before granting that request.
Houston just extended the 29-year-old former Broncos standout with a three-year, $36M deal in 2020, and rightfully so. He's still a starting-caliber cover man on an otherwise porous roster. But the Texans need all the cap relief and additional assets they can get. The new front office may very well be restarting at QB -- and every other position, to be frank -- by 2022, if not this year, and Roby would still look appealing to contenders. Even though he's suspended for the opener, he'd likely net a decent return, not to mention save the team almost $9.2M this year.
Does Joe Douglas prefer to deal Maye? Probably not. But he also didn't prefer to deal Jamal Adams. And both standout safeties failed to strike a long-term deal with the GM before exploring other options. The fact of the matter is Douglas doesn't prioritize lucrative paydays for the position. He'd save an instant $10.6M by dealing the young defensive back to a more financially flexible secondary.
He's still a big name with a big role, but with 2022 free agency on the horizon, Peppers could be dangled for the chance to gain $6.8M in cap savings for a team with just $2.4M in current space. It's not as if New York hasn't invested in alternatives at the position, paying up to retain Logan Ryan, recently spending a high pick on Xavier McKinney and finding snaps for the versatile Julian Love.
© 2004-2021 CBS Interactive. All Rights Reserved.
CBS Sports is a registered trademark of CBS Broadcasting Inc. Commissioner.com is a registered trademark of CBS Interactive Inc.
Images by Getty Images and US Presswire
Read full article at CBS Sports
MassLive.com 19 July, 2021 - 09:10am
NEW YORK -- From the outside, it would appear that Red Sox chief baseball officer Chaim Bloom might find himself at a crossroads as the trade deadline approaches. On one hand, Bloom has vowed that every move he makes will be done to create a sustainable, winning product in Boston on a longterm basis. But with the Sox sitting in first place and looking like a championship contender in 2021, there will be a temptation to make win-now, short-term moves between now and July 30.
In Bloom's mind, those two paths can coexist.
"I think the fact we are where we are and that it has come as a byproduct of following the blueprint that we set out should only fuel our fire to see this through," Bloom said during a lengthy conversation at Yankee Stadium on Saturday afternoon. "Our position in the standings matters. 2021 and success in 2021 is a part of this bigger, longterm goal that we're trying to build towards. We need to respect that, we need to be mindful of it and we need to do what we can to win this year just like we will every year.
"We can't take our eyes off of what we're trying to accomplish bigger picture here. I think it would be a mistake," he said. "The fact we have experienced some success this year while trying to build toward that should only strengthen our conviction in where we're headed."
The 56-37 Red Sox enter Sunday's game against the Yankees with a one-game lead over the Rays in the American League East and are tied with Houston for the second-best record in the American League. Though the club's roster is well-balanced and there are few clear holes, there are still a few spots where Bloom could look for upgrades. Relief help is always on the table for contenders. A first baseman with more experience at the position than Christian Arroyo or Franchy Cordero might help. A bench bat would take pressure off light-hitting utility options Marwin Gonzalez and Danny Santana.
Unlike Dave Dombrowski, who tended to state his needs publicly, Bloom tends to take a more holistic approach to roster-building.
"I don't want to box us into thinking we need X, Y and Z," he said. "There are certainly parts of our team that are more established and more entrenched than others. I think the best thing we can do ourselves right now -- which is what we have been doing -- is looking at a lot of different ways for us to help ourselves, whether that's now, down the road or both, and going from there."
The Red Sox are in the enviable position of being able to add premium talent near the deadline without actually having to make any trades. Top outfield prospect Jarren Duran and rookie righty Tanner Houck are already up, and ace Chris Sale will soon rejoin the roster, probably sometime in early August. With those three additions, the Sox add a potential game-changing outfielder in Duran, a versatile weapon in Houck and -- if he returns to form -- one of the best pitchers in baseball in Sale, all without giving up any prospects.
Despite the timing -- and the excitement surrounding the additions -- Bloom said he doesn't think of Duran, Houck and Sale as deadline additions because they have been part of the Red Sox for years. Instead, the all three players represent another factor to consider.
"I don't think that is how we've been thinking about them or getting them back in here," Bloom said. "They're part of our group, so it's really good to be able to incorporate them. It's amazing to see Chris being able to make the progress that he's making. We've been waiting for that for so long. It's obviously a great thing, it's something we need to factor in when we think about our roster, but other than the timing, I try to separate it from how we think about the deadline.
"We certainly wouldn't want to do anything that would needlessly take opportunity away from guys that I think can impact us," he continued. "If we see ways that we can help our club, we should look any of those. Some of those might be more linear where it's very clear and some of them might be less obvious but are still possibilities we need to work through and stones we need to turn over."
Though it's possible (and maybe even likely) that the Sox won't make any major trades in the next few weeks, Bloom and his lieutenants will surely be active in talks with clubs around the league. Bloom said this year's action -- unsurprisingly -- is a little bit delayed because the MLB draft was moved from mid-June to last weekend. Now that the draft is over, Bloom said, talks have picked up significantly in the past three or four days.
Bloom didn't rule out adding a rental player but reaffirmed the organization's preference to add players who are under contract past 2021.
"That's always a positive," Bloom said about adding players with control. "It's not the only possibility we would look at. As we have for the last year-plus, if we get an opportunity acquire someone who can be a part of this beyond just this year, that's a good thing and something we need to factor in."
As he approaches his second trade deadline with the Red Sox, Bloom faces a much different mission than he did during his first go-around. Last year, with the Sox out of contention, he was tasked with offloading veterans Heath Hembree, Mitch Moreland, Kevin Pillar and Brandon Workman. Now, he faces the exciting possibility of fortifying a World Series contender.
"Last year, we knew we had the ability to move the organization in a good direction given the season we were going through," he said. "But emotionally, it stinks when you're in that position. We do this to win championships. When you're in a position to do that, it makes everything more fun."
Though Duran was brought up right at the beginning of the second half of the season, Bloom said that wasn't always the plan. The outfielder's Triple-A performance -- in addition to injuries to Gonzalez and Santana leaving the Sox a little bit short on position players -- led to the call.
"As Jarren had built the season he has been building and made it clear he was moving in the right direction with things we wanted to see from him, we started having more and more conversations within our front office and with (Cora) and the staff about the best way and the best time to integrate him," Bloom said. "I don't think we can say we are so smart as to be able to nail it perfectly and have a perfect process to determine that, so there's a lot of different things that go into it. Basically, we felt this was the right time and the right time to challenge him with this next step."
1. There did feel like there was more hype around this year's draft than in other years because of the switch from June to July, but virtually everyone in baseball disliked the change. Have to wonder what will happen moving forward.
2. The Red Sox are working to sign all of their draft picks, and I'm hearing they're closer to locking up first-rounder Marcel Mayer than they are with second-rounder Jud Fabian. At least three picks (third-rounder Tyler McDonough, sixth-rounder Daniel McElveny and 10th-rounder Matt Litwicki) have signed already.
3. The Braves are being aggressive early in trade season, acquiring outfielder Joc Pederson from the Cubs and catcher Stephen Vogt. If they fall further out of contention in the next two weeks, they could flip whoever they acquire. Smart strategy.
4. I don't expect the Red Sox to make any major deadline moves. Complementary pieces, like in 2018. There just aren't glaring holes on the roster.
5. What a weird weekend in the Bronx. The COVID-19 postponement, rain-shortened game with the Alex Verdugo incident, everything. An unforgettable few days.
6. The fan who hit Verdugo with the ball has been banned from all MLB parks, which was a severe but necessary step.
7. The Red Sox will be in Buffalo to start this week, but all the attention will be on Hadlock Field in Portland, where Chris Sale will pitch in a rehab outing Tuesday night.
8. My unofficial educated guess on when Sale will return? Aug. 9, when the Red Sox open up a homestand with a matchup against the Rays. That would give him four more rehab starts before being activated.
9. Say what you want about Tanner Houck's pitch mix or projections... but he flat-out performs in the majors. In 30 ⅓ innings (no longer a tiny sample size), the righty has 1.78 ERA and has struck out 36 batters.
10. Our Chris Smith did a great job covering the All-Star festivities in Denver, catching up with a ton of both Red Sox and non-Red Sox players. Check out some of his coverage.
Note to readers: if you purchase something through one of our affiliate links we may earn a commission.
Pinstripe Alley 19 July, 2021 - 06:00am
We may have only seen three days of Yankees baseball in the past week, but an off-day feels warranted.
Yes, they've only played three games since last Monday and the B-squad even managed to steal a series against the Red Sox, but I will still gladly take the off-day today. It's been an exhausting stretch.
On the site, Peter and Dan will preview the recently-rumored Starling Marte and Adam Frazier as potential trade targets, John will discuss the farm system perhaps salvaging the year for Brian Cashman, and Ryan will have the latest mailbag prompt.
1. Who was your favorite random Yankee contributor to the series victory over the Red Sox?
2. Do you dare dabble with cautious optimism since the Yankees are 7-3 in their last 10 games?