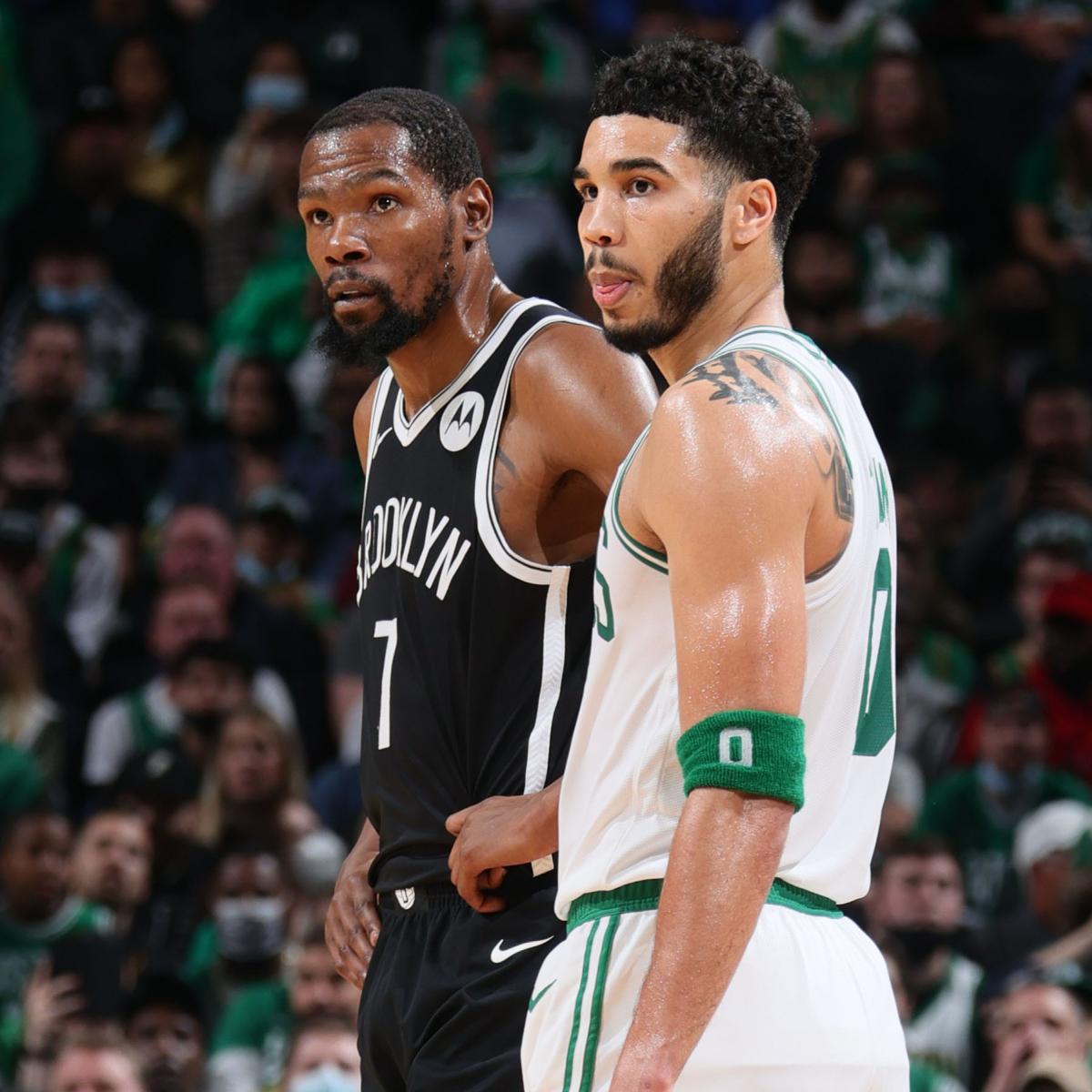 Group play at the Tokyo Olympics is set to tip off on July 25, just three days after the NBA playoffs are scheduled to end. 
Despite the tight window, a number of players who are still at it have committed to Team USA's 12-man roster for the international tournament.
Over the past several days, the Athletic and Stadium's Shams Charania, and ESPN's Adrian Wojnarowski have pieced together the team for the public through their reporting.
Charania then posted the final team, as it stands now:
Team USA's 12-man roster for the Tokyo Olympics: Kevin Durant Damian Lillard Bradley Beal Jayson Tatum Devin Booker Zach LaVine Kevin Love Bam Adebayo Draymond Green Jrue Holiday Khris Middleton Jerami Grant
Even without Team USA mainstay LeBron James, this group is loaded with talent.
Kevin Durant and Damian Lillard are all-time great offensive players. Bradley Beal has averaged 30.9 points over his past two NBA campaigns. Jayson Tatum, Devin Booker, Zach LaVine and Bam Adebayo are among the league's most intriguing young stars. Kevin Love, Draymond Green, Jrue Holiday and Khris Middleton will add plenty of skill and experience. The only member of the roster without an All-Star appearance is Jerami Grant, and he's coming off a career-high 22.3 points in 2020-21.
Given the ability, versatility and size of the team, it's not hard to see why it's currently the overwhelming favorite to win gold.
Even still, despite generally dominating the world stage for decades, USA has been on the wrong end of some surprising results. And there are some concerns (or at least, the potential for some concerns) when you dig a little deeper.
Which questions are biggest? Let's take a look.
As of the date of Charania's latest report, Booker, Holiday and Middleton are still in the NBA playoffs. Durant, Lillard, Beal, Tatum and Adebayo have been eliminated, but they were also in the postseason.
After a shorter-than-usual offseason following the 2019-20 campaign, a condensed 2020-21 packed with unprecedented health and safety protocols and playoff runs for a handful of players on the roster, it's fair to wonder how much gas will be in this team's tank.
There may be particular concern for Durant, who missed all of last season recovering from a torn Achilles, then missed out on another 37 games due to injury this campaign. And finally, he just averaged 42.7 minutes in a grueling seven-game series against the Milwaukee Bucks.
Even on a team as talent-rich as this, Durant is pretty comfortably the best player. And while an All-Star team like this is built to survive some absences, losing Durant for a game here or there could shake up the tournament.
Following LeBron's departure from the Cleveland Cavaliers, it's been a rough few years of basketball for Kevin Love.
From the start of his career through the end of the 2017-18 season—LeBron's last in Cleveland—Love had a 3.5 box plus/minus (BPM "...is a basketball box score-based metric that estimates a basketball player's contribution to the team when that player is on the court," according to Basketball Reference). Since then, he's at 1.5.
Perhaps more alarming, the soon-to-be-33-year-old Love played in just 47.0 percent of the Cavs' 219 games over those three post-LeBron years. And his rare appearances have often been marred by bizarre behavior.
Love has struggled with the dysfunction in Cleveland, so the report that he'd committed to Team USA was surprising.
The Athletic's Joe Vardon reported on why Love might've wanted to be involved, as well as how that involvement might help him:
With Serbia's Nikola Jokic out, and Australia's Ben Simmons leaning the same way, USA may have two fewer medal contenders to seriously worry about.
France will have a decent amount of NBA talent, including three-time NBA Defensive Player of the Year Rudy Gobert, but the biggest problem figures to be a familiar foe: Spain.
No other international basketball program has pushed the Americans quite as consistently over the last 15-plus years. Spain took the silver medal in both 2008 and 2012, followed by a bronze in 2016.
And though its roster is starting to feel a bit older, the experience and chemistry this group has developed together is something Team USA may never be able to match.
The Americans have the talent edge, but many of Spain's players are more accustom to FIBA-style basketball, and they certainly won't be intimidated.
Enjoy our content? Join our newsletter to get the latest in sports news delivered straight to your inbox!
Read full article at Bleacher Report
NBC Sports Chicago 31 December, 1969 - 06:00pm
"I would love to go out there and represent my country," he told reporters on May 11. "I think I've shown what kind of player I am and what I can contribute to a team."
LaVine has committed to join Team USA for this summer's Olympics, his agent Nima Namakian confirmed Wednesday.
Barring any de-commitments, the news adds to a stacked 12-man roster, especially in the guard department. Damian Lillard, Devin Booker, Bradley Beal and Jrue Holiday have all reportedly staked their claim. So, too, have Kevin Durant, Jayson Tatum, Khris Middleton and Jerami Grant on the wing, and Bam Adebayo, Draymond Green and Kevin Love in the front court.
For LaVine to join such company is a testament to his development as a player. He made his first All-Star team in March, and eventually finished a career season with averages of 27.4 points, five rebounds and 4.9 assists per game on 50.7 percent shooting from the field and 41.9 percent from 3-point range.
"You watch him play, he's worked hard defensively, he's continued to try to get better and improve in that area. I think his decision-making and how he's playing on offense, he's continuing to improve and get better there," said Bulls coach Billy Donovan after LaVine was added to the 57-player finalist pool for a Team USA roster spot in March.
"The fact that he's being recognized for the work he's put in and what he's done I think is a great testament to him and how he's grown and continued to get better as a player."
The Bulls also hope it's a sign of the franchise returning to relevancy, a goal executive vice president Artūras Karnišovas has belabored since being hired last offseason. LaVine will rub elbows with some of the best players in the NBA this summer — wink, wink — and showcase his skills on a global stage while representing the organization.
Plus, when all is said and done, perhaps he'll add a gold medal to his trophy case. At the very least, it should prove a valuable experience for LaVine as a player and person (health provided).
The Tokyo Olympics begin this year on July 23 and run through Aug. 8.