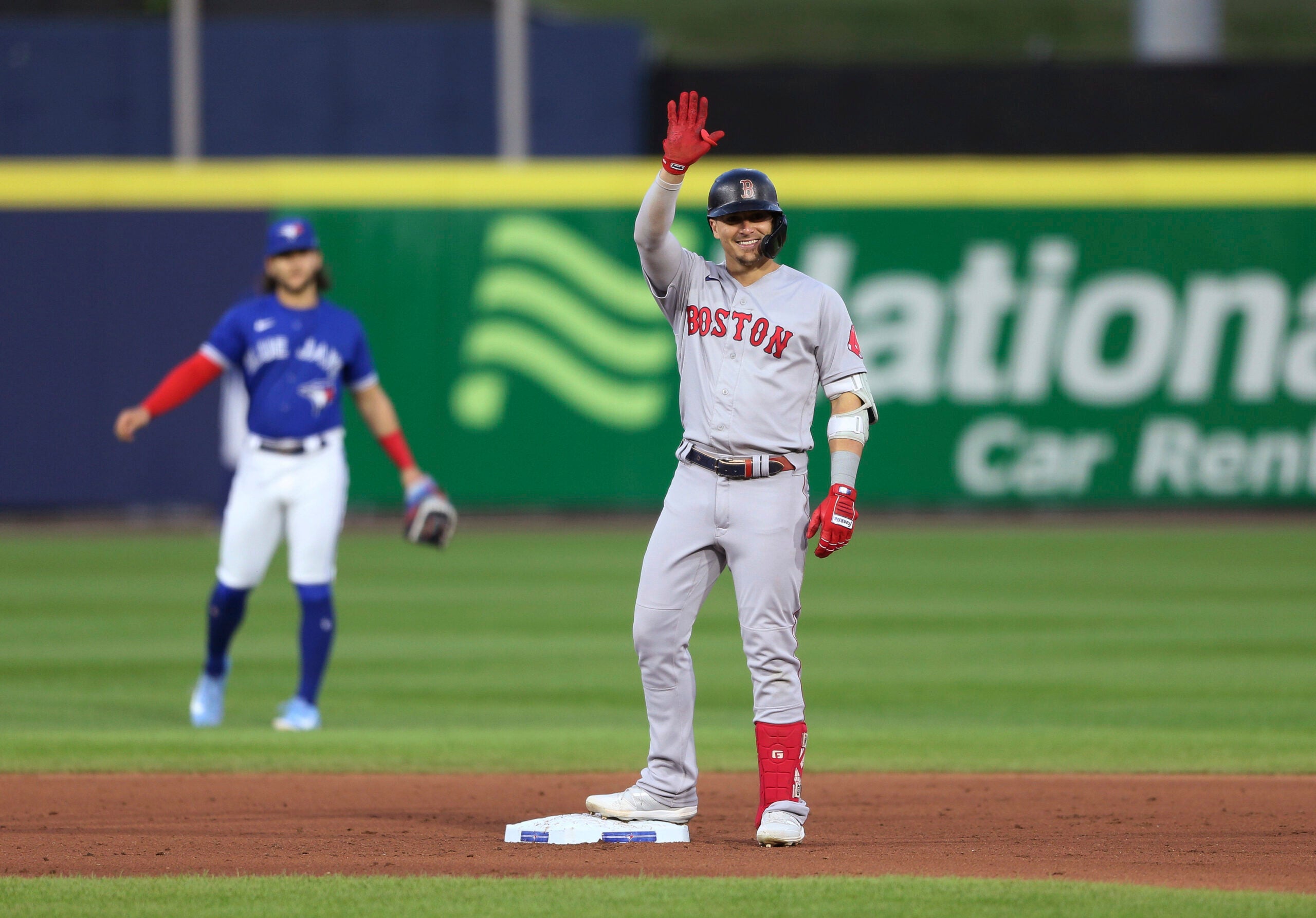 The Red Sox offense remained hot on Wednesday, as five players homered in a 7-4 victory over the Blue Jays.
The Red Sox started strong, building a 2-0 lead in the third inning that expanded to 5-1 by the top of the six on homers by Rafael Devers, Kiké Hernández, and Michael Chavis. Starter Garrett Richards threw 5.2 good innings before the Blue Jays scored three abrupt runs on a two-out walk followed by back-to-back homers.
The Red Sox answered by shutting down the Blue Jays the rest of the way. In the eighth inning, J.D. Martinez and Hunter Renfroe gave Matt Barnes a pair of insurance runs with back-to-back homers.
Not a repost. We just did it again. pic.twitter.com/xSJytHVPgA
"Can't say enough about this team," Richards said after the game. "They gave me a lead at the very beginning, I gave up a little bit, and they put the icing on it at the end. So we're just enjoying playing together right now and winning ball games."
Kiké Hernández – 2-for-4, two RBIs, run, HR, double
Hernández has nine homers in his last 25 games — the first time in his career he has accomplished that feat. After the game, he had no answers regarding his recent power.
"I don't have a secret," Hernández said. "Like I said the past few weeks, I'm just trying to get good at bats, make good decisions at the pitches I want to swing at, and it's going well for me right now, so just trying to do my job.
The Red Sox maintained a one-game lead over the Rays, who defeated the Orioles 5-4. The Yankees — who travel to Fenway on Thursday — are seven games back.
1. Subtract Garrett Richards' balky sixth inning, and he allowed just two hits and a run on Wednesday.
"You saw what happened there," Alex Cora said. "Two pitches, two outs, a walk a homer and a homer, and they are back in the game."
But Richards believes his work with Red Sox pitching coach Dave Bush has made an enormous difference as he continues to adjust to the MLB's crackdown on substances.
"I'm starting to figure out hand position, figuring out some things mechanically right now," Richards said.
Richards added a changeup to his arsenal — a pitch that goes toward right-handed batters and away from lefties. He noted that the rest of his pitches are reversed.
"I'm starting to evolve," Richards said. "… I'm getting older and the game is changing a little bit. I'm happy with the direction I'm moving towards. It's not a finished product, but definitely making strides in the right direction."
2. Alex Cora told reporters after the game that he believes Danny Santana is headed to the IL after tweaking his groin. Cora added that Marwin Gonzalez isn't close to a return from his hamstring injury yet either.
If Santana goes to the IL, the Red Sox will need a replacement. One option? Franchy Cordero, who is batting .329/.411/.955 even after going 0-for-4 on Wednesday for the Worcester Red Sox.
3. After their offense faltered for much of the month of July, the Red Sox hit 10 homers in their last two games — an impressive rebound following their disappointing series against the Yankees.
Cora poked fun at media and fans who panicked after the Yankees series.
"For everything everybody made out of the New York series, if you think about it, we only had one bad pitch inning, right?" Cora said. It was the seventh or eighth inning on Sunday. Besides that, we pitched well the whole road trip.
"We ended up 3-2 on this road trip, so it was a positive one for how bad it looked supposedly over the weekend. We're in good shape going home, and hopefully, we can get going at home again."
Now the Red Sox have a chance to make up for their brief struggles against the Yankees — a four-game series at Fenway that opens Thursday evening.
Hernández sounded hopeful the Red Sox's offensive struggles have righted themselves.
"We went through a little bit of a rough patch offensively," he said. "The pitching was the one keeping us in the game, and we got the better end of some games, and the other ones we lost was because we didn't hit. Hopefully, these two games means our offense is back to normal."
Receive updates on your favorite Boston teams, straight from our newsroom to your inbox.
©2021 Boston Globe Media Partners, LLC
Stay up to date with everything Boston. Receive the latest news and breaking updates, straight from our newsroom to your inbox.
Read full article at Boston.com
NESN 22 July, 2021 - 09:11am
Bluebird Banter 22 July, 2021 - 09:11am
Red Sox (57-38) vs Blue Jays (48-43)
With the rain out yesterday and the off day tomorrow, the Jays will just skip the scheduled spot start from Thomas Hatch and move forward in the rotation to Robbie Ray. This will be Ray's third start in the team's last 6 games, as he started both games that bookended the All Star Break as well. Those starts were also the best he has looked all season, as he completely dominated the Rays and Rangers. He threw a combine 13.2 shutout innings, allowing just 5 hits and 3 walks while striking out 19.
On the season, Ray is now 8-4 with a 2.93 ERA. Through a team best 107.1 innings, Ray has struck out 138 batters against just 27 walks. That K%-BB% is 7th best in baseball among the 152 pitchers with at least 50 innings, sitting right between Tyler Glasnow and Clayton Kershaw.
Ray has made just 1 start against the Red Sox so far this year, a start at Fenway Park on June 13. In that one, he earned the win while giving up 3 runs on 4 hits and 3 walks over 6 innings. He struck out 10 in that one, and surrendered a home run to Xander Bogaerts. But that was the game that the Jays hit 8 home runs, so it was a pretty easy day for Ray.
The Red Sox don't have the benefit of an off day tomorrow, and actually don't have a scheduled off day until Monday August 2. So they probably appreciated the rainout yesterday, and just kept everything in line as they advance a day on the calendar. As such, Garrett Richards, who was scheduled to go yesterday, will still make the start today.
This will be Richards' 19th start of the season, and the 33 year old righty is 5-5 on the season with a 4.91 ERA, and a very similar 4.71 FIP. Through 91.2 innings this year, Richards has just 73 strikeouts against 43 walks. His one saving grace this season is that he has allowed just 11 home runs.
Richards has made 3 starts against the Jays already this year. In total, he has made it through 16.2 innings, going 4.2 innings, 6.2 innings and 5.1 innings. Through those 16.2 innings, he has allowed 10 runs on 22 hits and 12 walks, striking out just 10. He managed to escape a lot of the damage that 35 baserunners (a bean ball is also mixed in) in 16.2 innings causes by not allowing a home run. Interestingly, 4 of his 5 wild pitches thrown this year have occurred against the Jays.
I think with the Jays set to face the same starting pitcher, it's safe to assume the same lineup that was posted yesterday:
Although looking at the positions, I'm not sure they'll bother with Gurriel at 1B and Guerrero at DH with the day off yesterday and tomorrow, I doubt they try to get anyone off their feet here. So one of the outfielders will probably just be the DH today.
With the lefty on the mound for the Jays, the Red Sox will have a bit of a different look today. Bobby Dalbec is listed as being in a platoon at 1B, with rookie Jarren Duran the lefty bat the would presumably by on the bench. I'd be a little bit surprised if the rookie is being platooned at this point though, so I don't actually think he'll be out of the lineup.
Alex Verdugo has spent the whole year starting in the 2 hole, but on Monday he made his first start of the season batting 6th. Durran was bumped up, and that might be the plan moving forward. If I was a Red Sox' fan, I'd much rather that spot be occupied by either Bogaerts or Devers.
Chris Taylor went 3-4 with a pair of home runs, scoring 4 time and driving in 3 to pick up the Monster Bat award. He helped carry his Dodgers to the big win over the Giants, 8-6.
The Cardinals' bullpen had a nightmare 9th inning last night. After walking in a pair of runs to drop the lead to 6-3, Javier Báez hit a 2-run single and Ian Happ followed that with a 2-run double of his own, turning a 9th inning deficit into a 7-6 lead. Happ, for his big hit that flipped the score, gets the WPA King trophy with .634 mark. And unlike the Cardinals' bullpen, the Cubs' held on and the final score was 7-6.
Luis Garcia threw 6 shutout innings, allowing just 3 hits and no walks while striking out 8 batters to pick up the Pitcher of the Day award. He also got the win, as his Astros took down the Clevelands by a score of 9-3.
Find the link between Xander Bogaerts, Edgar Rentería and Alan Trammell, but not Ian Desmond.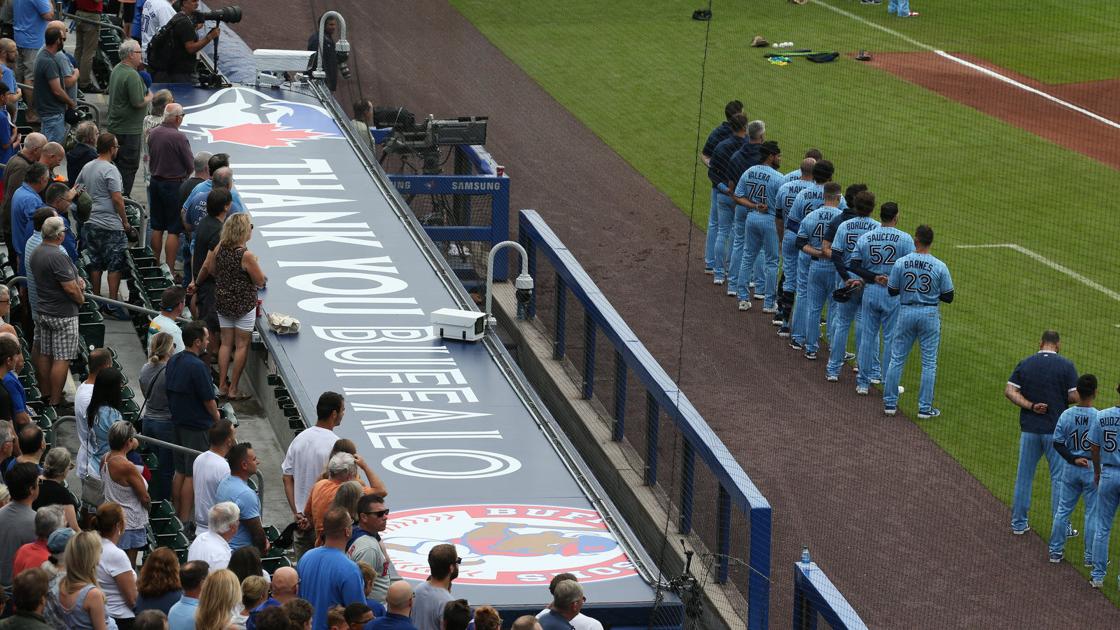 Buffalo News 22 July, 2021 - 09:11am
A "Thank You Buffalo" sign was painted on the top of both dugouts at Sahlen Field for Sunday's doubleheader.
Bye-bye, Bo. Arrivederci, Vladdy. Our summer romance with the Toronto Blue Jays comes to an end this week.
It has been a rare treat for baseball fans in Western New York to have big-league games at Sahlen Field. Vladimir Guerrero Jr., who played here with the Triple-A Buffalo Bisons, wowed us with his power hitting and his exuberance for the game. Fans got to see Bo Bichette, Marcus Semien, Teoscar Hernandez and the other blossoming stars of the Jays, along with a talented pitching staff.
Guerrero hit a home run in the Jays' first game here this season, a 5-1 win over the Miami Marlins on June 1. As of Monday, Guerrero's .332 batting average and 78 RBIs led the major leagues, and his 31 homers were second. He has hit .333 at Sahlen Field with nine home runs.
After Wednesday night's game against the Boston Red Sox, the Jays will go on the road while much of the organization will head across the border to prepare for the Jays' first game back home in Toronto, June 30 at Rogers Centre.
This is the Jays' second season playing games in Buffalo, but last year it felt more like a rumor. Covid precautions meant no fans were allowed in the ballpark.
Getting fans into the seats made for an electric atmosphere this year, though when the Yankees were here in mid-June, nearly every spectator in Sahlen Field was cheering on the visiting team, a reminder to Blue Jays players that this is a Yankees town.
Fan turnout has been impressive, but it's a stretch to think that Buffalo could land a team of its own the next time Major League Baseball expands. After our ballpark opened as Pilot Field in 1988, former Mayor Jimmy Griffin and Bisons owners Bob and Mindy Rich spearheaded an effort to get one of MLB's expansion franchises. We came close but did not get one of the four teams created in the 1990s. Buffalo's bid in 1969 also came close, before Montreal was awarded a franchise.
The Blue Jays will have played 24 games here through Wednesday. Covid restrictions meant seating capacity was reduced for most of June and the stadium is only configured for a maximum capacity of 16,600 seats.
Major league clubs require much larger capacity. Stadiums can be restructured but it's doubtful that our region's economy can support a major league team for 81 home games per year. The NFL's Bills play nine home games this year, sure to be sellouts, and the Sabres – with 41 home games in a normal season – are helped by fans from southern Ontario who cross the border to watch hockey here.
Baseball fans here knew this was a temporary arrangement. The Blue Jays did not imprint "Buffalo" on their uniforms, unlike the Triple-A Bisons. The Bisons played "home" games in Trenton, N.J., wearing uniforms of the Trenton Thunder, a gimmick that surely did not fool ticket buyers in central New Jersey.
The silver lining is that the Bisons are working to return to Sahlen Field by Aug. 10. The price of tickets to see the Blue Jays here could be prohibitive, particularly for adults looking to bring the family. Bisons tickets, more than ever, will look like a bargain. We're also ready for some Friday night bashes, fireworks shows and food mascot races, amenities that Bisons games provide.
And the Bisons' parent club, the Blue Jays, treated Sahlen Field to some major upgrades that will again make it one of the finest baseball facilities in Triple-A.
A quote attributed to Mark Twain is "history does not repeat itself, but it rhymes." Twain may never have said it, but it applies to the Blue Jays' final games here featuring the Red Sox.
The rhyme is this: The original Buffalo Bisons baseball team moved from a minor league circuit to the National League in 1879. The Bisons played eight seasons in the National League.
In the 1890s, businessman Ban Johnson took control of the Western League, a successful minor league whose teams included the Bisons. In 1900, Johnson launched it into the majors, renaming it the American League. Despite assurances to the Bisons that they would be part of the new league, in 1901 Johnson chose Boston over Buffalo. The Boston franchise would become the Red Sox.
After the American League left us empty-handed in 1901, playing 24 games in Buffalo this year was the least they could do.
Get opinion pieces, letters and editorials sent directly to your inbox weekly!
A "Thank You Buffalo" sign was painted on the top of both dugouts at Sahlen Field for Sunday's doubleheader.
Get up-to-the-minute news sent straight to your device.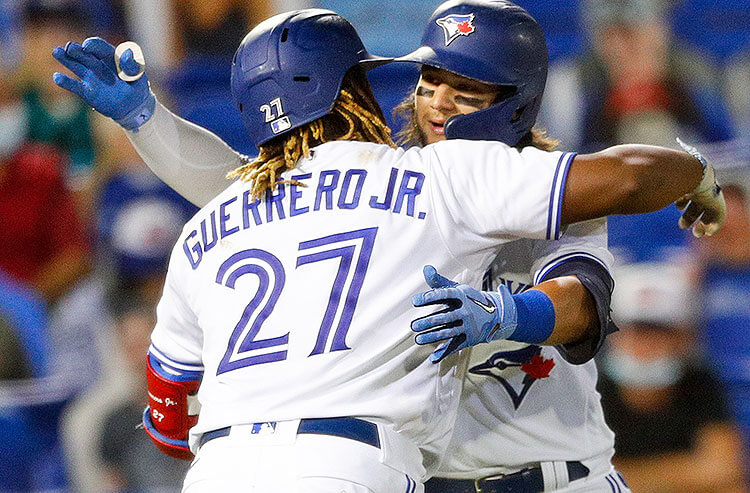 Covers 22 July, 2021 - 09:11am
After getting demolished 13-4 in the series opener, look for the hard-hitting Blue Jays — behind sizzling southpaw Robbie Ray — to bounce back Wednesday against struggling Boston righty Garrett Richards. Find out more in our Red Sox vs. Blue Jays picks.
The Toronto Blue Jays will resume their series with the first-place Boston Red Sox at Sahlen Field on Wednesday night after Tuesday's contest was postponed.
After a 13-4 pounding in the series opener, Toronto will turn to its best arm, southpaw Robbie Ray, while Boston counters with righty Garrett Richards. Home field and the starting pitching discrepancy have made the Blue Jays massive favorites for this AL East clash.
Find out who we like in our free MLB betting picks and predictions for Red Sox vs. Blue Jays on July 21.
The line opened at Toronto -165/Boston +151, with the total at 10.5. Early action has heavily favored the Blue Jays, while the Over/Under has held firm. Check back later for a full report from Patrick!
Garrett Richards (5-5, 4.91 ERA): While Richards completed the first half of the season with two decent starts before the All-Star break, he's been super inconsistent and hasn't completed six innings since June 1. He surrendered 11 hits and four runs the last time he faced the Blue Jays, who also spanked him for four runs back in April in a game he issued a season-high six walks. Richards takes a 1.68 WHIP into the outing, which is the second-worst mark among pitchers who have thrown at least 90 innings.
Robbie Ray (8-4, 2.93 ERA): Ray has been dynamite in July, posting a 0.87 ERA over 20 2-3 frames, working into the seventh inning in all three of his starts. He has punched out 25 while surrendering five walks over that stretch and hasn't allowed a run in his last two outings. That has helped him lower his ERA to under 3.00 for the first time since April. The lefty punched out 10 batters the last time he faced Boston, just over a month ago.
The temperature is expected to be in the low-70s for first pitch, with the wind blowing west with gusts of 11 mph. Be sure to monitor the gametime conditions with our MLB weather info.
The Blue Jays are 4-1 in Ray's last five starts. Find more MLB betting trends for Red Sox vs. Blue Jays.
The Blue Jays were embarrassed in Monday's series opener, with the Red Sox demolishing starter Ross Stripling and then Anthony Kay for 11 runs over the first two innings en route to the lopsided victory. This is the type of game where the Blue Jays can return the favor.
Ray has, surprisingly, been one of the best starters in the American League this season and without question is Toronto's best arm. While it's highly unlikely he will win the award, he offers incredible value to capture the AL Cy Young at +10,000 odds. The fact that statement can even be made is incredible — and a testament to the turnaround Ray has made this season.
The biggest thing behind his success is improved control, as the typically wild lefty has the lowest walk rate of his career, which has helped him avoid major damage despite struggling with the long ball. With Ray holding batters to a .213 average, not enough baserunners have been getting on for those home runs (1.68 HR/9 — the third-highest mark among qualified starters) to drive up his ERA, which stands at a stellar 2.93.
Ray throws gas and has a devastating slider, allowing him to consistently post elite strikeout rates and his newfound control of the zone has made him a difficult assignment for any lineup. The BoSox can swing it, but Ray has offered no reason to fade him, with Toronto winning four of his last five starts and the left-hander allowing more than three runs in just two of 18 outings.
This is also a terrible spot for Richards, and the hard-hitting Blue Jays have already hurt him twice this season. While we love the Blue Jays for this matchup, they are such heavy favorites (-200 odds at a number of books) that they aren't playable on the moneyline. Take them on the runline instead.
PREDICTION: Toronto -1.5 (-104)
Even in a game that features Ray, who is one of only five AL starters with a sub-3.00 ERA, we're getting another double-digit total. That speaks to how strong these offenses are and how mediocre — at best — Richards is.
Toronto ranks first in MLB in OPS while Boston is fourth. The clubs are the MLB leaders in slugging and both are inside the Top 5 in batting average. The Blue Jays rank first in the AL in homers with Boston not far behind, sitting seventh in the majors, plus they are two of only five teams averaging more than 5.0 runs per game.
A combined seven players from their lineups made the All-Star Game, highlighted by MVP contenders Vladimir Guerrero Jr. and Xander Bogaerts. These are elite lineups that will punish pitchers and capitalize on mistakes. While we expect Toronto to do just that to Richards, who has allowed four-plus runs in seven of 18 starts, we wouldn't bank on the Red Sox doing the same to Ray.
Still, all it will take tonight is a few runs against Ray to push this total past the Over. Sahlen Field is a hitter's park and Ray, who faces a home run-hitting team, has allowed a bomb in all but four outings this year. The Red Sox tagged him for one the last time they saw him in June and pushed three runs across the board and we can see a similar situation unfolding tonight.
We're confident that will be enough to get us into double-digit territory as a result of what Toronto does to Richards, who is destined for a short outing before turning the ball over to a collection of bullpen arms that will be forced to contain the power-hitting Blue Jays.
PREDICTION: Over 10.5 (-110)
Did you know that if you parlayed today's MLB Red Sox vs. Blue Jays picks, you could win $27.45 on a $10 bet?
Use our MLB parlay calculator to create your own parlays and see their potential payouts.
You can bet on MLB odds at every online and casino sportsbook, including MLB moneylines, runlines, Over/Under totals, and a ton of MLB prop odds. Head over to our best-suggested sportsbooks for the top spots to bet on MLB odds in your area.
If you choose to make use of any information on this website including online sports betting services from any websites that may be featured on this website, we strongly recommend that you carefully check your local laws before doing so. It is your sole responsibility to understand your local laws and observe them strictly. Covers does not provide any advice or guidance as to the legality of online sports betting or other online gambling activities within your jurisdiction and you are responsible for complying with laws that are applicable to you in your relevant locality. Covers disclaims all liability associated with your use of this website and use of any information contained on it. As a condition of using this website, you agree to hold the owner of this website harmless from any claims arising from your use of any services on any third party website that may be featured by Covers.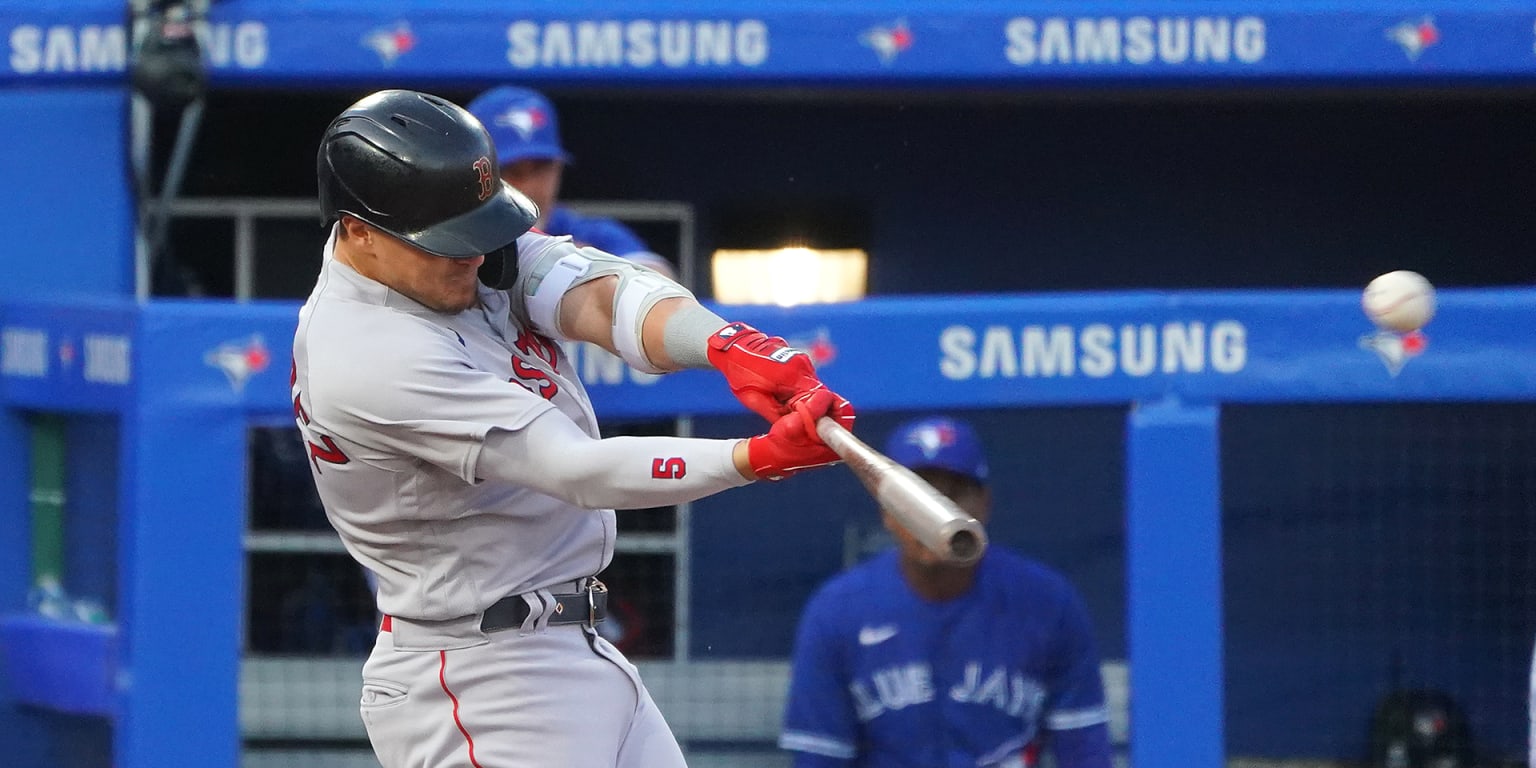 MLB.com 22 July, 2021 - 09:11am
After a six-homer performance in Monday's blowout win, they added five more long balls Wednesday to beat the Blue Jays, 7-4, in the final MLB game scheduled at Sahlen Field this season. That marked the first time Boston has hit at least five homers in multiple games within the same series since June 17-19, 1977, vs. the Yankees (they did it in all three games of that set).
At least some of that power surge ought to be credited to Red Sox manager Alex Cora, who made some alterations to his batting order ahead of Monday's 13-4 romp of the Blue Jays. The impact he has on the team is obvious to his players.
"It's obviously huge," Kiké Hernández said. "He's a great communicator. He always finds ways to make time for everybody, have everybody feeling comfortable [and] confident."
Hernández, who entered the night with a .279/.410/.662 slash line over his previous 18 games, has been Boston's hottest hitter. He stayed that way Wednesday, posting a home run, a double and a walk. He also homered twice on Monday, and Cora said a simplified approach has helped Hernández thrive.
"He's working counts, he's hunting pitches in certain spots and he's putting good swings on it," Cora said. "That [home run] was a great at-bat, 0-2 count, gets on top of the fastball and the ball goes out of the ballpark."
Hernández put the Red Sox on the board in the third inning, hitting a screaming line drive for a 355-foot two-run homer that barely cleared the low left-field wall.
"Thank God for Buffalo," Hernández said.
He nearly added another to the opposite field in the seventh, but right fielder Randal Grichuk was able to settle under it on the warning track.
Still, the Red Sox leadoff hitter is adding plenty of pop to the top of the order, and he's on pace for a career-high 25 homers this season (his current high, 21, came with the Dodgers in 2018).
As a team, the Red Sox homered six times over three games in their first road series against the Blue Jays, which was played at TD Ballpark in Dunedin, Fla. In this two-game set, Boston added 11 more. Both parks played as hitter-friendly, but that's not the only factor at play with this potent Red Sox club.
"Yeah, we play in some good offensive parks in this division: Camden Yards; Fenway, when it's hot; Rogers Centre is the same way," Cora said. "But I think -- give us credit -- we put together some good at-bats."
In addition to Hernández's three home runs over two games against Toronto, Boston received two each from Rafael Devers and Hunter Renfroe, as well as one apiece from Jarren Duran, Danny Santana, Michael Chavis and J.D. Martinez.
Santana, who was just activated from the injured list (left quad strain) on Monday, exited Wednesday's game in the seventh due to left groin tightness after chasing down a ball in the outfield. Cora said Sanatana's injury "doesn't seem too promising," and another IL stint is likely.
What is promising, though, is the way the Red Sox responded -- particularly with the bats -- this series after dropping two of three in the Bronx. Cora believes the final game of the New York series was the kickstarter, even though his group scored only once in that loss.
"Controlling the strike zone," Cora said, when asked to identify the catalyst for the success. "I know we didn't score runs, but we were trying to stay within the zone. When we do that, like I always say, we become elite."
Hoping to ride that wave of elite offense, the Red Sox head home for eight crucial divisional games against the Yankees and the Blue Jays -- two teams nipping at the heels of an AL Wild Card spot -- all with the Trade Deadline looming. If Boston's bats are truly back, it'll make the Red Sox awfully tough to beat.
"We went through a little bit of a rough patch offensively, and the pitching was the one keeping us in the game," Hernández said. "Hopefully, these two games, it means that our offense is back to normal."
Bluebird Banter 22 July, 2021 - 09:11am
7-4 deficit in runs, 5-3 deficit in home runs
As it so often has over the last year of Major League Baseball at the friendly Sahlen Field, the ball was flying out Wednesday night. Unfortunately, that redounded more to the benefit of the visiting Red Sox who swept the truncated two game set on the back of five long balls.
The first three of those bombs came off Robbie Ray, who overall was not that bad but not nearly as sharp as he had been in his previous two starts. He kept the Red Sox off the board for the first two innings with a walk the only blemish, but the bottom of the order started getting to him in the third as Bobby Dalbec led off by torching a double down the LF line, before the lineup turned over and Kike Hernandez took him yard with an absolute missile just over the left field fence for a 2-0 Boston lead.
He got out of the inning, only to have Rafael Devers greet him in the fourth by taking him yard with a long blast slightly to right centre field. Again, Ray limited the damage with a can of corn and a pair of strikeouts, and got Dalbec to pop out opening up the 5th, but then ran into another 400+ HR. This time it was Michael Chavis torching him for a solo shot, and Hernandez followed that up with a hard double to the alley though Ray stranded him.
Ray's final line was 5 runs on 5 hits over his 5 innings, with four strikeouts and one free pass. the outing made for a curious dichotomy, as all five hits were for extra bases and were absolutely hammered with exit velocities of at least 104 MPH in the sweep spot of launch angles. But the other 16 batters did almost nothing other than drawing the one walk: four strikeouts, five can of corn flyouts, four easy groundouts, and two popouts.
Meanwhile, the Jays bats mirrored the Red Sox in accomplishing precious little in the early going, with just a single and reach on error against Garrett Richards over the first three innings.
Vladimir Guerrero Jr changed that leading off the 4th inning, launching a majestic shot of his own, effortlessly going the other way on a fastball to the outer edge:
Vladdy makes US wanna shout #PLAKATA pic.twitter.com/dPZjwEsqzl
The Jays couldn't build on that as the next eight went down in order through the botom of the 6th, when Richards wanted nothing to do with Vladdy with two outs and bases clear, pitching around him to walk him. George Springer was up to the task of providing some protection, making Richards pay with a long 412 home run to just right of dead centre:
SPRING and a drive! #SpringerDinger pic.twitter.com/1RVnvD0OvZ
Not to be outdone, Tesoscar Hernandez followed right behind him by parking one to almost the exact same spot, and cutting the deficit down to one run at 5-4. Adam Cimber was first out of the pen in the 6th, and allowed a run on a double and single (the only one not to score on a long ball by either side).
Trevor Richards pitched a good 7th, and Jordan Romano got the first two outs in quick order in the 8th and had J.D. Martinez at two strikes but couldn't finish him off. After a coupe fouls, he left a fastball at the top of the zone, and Martinez got just enough to send it just over the fence down the right field line. Romano then hung an 0-2 fastball at the top of the one to Hunter Renfroe, and hit the fifth and final Red Sox bomb of the night.
In the end, that wasn't of the hugest consequence in a but-for sense, as the Jays never mounted only a two out Danny Jansen double and another walk by Vladdy (promptly erased by Springer grounding into a double play) against the Red Sox pen.
Unfortunately, the bullpen wasn't up to the task of holding the REd Sox to provide the bats a chance to make a late inning push. Adam Cimber
Jays of the Day: Vladdy (+0.127 WPA), Teoscar (+0.104).
Suckage: Ray (-0.169), Romano (-0.164), Semien (-0.160), Gurriel (-0.104). Grichuk and Biggio both weren't fall off the mark either with 0-fers.
Tomorrow the Jays are off before they travel from Upstate New York to Flushing, New York to kick off a weekend series against the Mets at 7:05 EDT, Steven Matz and rookie Tylor Megill are listed as the probables, but I'm pretty sure that should be Hyun Jin Ryu for the Jays.
The Boston Globe 22 July, 2021 - 09:11am
Julian McWilliams can be reached at julian.mcwilliams@globe.com. Follow him on Twitter @byJulianMack.
BoSox Injection 22 July, 2021 - 09:11am
FT. MYERS, FL - FEBRUARY 21: Chief Baseball Officer Chaim Bloom of the Boston Red Sox addresses the media during a press conference during a spring training team workout on February 21, 2021 at jetBlue Park at Fenway South in Fort Myers, Florida. (Photo by Billie Weiss/Boston Red Sox/Getty Images)
The Red Sox have needs and they are quite obvious. Solid rotation depth, a competent bullpen arm, and something at first base that doesn't hit like a sloth. Despite the defects, the machine has run rather smoothly and is still clinging precariously to first place in the American League East. But know thy enemy, to paraphrase Sun Tzu.
Just who is the enemy? That is that tight group on the heels of the Red Sox. Leading the pack is the Tampa Bay Rays. The Rays consistently distinguish themselves by accomplishing more with less.
The Rays are just below Boston statistically in hitting and pitching. They have a fairly loaded farm system and are not reluctant to trade MLB pieces and to open up slots on the MLB roster. Wander Franco replaced Willy Adames when he was traded to the Brewers. The Rays' most notable need from my observation is another starter. That hinges on the status of Tyler Glasnow who may or may not be done for the year.
The Rays could use another solid bat and that bat could be on the roster in the 2020 playoff phenom Randy Arozarena. Arozarena is not quite in the disappointment category but is close to that designation, especially in the last twenty or so games.
The Rays chips are obvious as previously stated – the combination of replaceable MLB talent and a productive and highly rated farm system. With Tampa, always hovering is the Angel of Fiscal Death. The Rays are generally cash strapped and taking on a large and certainly, a mega-contract is highly unlikely. GM Erik Neander will make moves but it will be for perceived value and not the big splash.
Toronto has a formidable lineup led by triple crown possibility Vladimir Guerrero Jr. George Springer is back and scraping off the rust so that lineup will be even more deadly. The Jays shipped off Red Sox killer Rowdy Tellez for what is the Jays weakness. If you said pitching then you are preaching to the baseball choir.
The Jays' pitching statistics are far from shinning. The bullpen took a jolt when Kirby Yates was gone for the season and has not been replaced. Is Craig Kimbrel a possibility? Is Kendall Graveman heading to Buffalo?
The Jays did rather well in an offseason free-agent binge with Robbie Ray and a trade that brought in Steven Matz. Tanner Roark was a $12 million disaster and that certainly put a damper on the rotation. The Jays will need another starter and will have to pay with either an MLB-established player or prospects.
Could the Jays grab Merrill Kelly, Tyler Anderson, or even Michael Pineda who are three possible mid-rotation starters? The Jays are also $50 million under the luxury tax threshold so even a big fish is not out the realm of possibilities. The Blue Jays are for real and have a legitimate shot with a few plus additions to the pitching staff.
The Yankees took two from Boston to invigorate after a dismal 0-7 against their most notorious of rivals. The Yankees need someone in center field to replace Aaron Hicks and Brett Gardner gives away far too many at-bats. Will the luxury tax strapped Yankees go after Starling Marte?
Statistically, the Yankees mound work is among the best. The waiting game is possible with Luis Severino and Corey Kluber that could power up the rotation. Still waiting to impact is Zack Britton who could be a more consistently reliable option than Aroldis Chapman.
The Yankees have – like the Red Sox – apparently taken the fiscal pledge. But sometimes one falls off the wagon and New York may be tempted to toss fiscal caution into the breeze and go spend. That would create an interesting dilemma for Boston. That said I would expect New York to stay the course, look for a mid-tier starter, and attempt to find a competent outfield piece.
As with the opening Sun Tzu – who would have made a spectacular GM – would have as we should keep a close watch on the opposition. The Red Sox moves will most certainly be of prime consideration, but the moves of our division rivals could impact this season to a greater degree.
Build your custom FanSided Daily email newsletter with news and analysis on Boston Red Sox and all your favorite sports teams, TV shows, and more.
Your favorite teams, topics, and players all on your favorite mobile devices.
Powered by Minute Media © 2021 All Rights Reserved.