Andy Herman
AndyHermanNFL
On today's show I take a deeper look at Devin Funchess and what he can bring to the #Packers in 2021. Enjoy! www.youtube.com/watch?v=46xkPwTwghM

Adam Levitan
adamlevitan
Doubt this market is too efficient as it's not very liquid. But FWIW people are on Aaron Rodgers back to Green Bay. pic.twitter.com/gBN05SAbR4
Emory Hunt
FBallGameplan
Aaron Rodgers actually did Jordan Love a solid by missing all of spring; Love got the benefit of taking a bevy of physical reps that would've been otherwise limited w/A-Rod there. What about the rest of the #Packers as we head into camp? Preview👇🏿 youtu.be/8EkCk6Z7_XE
Jason Wilde
jasonjwilde
In @WiStateJournal and on @MadisonSport ~ Mark Murphy wasn't about to talk about the ongoing saga with the team's star quarterback, but he did discuss the #Packers finances -- and how much worse they might have been amid the COVID-19 pandemic. madison.com/wsj/sports/football/professional/after-surviving-challenges-of-covid-19-and-facing-challenges-with-star-aaron-rodgers-packers-take/article_fdf2d6b0-3ce2-5187-b85b-ef7c891aacc1.html?utm_campaign=snd-autopilot&utm_medium=social&utm_source=twitter_
Touchdown Wire's list of the top 101 nicknames in NFL history is littered with current or former members of the Green Bay Packers.
Many are among the most iconic in the sport's history.
Here are all the Packers that made the list:
Green Bay Packers' Brett Favre looks for a receiver in heavy snow during game against the Seattle Seahawks at Lambeau Field Saturday, January 12, 2007.
Green Bay Packers nose tackle B.J. Raji scores a touchdown on a interception in the NFC Championship Game on Jan. 23, 2011. The victory put the Packers in Super Bowl XLV.
Green Bay Packers receiver Don Hutson catches a pass from quarterback Cecil Isbell against the Washington Redskins in 1941, a season in which Hutson lead the NFL in receiving yards and touchdowns.
Sign up for the Packers Wire newsletter to get our top stories in your inbox every morning
Start every day with our most popular content waiting in your inbox.
Please re-enter your email address.
You'll now receive the top Packers Wire stories each day directly in your inbox.
Please enter an email address.
Please check your email for a confirmation.
Read full article at Packers Wire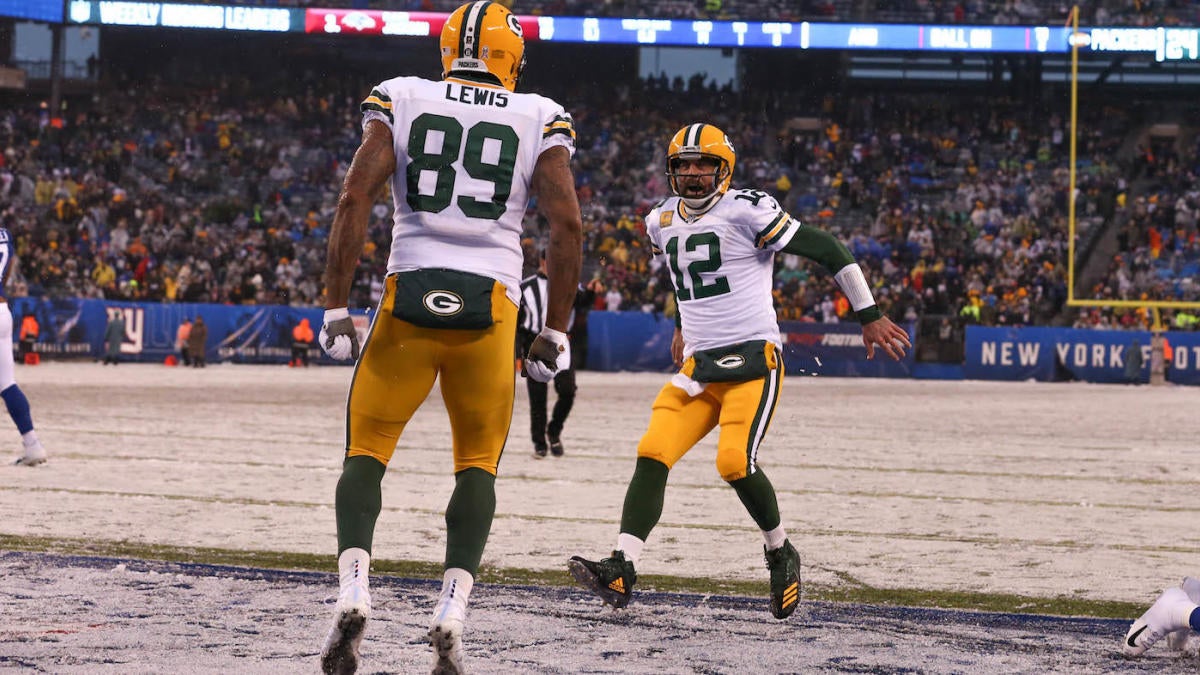 CBS Sports 18 July, 2021 - 07:10pm
One of the big questions still hanging over the NFL as training camps across the league are on the verge of opening up surrounds Aaron Rodgers and his current situation with the Packers. The reigning NFL MVP has made it clear that he'd like to be traded, but the club has been resistant in that request in hopes of smoothing things over and keeping Rodgers in Green Bay for the foreseeable future. 
Rodgers sat out all of the team's mandatory minicamp earlier this offseason, leaving the football world wondering if he plans to continue his holdout into training camp. One Packer who thinks Rodgers will, in fact, be there when the Packers open up camp on July 27 is tight end Marcedes Lewis, who has played alongside the quarterback for the past three seasons.  
"I think so," Lewis told TMZ when asked if Rodgers will show up. "I hope so. I hope to see my guy there." 
During a golf matchup against Tom Brady and Phil Mickelson earlier this month, Rodgers was asked whether or not he'd attend Packers camp and the quarterback said he'd figure that out "in a couple of weeks." More recently, he vacationed in Montana alongside former Packers linebacker A.J. Hawk, who also believes Rodgers will play for the Packers in 2021.  
Of course, the only one who truly knows how this saga will play out leading into camp is Rodgers. While the likes of Lewis and Hawk think and hope Rodgers will be with the team when they open up camp, neither one is speaking with any type of certainty. That cloud of mystery surrounding how Rodgers will move forward has been a steady theme throughout the offseason ever since his desires to be traded surfaced. 
While July 27 is certainly a date that folks in Green Bay should have circled, the two sides clearly have some things to air out if there is any hope for Rodgers continuing his playing career with the Packers in 2021 and beyond. 
© 2004-2021 CBS Interactive. All Rights Reserved.
CBS Sports is a registered trademark of CBS Broadcasting Inc. Commissioner.com is a registered trademark of CBS Interactive Inc.
Images by Getty Images and US Presswire
NBC Sports 18 July, 2021 - 07:10pm
NBC 26 18 July, 2021 - 07:10pm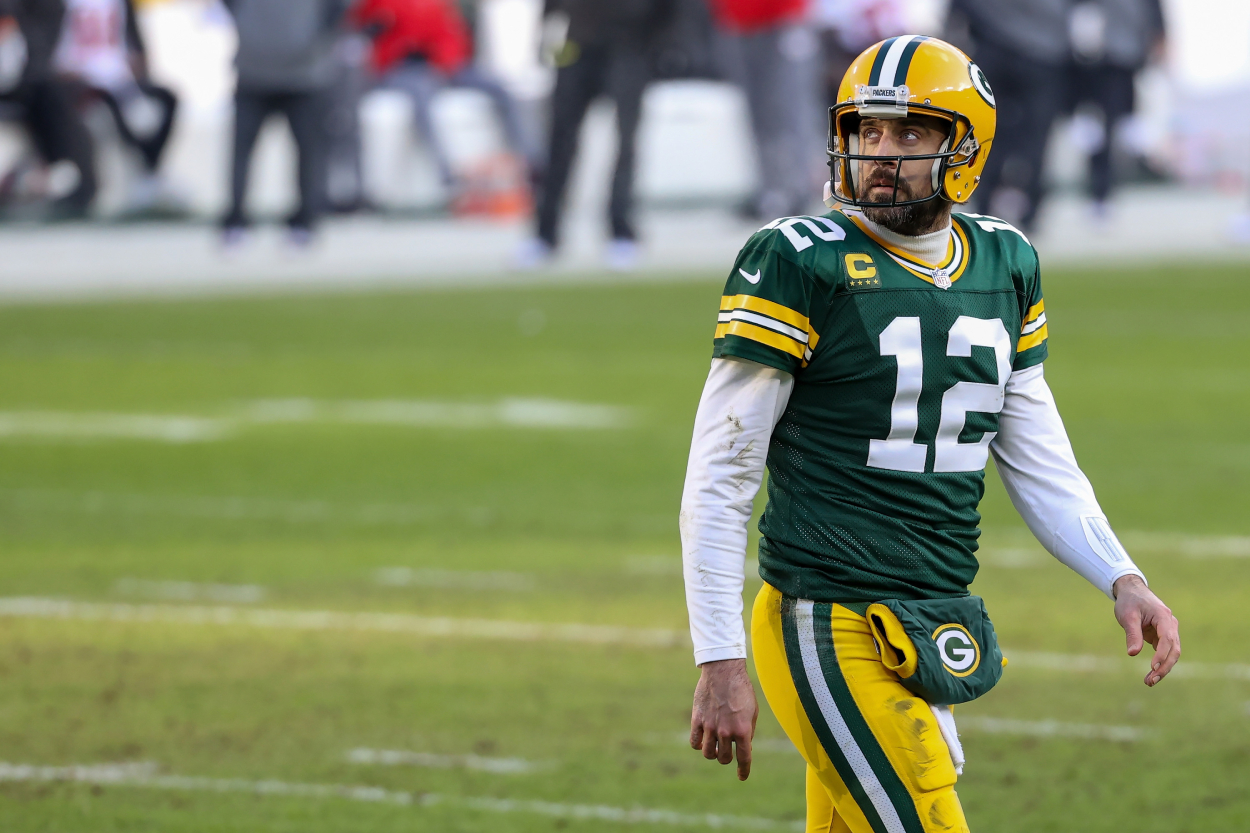 Sportscasting 18 July, 2021 - 10:04am
When recently asked about whether he thinks the QB will show up to training camp or not, Rodgers' Packers teammate said he thinks the three-time MVP will be there, but he ultimately didn't sound too confident in his answer.
That teammate was Marcedes Lewis.
Earlier this offseason, ESPN's Adam Schefter reported that Rodgers had told some within the Green Bay organization that he didn't want to return to the team for 2021. The report came after years and years of the Packers not putting the requisite amount of talent around Rodgers to win a Super Bowl and, of course, drafting quarterback Jordan Love in the first round of the 2020 NFL draft.
Rodgers has since missed the team's offseason program this year, which has only increased the speculation around his future, and the Packers don't seem too interested in trading him. So, it appears both sides have just been stuck in the same position for months.
While at the American Century Championship, though, the reigning NFL MVP gave a timetable for when we can expect him and the Packers to work things out, and it lines up with the start of training camp at the end of July.
"I'm going to enjoy the hell out of this week," Rodgers said, per NFL.com. "And then I'm going to get back to working out and figure things out in a couple weeks."
Lewis, the Packers tight end, is heading into his 16th NFL season. So, while he may want Rodgers at training camp, it's safe to assume he understands the league is a business.
But he, of course, still wants to see his QB there.
"I hope so," Lewis recently said to TMZ. "I hope to see my guy there. But yeah, I don't wanna think about that right now."
Obviously, Lewis wants Rodgers to show up, but when asked whether he thinks the nine-time Pro Bowler will actually be there or not, Lewis gave an answer that should give Packers fans a little relief — but not much.
"I'm hopeful, and I think so, so we'll see what happens," Lewis said.
While it's nice to hear/read Lewis say "I think so," it's discomforting to see just how little confidence he had in his answer. 
From the outside, it appears no one truly knows what's going to happen with Rodgers in the next couple of weeks. Not his teammates, and maybe not even Rodgers or the Packers. In fact, when recently asked about the quarterback during a financial call, Packers president Mark Murphy said, "I would just say there's nothing new to update on the issue that you raised," per Bleacher Report.
Training camp starts on July 27. We should expect to know a little more by then, but that reality keeps looking less and less likely by each passing day.
Rodgers is coming off one of the best seasons of his career. He threw for 4,299 yards, an NFL-leading 48 touchdowns, and five interceptions, which helped him win his third NFL MVP award. He also helped the Packers reach their second consecutive NFC Championship Game last year.
If Rodgers doesn't play in Green Bay in 2021, the Packers will have to turn to either Jordan Love, who hasn't taken one NFL snap yet, or Blake Bortles, who has a career 25-49 record as a starter. To put it simply: with Rodgers, the Packers are Super Bowl contenders; without him, they may not even be a playoff team.
Hopefully, Lewis is right and Rodgers does show up to training camp at the end of the month. As of right now, though, nothing is certain.
NBC Sports 18 July, 2021 - 07:43am
Current teammates of Packers quarterback Aaron Rodgers haven't said much about his actual or potential plans for 2021. Recently, veteran tight end Marcedes Lewis opened up to TMZ.com. A little.
Lewis said the "thinks" Rodgers will report to training camp.
"I think so," Lewis said at LAX. "I hope so. I hope to see my guy there."
And then Lewis borrowed a phrase that Rodgers uttered nearly two weeks ago: "We'll see."
The fact that Lewis, a 16-year veteran who has immense respect throughout the locker room, doesn't know what's happening underscores the most awkward aspect of this standoff. His teammates don't know what's happening, and presumably won't know, until everyone else does. And so they've had to wonder, like the rest of us, whether the most important employee of Green Bay Packers, Incorporated will be present when preparations for the season officially begin.
It's possible, but not likely, that teammates know Rodgers will show up, and that they are being discreet and careful with the information. The more people know, the easier it becomes for one to say something to someone who eventually says something to a reporter under a promise of anonymity, and that's the end of it.
Regardless, the beautiful mystery reaches a potential conclusion in nine days, regardless of whether Rodgers does or doesn't show up.
The cleaning company that cleans most of the players homes in and around green bay was told to clean Rodgers house. That means he is coming to town.
But where will he show up first? As a partial owner of the Bucks, will he be in attendance Tuesday to watch the Bucks playing at home to potentially make franchise history?
Will Rodgers show up? YES. It would be foolish to think otherwise. Without him, the team would sink like the Titanic and everyone knows it.
If he does show up, I hope he doesn't mind taking fewer snaps than Love for a couple of weeks.
Maybe Rodgers should watch the Giannis clip about "humility," then get his butt to Fiserv Forum to watch the team he partially owns win an NBA title.
If he doesn't, I'm selling my stock
He'll show up but probably a few days late to make the front office sweat a bit. He was a vocal proponent of veterans not showing up for training camp until August when he was in the NFLPA. My guess is he'll show up August 1.
With Rodgers it's all about HIM. He cares very little about the team or team mates. It's all about him, period.
I hope he shows up in a hot air balloon.
I hope that Rodgers gets his head right and fulfills his contract. It is not enough to bring him back for a year and then release or trade him. If he can play for another three or four years it'll be like Starr and Bratkowski.
The Packer team being prepared for Jordan Love is championship-caliber and is Rodgers' for the taking. His next best chance to win a SuperBowl is right now. He knows this.
As a lifelong, diehard Packer fan, Rodgers is the best I've ever seen in Green Bay. With that said, I want the Packers to trade him to a team like Las Vegas for a haul and move on from the thin-skinned Diva. The Packers will not win 13 games next year, but they will edge-out the Lions, Bears, and Vikings (in that order) for the NFC North title.
Any team that trades for Rodgers will give up a Walker-like bounty and get a player who, once he has substantially more freedom, will revert back to the inconsistent play that led to the Packers drafting Jordan Love. For those with recency bias, just look at the 5 years prior to last year to see just how bad Rodgers was (to the standard he set & the league came to expect).
Don't get me wrong, I want Mark Murphy gone, too. But Rodgers is a 38-year old cancer selfishly bent on revenge because he felt disrespected. He craves the attention & adulation. Put him in Vegas – he'll put butts in the seats and Green Bay will have 3 years of D1/2's & Ruggs.
I seriously never want to see him in a Packers uniform again – even if that means Green Bay sucks again for a few years.
Looking forward to his return and the focus to be on football and not the beautiful mystery.
….and wishing, and praying, for Viking Fan.
He will show up, and be pissy all season long. We all know he's not gonna be happy. I mean he is like a nasty blemish…It may get better but it always leaves a scar. Trade him to the Bronco's already
"That's what really motivates me: to make my coaches proud, my teammates proud, and the fans proud."
He will show up. Noone is lighting a fire to tens of millions on a table. In ten years this will all be old news and he will be all the wiser for taking the high road
I hope he shows up in a hot air balloon.
Or he could go down like a Led Zeppelin.
Ewwin Wawgers will likely show up with a massive parade and 21 gun salute. Somehow he'll turn his first day into a State Farm discount double check and then he'll get a case of turf ego and be done for the season after crossing the threshold of Cheese Packer central.
You must be logged in to leave a comment. Not a member? Register now!
This site uses Akismet to reduce spam. Learn how your comment data is processed.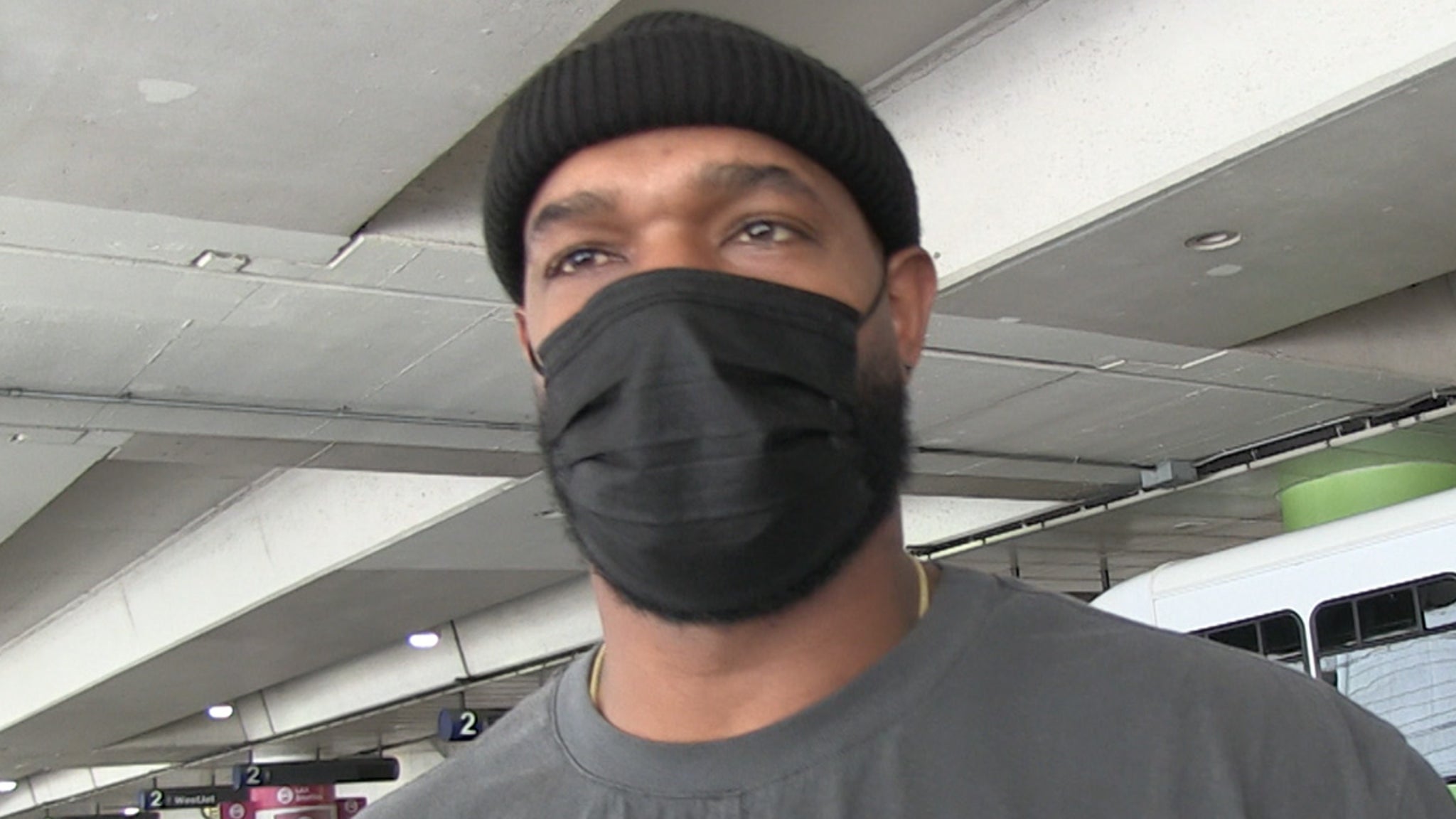 TMZ 17 July, 2021 - 02:25am
Rodgers -- who's been feuding with Green Bay brass for MONTHS now -- still has not committed to playing for the Packers this season ... and it's unclear if he has any plans at all to join the club for training camp when it kicks off on July 26.
But, Lewis says he's predicting his quarterback will show up to the mandatory workouts in two weeks ... telling us out at LAX, "I think so."
"I hope so," the 37-year-old added. "I hope to see my guy there."
Lewis, though, made it clear he doesn't have too much inside information on the situation ... explaining, "We'll see what happens."
Rodgers has reportedly been upset over his contract situation, as well as some of the personnel moves the team has made ... and, according to ESPN's Adam Schefter, it's unlikely he comes to camp without some sort of guarantee that he'll be traded after the season.
As for how the quarterback has handled this offseason amid all the drama -- staying away from the Packers and instead jettisoning around the globe with his fiancee, Shailene Woodley -- Lewis tells us he's all for it.
"It's probably good for him to just give him some time to himself -- some family time," Lewis said. "Hopefully I see him on the 26th."
All of Green Bay is right there with you, Marcedes.
Dairyland Express 17 July, 2021 - 01:02am
Jan 16, 2021; Green Bay, Wisconsin, USA; Green Bay Packers running back AJ Dillon (28) runs with the ball while Los Angeles Rams safety Nick Scott (33) and linebacker Troy Reeder (51) attempt to tackle during the first half of a NFC Divisional Round playoff game at Lambeau Field. Mandatory Credit: Mark J. Rebilas-USA TODAY Sports
From now up until training camp, I'll be discussing one big question that faces each member of this Green Bay Packers team. Up first were the quarterbacks, which you can find here, and today we will go through each of the five running backs on the Packers' 90-man roster.
Many of us assumed after the NFC Championship Game that Aaron Jones had played his final snaps with the Green Bay Packers. For one, it was assumed that Green Bay didn't have the cap space to re-sign him. And two, paying running backs top-dollar in today's NFL is typically a no-no.
But the Green Bay Packers would surprise us all and sign Jones to a four-year deal worth $48 million. By average annual value, Jones will be the sixth highest-paid running back in 2021. Jones has been a key part of this offense and has flourished in the Matt LaFleur system, tallying back-to-back 1,000-yard seasons along with 17 total rushing touchdowns and another 829 yards through the air with five more scores.
Based on what we've seen from Jones, there really is no reason to think that he won't live up to his new contract. However, with every big contract handed out to a running back, I imagine that's what the team and the fan base thought as well, but as we all know, that isn't the case, and there are plenty of examples where it backfires.
One of the big reasons that the Green Bay Packers were criticized for their selection of AJ Dillon in the second round, other than the fact that it was a second-round pick on a running back while they still had Jones and Jamaal Williams under contract, was that Dillon had very little experience as a pass-catcher. Today more than ever, in most cases running backs are expected to be a part of the passing game–especially in the LaFleur offense.
During his three-year career at Boston College, Dillon had just 21 total receptions at 11.2 yards per catch and found the end zone twice. In 2020 with Green Bay, he had only two receptions–although he was used sparingly over the course of the season.
As I mentioned, we know that the running backs play an important role in the passing game in this offense. As RB2 under LaFleur, Williams was targeted 80 times over the last two seasons. Chances are Dillon won't see that much action in the passing game, but the big questions on had are how often will he be utilized, and in what ways?
"He's really an all-around back," GM Brian Gutekunst said after the 2020 draft via Packers Wire. "While he was not used in the passing game a ton at Boston College, it's not because he's not capable, it's just kind of their offense. I think he'll bring that to the table, and you'll see more of that in his pro career."
In the past, LaFleur has talked about the importance of having third running back to lean on occasionally to provide RBs 1 and 2 a break. Entering training camp this year, that third running back role is up for grabs and will likely be either Kylin Hill or Patrick Taylor.
Based on what I've seen around the internet, it sounds like Hill is the favorite to win this job—and that very well may be the case. He was a productive ball carrier at Mississippi State, a willing blocker, and very effective as a pass-catcher out of the backfield.
However, I wouldn't quite write off Taylor just yet, who brings a similar well-rounded skill-set and also has a year of experience in this offense under his belt after essentially taking a red-shirt year in 2020 as he recovered from an injury–and that shouldn't be overlooked, especially in an offense that asks a lot from the running back position. I believe that both Hill and Taylor are very good fits for this system.
"But everybody, all those guys are well aware there's an opportunity sitting there, and the other guys know, hey, don't you sleep on the guys you feel are underneath you because you've also got to bring it every day too," said Sirmans via Packers.com. "They all know their position is pretty much wide open and won't be decided until we start playing real football."
Obviously, by not having Williams included in the last question, I don't believe that his chances of emerging as RB3 are very high. Rather, I'm wondering if he can finally gain the trust and confidence of the coaching staff, which is something that has been lacking since his rookie season.
Whether it be on the practice field or during preseason action, we've seen Williams struggle as a pass-blocker as well as with dropped passes as a receiver. Ultimately, I believe those are two big things that have held him back, and his ability as both a blocker and a pass-catcher will have to be greatly improved if he hopes to crack the initial 53-man roster this year.
"It's how productive are you when you're in the game," said Sirmans via Packers.com. "That's not only running the ball, it's catching the ball, it's how you are in protection, can we trust you in a game to do the right thing, so it's all those facets that kind of make up our decision."
Build your custom FanSided Daily email newsletter with news and analysis on All Wisconsin Sports and all your favorite sports teams, TV shows, and more.
Your favorite teams, topics, and players all on your favorite mobile devices.
Powered by Minute Media © 2021 All Rights Reserved.