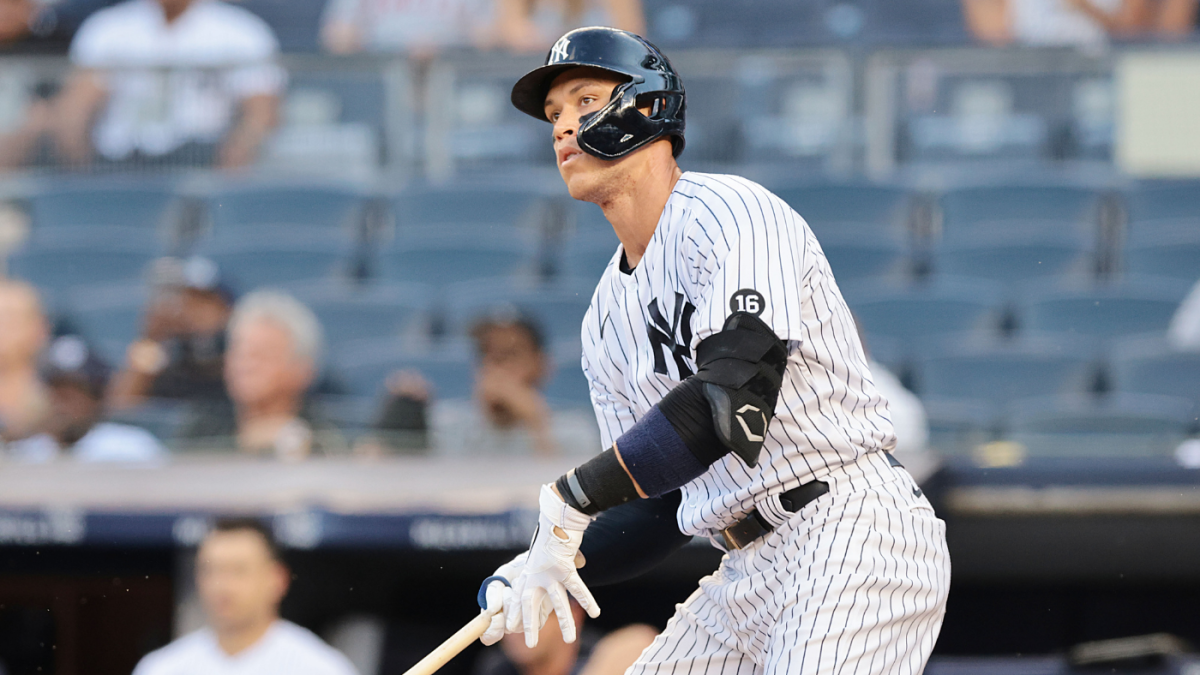 The New York Yankees were scheduled to kick off the second half of Major League Baseball's regular season on Thursday night by hosting the Boston Red Sox. Instead, MLB has postponed the game because of the Yankees' latest round of COVID-19 issues. Here's the league's official statement:
Following positive COVID-19 tests within the New York Yankees organization, tonight's game between the Yankees and the Boston Red Sox at Yankee Stadium has been postponed to allow for continued testing and contact tracing. Major League Baseball will continue to provide scheduling updates as available.
MLB has not yet deemed it necessary to postpone Friday's game, though that could change as more information becomes available.
General manager Brian Cashman told reporters on Thursday afternoon that the Yankees have three positive cases and three that are pending. Cashman's figure for positives includes reliever Jonathan Loaisiga who was placed on the COVID-19 list before the All-Star break, as well as fellow pitchers Nestor Cortes Jr. and Wandy Peralta, each placed on the COVID-19 list ahead of Thursday's contest. Cashman told reporters all three were vaccinated. (The Yankees also reinstated reliever Zack Britton from the 10-day injured list. Britton had been out since late June after suffering a strained hamstring.)
The three pending cases involve Aaron Judge, Kyle Higashioka and Gio Urshela, according to ESPN's Buster Olney. ESPN's Marly Rivera reports Red Sox player Rafael Devers was asked not to conduct interviews because one of the Yankees who tested positive was at the All-Star Game, which would be Judge. All five Red Sox All-Stars (Devers, Matt Barnes, Xander Bogaerts, Nathan Eovaldi, JD Martinez) were told to take social distancing precautions, reports Pete Abraham of the Boston Globe.
Cashman told reporters  "most" of the six players were previously vaccinated. Urshela was vaccinated earlier this season (he spent one day on the COVID list with vaccine side effects in May).  The Yankees were reportedly one of the first teams to clear the vaccine threshold (85 percent of tier-1 individuals) that allows for looser adherence to MLB's protocols. This is their second instance of positive tests since, with several coaches having to miss time in May following so-called "breakthrough infections." As experts have since explained, the purpose of a vaccination is to reduce the severity of the infection rather than eliminate the possibility altogether; from that perspective, the COVID-19 vaccines worked as intended, with nearly all of those cases being asymptomatic in nature.
The Yankees had initially been forced to scrap batting practice as they adhered to the league's COVID-19 health and safety protocol following a pair of positive tests.
Thursday was supposed to mark the beginning of a pivotal stretch for the Yankees, who entered the second half stationed in fourth place in the American League East, some eight games behind the Red Sox. The Yankees are slated to play the Red Sox and the second-place Tampa Bay Rays a combined 11 times ahead of MLB's July 30 trade deadline. The results of those contests -- and keep in mind, the Yankees are 5-14 against those teams so far this season -- will likely dictate whether New York is aggressive at the deadline.
© 2004-2021 CBS Interactive. All Rights Reserved.
CBS Sports is a registered trademark of CBS Broadcasting Inc. Commissioner.com is a registered trademark of CBS Interactive Inc.
Images by Getty Images and US Presswire
Read full article at New York Post
USA TODAY 16 July, 2021 - 01:00am
With the second half starting Thursday, USA TODAY Sports examines five of the most important players in the months to come.
A link has been sent to your friend's email address.
A link has been posted to your Facebook feed.
Sports Seriously: It might sound crazy, but New York Mets slugger Pete Alonso made more this year by winning the Home Run Derby than he will playing an entire season for the Mets. That should change soon though. USA TODAY
All hail the Chicago White Sox, who possess an eight-game lead in the American League Central and a comfort in knowing their nearest pursuers are likelier to subtract, rather than add, as the trade deadline approaches.
They were the only division leader to hit the All-Star break with more than a 4-game lead, with each league's wild-card races similarly snug. That means a crucial two weeks across almost every division before the July 31 trade deadline, and, with several surprise teams aiming to sustain strong starts, the potential for volatility as the stretch drive comes into view.
With the second half starting Thursday evening with a Red Sox-Yankees tilt, followed by Friday's full reopening, USA TODAY Sports examines five of the most important players in the months to come.
How is it that the 2020 AL OPS champion and two-time batting champion is just a league-average offensive performer in 2021?
These Yankees have seemed ill-fitting and poorly conceived from the start of the season, but LeMahieu figured to be the least of their problems. He's stayed healthy, is not subject to a sticky-substances crackdown and is far from the biggest of the Yankees' offensive worries.
He just hasn't been The Machine.
LeMahieu has just 19 extra-base hits in 85 games, far off his 2019 pace, when he racked up 61 extra-base hits and finished fourth in MVP voting. In the shortened 2020 season, he banged out 22 extra-base hits in 50 games, led the majors in batting (.364) and the AL in OPS (1.011) and adjusted OPS (177).
Over those two seasons, he so often covered for the Yankees' offensive inadequacy. In 2021, the first year of a six-year, $90 million contract, he has been part of it, his strikeout rate spiking from 9.7% last year to 15% this year, his worst since 2015. His weighted on-base average has dropped from .429 to .320, his OBP from .421 to .351.
His batted-ball data is a little more encouraging, and perhaps the second half will bring better luck and greater opportunities should the offensive environment improve, particularly as the substance crackdown continues. For now, the Yankees are eight games out of first, tied for third in the AL East. The wild card? In a three-way tie for fourth, or, essentially a lottery ticket.
LeMahieu can help enhance those odds greatly by proving 2019-20 was truly his normal.
The team's pitching riches meant Price could opt out of the 2020 season and scarcely impact their World Series title run, and ease into 2021 in a reliever/swingman gig. Now, they really need the guy as they aim to chase down the Giants and stave off the Padres to extend their NL West title run to nine in a row.
With Dustin May recovering from Tommy John elbow surgery, Trevor Bauer's season in doubt as Major League Baseball and police investigate assault allegations and Clayton Kershaw fighting forearm inflammation, Price has vaulted from depth piece to integral arm. That's not a bad thing: Price has pitched well this season, just not very much – 24 appearances and 30 ⅔ innings.
Now, he must stretch out and step up. That process took a positive turn in his final first-half appearance, a season-high three-inning, scoreless outing against Arizona.
Can he stretch into a six-inning guy by season's end? That's not necessarily imperative, so long as Price consistently takes down multiple innings effectively.
Cincinnati is a live dog in two races, lurking four games behind Milwaukee in the NL Central and 3 ½ games behind San Diego for the second wild card spot. As it turns out, the Reds' 24-13 run to close the first half coincided with Castillo's resurgence.
In eight starts beginning June 4, Castillo posted a 1.97 ERA and averaged better than six innings per start, trimming his ERA from 7.22 to 4.65. And the Reds vaulted from 24-29 on June 1 to 48-42 by the break.
They trail only the Dodgers and Giants in runs scored in the NL, and the bullpen has, for now, lined up behind ninth-inning guy Heath Hembree. The rotation can take a lot of pressure off that volatile and injury-riddled group, and Castillo's ability to go deep and dominate will greatly aid that cause.
The NL East was supposed to be a snakepit. Now, the team with the second-worst offense in the league is threatening to run away with it.
But don't count on the Mets to keep sneaking away from opponents and benefiting from attrition elsewhere. Sure, the injury bug hit them absurdly hard, but most of their principals have returned, and their plus-nine run differential is by far the meekest of the six division leaders.
Enter Conforto. A right hamstring injury limited him to 200 plate appearances in the first half. He returned just before the break, though, and will be crucial to the club's efforts to improve its .683 OPS, which ranks 10th in the NL and outflanks only the Marlins in the NL East.
Pitching largely carried the Mets here. But counting on Taijuan Walker to repeat his career-best first half and 1-2 righties Jacob deGrom and Marcus Stroman avoid further injury won't be enough. Conforto was worth 3.3 Wins Above Replacement in his last three full seasons, and has performed at a offensive clip 33% better than league average over the past four seasons.
Just being himself as he eases into what could be his final months as a Met should be enough to keep them atop the division.
If your team is in playoff contention in the AL, you should probably be rooting hard against the A's.
They're currently holding down the No. 2 wild card slot, with the Mariners, Indians, Blue Jays, Yankees and Angels trailing them by 5 ½ or fewer games. Meanwhile, they're just 3 ½ games back of the Astros in the AL West. You may not control your own destiny, but they largely control theirs.
And they're a significantly better team when Bassitt takes the ball.
Oakland is 14-5 (.737) in Bassitt's 19 starts and 38-35 (.521) when anyone else does. His 118 innings lead the AL and have enabled the A's to absorb the poor performances and injuries riddling Frankie Montas and Jesus Luzardo.
Fortunately for the A's, Bassitt has over his seven-year career been a virtually identical pitcher in the second half as the first. It's certainly a question if rookie James Kaprelian and lefty Cole Irvin can maintain their success down the stretch, or if the Vegas-flirting A's will add pitching depth at the deadline.
Bassitt has been their sure thing – and may have to keep it that way if they're to fight off the pack, or run down the Astros.
A link has been posted to your Facebook feed.
© 2021 USA TODAY, a division of Gannett Satellite Information Network, LLC.
The Athletic 15 July, 2021 - 12:32pm
Should the Yankees be trade deadline buyers or sellers? Who could actually help? Who could they trade?