"Mare of Easttown" has stirred up so much buzz because of its Philadelphia accents and dour atmosphere that even "Saturday Night Live" delivered a parody of the Kate Winslet-starring detective drama over the weekend. Now comes word from the HBO series' lead hairstylist Lawrence Davis that his one marching order when starting work on the series was to give everyone bed hair, no exceptions. Davis spoke about his work on "Mare of Easttown" during an interview with Insider.
"When I came on board, I was told bed hair for everyone," Lawrence said. "I was basically told that everybody has bed hair…Everybody was basically, you know, get up and go, and that was the whole feel of it. But I was basically told from day one: 'Bed hair,' and I had to ride with that."
The "bed hair" rule fit into Winslet's new career mantra of refusing roles that play into unattainable beauty standards. As the Oscar-winning actress told The Times of London in April before the debut of "Mare of Easttown" on HBO, "Yeah, I am older. I look like crap sometimes. Because what I observe are people spending a huge amount of time worrying about how they look, with filters. Looking at pictures of impossibly glamorous places to have holidays. I worry about that, for younger generations. These unattainable ideals. And I do not want to play roles that feed into anything unattainable anymore. I'm done with that."
Winslet told The Times that after HBO executives saw early footage from "Mare of Easttown," they asked the show's creative team about her unglamorous looks. The actress explained, "HBO said, 'Does Kate have to look so…' And I said, 'What, like shit? Yes. Kate does have to look like shit.'"
"Mare Sheehan is — she's kind of disgusting," Winslet told IndieWire earlier this month. "She's a hot mess most of the time, she doesn't give a shit what she looks like, she's kind of stopped caring what people even think about her…We made decisions creatively that this was a woman who looked at herself in the mirror when she brushed her teeth in the morning and would not look in the mirror again [all day]. That's just who she is. That's like most busy mothers I know — that's like me. It really is."
"Mare of Easttown" continues airing on HBO at 9pm ET on Sunday nights.
Sign Up: Stay on top of the latest breaking film and TV news! Sign up for our Email Newsletters here.
This Article is related to: Television and tagged HBO, Kate Winslet, Mare of Easttown
Interviews with leading film and TV creators about their process and craft.
Read full article at Vulture
Crossing Broad 11 May, 2021 - 05:00pm
It's the crime drama starring Kate Winslet, which is based on/in Delco and debuted back in April. The fourth episode aired this weekend.
Winslet learned a "Philly" accent in the series, which some people seem to think is overdone. With the show currently pulling national interest, it was spoofed on the most recent Saturday Night Live, which was hosted by Elon Musk.
Thoughts? There were decent moments in there. The sardonic and satirical narrator was pretty good.
Seems like the reaction to this sketch is all over the place. Some people liked it; others thought it was the most cringeworthy thing they've ever seen. But that was the point. They were poking fun at the over the top accents that appear on the show. It wasn't like the SNL people were trying to replicate Delco themselves, it was a spoofy thing instead.
I haven't seen enough of the series yet, but the "O" thing is a little weird. It makes Delco sound like Minnesota. Or Canada. That appears to be the main gripe from people who have watched the available episodes.
Also, does anybody else think Elon Musk kind of looks like Mads Mikkelsen in this skit? Got that Bond villain vibe.
Crossing Broad is owned and operated by CB Sports LLC
Jezebel 11 May, 2021 - 05:00pm
NBC10 Philadelphia 11 May, 2021 - 05:00pm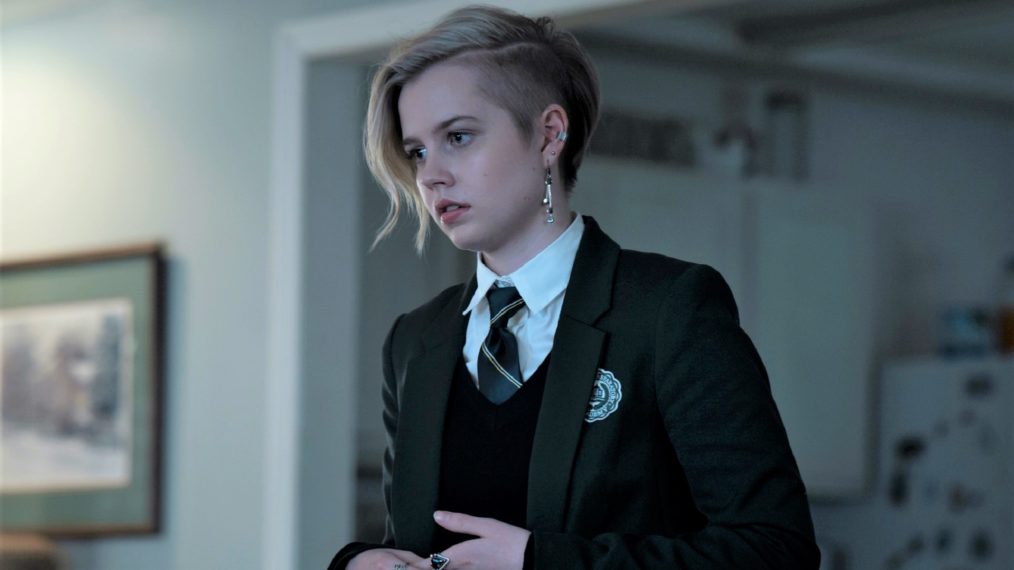 TV Insider 11 May, 2021 - 05:00pm
Mare of Easttown continues to draw viewers in with its mysteries and cases, but at its heart is a family torn apart by grief stemming from the suicide of Kevin Sheehan (Cody Kostro).
On two different spectrums, you have detective Mare Sheehan (Kate Winslet) and her daughter Siobhan (Angourie Rice), the latter of which has been piecing together a documentary about her brother Kevin. As her grieving process plays out, Siobhan's also discovering what she wants out of life and her relationships, leading to some chaotic scenarios involving her new love interest and her ex.
Below, Rice is opening up about the little love triangle playing out in the show, how Siobhan's actions are influenced by her grief, and what it was like to learn the much-talked-about Delco accent among other things.
Angourie Rice: This is something we talked a lot about in pre-production in developing the character and the family dynamics, how I think from a very young age Siobhan's had a lot of responsibility placed on her. She's a part-time carer for her nephew and she is the go-between with her parents and her mom and grandmother sometimes. She's the peacemaker, the one who's making sure that everyone's okay all the time, and it's always taken for granted that she's okay because everyone else is dealing with stuff.
So, what I really like about Siobhan's relationship with Anne [is] how it encourages her to change and reconsider her decisions. I think there's a point in every teenager's life when that happens. I think that's what Siobhan's really worried about. "Is everyone going to be okay if I leave? Will everyone fall apart?" I think she's worried about that.
I thought it was hilarious. I think [Madeline]'s really funny in the show and it's bizarre because it's like, "should you be this funny in a show that's so dark?" But I think she really pulls it off and makes that balance work. It's kind of bizarre, funny, and awful all at the same time because everyone's in this weird situation where it's really awkward. When she showed us her scream, I was giggling hysterically.
Yeah. I think it's very much at the root of her disconnect with her mother. Siobhan has found a healthy outlet in a way to understand and process the grief surrounding her brother, whereas her mom hasn't and it's something they don't talk about. I think that disconnect is really hard for Siobhan and that's something that I really wanted to make sure was at the forefront of her character and who she is as a person, how she's dealt with this grief and how her relationship with it is contrasted to Mare's because Mare's relationship and understanding of grief is so different to Siobhan's.
I feel like, at its heart, this show is about everyone trying to deal with their problems and figuring out how to deal with them individually, but also on a community level, because it's so much about the community and how everyone is connected. So yeah, I guess you could say that.
You'll have to wait and see. I will say that I really loved working with Kiah who plays Anne. I really loved their scenes together and I think that's where you see the softer side of Siobhan. That's what really drew me to her character as well, is that she's going through a love story in the middle of all this chaos.
We all worked with a dialect coach and that was really helpful because I'm Australian and it's even a tricky accent for Americans. It's so specific and I think the more specific an accent is the harder it is. Also, there's a lot of inconsistencies in the accent because it's developed so regionally and it differs from person to person. It's a hard accent to pin down to one specific sound or person. So I worked a lot on it with the dialect coach. I was very fortunate that Siobhan's accent is one of the lightest in the show. But in some ways that was harder because I didn't want it to be too light. There were still some words that we really wanted to hit that would have carried over from generations with Siobhan.
What I really loved about the script was that it draws you in with the mystery. I find it really difficult to read scripts, but with Mare of Easttown's first two episodes, I read 20 pages and I was instantly hooked by the mystery. But then I wanted to stay for the characters and I think that's what makes this show so engaging and compelling is that you're in it for the mystery, but you really care about the people.
That's really important to me in reading any script, but I think in Mare of Easttown, Brad [Ingelsby] did such a great job of making these characters so vivid and engaging that you want to see them succeed. You want to see them find happiness. But you also really, really want to know what happens in the end.
Mare of Easttown, Sundays, 10/9c, HBO
Keep up with your favorite shows... delivered to your inbox!
Los Angeles Times 11 May, 2021 - 03:32pm
No, the biggest shock for many is that there is only one episode per week.
Yes, that's right, no matter how you watch it, on TV screen or personal device, "Mare of Easttown" is episodic television. The old-fashioned kind. The good news? "Game of Thrones" was not the last big "appointment television" series after all. The bad news? After a year of locked-down binge-mania, we are suddenly forced to remember a time when "excruciating" referred not to the temptation to go ahead and binge the rest of the season even though it's 2 a.m., but to the fact that this was not possible.
Suddenly, the time between one Sunday and another stretches as endless and empty as a road threading through the bare-branched forests outside Easttown. What are we supposed to do with ourselves for an entire week?
Well, you could watch another show, preferably one that will meet your bingeing needs. Here are five suggestions:
The "accent nerd" went to extraordinary lengths to sound like a Pennsylvania native for HBO's "Mare of Easttown." Here's how she did it.
This show, which aired what we can only hope is its first season finale on Sunday, is not getting nearly enough attention. Not only can I say in complete sincerity that this is my new favorite Tasmanian show ever (a title previously held by "The Kettering Incident"), but "The Gloaming" checks all the "Mare" boxes — prickly female detective, highly unsettling murder, eerily evocative landscape, fabulous accents — and adds one more: a just-right hint of the supernatural.
Like Winslet's Mare, Emma Booth's Molly McGee is frequently at odds with her boss and has a bumpy relationship with her ex, not to mention custody issues and the irritation of being forced to work with a male detective from outside town (in this case, Hobart). Alex O'Connell (Ewen Leslie) has been brought in to help solve a murder, which, as in "Mare of Easttown," involves the body of a woman found in woodland water.
Creator Vicki Madden is not afraid to lean heavily on the landscape of Tasmania, just as she did with "The Kettering Incident," which she also wrote. It is a helluva landscape, and if the plot twists become a bit torturous at times, the ghosts, be they actual spirits caught between worlds or imprints made on traumatized minds, are real enough. And though there are plans for a second season, the first actually ends — with climax and closure. (Available on Starz.)
The same, alas, cannot be said for Madden's first exploration of Tasmania as the new New Zealand (at least in terms of cinematic possibilities). Anna Macy (Elizabeth Debicki) is not a police detective, but she is very troubled and for good reason. She has returned to her tiny town of Kettering (south of Hobart, in case you were wondering) despite lingering suspicion over her part in the titular "incident": When Anna was 14, she and a friend were biking through the woods when they saw strange lights in the sky. Hours later, Anna was found bloody, alone and amnesiac; her friend was never seen again.
Now Anna wants to know what happened. And after eight episodes of very tricky plotting that ties the insular nature of the community to the perils of the natural, the supernatural and the potentially diabolical scientific worlds, the series ends with a partial revelation and a full-on cliffhanger. And there it hangs to this day; despite its success, there has been no second season. Debicki followed up "The Kettering Incident" with "The Night Manager," became a big star and quit Tasmania's medieval forests, possibly forever. This dovetails nicely with "Kettering" in a meta way but remains super disappointing to its fans.
Still, the cinematography is amazing, the plot is tantalizing and Debicki is great, so if you can live with a lot of possibilities and no definite answers, it's worth a watch. At one point some animal skitters by that could very well be a Tasmanian devil, and how many shows can boast that? (Available on Amazon Prime Video.)
In Villefranche, a town so deep in a forest along the border of France and Belgium that electronic equipment and cellphones often do not work, police captain Laurène Weiss (Suliane Brahim) is concerned about the alarmingly high murder rate.
As this never seems to cross the minds of other small-town detectives who also encounter horrific crimes on a weekly basis, you know Laurène is something special. Like many of her counterparts, including Delco's Mare, she knows everyone in town and can be quite testy, particularly regarding the fact that (surprise!) an irritating male colleague has been sent from the outside to "help." Laurène is also haunted by her past and has a rocky relationship with her daughter.
But unlike Mare, whose underlying trauma appears to be the fact that she won a very important basketball game and thereby raised everyone's expectations or something, Laurène has a past so dark she is missing two fingers and a big chunk of her memory, and is starting to entertain the possibility that a vengeful horned god is roaming the forest.
As I have said before, give me the possibility of a vengeful horned forest god terrorizing a wildly beautiful and supremely creepy forest, and I am in. For the long haul. Or in this case, two seasons (with the dwindling hope of a third). In other words, more than enough to fill in the hours between episodes of "Mare."
Though don't blame me if you get so caught up the drama of Villefranche you forget to keep up with Easttown. (Available on Netflix.)
The actor explains the research that went into her character in HBO's buzzy crime drama — including the "mythical place" she visited to feel at home.
If neither the Franco-Belgian wilderness nor Tasmania entices, there's always Wales, where looming fells and endless hills roll into jagged cliffs that drop with dizzying suddenness to the sea.
Though made in part (and with the help of the Welsh government) to showcase Welsh culture on the BBC, "Hinterland" is not exactly a "visit lovely Wales" endeavor. (Though it is the first show to be shot both in English and Welsh, which is cool.)
Tom Mathias (Richard Harrington) is a troubled soul who has left London for the coastal town of Aberystwyth with nothing to show but an obviously wrecked personal life — cue a single photo of twin girls and a wife who does not return his phone calls.
Almost immediately all sorts of gruesome and creepy murders begin taking place in neatly episodic fashion, sending the detective chief inspector and a team that includes his prickly supervising officer, Rhys (Mali Harries), from the area's lush mountains to its most desolate farmland. Along the way, they learn much about the community's history and customs while encountering all manner of good, evil and just plain Welsh folk with names that are actually quite pronounceable if you happen to speak Welsh.
The 90-minute episodes are a bit long for a big binge, but the serial nature of the show means you can dip in and out at will, which is nice. And if you pay enough attention, you might avoid making a fool of yourself while asking directions, should you ever get to Wales. (Available on Netflix.)
"Keeping Faith" is also Welsh, but not a detective show, at least not in the traditional sense.
Faith Howells ("Torchwood's" Eve Myles) is a solicitor who is just getting back to work after having her third child when her seemingly normal and loving husband, Evan (played by Miles' actual spouse, Bradley Freegard), goes to work one morning and vanishes. Panic turns to confusion and then horror, fury and more panic as, in trying to find him, Faith realizes she barely knows her husband at all.
With superhuman ability, Myles grounds the wild ride of emotion, intent and event that the plot and its many characters force upon her, making "Keeping Faith" not just eminently watchable but also miraculously relatable.
The landscape is fabulous, though far less moody than in "Hinterland." The sun actually shines occasionally in this part of Wales, though it does rain enough for Myles to wear an excellent yellow mac that has become a fashion icon in the U.K. and should be one here as well. (Available on Acorn TV.)
The Wide Shot brings you news, analysis and insights on everything from streaming wars to production — and what it all means for the future.
You may occasionally receive promotional content from the Los Angeles Times.
Mary McNamara is a culture columnist and critic for the Los Angeles Times. Previously she was assistant managing editor for arts and entertainment following a 12-year stint as television critic and senior culture editor. A Pulitzer Prize winner in 2015 and finalist for criticism in 2013 and 2014, she has won various awards for criticism and feature writing. She is the author of the Hollywood mysteries "Oscar Season" and "The Starlet." She lives in La Crescenta with her husband, three children and two dogs.
Social media slammed 'SNL's' 'Gen Z Hospital' sketch for appropriating African American Vernacular English. Writer Michael Che had to look that up.
The "Grey's Anatomy" veteran says she's not interested in reprising the role of Cristina Yang. But she still appreciates being asked about it.
What to watch Tuesday, May 11: The season finale of 'Mayans M.C.' on FX; 'NCIS' on CBS; 'Chad' on TBS; Angels baseball; Dodgers baseball and more
'The Crime of the Century,' a gripping new HBO docuseries from Alex Gibney, shows how corporate greed, marketing muscle and lax regulation created the opioid crisis.
Ten former USC Song Girls described to The Times a toxic culture within the famed collegiate dance team that included longtime former coach Lori Nelson rebuking women publicly for their eating habits, personal appearance and sex lives.
The proposal to deliver $8 billion in new cash payments to millions of Californians amid the COVID-19 pandemic is part of a $100-billion state budget that has swelled with a significant windfall of tax revenues.
On his new album, 'Latest Record Project, Vol. 1,' Van Morrison shocked fans by espousing an array of conspiracy theories. The seeds were always there.
Months after his rehab stint, comedian John Mulaney is divorcing artist Anna Marie Tendler, his wife of nearly seven years.
As Capitol rioters, QAnon believers and other radicals gain in number, one moderate Texas Republican warns: 'We're on a self-destructive path.'
Laverne Cox's passion for fashion 'resonates with our audience,' E! says as the 'Orange Is the New Black' actor becomes its new red-carpet host.
What to watch Monday, May 10: 'Breeders' on FX; 'The Voice' on NBC; the season finale of 'Race to the Center of the Earth' on National Geographic
After the Tesla chief dismissed meme-inspired cryptocurrency dogecoin during his 'Saturday Night Live' hosting gig, its stock dropped nearly 30%.
TV highlights for May 9-15 also include a salute to female comedians on Lifetime and the return of "High School Musical: The Musical: The Series"
All in all, as 'SNL' goes, the mega-rich tech magnate made a decent showing, in part because the show went out of its way to ensure him one.
The News Journal 11 May, 2021 - 04:00am
'Saturday Night Live' makes fun of Hockessin, Wawa and Kate Winslet's Philly accent.
A link has been sent to your friend's email address.
A link has been posted to your Facebook feed.
To find out more about Facebook commenting please read the Conversation Guidelines and FAQs
Welcome to our new and improved comments, which are for subscribers only. This is a test to see whether we can improve the experience for you. You do not need a Facebook profile to participate.
You will need to register before adding a comment. Typed comments will be lost if you are not logged in.
Please be polite. It's OK to disagree with someone's ideas, but personal attacks, insults, threats, hate speech, advocating violence and other violations can result in a ban. If you see comments in violation of our community guidelines, please report them.
The Delco accent is put on blast by "Saturday Night Live" in a new, dark parody of Kate Winslet's crime series the "Mare of Easttown," which is set in Delco.  
Winslet stars as a detective in the "Mare of Easttown," a drama where the actress is trying to solve the murder of a young girl.
The SNL skit is titled "Murdur Durdur" and pokes fun at the way Delco folks say the words "murder daughter."
A link has been posted to your Facebook feed.
At one point in the bit, "SNL's'' Kate McKinnon's "Clare'' scolds her fellow investigators for dripping the contents of their hoagies onto the, well, dead daughter. ("Would you guys quit eating hoagies over the body, please!'')
The comedy sketch also features a silly references to Hockessin — which someone mixes up with Conshohocken.
The Philly Phanatic gets a shout out in the skit — and Gritty makes a cameo.
People got a kick out of "SNL'' roasting the Delco accent on the show's official Twitter page, where they posted a video of the parody on Saturday.
"HAHAHHA BEST SKETCH KATE LOOKS SO GOOD," one person tweeted.
"I was in tears," another tweeted. "From West Chester, now in Southern California. This was absolutely hysterical," one user said.
Then again, not everyone was impressed. "Delete your account," one critic tweeted.
The star of "Mare of Easttown" joined the Los Angeles Times podcast "The Envelope" on Wednesday, where she expressed how excited she was to finally step foot inside a Wawa.
"It almost felt like a mythical place … Wawa," she said on the podcast. "By the time I got there, I was like 'Look, it's real! … It's Wawa!'"
The convenience store chain is "the heart of Delco," Winslet added. "To finally walk through the door of a Wawa, I don't know why I felt like, 'Oh, yes, I'm here, I belong. This is where it's at. Wawa.' "
At least one Twitter user believes Wawa is worthy of such national attention.
"People are making fun of Kate Winslet for being awestruck by Wawa, like 'Pfft, rich person experiencing a normal convenience store, ha.'  But having lived in Philly for a few years now, Wawa is not simply a normal convenience store. It's part of the local landscape and culture," the tweet said.
After Winslet revealed she was smitten by Wawa, the official Wawa Twitter account decided to shoot its shot at the actress.
"We'll always hold the door open for you, Kate," Wawa tweeted.
"I would've loved to be the one to take kate winslet's hand & gently guide it to unlock the wawa secret menu touch screen," another Twitter user said.
"Kate Winslet's reaction to Wawa is the correct one. I am prepared to fight about this," another wrote.
The Academy Award-winning actress, who was born in England, said in an interview at the CTAM Winter 2021 Press Tour panel on the "Mare of Easttown" that learning the Delco accent was one of the toughest dialects she's had to master for an acting role.
Delco native Joe Manzi took offense to that.
"I think it's laughable that the Delco accent is the hardest she's ever had to do, because there's really no accent around here; maybe to her it is, because she's English," Manzi, 39, of Glenolden, Pennsylvania told Delaware Online /The News Journal.
Manzi said he hasn't seen "Mare of Easttown." He's not alone in that camp.
Delaware Online/The News Journal asked about two dozen strangers in Glenolden, mostly near Wawa, if they'd heard of the "Mare of Easttown" on April 28.
Only three people said they'd heard of the show, but none of them had seen it at the time. None of them were very familiar with Winslet either.
As for that Delco accent she finds so challenging, there was a mixed bag of people who didn't think local folks had an accent, or that there was a big difference in the way they speak compared with Philly folks who live in the city.
Dr. Betsy Sneller, assistant professor of linguistics at Michigan State University, said it's normal for people to think they don't have an accent.
"You cannot speak without having an accent, it's impossible. Every single person has an accent," said Sneller, who earned her PhD specializing in Philadelphia language from the University of Pennsylvania.
Since many people are surrounded by folks that use the same dialect "they don't think of themselves as sounding weird or having an accent," Sneller added.
Philadelphia English or the "Philly accent" is commonly used in Delco, Philly, South Jersey and Baltimore. It's a blend of dialects that includes New York and Southern American English.
Sneller said there's a slight difference in the way Philadelphians talk versus lingo used in Delco. Black Philadelphians have a noticeably different way of talking than white Philadelphians, she added, and Winslet is attempting to model the white Philly accent.
What makes the Philly accent complex, Sneller said, is Philadelphia English speakers play by a unique set of rules. For example, take the words "mad, bad and glad." Now pronounce each word like they're fused with the word "yeah."
Another example is Philly English speakers pronounce words that have an "O" sound such as "home" or "phone," which ends up sounding like "heom" or "pheon."
Sneller said the Delco accent has long been documented as a tough one to learn. She referenced a report from the 1980s conducted by researcher Arvilla Payne, who was studying how kids acquired the Philly/Delco accent.
"What she found is, it's so difficult that if you don't have two Philadelphian English parents, you're not gonna acquire it completely," Sneller explained.
In the research, Payne was looking at kids who had one parent who spoke Philly English, while the other didn't. It was tough for those children to perfect the Philly accent.
The Penn graduate takes Winslet's attempt at the Delco accent very seriously.
"She's very, very good at it. Most of the time when I'm watching the show, I don't remember that she's not from Philly," Sneller said. "Then every once in a while she'll do something that pulls me out of it."
Winslet gets style points for correctly pronouncing water (w-o-o-d-e-r). But sometimes she loses Sneller when she doesn't nail her "O" sounds. Then again, "I'm incredibly impressed that she tried it in the first place."
The "Mare of Easttown" airs its fifth episode on HBO at 10 p.m., Sunday. Episodes run every Sunday. It is also streaming on HBO Max.
© 2021 Copyright © 2014 www.delawareonline.com. All rights reserved.
Decider 10 May, 2021 - 04:10pm
Ed Helms and Patti Harrison Fall Platonically in Love in 'Together Together'
Stream It Or Skip It: 'ZIWE' On Showtime, A Talk Show That Shines Spotlights By Throwing Shade
'Together Together' Writer & Director Nikole Beckwith Knows You Have a Lot of Feelings About That Ending
Stream It Or Skip It: 'Wander Darkly' on Hulu, a Rumination on the Afterlife (And All That) Via Sienna Miller
'French Exit' Is Finally Coming to Streaming, And You Can Watch A Deleted Scene [Exclusive]
Stream It Or Skip It: 'Milestone' on Netflix, A Quiet Drama That Will Remind You Of 'Nomadland'
Kelvin Harrison Jr. Will Break Your Heart in 'Monster' on Netflix
Stream It Or Skip It: 'In Our Mothers' Gardens' on Netflix, Lessons on Black iIdentity, Femininity, Love, and Self-Care
Stream It Or Skip It: 'The Crime of the Century' On HBO Max, A Disturbing Documentary About the Opioid Crisis
Where to Watch J. Cole's 'Applying Pressure: The Off-Season' Documentary
The Delightful 'Street Gang: How We Got To Sesame Street' is Now on VOD
Stream It Or Skip It: 'The Marksman' on VOD, Another in a Growing Pile of Boilerplate Liam Neeson Action Movies
'Army of the Dead' Reviews Are Here: "Zack Snyder's Best Film Since 'Dawn of the Dead'"
Stream It Or Skip It: 'Greenland' on HBO Max, in Which Even Gerard Butler Can't Save Us from the Apocalypse
Where to Watch 'Wrath of Man'
'The Last Letter From Your Lover' Trailer, Release Date and Cast
Stream It Or Skip It: 'Tell Me When' on Netflix, a Mexican Rom-Com That Lands Bland
'Romeo & Juliet' on PBS Proves Josh O'Connor and Jessie Buckley are Once-in-a-Generation Greats
William Jackson Harper Had No Problem Gazing Longingly at Aya Cash in 'We Broke Up'
The 7 Best Mother's Day Movies to Watch on Netflix
7 Mother's Day Movies to Watch on Hulu
7 Cinco De Mayo Movies To Watch on Netflix, HBO Max, and More
Stream It Or Skip It: 'The Mitchells vs. The Machines' on Netflix, a Zany-Delightful Animated Flick Pitting Lovable Weirdos Against Robots
What Time Does 'Cruel Summer' Episode 5 Air on Freeform and Hulu?
Streaming Service Subscriptions Make the Perfect Last Minute Mother's Day Gifts
'Cruel Summer' Proves We Need More Shows About the '90s
'Cruel Summer' Episode 4 Recap: The Memories Bring Back You
'Mare of Easttown' Episode 4 Recap: Goings On About Easttown
'Mare of Easttown' Episode 4: What Happened to Katie Bailey?
'SNL' Recap: Controversy Magnet Elon Musk Pumps Dogecoin, But The Market Hit The Brakes
'Mare of Easttown' Episode 3 Recap: Good Cop, Bad Cop
The Absolute 10 Best Kisses on TV
The 7 Sexiest Moments in 'Shadow and Bone'
'Shadow and Bone' Season 2: Wylan, Nikolai, and More Characters to Look Out For
The 10 Best TV Shows of April
'The Circle's' Lee Swift Is Proud to Be an Example for Gays of All Generations
'The Circle' UK Needs to Stream on Netflix Right Now
When Will 'The Circle' Season 3 Premiere on Netflix?
'The Circle' Season 2 Catfished Us Again: The Show Is Still About Friendship
'Fear the Walking Dead': Karen David Was "Honored" to Tell Grace's Devastating Story
'Fear the Walking Dead': Grace Is in Deep Trouble in This Exclusive Clip
'Fear the Walking Dead': Colby Hollman Discusses Wes' Impossible Choice
'Fear the Walking Dead': Colby Minifie Breaks Down Virginia's Final Episode
The inexplicably titled "Deacon" Mark, who is not a deacon at all but in fact a priest, is grilled first by Colin and then by his colleague (Mare's cousin) Dan about the circumstances of his transfer to the parish, which entailed accusations of sexual misconduct with a 14-year-old girl at his previous parish; Mark, you may recall, dumped the slain teenager Erin's bike off a bridge at the end of the previous episode.
Colin's mother gives Mare the hairy eyeball when she comes over to their place to work on the case with Colin despite her suspension from the force.
Mare has a gruesome flashback in which her son Kevin and his girlfriend Carrie, both of them addicts, rob and assault her while screaming cruel taunts and insults at her.
Mare arranges a family meeting to disclose her suspension as quirky indie-film-style music plays in the background.
Mare discovers that Erin was going to try her hand at sex work to raise money for her son's badly needed ear surgery prior to her murder; she also learns the location of Erin's secret stash of journals and assorted personal paraphernalia, which she keeps secret from Colin.
Mare goes to a therapist per her department chief's mandate, this and her suspension being her sole punishment for stealing heroin from the evidence locker and planting it in her grandson's mother's car in an attempt to destroy her life and keep custody of the grandson for herself; "Let the healing begin," she jokes.
We find out that neither Mare's ex-husband Frank nor the gunshot-wounded teenager Dylan are actually the father of Erin's baby; Dylan approaches the baby with a pillow as if to smother him before picking him up and rocking him in an awwww moment that his mother witnesses through a window.
Finally, the missing Katie shows up, very much alive, trapped in the same room as the escort we saw attacked earlier in the episode.
I'm hard pressed to think of the last time I watched an episode of television as tonally inconsistent as this episode of Mare of Easttown. Please note that I said "tonally inconsistent," not "tonally all over the map" or something equally anodyne. Plenty of shows, including most of the great ones, are past masters at blending the horrifying and the hilarious, the mundane and the bizarre, the comedy and the tragedy. To cite one very obvious, superficially similar example…well, Twin Peaks exists. The Young Pope and The New Pope—which share Mare of Easttown's composer, Lele Marchitelli, whose work on Mare is comparatively devoid of subtlety—were both deadly serious ruminations on faith and a Jude Law fashion spectacular.
But no, Mare reads as inconsistent to me. In part this is because its multiple tones don't feel as though they all sprang from the same mind, the way it felt with supreme stylists David Lynch and Paolo Sorrentino behind the camera on those other shows. But I also think it stems from the handling of Mare herself, specifically her attempt to frame her grandson's mother Carrie with that stolen heroin. Carrie is no one's idea of a likeable character, based on what we see in that harrowing flashback. But—and see if you can stay with me on this—a cop who attempts to destroy a recovering addict's life in order to maintain custody of a child is an order of magnitude worse! Worse than anyone else in the show, except the murderer and the prostitute kidnapper!
And so, without a stable ethical foundation to stand on, the whole thing teeters and wobbles on the verge of collapse. There's just no way to have, say, the slapstick teen sex comedy of Siobhan's situation and Helen's whack on the noggin on the one hand and the Silence of the Lambs–style abduction of women on the other and make them both work without that foundation. You can't portray, for example, Mare's continued presence in the investigation from which she's been barred like it's simple dogged detective work when she's also keeping huge secrets from her own partner (who, I remind you, has also asked her out). For god's sake, you can't have Mare balancing multiple suitors and make it cute while she's been suspended from the force for a fucking felony that's getting swept under the rug!
I don't get this thing, I really don't. Mare of Easttown's biggest mystery right now is Mare of Easttown itself.
Insider 10 May, 2021 - 12:00am
"No Rules Rules: Netflix and the Culture of Reinvention"
Get it now on Libro.fm using the button below.
Yes, the show is a detective story. In this case, a 17-year-old mom is murdered and left naked on a quarry of rocks in the middle of a Pennsylvanian waterfall. But unlike HBO's other big-budget, star-driven murder-mystery shows like "Big Little Lies" or "The Undoing," "Mare" is an unrelentingly bleak story set against an equally bleak backdrop. There are no beautiful gowns or modern mansions with jaw-dropping vistas to gloss over the brutality of the central murder.
One of the show's key aesthetic architects was hairstylist Lawrence Davis, who helped craft each character's distinct look. And he told Insider that his number one goal onset was to make everyone look like they had just hopped out of bed.
"When I came on board, I was told bed hair for everyone. I was basically told that everybody has bed hair," Lawrence said.
The hairstylist told Insider that because of the "little town" backdrop of the show, none of the characters were meant to look "over the top."
"Everybody was basically, you know, get up and go, and that was the whole feel of it. But I was basically told from day one: 'Bed hair,' and I had to ride with that," he added.
Kate Winslet, who leads the limited series, has previously discussed the importance of her character's realistic look, and the ways in which she has had to fight to maintain it.
During an interview with The Times of London, Winslet detailed her first discussion with HBO after early shooting for the show began: "HBO said, 'Does Kate have to look so . . . ' " she said. "And I said, 'What, like shit? Yes. Kate does have to look like shit.'"
Earlier this year, Winslet separately starred alongside Saoirse Ronan in the similarly unglamorous period drama "Ammonite," where she eschewed all make-up and stereotypical period dress such as corsets and big hats. Later, when speaking with The Times, Winslet said she is "really enjoying a bit of sneaky pushback."
"Yeah, I am older. I look like crap sometimes. Because what I observe are people spending a huge amount of time worrying about how they look, with filters," she said. "Looking at pictures of impossibly glamorous places to have holidays. I worry about that, for younger generations. These unattainable ideals. And I do not want to play roles that feed into anything unattainable anymore. I'm done with that."
"Mare of Easttown" is airing Sundays at 10 p.m. ET.