But of course she was in tears. Keyetta Philyaw, known affectionately by that nickname, had just witnessed what seemed like a miracle.
Her oldest son, Damond Philyaw-Johnson, had caught a 59-yard touchdown pass as time expired to lift Jacksonville State to a stunning 20–17 victory at Florida State. After the play, her son disappeared, buried beneath a dogpile of teammates in the end zone, all of them leaping over each other to celebrate this college football season's most electric ending yet.
He finally emerged, caught his breath and raced to his mother in the stands.
"I grabbed her hand and I told her I loved her," Miss KeKe's son said. "She had tears in her eyes."
Miss KeKe, a hotel housekeeper who cares for two younger children, never had the financial resources to trek the 27-hour roundtrip from the family's home in Pensacola, Fla., to Duke, where her son played receiver his first four years.
But there she sat, in Doak Campbell Stadium with Damond's two younger siblings and his girlfriend, embracing one another as the unthinkable happened.
This was all like a dream—a nightmare for Florida State, an FBS program with ACC championship and national title banners, and jubilance for Jacksonville State, an FCS program located in north Alabama.
The Seminoles, 28-point favorites, led 17–7 with roughly 10 minutes left in the game and had JSU backed up on its own 3-yard line. The Gamecocks marched 97 yards for a touchdown, got a big defensive stop and then moved to the FSU 41-yard line with 15 seconds left in the game. Three straight incompletions later and they were met with a dire scenario: 59 yards from the goal line with six seconds left.
Tyler Allen, a 25-year-old graduate assistant-turned-offensive coordinator, called the play: Trips F Bullet Virginia. From the sideline, Allen signaled to his quarterback to throw the ball to the Z receiver.
"Zeeeee! Zeeeee," he screamed while using his finger to spell the letter in the air.
His quarterback, Zerrick Cooper, saw it, took the shotgun snap and sent flying a perfectly placed spiral into the hands of the team's fastest wideout. Philyaw-Johnson, the Z receiver, blew past cornerback Jarvis Brownlee, caught the pass around the 15-yard line, evaded defensive back Sidney Williams at the 10 and coasted into the end zone.
Philyaw-Johnson isn't your normal FCS player. And Cooper isn't your normal FCS QB. They both transferred from Power 5 programs. Coop, as they call him, was once a backup at Clemson. Damond was one of the country's best return specialists in his time at Duke. He even shares an NCAA single-game record: He returned two kickoffs for touchdowns against Wake Forest in 2019.
"He's long and fast," said Allen, previously a GA at West Virginia and Troy under Neal Brown. "We try to get him the ball."
He's smart too, having graduated from Duke with a degree in sociology and a minor in education. He's a criminal justice major in grad school at JSU and will soon work at a prison as part of his fall coursework, though he doesn't know what prison or his role just yet.
"That's up to the chief," he quipped.
In the most fitting twist, the play had failed so many times before.
Allen called the play three times in JSU's final four snaps. The first two? Incompletions.
"Third time's a charm," said head coach John Grass, an easy-going former high school coach who's built an FCS powerhouse since taking over in 2014. "We felt like Damond could beat him. It was inside release and he got open. He got open the play before that too. Come back with the same play and made a great throw and catch."
While Jacksonville State kept calling the same play, Florida State kept playing the same defense: man-to-man coverage with two safeties who were not playing particularly deep. Even on the very last snap, with six seconds left in the game, FSU elected not to play a prevent, deeper coverage because the Gamecocks had one timeout and needed a field goal to tie.
Still, in interviews with Sports Illustrated late Saturday night, JSU coaches expected more of a prevent defense.
"I'm surprised they didn't get the safety over the top," Allen said. "They kept playing the same coverage, so we kept calling that play."
Finally, it worked. And get this: it was Damond Philyaw-Johnson's only catch of the game.
"It's surreal," said Philyaw-Johnson, giving an interview while still celebrating with teammates on the field. "They were trying to get me the ball throughout the game and it wasn't working, but we connected. Someone had to make a play. One of us had to make a play."
Jacksonville State has been known to give the big boys trouble. In fact, last season, they held a first-half lead against this very Florida State team before losing. In 2015, they took Auburn to overtime. In the FCS, the Gamecocks stormed to the national title game in 2015, have participated in 14 playoff games since 2013 and won six OVC titles in the last seven seasons.
Yet still, the world often mistakes Jacksonville State for other schools, says Greg Seitz, the athletic director at JSU. The school occasionally receives mail addressed to Deion Sanders, the new head football coach at Jackson State, the SWAC program in Jackson, Miss. And many believe that the university is located in Florida.
"So," they'll ask Seitz, "how far are you from the beach?" (Jacksonville State, located in Jacksonville, Ala., is about 300 miles from the beaches of the Florida panhandle.)
In one of the wildest confusions, Seitz once received a six-figure game check in the mail from an FBS program that intended to send the check to Jackson State. And no, he didn't cash it.
What he will cash: The $400,000 guaranteed check the Noles paid JSU to come to their place—and win.
It is a huge chunk for a Jacksonville State program with a budget of $18 million. Florida State's budget? Roughly $150 million. The Noles also get about 20 more scholarship players.
"It's a terrific feeling," says Grass, whose squad is the third FCS program this year to beat a Power 5 team. "FCS schools are winning some games this year against FBS. FCS teams are mismatched. Just scholarship numbers But every game has a life of its own. You gotta play the game."
For a mom and her son, Saturday was extra special.
Miss KeKe cried, Damond caught and Jacksonville State won.
"It's insane," says Allen. "It's insane."
Read full article at CalBearsMaven
ACC Digital Network 13 September, 2021 - 02:10am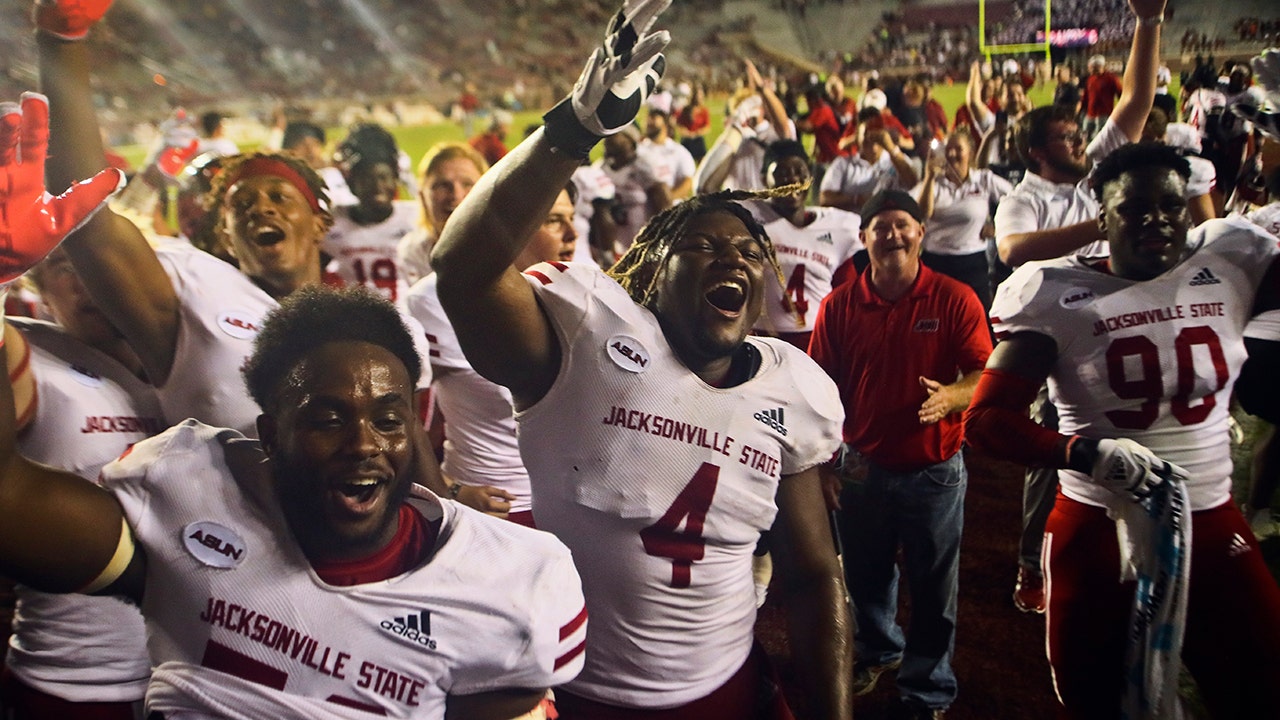 Fox News 13 September, 2021 - 02:10am
This material may not be published, broadcast, rewritten, or redistributed. ©2021 FOX News Network, LLC. All rights reserved. Quotes displayed in real-time or delayed by at least 15 minutes. Market data provided by Factset. Powered and implemented by FactSet Digital Solutions. Legal Statement. Mutual Fund and ETF data provided by Refinitiv Lipper.
Fox News Flash top headlines are here. Check out what's clicking on Foxnews.com.
Jacksonville State pulled off an incredible last-second play to upset Florida State on Saturday.
The Gamecocks were down three points with 6 seconds remaining in the game. Zerrick Cooper dropped back to pass and found wide receiver Damond Philyaw-Johnson who had barely gotten enough space to catch the ball over a Seminoles defensive back.
Philyaw-Johnson found the end zone as time expired giving Jacksonville State one of its biggest wins in school history, 20-17. It was Philyaw-Johnson's only catch of the game – a 59-yard game-winner.
Cooper had two touchdown passes in the fourth quarter as they entered the final period down 10 points. He finished 17-for-38 with 242 passing yards and the two scores.
P.J. Wells led Jacksonville State with four catches for 74 yards. Ahmad Edwards had the other touchdown catch. He recorded three catches for 49 yards.
Florida State coach Mike Norvell was distraught after the loss. He apologized to Seminoles fans after the game.
"I apologize to our fan base, to our university, to all Seminoles for the performance we had," Norvell said, via ESPN. "I take ownership of it, but we go in and work, correct the things that have to be corrected to play to the level we're capable of playing. This team has talent, they have heart, they truly do believe in what we can accomplish, but we have to go execute. It can't just be something we talk about in the moment. I've been a part of challenging times before. Tonight is a challenging time for our university and our football team. We will get it corrected."
Florida State beat Jacksonville State last year, 41-24.
The Seminoles are now 0-2 on the year. Jacksonville State is now 1-1.
Ryan Gaydos is the Sports Editor for Fox News and Fox Business. Follow Ryan Gaydos on Twitter @Gaydos_ and if you got a tip you can email Ryan at Ryan.Gaydos@fox.com
This material may not be published, broadcast, rewritten, or redistributed. ©2021 FOX News Network, LLC. All rights reserved. Quotes displayed in real-time or delayed by at least 15 minutes. Market data provided by Factset. Powered and implemented by FactSet Digital Solutions. Legal Statement. Mutual Fund and ETF data provided by Refinitiv Lipper.
ACC Digital Network 13 September, 2021 - 02:10am
ESPN College Football 13 September, 2021 - 02:10am
Tomahawk Nation 13 September, 2021 - 02:10am
Solid performance overshadowed by fourth quarter collapse
Despite a double digit lead and the ball inside the opposition's five-yard line with under 10 minutes remaining, the Florida State Seminoles collapsed, suffering their first ever loss to an FCS program as Jacksonville State completed a walk-off touchdown heave as time expired.
Up until that 10 minute mark, the Florida State defense had held Jacksonville State down like they were expected to do.
Through the game's first 50 minutes, defensive coordinator Adam Fuller's group allowed only 170 total yards and forced a crucial turnover that swung momentum back to the Noles in the first quarter.
A touchdown from their offensive counterparts on that drive inside the five in the fourth and this defense could be patting themselves on the back for a job well done as Florida State opens up an insurmountable three score lead.
Instead, the offense turned the ball over on downs, starting the spiral.
Jacksonville State used 11 plays to go 97 yards to get it to within three thanks to a lot of help from the FSU defense. The drive included three first downs thanks to defensive penalties, one of which was a targeting call on linebacker Kalen DeLoach that overturned a potential decisive interception by Jarvis Brownlee.
Two plays later, Jacksonville State found a receiver wide open in the middle of the endzone for a touchdown thanks to some miscommunication. Two Noles defenders tracked the slot receiver breaking toward the pylon and nobody followed the outside receiver crossing toward the goalpost.
Jacksonville State Qb Zerrick Cooper Connects With Ahmad Edwards For A TD & Cuts Florida State To 3 pic.twitter.com/Jn8ABVZK3o
Clearly one guy anticipated a switch while the other — something that simply cannot happen in that spot.
Florida State then failed to run out the clock so it was back to the defense to close it out. They nearly ended the drive on the first play with an INT going off the fingertips of linebacker Stephen Dix Jr..
From there, FSU held Jacksonville State away from their side of the field until the final 6 seconds when this happened.
Jacksonville State 59-yard game-winner as time expires to beat Florida State! pic.twitter.com/uxUPumAOFt
There are plenty of problems with the play and I'm sure by the time you're reading this, you've found more than even I have at this point. But let's start with the play call.
"Ran a two deep man under, tried to get pressure on the quarterback," Mike Norvell said after the game. "They still had one time out, so we didn't go to immediate prevent."
That quote reads as though Florida State considered going to a prevent defense and opted against it given the circumstances so let's break that choice down. Quick run through of facts: Jacksonville State faced 4th and 10 at their own 41 with 6 seconds to go and 1 timeout remaining.
I've never coached football a day in my life so I won't pretend that I understand the choice, but allow me to do my best with logic and deductive reasoning.
Jacksonville State's kicker, who I do not know, is probably at best hitting a kick from 50 yards. He might be NFL-caliber and hit it from further, but let's just stick with what is practical in this scenario. If that's true, they'd have to get at least to the 33 yard line — meaning they were 26 yards from being on the edges of reasonable field goal range.
4th down required the Gamecocks to at least reach FSU's 49 to even have another play. They did have the timeout remaining so Jacksonville State didn't have to go to the sideline. Florida State did not have any timeouts remaining — they used their last one trying to draw JSU offsides before punting on their final drive — to set up the defense.
I doubt JSU can make a play underneath to get in that reasonable field goal range and still have time left on the clock so for me the choice to not go prevent is questionable at best.
And if you managed to stick with the ACC Network broadcast long enough to see the postgame interview with one of the Gamecocks receivers, you'd know even they didn't feel they could get into field goal range in time. The receiver told the broadcast they dialed up four verticals and hoped one of them could find some space downfield for a TD. JSU went to the Hail Mary and FSU wasn't in the defense to stop it.
Even then, they still had a chance to.
Once the ball is caught, the three closest defenders to the ball were Brownlee, Sidney Williams and Jammie Robinson.
Brownlee is the closest to the ball at the catch and he doesn't immediately wrap up the receiver at the catch. Instead, both he and Williams almost try to corner the receiver toward the sideline. At that point, it's two guys to bring down one as evidenced in the screengrab below from CBS Sports.
Obviously they didn't, but take a look at the bottom of that screengrab. You can see Robinson and No. 9 for JSU both in the picture about 10 yards behind the play. No. 9 ends being the blocker who springs the touchdown right at the goal-line. Robinson ends up about 10 yards behind the play as he lays the block.
I'm not here to call it a lack of effort from any of the three players, but the two guys on the play who made a play were wearing JSU uniforms as FSU looked sluggish. I don't know if they were burnt out from the previous long drive or became spectators in that moment, but either way it's the same result.
There will be plenty more questions for Norvell to answer on Monday after they review the tape and I'm sure he'll have more answers for what happened on this play.
The offense could've helped this disastrous finish by ending this game earlier, the defense could've avoided three penalties on the penultimate JSU drive and the coaches could've had them in a better formation on the final play. But they didn't. None of them.
What's next for this group is anyone's guess.
We know they'll be without DeLoach for the first half against Wake Forest next week — a tough blow to an already thin linebacking corps. The secondary will probably face tough questions all week either from the media, coaching staff, family or friends so how they handle it will be huge. The defensive line, especially Jermaine Johnson, has looked solid and can still anchor the defense as a whole.
But this entire team might need direction after losing one that will certainly sting for a very long time.
Tampa Bay Times 13 September, 2021 - 02:10am
And all it took was six seconds to erase what many believed was the turning point for a program looking to return to national relevance.
That's how long it took for Jacksonville State receiver Damond Philyaw-Johnson to bob-and-weave his way past several defenders 59 yards into the end zone for a game-winning touchdown with no time on the clock to give the Gamecocks a stunning 20-17 win over FSU Saturday night.
As JSU players and coaches swarmed the field at Doak Campbell Stadium in celebration, many of the 60,000 in attendance were left speechless as to what they had just witnessed.
"We did not have our team ready to play today," a disappointed Mike Norvell said after the loss. His eighth loss in 11 games as the coach at FSU. "Coming off last week, we came out and definitely didn't play in any way to the standard of what we're capable of. The penalties, the self-inflicted mistakes — it's 100% on me. We did not have the guys ready to go."
It was FSU's first loss against a team from the Football Championship Subdivision in 27 games dating back to 1978. The Seminoles open 0-2 for the second consecutive season and for the third time in the last five years.
"It's embarrassing, the way we performed on a field today," said FSU quarterback McKenzie Milton.
Afterward, Norvell tried to explain how FSU's defense could allow Philyaw-Johnson to score with relative ease.
"It was two-deep, man-under and we wanted to make sure we tried to get pressure on the quarterback," said Norvell. "[We didn't want] to give up something real quickly underneath or in the intermediate passing game with a timeout, so we did not go to immediate prevent [defense]."
"We just didn't execute how we're supposed to and it's kind of embarrassing," said defensive end Jermaine Johnson, who led the team with 11 tackles, 2.5 sacks and 3.5 tackles for loss. "All we can do is watch the tape, figure out what we did wrong, fix it put our best foot forward."
A week after providing an offensive spark late against the Fighting Irish, Milton struggled to get FSU's offense on track. Too many self-inflicted mistakes led to the offense stalling out throughout much of the game. The Seminoles punted on half of their offensive possessions and only crossed midfield five times against the Gamecocks.
"There were too many times as we would get something going, we would have something negative that would set us back," added Norvell.
Penalties doomed any momentum FSU could muster as the team was flagged 11 times for 114 yards. It was the fifth time under Norvell that the Seminoles have been called for double-digit penalties and it was the most penalty yards in a game since Nov. 3, 2018.
"The biggest thing was penalties," said Milton, who finished 18-of-31 for 133 yards with a touchdown and an interception. "We would get a first down and next thing you know it's 2nd-and-25. When you keep putting yourself in those situations is a recipe for disaster."
For the second consecutive week, FSU was stout up front on defense, holding the Gamecocks to 108 yards rushing including a 2.8 yards per attempt average. The Seminoles have the second-best rushing defense in the ACC.
But it's the passing defense that has regressed with the team ranked dead-last in the ACC.
Florida State has allowed a dozen explosive passing plays (20-plus yards) so far this season including three of 40-or-more yards including the game-winning 59-yard strike Saturday night.
The mood following this loss was a very different one than after the loss to Notre Dame last week. Players and coaches seemed encouraged by the team's effort against the Fighting Irish, rallying from 18 points down to send the game into overtime.
"I think when you're satisfied after a loss, this is the kind of stuff that happens," Milton said. "I'm not saying we're OK with losing last week, but you get pat on your back for effort but we still lost. We lost today. We are who we are, we're 0-2 and we have Wake Forest to start conference play."
"I apologize to our fan base, to our university, and to all Seminoles for the performance that we had," Norvell added. "[We have to] take ownership of it. You go and you work and you correct the things that have to be corrected, to play to the level that we're capable of playing."
FSU travels to Wake Forest (2-0) Saturday looking to avoid starting 0-3 for the first time since 1976.
Never miss out on the latest with the Bucs, Rays, Lightning, Florida college sports and more. Follow our Tampa Bay Times sports team on Twitter and Facebook.
Tallahassee Democrat 12 September, 2021 - 01:46am
The Seminoles (0-2) were sluggish from the start as they played six days after an overtime loss to No. 9 Notre Dame.
FSU lost for the first time in 27 games against FCS teams.
McKenzie Milton made his first start at FSU, completing 18 of 31 passes for 133 yards, a touchdown and an interception. Milton had not started a game since Nov. 2018 at UCF,
Wake Forest (2-0) defeated visiting Norfolk State 41-16 Saturday afternoon at Truist Field. The Demon Deacons had 252 yards through the air and 161 yards on the ground.
FSU: 0 14 3 0 - 17
11:08 JSU - J.Samuel 2-yd rush ( A.Karajic kick), 15-79, 06:58 7-0
5:01 FSU - J.Corbin 12-yd rush (R.Fitzgerald kick), 5-53, 01:30 7-7
:09 FSU - W.Rector 2-yd pass from M.Milton (R.Fitzgerald kick), 6-45, 01:29 7-14
4:20 FSU - R.Fitzgerald 53 yd FG, 10-35, 03:12 7-17
4:45 JSU - A.Edwards 23- yd pass from Z.Cooper (47 A.Karajic kick), 11-97, 05:04 14-17
00 JSU - D.Philyaw-Johnson 59 yd pass from Z.Cooper, 10-83, 01:32 20-17
Jashaun Corbin 15-109-1; Treshaun Ward 8-45; Lawrance Toafili 10-22; McKenzie Milton 3-16; Jordan Travis 1-7; Camren McDonald 0-3
McKenzie Milton 18-31-1, 133 yards, 1 TD, 17 long; Jordan Travis 0-3-0.
Darion Williamson 3-32; Andrew Parchment 3-29; Camren McDonald 3-21; Malik McClain 2-18; Wyatt Rector 2-13; Jordan Wilson 2-10; Lawrance Toafili 2-5; Kentron Poitier 1-5.
Jermaine Johnson 3 8 11; Kalen DeLoach 4 3 7; Amari Gainer 0 6 6; Travis Jay 4 1 5; Jammie Robinson 3 1 4; Sidney Williams 2 2 4; Renardo Green 2 2 4; DJ Lundy 1 3 4; Robert Cooper 1 3 4; Fabien Lovett 0 4 4; Andrew Parchment 2 0 2; Shyheim Brown 1 1 2; Derrick McLendon II 1 1 2; Malcolm Ray 1 1 2; Akeem Dent 1 1 2; Den Marcus Cushnie 0 1 1; Dennis Briggs Jr. 0 2 2; 2 Stephen Dix, Jr. 0 2 2; Meiko Dotson 1 0 1; Jarrian Jones 1 0 1; Wyatt Rector 1 0 1; Kevin Knowles II 0 1 1; Marcus Cushnie 0 1 1; Jarvis Brownlee 0 1 1