Rep. Anna V. Eskamani 🔨
AnnaForFlorida
The # of people traveling out of Texas to access an abortion illustrate what experts predicted well before the ban took into effect. Those who want to end a pregnancy are doing their best to travel beyond state borders. Some are succeeding. Many are not. 19thnews.org/2021/09/abortion-clinics-bordering-texas-are-seeing-double-the-number-of-patients/
Dan Diamond
ddiamond
In 1972, Texas OB/GYN Alan Braid says he watched 3 teens die from illegal abortions as they struggled to find care. "For me, it is 1972 all over again," Braid writes in The Post — explaining why he broke new Texas law to provide abortion this month. www.washingtonpost.com/opinions/2021/09/18/texas-abortion-provider-alan-braid/
Doug Jones
DougJones
In response to the outcry over the SCOTUS decision to let a draconian Texas law banning abortions after only 6 weeks & allowing publicly sanctioned vigilantes to enforce the law, Alabama's governor decides to try and justify the unjustifiable. Well… www.alreporter.com/2021/09/14/opinion-gov-ivey-lets-empower-women-and-be-a-voice-for-unborn-children
Senator Patty Murray
PattyMurray
No one should face barriers to getting an abortion or other reproductive care they want. The outrageous anti-abortion law in Texas not only creates those barriers, but gives complete strangers the ability to enforce them. It's extreme, dangerous, and unconstitutional.
Texas outlawed abortions past the six-week mark in a law that went into effect on Sept. 1. Dr. Alan Braid, a Texas physician, says he performed one anyway just a few days later.
In an opinion piece for The Washington Post on Saturday, Braid, who's been practicing for more than 40 years, explained his decision as a matter of "duty of care." The new law, known as S.B. 8, not only makes performing an abortion after about six weeks illegal, but makes it so that anyone who aids anyone else in getting one — by performing the procedure or even by giving them a ride to the clinic where they have the procedure done — runs the risk of being sued for at least $10,000.
Braid says he performed an abortion anyway on Sept. 6, on a patient who was still in her first trimester but further along than six weeks. That patient, he wrote, "has a fundamental right to receive this care."
"I have daughters, granddaughters and nieces. I believe abortion is an essential part of health care," his piece concluded. "I have spent the past 50 years treating and helping patients. I can't just sit back and watch us return to 1972," which was before the Supreme Court's Roe v. Wade decision.
The Supreme Court let the Texas law stand earlier this month while leaving the door open for future legal challenges.
In accordance with the new law, any citizen could now sue Braid for performing the abortion and, if they win, could walk away with a minimum of $10,000. In Texas, the law allows private citizens to sue without having any connection to the abortion in question. A website set up by the anti-abortion-rights group Texas Right to Life also makes it easy to anonymously report those suspected of violating the ban.
If he does get sued, the abortion-rights advocacy group Center for Reproductive Rights pledged to defend him. The group is already representing Braid's clinics in a separate lawsuit.
"Dr. Braid has courageously stood up against this blatantly unconstitutional law," Center for Reproductive Rights president and CEO Nancy Northup said in a statement. "We stand ready to defend him against the vigilante lawsuits that S.B. 8 threatens to unleash against those providing or supporting access to constitutionally protected abortion care."
Texas Right to Life did not immediately respond to an email from NPR, but in statements to news outlets said it was "looking into this claim but we are dubious that this is just a legal stunt."
Clinics that Braid owns are co-plaintiffs along with other abortion providers, physicians, clergy members, and others in an ongoing lawsuit to block S.B. 8. The Justice Department has also sued the state of Texas over the ban, while abortion-rights supporters have flooded a Texas Right to Life website with false reports.
Even before the law went into effect, many physicians were worried. Dr. Ghazaleh Moayedi, a Texas-based OB/GYN and abortion provider, described the bill as being "100% about putting fear in physicians and putting fear in abortion funds and intimidating us."
"This law threatens my livelihood," she told All Things Considered. "It threatens my ability to care for my family. It threatens my career simply for doing what I was trained to do right here in Texas."
Abortion providers in Texas are now turning patients away and directing them to obtain services in different states, something Braid said he has also had to do.
Historically, it isn't uncommon for abortion providers to be subject to harassment and violence. Harassment against abortion providers saw a spike in 2019, according to the National Abortion Federation. The FBI reported last year that violent threats against abortion providers had risen partly because of a "recent rise in state legislative activities related to abortion services and access."
Read full article at NPR
The Washington Post 19 September, 2021 - 10:00pm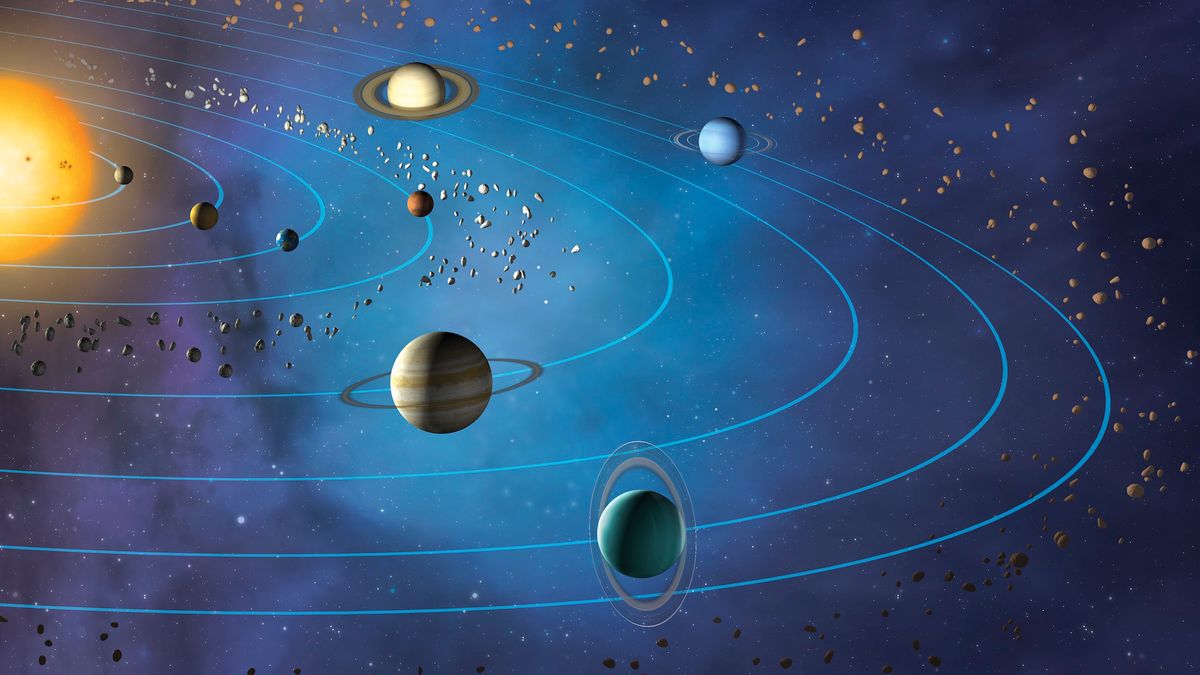 The Washington Post 19 September, 2021 - 06:00am
To answer this question, we have to go back in time.
To answer this question, we have to travel to the very beginning of the solar system, about 4.5 billion years ago.
Back then, the solar system was just a massive, spinning cloud of dust and gas, Nader Haghighipour, an astronomer at the University of Hawaii at Mānoa, told Live Science. That massive cloud measured 12,000 astronomical units (AU) across; 1 AU is the average distance between Earth and the sun, or about 93 million miles (150 million kilometers). That cloud became so big, that even though it was just filled with dust and gas molecules, the cloud itself started to collapse and shrink under its own mass, Haghighipour said.
As the spinning cloud of dust and gas started to collapse, it also flattened. Imagine a pizza maker throwing a spinning slab of dough into the air. As it spins, the dough expands but becomes increasingly thin and flat. That's what happened to the very early solar system.
As the sun grew, the cloud continued to collapse, forming "a disk around the star [that] becomes flatter and flatter and expands and expands with the sun at the center," Haghighipour said.
Eventually, the cloud became a flat structure called a protoplanetary disk, orbiting the young star. The disk stretched hundreds of AU across and was just one-tenth of that distance thick, Haghighipour said.
For tens of millions of years thereafter, the dust particles in the protoplanetary disk gently swirled around, occasionally knocking into each other. Some even stuck together. And over those millions of years, those particles became millimeter-long grains, and those grains became centimeter-long pebbles, and the pebbles continued to collide and stick together.
—How massive is the Milky Way?
—Do other planets have solar eclipses?
Eventually, most of the material in the protoplanetary disk stuck together to form huge objects. Some of those objects grew so big that gravity shaped them into spherical planets, dwarf planets and moons. Other objects became irregularly shaped, like asteroids, comets and some small moons.
Despite these objects' different sizes, they stayed more or less on the same plane, where their building materials originated. That's why, even today, the solar system's eight planets and other celestial bodies orbit on roughly the same level.
Thank you for signing up to Live Science. You will receive a verification email shortly.
There was a problem. Please refresh the page and try again.
© Future US, Inc. 11 West 42nd Street, 15th Floor, New York, NY 10036.
Fox News 19 September, 2021 - 06:00am
This material may not be published, broadcast, rewritten, or redistributed. ©2021 FOX News Network, LLC. All rights reserved. Quotes displayed in real-time or delayed by at least 15 minutes. Market data provided by Factset. Powered and implemented by FactSet Digital Solutions. Legal Statement. Mutual Fund and ETF data provided by Refinitiv Lipper.
Allie Beth Stuckey calls on pro-lifers to convey reality of abortion as Horace Cooper blasts Biden's understanding of the Supreme Court
The Supreme Court recently declined on procedural grounds to enjoin a Texas law prohibiting abortions after the sixth week of pregnancy. The court stated unequivocally that its decision was "not based on any conclusion about the constitutionality of Texas's law."
Nonetheless, President Biden immediately decried the decision as "an unprecedented assault on a woman's constitutional rights under Roe v. Wade." Well, it was certainly better than talking about Afghanistan, the jobs numbers, inflation or the border.
Biden subsequently attempted to assuage the other side of this contentious issue, stating that while he respected the views of people "who believe life begins at the moment of conception and all," he just didn't "agree" with them.
Much was made on social media about that statement being inconsistent with Biden's prior statements on the issue – and his Catholic faith. But perhaps more concerning was his willingness to ignore "the science" despite his oft repeated commitment to "follow the science."
The science on when human life begins is not in serious dispute. For example, the American College of Pediatricians' (ACP) website states that "[t]he predominance of human biological research confirms that human life begins at conception—fertilization. At fertilization, the human being emerges as a whole, genetically distinct, individuated zygotic living human organism, a member of the species Homo sapiens, needing only the proper environment in order to grow and develop. The difference between the individual in its adult stage and in its zygotic stage is one of form, not nature."
While the word "zygotic" (basically, a fertilized egg) isn't a term you hear every day, the science behind the ACP's statement is straightforward.
As a young trial lawyer in the early 1980s, I was one of a group of attorneys in St. Louis who defended individuals charged with trespassing for "sitting-in" at abortions clinics. We employed the justification defense, which required proof that those defendants were violating misdemeanor trespass laws to accomplish a higher societal value – protecting human life. Our first job was to convince the judge and jury that human life began at conception as a scientific fact – as opposed to a personal or religious belief – otherwise the judge would not allow the defense to go to the jury or the jury would reject it.
It proved an easier task that I anticipated. Our medical experts laid it out as follows.
First, we know that from the time of conception there is an individual because the unborn child has its own unique genetic structure, different from the mother, father or any other human who has ever lived.
Second, we know we have a human as the unborn child has the correct number of chromosomes.
Finally, we know we have life because we can watch the initial cells grow. In what is called the test-tube baby procedure, you can watch human cells grow literally from fertilization.
The science is crystal clear – each individual human life begins at conception.
Even the Supreme Court's decision in Roe offers no support for Biden ignoring the science. In Roe, the Supreme Court avoided the question of when human life begins first by holding that "the word 'person,' as used in the 14th Amendment, does not include the unborn." Therefore, unborn children are not entitled to the right to life afforded by that amendment.
While the legality of abortion may involve balancing the value of early human life against the interests of the mother, the science is incontrovertible – an individual human life begins at conception and ends at death.
The state of Texas also argued in Roe that because life begins at conception as a factual (as opposed to constitutional) matter, states have "a compelling interest in protecting that life from and after conception." The court again avoided the issue, stating that it "need not resolve the difficult question of when life begins. When those trained in the respective disciplines of medicine, philosophy and theology are unable to arrive at any consensus, the judiciary, at this point in the development of man's knowledge, is not in a position to speculate as to the answer."
But Texas was not asking the court to speculate or to consider philosophy or theology. It was asking the court to look at the scientific evidence and make a determination.
I am unaware of any other instance where the court has ignored medical facts pending the scientific community reaching a consensus with philosophers and theologians. If the court were to wait for scientists, philosophers and theologians to reach a consensus before making such a factual determination, it would never be able decide any case involving scientific evidence.
Bottom line, the court made no determination as to when human life actually begins. It simply dodged an issue it was unable to address directly while creating a right to abortion. That issue will likely reemerge in Dobbs v. Jackson Women's Health Organization, a case involving Mississippi's abortion law which the court has actually agreed to hear on substantive as opposed to procedural grounds.
While the legality of abortion may involve balancing the value of early human life against the interests of the mother, the science is incontrovertible – an individual human life begins at conception and ends at death.
President Biden can ignore that evidence, his previous statements and the tenets of his professed faith. He can choose to "follow the politics" rather than the science. At this point it certainly makes political sense for him to shift attention away from his administration's many failures. But that will not change the medical/scientific evidence. It is what it is.
Get the recap of top opinion commentary and original content throughout the week.
You've successfully subscribed to this newsletter!
This material may not be published, broadcast, rewritten, or redistributed. ©2021 FOX News Network, LLC. All rights reserved. Quotes displayed in real-time or delayed by at least 15 minutes. Market data provided by Factset. Powered and implemented by FactSet Digital Solutions. Legal Statement. Mutual Fund and ETF data provided by Refinitiv Lipper.
CNN 19 September, 2021 - 03:31am
Kawanna Shannon, the surgical services director at the Reproductive Health Services of Planned Parenthood of the St. Louis Region, dropped her tasks and led the woman into a private room to talk. The woman said she was panicking because she had used her rent money to pay for child care for her two kids, rent a car, buy gas and drive to the clinic in Fairview Heights.
The days leading up to and after Texas' restrictive abortion law went into effect, clinics in surrounding states became overbooked, diverting patients further away, including this patient who only had one extra day off work to get the procedure done, Shannon said. The woman's only option was Illinois, but it cost her her rent, she said.
The Illinois clinic, emblematic of a state that has deemed itself a safe haven for abortion care, is feeling the reverberations of the Texas law in the form of dozens of women forced to travel hundreds of miles just to secure an appointment. Despite facing its own challenges, including staff shortages and similar legislation up for consideration across the border in Missouri, the Illinois clinic said it is fully prepared to welcome any woman who needs the medical care.
The clinic has long been preparing for what it calls "the writing on the wall," according to Yamelsie Rodríguez, president and CEO of Reproductive Health Services of Planned Parenthood of the St. Louis Region, which oversees the Fairview Heights clinic. "This is the reality that we have been seeing for a long time, and we've been preparing for a post-Roe world with a plan to ensure abortion services remain accessible with this clinic."
The Texas law bans abortions at around six weeks of pregnancy, before most women know they are pregnant, without any exceptions for rape and incest.
Rodriguez said the past month has shown that access is not just a Texas problem because when it is lost in one state, that creates a ripple effect as far out as Fairview Heights, where appointment times are being quickly filled.
Over the last week, the clinic has seen patients from Arkansas, Kansas, Louisiana, Kentucky, Tennessee and Texas.
"No one will be turned away," Rodriguez stated.
The clinic, a $10 million investment by Planned Parenthood and Hope Clinic, sits on the southwest border of the state just 15 minutes from St. Louis, and was built in preparation for abortion bans and restrictions in neighboring states. It has the capacity to handle up to 15,000 patients per year.
Related: "It's certainly a whole other level of mental anxiety and cruelty that's forced upon us," one activist said of the law, the most restrictive in the nation.
Illinois stands as a lone refuge in the Midwest giving unencumbered access to abortion services with the Reproductive Health Act, which also ensures access to pregnancy care and birth control.
Sponsors of the act emphasized in legislative sessions the importance of its protections should the landmark Roe v. Wade decision be overturned. The Supreme Court said in May that it would consider the legality of Mississippi's abortion ban on most abortions after 15 weeks of pregnancy in its upcoming fall term.
The law will protect the right to choose regardless of what happens with Roe v. Wade, said Jennifer Welch, president and CEO of Planned Parenthood of Illinois. "As other states put more barriers into place for people to access this health care, we know that patients will turn to Illinois and we could see tens of thousands of patients if other states follow Texas' example or if the Supreme court further erodes abortion protection in their upcoming case."
Inside the busy clinic, Dr. Colleen McNicholas, one of six physicians who work at the facility, has spent a fair share of days staying late to care for patients, but more often than not that goes beyond just medical care, she said.
After completing a late procedure for a patient last week, she had to help the woman, who drove over 300 miles from Tennessee, figure out how to get her car fixed. With everything being closed after hours, McNicholas then needed to help the patient get a hotel room for the night while waiting for a place to open to work on her car. It was an additional financial burden this patient wasn't prepared for, she said.
Most of these patients are existing in the intersections of marginalization with financial insecurity and housing insecurity, she said. Life in and of itself is exhausting for them and then having to jump through more hoops to be able to access care can be a really oppressive burden, she said.
Half of all women in the U.S. who got an abortion in 2014 lived in poverty, according to a 2016 study by the Guttmacher Institute, a reproductive health research group.
Kencia Page is the call center director for the clinic in Fairview Heights, which fields more than 350 calls a day. Many from out-of-state patients, she said, especially now with Texas stressing the entire system of abortion providers.
"Our call center has received calls from patients in Texas frantic about the Texas abortion ban and desperate to figure out their options," she said. "These patients are overwhelmed. We received a call from one Texas patient who did not know how they would be able to access abortion because they did not have any family support or any money to pay for travel and lodging to access abortion out of state.
Page said it's "heartbreaking" to hear stories like this, but it puts into perspective the importance of the work they do and that they will have to continue on if other states follow suit.
But while the clinic is handling the aftermath of Texas, across the border, Missouri is another battleground for reproductive rights. An eight-week ban enacted by that state will be taken up by a full appellate court next week. If the law passes, access will be siphoned off in another state leading more patients potentially to Fairview Heights.
Despite bracing for an influx of patients, the clinic is also dealing with its own struggles, including staff shortages due to the pandemic which has led to cross training, creative scheduling, and sometimes longer hours.
Carrying the weight of the patient's struggles also weighs heavily on the staff, McNicholas said.
"It isn't just that we're there to take care of patients' procedural needs. We are oftentimes with them, holding their hand, trying to figure out how to help them manage the financial insecurities of those 72 hours," she said. "There's a number of things that we certainly will have to navigate, and staff morale and meeting the complex needs of the patients are one of the challenges."
A Texas doctor stepped forward Saturday to say he had performed an abortion that is illegal under the state's restrictive new law to force a test of its legality. "I understand that by providing an abortion beyond the new legal limit, I am taking a personal risk, but it's something I believe in strongly," Alan Braid, a San Antonio OB/GYN, said in an op-ed in The Washington Post. "I have daughters, granddaughters and nieces. I believe abortion is an essential part of health care. . . . I can't ju
When the schools in Marietta, Georgia, opened their doors on Aug. 3, the highly contagious delta variant was sweeping across the South, and children were not being spared. By Aug. 20, 51 students in the city's small school district had tested positive for the coronavirus. Nearly 1,000 others had been flagged as close contacts and had to quarantine at home for 7-10 days. "That's a lot of school, especially for children that are recovering from 18 months in a pandemic where they missed a lot of sc
Lanson Jones did not think that the coronavirus would come for him. An avid tennis player in Houston who had not caught so much as a cold during the pandemic, he had refused a vaccine because he worried that it would spoil his streak of good health. But contracting COVID-19 shattered his faith in his body's defenses — so much so that Jones, nose clogged and appetite vanished, began hunting for anything to spare himself a nightmarish illness. The answer turned out to be monoclonal antibodies, a 1
MANILA (Reuters) -Boxing star Manny Pacquiao said on Sunday he will run for president of the Philippines next year, after railing against corruption in government and what he calls President Rodrigo Duterte's cozy relationship with China. Pacquiao accepted the nomination of his political allies during the national assembly of the faction he leads in the ruling PDP-Laban Party, days after a rival faction nominated Duterte's long-time aide, Senator Christopher "Bong" Go https://www.reuters.com/world/asia-pacific/philippine-senator-first-declare-2022-run-presidency-2021-09-08, as its presidential candidate. That faction nominated Duterte for vice president, a move that critics called a cynical ploy by Duterte to retain power.
WASHINGTON — No president has ever packed as much of his agenda, domestic and foreign, into a single piece of legislation as President Joe Biden has with the $3.5 trillion spending plan that Democrats are trying to wrangle through Congress over the next six weeks. The bill combines major initiatives on the economy, education, social welfare, climate change and foreign policy, funded in large part by an extensive rewrite of the tax code, which aims to bring in trillions from corporations and the
Seth Rogen, the night's first presenter, complained that a ceiling on the Emmys tent worked against efforts to protect those attended from COVID-19.
Democrats can't use their $3.5 trillion package bolstering social and climate programs for their plan to give millions of immigrants a chance to become citizens, the Senate's parliamentarian said late Sunday, a crushing blow to what was the party's clearest pathway in years to attaining that long-sought goal. The decision by Elizabeth MacDonough, the Senate's nonpartisan interpreter of its often enigmatic rules, is a damaging and disheartening setback for President Joe Biden, congressional Democrats and their allies in the pro-immigration and progressive communities.
LADERA RANCH, Calif. — When Gail Grigaux first moved to Ladera Ranch in Orange County from the East Coast more than 15 years ago, she knew she had arrived in the conservative heart of Southern California. "If I met anybody new, I would assume they were Republican," said Grigaux, 53, a teacher's assistant. It often felt that way, even as recently as last year when supporters of former President Donald Trump drove golf carts with Trump flags and sold Trump paraphernalia on street corners of the ma
ISLANDTON, S.C. — The unsolved killing of a mother and son. Millions of dollars in stolen funds. Fresh investigations into a fatal boat crash and a housekeeper's deadly fall. The mysteries swirling around a lawyer and his family in South Carolina have gotten only more tragic and perplexing this summer, and with them have come two arrests, stunning twists and intricate theories — as many more parts of the case remain unsolved. At its center is the Murdaugh family, whose members have served in pow
Data needed to determine the advisability of booster shots of the Moderna Inc and Johnson & Johnson COVID-19 vaccines is just weeks away, President Joe Biden's chief medical adviser said on Sunday, as officials signaled they expected boosters would be recommended for a broad swath of Americans. U.S. health regulators already have begun to consider a third dose of the Pfizer/BioNTech vaccine. A U.S. Food and Drug Administration advisory panel on Friday recommended a third shot of the two-dose Pfizer/BioNTech vaccine https://www.reuters.com/world/us/us-covid-19-booster-debate-moves-fda-vaccine-advisory-committee-2021-09-17 for people age 65 and older or at high risk of severe COVID-19, but declined to endorse boosters for the wider population.
A military training jet crashed Sunday in a neighborhood near Fort Worth, Texas, injuring the two pilots and damaging three homes but not seriously hurting anyone on the ground, authorities said. Both pilots managed to eject from the plane before it crashed in Lake Worth, which is just west of Fort Worth, authorities said at a news conference. "This incident could have been much worse knowing that this plane went down in a residential area," Lake Worth Fire Chief Ryan Arthur said of the crash, which was reported to authorities shortly before 11 a.m.
After the Food and Drug Administration's vaccine advisory panel rejected a plan on Friday to offer Pfizer booster shots for all Americans, White House chief medical adviser Dr. Anthony Fauci defended the White House's earlier plan to begin rolling out the shots this month. "The plan was that we have to be ready to do this as soon as the decision is made and when you have a plan, you put a date on it, and you say we want to be able to get ready to roll out on the week of September the 20th," Fauci said Sunday. "So giving that date I don't think was confusing, we needed a date to be able to say, let's get ready to roll this out, pending the decision of the deliberation by the FDA and ultimately the (Centers for Disease Control and Prevention)."
"I fully understood that there could be legal consequences — but I wanted to make sure that Texas didn't get away with its bid to prevent this blatantly unconstitutional law from being tested," Dr. Alan Braid said.
(Bloomberg) -- Ten years ago, the poultry muscle disease known as white striping was almost nonexistent. Now, the fat-boosting ailment shows up in 99% of U.S. store-brand chickens, according to a Humane League study to be released Monday.The animal-welfare nonprofit conducted an investigation in 29 states that found the affliction in virtually all grocery-store-brand chickens sampled. The illness is driven by the extreme conditions of factory farming, which turbocharges the raising process to a
Palin called herself "one of those white, common sense conservatives" and cited her own recovery from COVID-19. But the CDC recommends getting the shot "regardless" of previous infection.
"It's hard to get rid of so much PTSD," the actress said. "It's in your bones and it's in your nervous system for sure."
Emergency room doctor Stephen Sample told Insider he's feeling "demoralized" after receiving pushback from unvaccinated COVID-19 patients.
Dr. Alan Braid said "I saw three teenagers die from illegal abortions" during his residency in 1972, the year before the Roe v. Wade ruling.
File away for next time you're freaked out.
Jamie Azar left a rehab hospital in Tennessee this week with the help of a walker after spending the entire month of August in the ICU and on a ventilator. She had received a shot of the Johnson & Johnson vaccine in mid-July but tested positive for the coronavirus within 11 days and nearly died. Now Azar, who earns about $36,000 a year as the director of a preschool at a Baptist church in Georgia, is facing thousands of dollars in medical expenses that she can't afford.Subscribe to The Post Most
Business Insider 19 September, 2021 - 12:00am
Dr. Alan Braid, who provides abortion care in San Antonio, said he has spent nearly 45 years as a practicing OB/GYN in Texas, during which time he delivered 10,000 babies, conducted Pap smears and pelvic exams, and performed abortions.
"Then, this month, everything changed," Braid wrote, citing the controversial Texas law that took effect on September 1 that banned all abortions after six weeks of pregnancy with no exemptions for rape or incest.
"It shut down about 80 percent of the abortion services we provide," he said, adding that the law also allows him to be sued for at least $10,000.
But Braid said that on the morning of September 6, he performed an abortion for a woman who was in her first trimester but past the limit set by the new law.
"I acted because I had a duty of care to this patient, as I do for all patients, and because she has a fundamental right to receive this care," he wrote. "I fully understood that there could be legal consequences — but I wanted to make sure that Texas didn't get away with its bid to prevent this blatantly unconstitutional law from being tested."
Other abortion providers in the state have said they turn away most of the women who contact them seeking abortions since the new law took effect. Abortion rights advocates say most women do not even know they are pregnant at the six-week mark.
Braid said that he violated the law because he believes abortion is "an essential part of health care" and because he remembers what it was like when he began his residency in 1972, before the Roe v. Wade ruling the following year.
"At the hospital that year, I saw three teenagers die from illegal abortions," he wrote. "I can't just sit back and watch us return to 1972."