"This moment heals a lot of pain in the world. We deserve this moment," Bloom said on Instagram. " … Many girls like us don't have the chance to live our dreams, or to live long at all. I hope my cover empowers those, who are struggling to be seen, feel valued."
Last month, Bloom told Variety that before coming out seven years ago, she was terrified people would discover she was transgender. She hid her identity because she believed the world wasn't ready and that someone might attack her.
"They see how you move, they see your magic [and] they want to hurt you," she said.
But in 2014, Bloom announced herself to the world by modeling for a magazine shoot featuring her and other trans women. Since then, she became one of the first openly trans women to walk the runway at Paris Fashion Week, Sports Illustrated said on its website.
Other milestones followed: She was the first trans woman of color on the cover of Vogue India and the first trans woman of color to star in a movie at the Cannes Film Festival — "Port Authority," a Martin Scorsese-produced tale about a fresh-off-the-bus cisgender man who stumbles into New York City's queer ballroom scene and falls in love with Bloom's character. Earlier this year, Sports Illustrated announced Bloom would be the first trans woman of color modeling in the magazine's swimsuit issue, although the revelation about the cover would take four more months.
Having a trans woman held up as a symbol of beauty alongside past participants such as Tyra Banks, Gisele Bündchen and Heidi Klum shows things are changing, Bloom told Variety.
"I think it's just a powerful time right now," Bloom told Variety. "I'm so happy Sports Illustrated wanted to have the nerve to really say, 'We got to have this moment, and if you don't like it, you can go somewhere else.' "
Sports Illustrated's swimsuit issue — once described in a 1998 Washington Post article as "mainstream, middlebrow … middle American" and little more than "a volume of cheesecake portraiture" — has tried in recent years to stay abreast of an ever-changing social landscape.
In 2018, the issue's creators reacted to the #MeToo era with a photo shoot in which women crafted their own messages with carefully chosen words written on their naked bodies or clothing. In 2019, the issue for the first time featured a model wearing a hijab and burkini. Last year, a 56-year-old woman graced the pages.
"That's the great thing about Sports Illustrated is they just keep reinventing themselves and they keep reinventing what is your view of beauty," Kathy Jacobs, the 56-year-old woman, told the AP. "And they keep showing people that there's more than one kind of beauty out there."
Bloom, a transgender woman who's Black and Filipina, is now part of that representation.
In March, a New York Times reporter asked Bloom if being in the swimsuit issue was the best way for people to learn that you can be respected, appreciated and loved no matter your body shape, sexuality or skin color.
"It's one way," she responded. "This is a way of reaching the top of the food chain. Let's at least have this moment and say that we had it, and then we can go on to dismantle it."
But, Bloom added, beauty standards that aren't easy to shatter can be made more inclusive. "Up to now, it was strictly, 'Oh, you're trans so you cannot be a princess.' But when we're seen in these spaces — the runways, the magazines — trans children can look up and say, 'This is what a princess looks like to me.' "
Bloom said she thinks of herself as "a third sex" and that as she's gotten older, she's become more in tune with both her masculine and feminine energies. That wasn't easy, she told The Times. She said she was raped as a child and fetishized as an adult, so the life of a princess didn't always seem attainable.
"I have dreamt a million beautiful dreams, but for girls like me, most dreams are just fanciful hopes in a world that often erases and omits our history and even existence," Bloom said Monday on Instagram.
Not hers. Millions of people will see the Sports Illustrated cover not just when it hits newsstands in a couple of days, but years and decades from now, long after her "physical form is gone," she said. Even after she dies, they'll see a Black, Filipina trans woman kneeling in the sand and being celebrated for her beauty.
"Not a lot of people get to live in the future," she said Monday. "So at this moment, I'm proudly choosing to live forever."
Read full article at The Washington Post
ET Canada 20 July, 2021 - 08:00am
Yahoo Life 20 July, 2021 - 08:00am
"I remember being younger and seeing Tyra Banks on the cover and thinking, 'I want to be on the cover of Sports Illustrated's Swimsuit edition too,'" Megan tells Yahoo Life. "It was a dream of mine that I manifested into a reality."
The 26-year-old has manifested many dreams since starting her music career, most notably winning three awards at the 2021 Grammys including Best New Artist — the first female rapper to do so since Lauryn Hill in 1999. More importantly than her success, however, is the impact that Megan's songs have had on women. Especially those who have struggled to acquire the confidence that she has.
"I have always been comfortable and confident in my own skin," the "Body" rapper says. "I have to give props to the strong women who raised me. My family always made me feel really good about myself. I didn't realize how lucky I was to have grown up in such an environment."
It's for this exact reason that Sports Illustrated Swimsuit editor MJ Day selected Megan to star on one of the 2021 issue's three covers.
"These women have not limited themselves to just one thing. They've mastered so many different things, they've taken on so many different things. Sure, they're extraordinarily talented in one specific way or another, but then not far behind those crowning achievements are all of these other incredibly important goals and platforms and achievements that they've all reached," Day says of all three cover stars — which include Naomi Osaka and Leyna Bloom. "Megan Thee Stallion says everything, she's completely unfiltered and that's what makes her fabulous. But then she can also tackle some of the biggest issues we have through her music and in her music videos."
With her debut on Sports Illustrated Swimsuit, as well as other work with Revlon, Fashion Nova and Calvin Klein, Megan is tackling issues surrounding the lack of representation of Black women — something that she's been passionate about since seeing women like Banks come before her.
"For me, growing up and seeing Tyra on the cover of Sports Illustrated Swimsuit was a big deal. She is a tall, curvy, Black woman like me," she says. "Seeing yourself represented is instrumental. Humans come in all shapes, sizes and colors and we all should be celebrated because we are all beautiful."
Plus, The Power of Plus kicks off relaunch with new campaign.
Model Leyna Bloom is the annual issue's cover star alongside tennis champion Naomi Osaka and rapper Megan Thee Stallion.
The rapper is slated to earn her degree from Texas State University this fall.
Naomi Osaka, rapper Megan Thee Stallion, and model and actress Leyna Bloom are the cover stars for this year's swimsuit issue.
Today, Sports Illustrated revealed the cover models on its 2021 Swimsuit Issue, and we are blown away by the gorgeous, strong, talented women of color they chose to feature this year. Naomi Osaka's gorgeous portrait marked the first time a Black female athlete was featured on an SI Swimsuit cover, while Megan Thee Stallion brought […]
"This cover and this moment represent what it looks like in the future."
The 23-year-old athlete said she's "so proud" of the historic cover.
"I'm here to just invite you to think differently."
If you've been through — or are going through — in vitro fertilization (IVF), you know the egg retrieval process can be a long and rough road. It's not generally thought of as the point at which you want to throw on a bikini and walk a Sports Illustrated runway, but that's exactly what Katrina Scott […]
"Aneesa's whole thing is that she's so much more than a surface-level popular girl. She has a deeper story to tell, too."
But you can only shop it for 72 hours.
The actress is ushering in a new era.
During an appearance on "Jimmy Kimmel Live," Fox said Trump "was a legend" at Saturday's UFC fight between Conor McGregor and Dustin Poirier.
Earlier this year, Everlane launched bikinis and one-piece swimsuits for beach vacations and dips in the pool, all with its signature minimalist vibe. The new collection started with seven styles—three bikini tops, three bottoms and two one-pieces—all available in sizes XXS through XXL (or roughly 0 to 18 or 20) and all under $100. As for fit, Everlane tested its designs on 112 women of varying body types and sizes to ensure the swimwear is truly comfortable for a wide range of women.
This is your reminder that context is key.
Dying @ this twin flame development.
The new mom got backlash this summer over a photo in which she held her baby boy.
USA TODAY 20 July, 2021 - 08:00am
Naomi Osaka appears on the cover of this year's Sports Illustrated Swimsuit edition, becoming the first female Black athlete to do so.
A link has been sent to your friend's email address.
A link has been posted to your Facebook feed.
The Tokyo Olympics will be one of the most unique in history. Here's where the games stand with no fans, strict COVID-19 protocols and new sports. USA TODAY
Naomi Osaka appears on the cover of this year's Sports Illustrated Swimsuit edition, becoming the first female Black athlete to do so.
Osaka's cover comes on the heels of her controversial withdrawal from the French Open after decision to not speak with media to protect her mental health. The four-time Grand Slam champion is poised to compete in the Tokyo Games later this month.
SI Swimsuit editor-in-chief MJ Day said in a statement: "There's no question that Naomi is one of the best athletes in the world, and a cover spot felt obvious. She's spent her formative years racking up titles and is headed to the Olympics. But we celebrate Naomi for her passion, strength and power geared towards consistently breaking barriers when it comes to equality, social justice, and mental health."
Osaka shares the history-making cover with two other models – rapper Megan Thee Stallion and activist Leyna Bloom.
"If there's one thing that our cover models have in common, it's that they don't have one thing in common. They look different, have different upbringings, have different passions and inspirations. But each is a reminder that beauty comes in many forms," Day said in a statement.
Osaka recently had her own Barbie doll sell out last week. The 23-year-old has had both a national and global impact, having been heavily involved in the Black Lives Matter movement and regularly showcasing her Japanese roots. She is representing Japan at the Tokyo Olympic Games. She was named Sports Illustrated's sportsperson of the year in 2020 for her activism.
Osaka recently opened up about her mental health in describing what prompted her to withdraw from the French Open and calling for the sport to better accommodate its athletes. She said standing up for her mental health was "all worth it."
A link has been posted to your Facebook feed.
© 2021 USA TODAY, a division of Gannett Satellite Information Network, LLC.
Yahoo Sports 20 July, 2021 - 08:00am
Dan Wetzel, Pat Forde, Pete Thamel
Osaka shared her Vogue Hong Kong cover on Sunday and first thing Monday morning, Sports Illustrated announced the tennis star as one of its three 2021 cover models.
The magazine issue's theme is "Opening Eyes, Speaking Truths and Changing Minds." Osaka is the first Black female athlete on the cover, SI said. She joins Megan Thee Stallion, the first rapper to land the cover, and Leyna Bloom, the first transgender cover star.
"What drew us to Naomi was her passion, strength and power geared toward consistently breaking barriers when it comes to equality, social justice and mental health," Sports Illustrated Swimsuit editor-in-chief MJ Day said, via SI. "She is wholeheartedly dedicated to achieving the impossible and has succeeded time and again. We are so honored to have one of the fiercest female trailblazers in history as one of our 2021 covers."
Osaka, 23, was photographed in Malibu wearing pieces from the swimwear line she co-designed with Frankies Bikinis. In other photographs she's posing in pieces by Louis Vitton, which she joined in January as a brand ambassador.
She was named one of the 2020 Sports Illustrated Sportspersons of the Year for her activism. She's also a two-time entrant on Time's annual list of the 100 most influential people in the world. The Swimsuit issues is on stands July 22, one day before the Opening Ceremony for the 2020 Tokyo Olympics in Japan.
Osaka will return to the tennis court in Tokyo, where she's representing her native Japan at the rescheduled Olympics games. The competition begins on Saturday. The order of play will not be available until the night before.
The former No. 1-ranked world superstar withdrew from the French Open after she said she would not talk to any reporters during the tournament. She cited her mental health in withdrawing after the first round, and later pulled out of Wimbledon as well.
The four-time Grand Slam champion is the subject of a three-part docuseries released on Netflix last week called "Naomi Osaka." It covers Osaka's life since her stunning 2018 victory over Serena Williams at the U.S. Open and provides a look into the mental pressures she's been under that ultimately led to her time away from the sport this spring.
"There's something that doesn't feel quite right to sit here and talk about Scott. … It's heartbreaking that he's not here to celebrate this."
Officials at Seaside Aquarium were alerted early Wednesday to a rare scene on the sands of the northern Oregon coast: A large, round, glistening opah weighing 100 pounds had stranded ashore. The fish was 3 1/2-feet long - its huge body a mix of silvery and bright reddish-orange scales, dotted with white spots. Its large eyes feature hints of gold. Tiffany Boothe, assistant manager at the aquarium in the small beach community of Seaside, said it's the first opah fish she has seen on area beaches.
USA Basketball hopes that LaVine will eventually be able to join the team in Japan.
A man in China has died after contracting a rare infectious disease from primates, known as the Monkey B virus, Chinese health officials revealed in a report Saturday. The victim, a 53-year-old veterinarian based in Beijing, was the first documented human case of the virus in China. According to the Chinese Center for Disease Control and Prevention, the man worked in a research institute that specialized in nonhuman primate breeding and dissected two dead monkeys in March. He experienced nausea,
Attorney General Merrick Garland on Monday formally prohibited federal prosecutors from seizing the records of journalists in leak investigations, with limited exceptions, reversing years of department policy. The new policy largely codifies the commitment Garland made in June, when he said the Justice Department would abandon the practice of seizing reporters' records as part of efforts to uncover confidential sources. It aims to resolve a politically thorny issue that has long vexed Justice Department prosecutors trying to weigh the media's First Amendment rights against the government's desire to protect classified information.
UFC president Dana White responds to Conor McGregor saying the promotion was aware of an injury heading into UFC 264.
Ben & Jerry's said Monday it was going to stop selling its ice cream in the Israeli-occupied West Bank and contested east Jerusalem, saying the sales in the territories sought by the Palestinians are "inconsistent with our values." The announcement was one of the strongest and highest-profile rebukes by a well-known company of Israel's policy of settling its citizens on war-won lands. The settlements are widely seen by the international community as illegal and obstacles to peace. The move by the Vermont-based ice cream company drew swift reproach from Israeli Prime Minister Naftali Bennett, a former leader of the West Bank settlement movement who called it "an immoral decision and I believe that it will turn out to be a business mistake, too."
Haley and the others who performed poorly in the recent Conservative Political Action Conference's (CPAC) presidential straw poll in Dallas have to face the present GOP they helped create, The State Editorial Board writes.
The United States and a coalition of allies will accuse China's Ministry of State Security on Monday of a global cyber hacking campaign and will specifically attribute a large Microsoft attack disclosed earlier this year to hackers working on Beijing's behalf, a senior administration official said. Opening a new area of tensions with China, the United States will be joined by NATO, the European Union, Britain, Australia, Japan, New Zealand and Canada to level the allegations, the official told reporters ahead of the announcement. The announcement comes a month after G7 and NATO leaders agreed with President Joe Biden at summits in Cornwall, England, and Brussels in accusing China of posing systemic challenges to the world order.
The self-proclaimed hottie tells Yahoo Life that she "manifested" being on the magazine's cover.
A ramen restaurant in Delray Beach, Fla., has been the recipient of anti-Asian vitriol from interlopers who refused to leave and take the pizza they bought elsewhere. How it started: Ramen Lab Eatery, which sits at 25 Northeast 2nd Ave., was trying to close at 11:45 p.m. on Thursday when three white men allegedly showed up and began unstacking chairs. Restaurant owner Louis Grayson said he stepped in and filmed the scene.
"Thought I'd always be a Cali girl," the former reality star wrote on Instagram.
Megyn Kelly casts doubt on Naomi Osaka's mental health issues as tennis pro covers Sports Illustrated.
Former President Donald Trump's spokeswoman delivered an ominous warning about the future of democracy in speaking to her boss's claims of a stolen election in 2020.
The tennis star wore oversized, blinged-out tennis racket earrings for her "Vogue Hong Kong" cover shoot and they're everything!
At 56, she's the queen of found fitness.
Naomi Osaka, rapper Megan Thee Stallion, and model and actress Leyna Bloom are the cover stars for this year's swimsuit issue.
Mick Jagger's girlfriend, Melanie Hamrick — who is 43 years younger than the rocker — shares rare photo.
Billboard 20 July, 2021 - 08:00am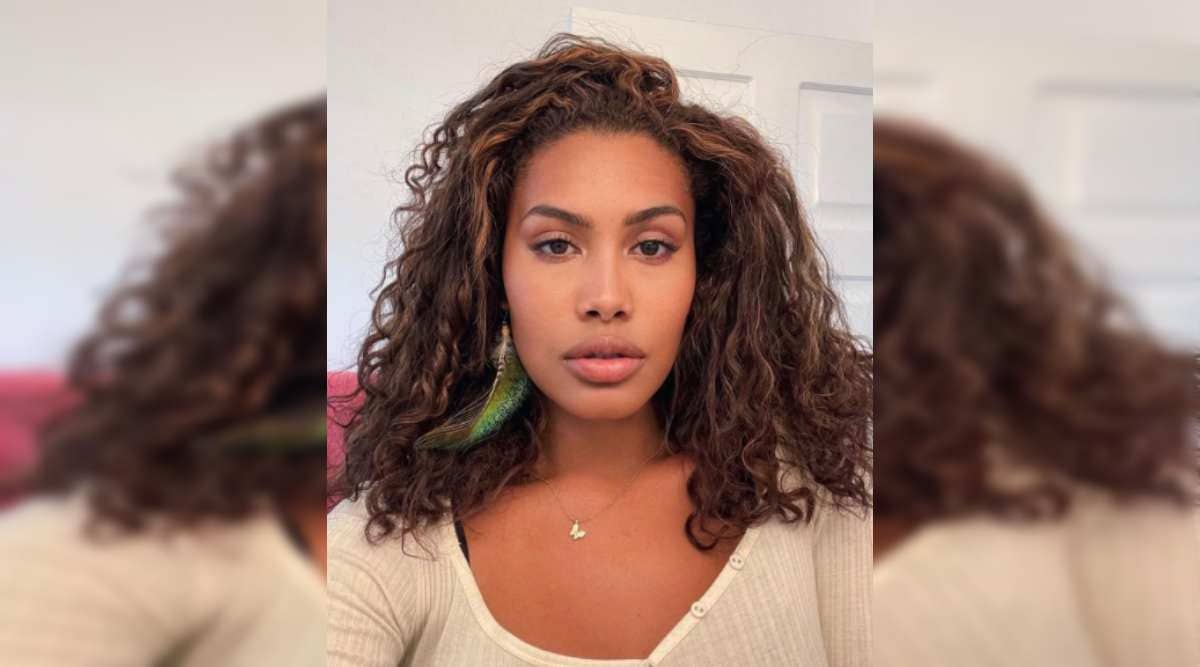 The Indian Express 20 July, 2021 - 05:20am
American magazine Sports Illustrated has set an example as they featured transgender model of colour Leyna Bloom on their latest cover. This, however, is not the first instance of the magazine prioritising inclusion. Prior to this, Brazillian trans model Valentina Sampaio also featured in their swimsuit issue last year.
In 2017, Leyna also featured on Vogue cover, becoming the first transgender woman of colour to do so.
Sharing the pictures on Instagram the model said that the process was healing. "This moment heals a lot of pain in the world. We deserve this moment; we have waited millions of years to show up as survivors and be seen as full humans filled with wonder. I'm am so happy, honored, and humbled to share that I'm the 1st trans woman to grace the cover of Sports Illustrated!" Leyna wrote as she looked striking in a white swim suit.
Sharing some pictures from the shoot, the magazine wrote, "From the ballroom to being a cover model, Leyna Bloom graces the cover of the Sports Illustrated Swim issue. She truly is making this world a better place."
She often takes to Instagram to share her experiences as well as pictures.
For all the latest Lifestyle News, download Indian Express App.
Yahoo Eurosport UK 19 July, 2021 - 09:45pm
The beauty had no idea she was expecting when she posed in her bikini on the beaches of Miami, Florida for the coveted gig earlier this year, and was given a shock upon her return home to Los Angeles when she started feeling ill.
"Four days after the shoot I found out that I was pregnant," Herrington told the New York Post. She ended up taking a total of seven pregnancy tests, before the news was confirmed by her doctor.
"I found out I was about five-weeks pregnant," she shared. "And I was in complete shock."
Herrington suffered through a "really bad" first trimester as she struggled with constant morning sickness, but now she is feeling good and cannot wait to welcome her baby boy, her first child with her boyfriend, fellow model Geron McKinley, in September.
"I'm excited to birth him, see his face and watch him grow," she smiled.
The 2021 Sports Illustrated Swimsuit issue features Megan Thee Stallion on one of its three covers, making her the first female rapper to flaunt her curves on the front of the magazine, while tennis ace Naomi Osaka, who is of Haitian and Japanese descent, also makes history as the first black athlete to feature on the cover.
Organisers of the Tokyo 2020 Olympics are fully concentrating on delivering a "successful Games", a spokesman said on Tuesday, after the head of the organising committee said he did not rule out a cancellation of the global sports event.
International Olympic Committee president Thomas Bach had insisted cancelling the Games was "never an option".
The flanker was one of 14 Springboks to test positive for coronavirus.
Norway's players were charged with wearing "improper clothing" after ditching bikini bottoms for their clash with Spain.
US women fired by Sweden upset in Rio going into Tokyo 2020 openerSauerbrunn: 'It lit a fire going into the World Cup and also here'US captain confident match practice will give team the edge Becky Sauerbrunn says the US have become a formidable defensive unit under Vlatko Andonovski. Photograph: Katelin Severino/SPP/Shutterstock
South Africa captain Van Niekerk will lead Oval Invincibles against Manchester Originals in the competition's first ever fixture on Wednesday.
Much is made of South Africa's forward power and territorial kicking game, but British & Irish Lions winger Anthony Watson believes the Springboks will also pack plenty of punch from their backs, not least the twinkle-toed Cheslin Kolbe. Watson started all three tests on the last Lions tour of New Zealand four years ago but faces stiff opposition for the series opener in Cape Town on Saturday with Josh Adams, Louis Rees-Zammit and Duhan van der Merwe all having shown their qualities.
Chelsea are looking at former Fulham goalkeeper Marcus Bettinelli as potential third-choice cover in that position for their first team squad this coming season. The European champions have a vacancy with the departure of Willy Caballero, 39, the previous third-choice, whose contract expired at the start of last month, and so too former academy boy, and career loanee, Jamal Blackman, 27, who is out of contract after 15 years' association with Chelsea. Bettinelli, 29, was a regular starter on loa
Team GB open their Tokyo 2020 campaign against Chile on Wednesday.
Rassie Erasmus has flicked the rascal switch and is in the mood for mischief ahead of what could be an epic Test series against the British and Irish Lions. Last week, he was tweeting about Owen Farrell's tackle technique – which might just be his specialist subject if he were ever to appear on Mastermind. This week, the early announcement of the Springboks line-up is a ploy borrowed directly from the playbook Warren Gatland used as Wales head coach. There are some mild surprises, specifically t
The likes of Dele Allii, Patrik Schick and Sarah Zadrazil are also among the 10 contenders looking to win the award.
Financial details were not disclosed but British media reported the fee for the Serbia international was about 10.5 million pounds ($14.32 million). Grujic was Juergen Klopp's first signing as Liverpool manager in 2016, joining from Red Star Belgrade, and the 25-year-old made 14 appearances for the Anfield club in all competitions. He also had loan spells at Cardiff City and Hertha Berlin and was a regular in the Bundesliga side.
The British squad is set to be among the medal contenders in Japan.
Manchester United Women sign Vilde Bøe Risa but search for manager goes on26-year-old midfielder arrives on a free transferI'm happy to be at the club I supported growing up, she says Vilde Bøe Risa has signed a two-year contract with an option for a further season. Photograph: Manchester United
The 34-year-old left Crystal Palace earlier this month.
The Serbia international was Jurgen Klopp's first signing as Liverpool manager in 2016 but made only 16 appearances.
Premier League footballer arrested on suspicion of child sexual abuse offences
The new eight-team franchise tournament will launch on Wednesday, with a women's match between Oval Invincibles and Manchester Originals.
It was a moment that changed everything for British women's football. Karen Carney's low ball into the penalty area found Steph Houghton and 70,584 people at Wembley roared as Houghton's angled shot found the back of the Brazil net. Just two minutes into the game, in front of a British women's record at the time, Team GB had opened a country's eyes to the women's game at the London 2012 Olympics. Nine years on, a new British side is ready to write their own history and three stars from three dif
In the aftermath of yet another Usain Bolt-dominated Olympics at Rio 2016, Seb Coe made an admission about the Jamaican that must have stuck in the throat of someone who has devoted much of his life to the sport he adores. "His standing extends far beyond athletics," said Coe, the president of the sport's governing body. Not even Coe could deny it. Over the course of the preceding decade, Bolt had become bigger than the sport that made him. In the days leading up to another Olympic gold-medal tr
HITC - Football, Gaming, Movies, TV, Music 19 July, 2021 - 01:16pm
Photo by Dimitrios Kambouris/Getty Images for Sports Illustrated Swimsuit
Sharing the powerful cover shot on Instagram, Leyna wrote:
"I have dreamt a million beautiful dreams, but for girls like me, most dreams are just fanciful hopes in a world that often erases and omits our history and even existence."
"This moment is so powerful because it allows me to live forever even after my physical form is gone. Not a lot of people get to live in the future, so at this moment, I'm proudly choosing to live forever."
Leyna Bloom is known for being a model, actress, and activist, though her creative pathway actually began as a child when she was a dancer.
Hoping to turn her passion for dance into a career, Leyna won a prestigious scholarship to the Chicago Academy for the Arts. However, after the school refused to allow her to dance as a woman, Leyna headed to New York instead where she began work as a model.
In 2019, Leyna became the first trans woman of colour to star in a film that premiered at the Cannes Film Festival for her appearance in Port Authority, in which she starred alongside Fionn Whitehead.
Leyna can also be seen in the final season of the Netflix show Pose, and the upcoming feature film "Asking For It."
Leyna Bloom was born in Chicago to a Filipina mother and an African American father.
While quarantining in the Spring of 2020, Leyna spent time researching her heritage and tracing her lineage. Leyna told Harper's Bazaar:
"Figuring out my roots as both Filipino and African gave me a sense of confidence and self-love, especially knowing that a lot of people worked hard for me to be here."
She continued on: "I feel very lucky because it's a beautiful gift to know your heritage and it gave me the extra push I needed to be my destined self."
In other news, Adele's before and after weight loss look explored as singer attends NBA final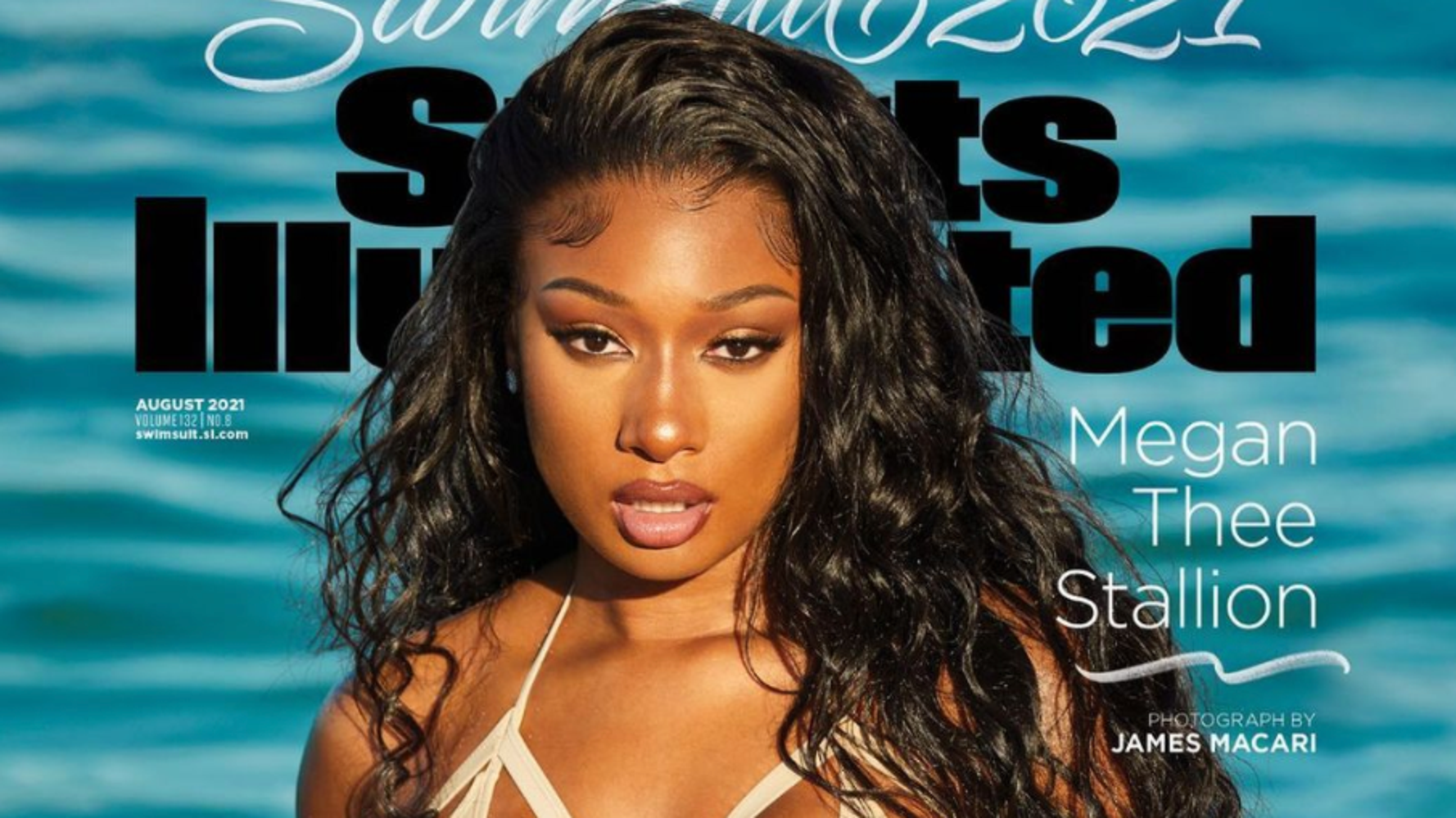 HuffPost 19 July, 2021 - 09:27am
We just have one thing to say about Megan Thee Stallion's debut on the cover of Sports Illustrated: Body-ody-ody-ody-ody-ody-ody-ody.
The covers of the 2021 Sports Illustrated Swimsuit issue were revealed on Monday, featuring the 26-year-old "Thot Shit" singer as well as tennis great Naomi Osaka and transgender model Leyna Bloom.
Notably, Megan Thee Stallion is the first female rapper and only the second singer to grace the front of the magazine. Beyoncé became the first in 2007.
Meet Your #SISwim21 Cover Models: @naomiosaka, @theestallion and @leynabloom! https://t.co/93XYiWUzTi pic.twitter.com/pnCPnMeT10
The Texas native posted her cover Monday morning on Instagram, calling it a "dream come true."
"Thee first female rapper on the cover of @si_swimsuit 😭😭 I want to thank all the strong women in my life who inspired me to love my body and live my best hot girl life. It means the world to me to be on this cover DREAM COME TRUE!!" she wrote in the caption.
Many Stallion fans praised and shared their affection for the sexy shoot on Twitter: 
No thoughts just Megan Thee Stallion pic.twitter.com/e59O71poTw
When I tell you I am gagging over Megan Thee Stallion's @SI_Swimsuit shoot! Real cover girl shit 💅🏾 pic.twitter.com/R8FJujJNlN
The first singer to cover the Sports Illustrated Swimsuit Issue and the first rapper to ever land on the cover. Beyonce and Megan Thee Stallion = history Mama. pic.twitter.com/eMdUf6NLis
Megan Thee Stallion for Sports Illustrated #LetsAllAppreciateART pic.twitter.com/3FH38AiBln
Megan THEE Stallion, if you didn't understand what I'm saying. pic.twitter.com/xwKQgBNvZg