So, um, who's getting Aaron Rodgers? Where's he gonna end up?
It's the game show sweeping the nation, the question being asked the most by football fans. If he's not going back to Green Bay – and the future Hall of Fame quarterback continues to give off no signals that is happening anytime soon – then where will he land? Which teams make the most sense? Who could actually pull it off?
At this point we are still pretty early in the process. The regular season is four months away, the Packers continue to cling to the concept that this relationship could be salvaged, there is not a real deadline of any sort in sight and all parties can stew in their juices and vow not to blink or flinch … because we are still in the depths off the offseason and there aren't any pressure points on the horizon. No mandatory work. No real practices. Nothing going on in Green Bay (or anywhere else) except for rookies congregating.
This won't be an hour-by-hour or day-by-day stare down. A player of this magnitude being this deep at odds with the only franchise he has ever known – especially a player this strong-willed and a franchise this iconic with a unique (backwards?) hierarchy – virtually ensures this tete-a-tete bleeds into the summer. And the contract ramifications – with the cap hit from a Rodgers trade being more manageable (but still painful) in June – are a factor as well.
But if you are of the mind that this is ending in a messy divorce and a blockbuster trade, then at this point it makes some sense to sort out who makes the most sense. Take out teams that have already conceded they failed to really ask (Giants) and a slew of teams that just made bold trades to draft quarterbacks and the entire NFC North (that's not happening) and teams that have QBs who have no-trade clauses of their own (Russell Wilson and Ciara are not going to Wisconsin in a QB-for-QB mega-swap), and things get a little clearer.
Take out teams like the 49ers, who have already been rebuffed and moved on, or teams like the Colts, who'd be at the top of this list had they not done the Carson Wentz thing already, and places that could use him but that Rodgers probably would not likely fancy (New England, after that fallout with Tom Brady), and teams that are already on the hook for an aging and expensive QB (Pittsburgh) and the field does get whittled down a bit. Make no mistake, three-quarters of the league could use him and would get a massive boost but those with young franchise QBs aren't going to call, and I keep coming back to the same six teams. For various reasons, they stick out to me, and here's why:
We've all heard the rumblings going back to before the draft. They have the defense, Rodgers is down with playing in the Mile High City and they have interesting pieces on offense. They have a caretaker QB on the roster who isn't being paid big money, and John Elway has only Peyton Manning to hang his hat on at this position. They won it all with a late-30s QB not long ago, Elway has the personality and mentality to appeal to Rodgers, and at this point trading a bunch of future draft picks, or even picks and (gulp) Bradley Chubb, has to merit consideration. Without a QB like Rodgers, getting past Andy Reid and Patrick Mahomes in K.C. might be folly.
Don't get caught up in what they are paying Sam Darnold; they just spent a ton just to move Teddy Bridgewater's contract. David Tepper ain't crying about $20M here or there. Darnold is still a big gamble; Rodgers provides 3-4 years of certainty. They are already loaded on offense and could part with a big piece or two on defense (Brian Burns, Jeremy Chinn), or a kid or two they took in the 2021 draft. Plus future picks. I don't think many would be more motivated than Tepper. His new GM was a part of a Seattle front office that made a bunch of huge trades and Tepper was all about landing Deshaun Watson before his legal problems surfaced. Keep an eye on the Panthers.
There isn't anything that goes on in this league that Sean Payton isn't aware of. And he is very unsettled at QB – for the short and long term. He hasn't been in this position in forever. And he has shown in the past he will move a lot of draft capital for a player (Marcus Davenport trade, anyone?). He's shopped guys like Michael Thomas before, and does Marcus Lattimore definitely have a long-term future there? Need an offensive lineman? He's got plenty. Payton avoided taking a QB high in this draft. He has a roster still built to win right now.
Rodgers seems to be intrigued by the Raiders. That should be more than enough to have Jon Gruden's wheels turning. The defense is going to stink again, but they have pieces on offense and might have to try to win 50-47, anyway. Being patient is not something Gruden is particularly famous for. And this regime has done a very poor job drafting, anyway, so it's not like they are getting bang for the buck from the selections they make, and sending off draft picks for an MVP QB might be the best way to spend them. They were watching the Wilson stuff in Seattle very, very closely, so I have every reason to believe same goes with Rodgers and the Packers. Gruden was once a Packers assistant. He'll have the lay of the land.
Super progressive front office that loves to make trades and has some pieces that might interest the Packers. GM Howie Roseman also has at least two first-round picks next year already (three if Wentz plays enough Colts snaps) and an improved roster on offense that could give Rodgers what he needs. Yeah, they are rebuilding … but landing this kind of QB would expedite things and make parting with future draft stock tenable. They were watching the Watson thing closely. I never rule them out of anything this significant, especially given how little football Jalen Hurts has played to this point.
They love to make moves, too, even if they don't always make sense. Trading picks is a fetish of sorts for them. They still have an abundance in the next few years. Want Tua Tagovailoa as part of the deal? He'd be far more equipped to play Week 1 than Jordan Love. After cutting/trading/giving away so many players a year after signing or acquiring them, and doing one about-face after the next, I'd certainly give them a call if I was in Green Bay. That owner would be all over it, they would sell a ton of jerseys and there are worse places to have to try to recruit Rodgers to than South Beach.
© 2004-2021 CBS Interactive. All Rights Reserved.
CBS Sports is a registered trademark of CBS Broadcasting Inc. Commissioner.com is a registered trademark of CBS Interactive Inc.
Images by Getty Images and US Presswire
Read full article at CBS Sports
NBC Sports 10 May, 2021 - 10:08am
USA TODAY 10 May, 2021 - 10:08am
The offseason opens the window for a number of big-name NFL players to cash in as their current deals wind down into their final year or two.
A link has been sent to your friend's email address.
A link has been posted to your Facebook feed.
SportsPulse: Mackenzie Salmon highlights some of the most noteworthy grades from our NFL guru's Nate Davis picks. USA TODAY
Free agency fizzled long ago. The 2021 draft is done. But, in case you hadn't noticed, the business of the NFL is a year-round endeavor.
Sure, the next few months should be relatively quiet — though the regular-season schedule is on the way, teams are in the midst of offseason programs ... and it appears a lot more drama has yet to unfold as it pertains to QB Aaron Rodgers and the Green Bay Packers.
But there are also financial matters to address as players recover from 2020 and ready for 2021. Detroit Lions C Frank Ragnow just became the most recent 2018 first-rounder to cash in with a second contract, his four-year, $54 million extension making the Pro Bowler the league's top-paid pivot.
Here are 21 more players deserving of extensions or entirely new deals in the near future:
Bears WR Allen Robinson: Ten players league-wide were hit with the franchise tag in March, but only three — Cowboys QB Dak Prescott, Broncos FS Justin Simmons and Giants DL Leonard Williams — have signed extensions since. The other seven have until July 15 to reach a multi-year deal; otherwise, they'll play on the tag in 2021. Robinson, who has 200 catches over the past two seasons — in a limited offense, to be kind — is arguably the best of the bunch and should be even more valuable to Chicago given the arrival of first-round QB Justin Fields. Given the Bears' current cap crunch, they'd be wise to reinvest in Robinson and reap the resulting breathing room by not getting boxed into his fully guaranteed $17.9 million tag.
Packers CB Jaire Alexander: One of a slew of 2018 first-rounders who had their fifth-year options (for 2022) recently picked up, Alexander has developed into one of the game's premier corners and is coming off his first Pro Bowl campaign. But, like Robinson, he's playing for a team with scant cap room and might find himself waiting a while for new money even though he's only making $2.1 million in 2021.
Bills QB Josh Allen: "I hope that we can get him done, if not this year, next year," GM Buffalo Brandon Beane recently told NFL Media. "You don't want to get into the franchise (tag) and all that stuff." For sure. Beane picked up Allen's option just a few months after his emergent superstar finished second to Rodgers in league MVP voting. The price tag will likely only go up significantly the longer Buffalo waits.
Broncos OLB Bradley Chubb: He's coming off his first Pro Bowl year, a nice rebound from a 2019 season when a torn ACL knocked Chubb out after four games. He still hasn't approached the 12 sacks he had as a rookie in 2018, but Chubb could be in line for a big 2021 considering he'll be rejoined by Von Miller. But with Miller entering a contract year, new GM George Paton will soon have to consider the long-term finances for Denver's pass rush — and Chubb will surely be the priority.
Steelers S Minkah Fitzpatrick: Acquiring a player from Miami who's blossomed into a two-time All-Pro in Pittsburgh may be GM Kevin Colbert's greatest personnel heist. Fitzpatrick, who's on the books for $2.7 million this year, should be a fixture in the Steel City for a decade. However, the Steelers also have another contract to consider in the near term ...
Ravens QB Lamar Jackson: The 2019 MVP and only quarterback in league history to rush for 1,000 yards twice, he's certainly earned a significant raise — the final pick of Round 1 in 2018, he'll only make $1.8 million in 2021. But perhaps a bit of an interesting calculus for Baltimore here given the perceived risk of investing massive money into a QB with Jackson's hellbent style of play.
Browns QB Baker Mayfield: He doesn't deserve to reset the QB wage scale, nor should he be compensated at the level Allen and Jackson likely will be. But Mayfield, the No. 1 overall pick in 2018, has generally been effective and efficient in two of his three NFL seasons and seems to fit quite well in Cleveland's new construct. But will he potentially be willing to take less to allow the wealth to be spread around what's become one of the league's strongest rosters? The top pick of the 2018 draft, Mayfield is due $5.1 million this year, but that will be more than triple in 2022.
Panthers WR DJ Moore: How consistent has he been? How about 1,215 yards from scrimmage each of the past two seasons. Moore is owed $2 million, but Carolina probably has the cap room to get something done sooner than later for its No. 1 receiver.
Colts G Quenton Nelson: The only player from the 2018 draft to earn All-Pro recognition three times, the league's premier guard already appears to be on a Hall of Fame fast track. With Nelson owed $3.9 million for the upcoming season, it seems like a fait accompli that Indianapolis GM Chris Ballard will make his best player the highest-paid guard in NFL history.
Falcons WR Calvin Ridley: His 26 receiving TDs since being drafted in 2018 are nearly twice as many as any other wideout from that draft. Coming off his first 1,000-yard receiving season — 1,374 to be exact — and a career-high 90 receptions, it's only a matter of time until Ridley becomes Atlanta's No. 1 receiver. Of course, the team's bloated salary cap might facilitate that if it becomes necessary to trade Julio Jones — though that could make it easier to pay Ridley, scheduled to make just shy of $2 million this year.
Packers WR Davante Adams: Probably the best receiver in the NFL in 2020 after scoring 18 TDs and averaging 98.1 receiving yards per game, he's under contract for one more season at $13.2 million. Adams' current deal, which averages $14.5 million annually, has him outside the 15 best-compensated players at his position, the likes of Robert Woods, Brandin Cooks and Jarvis Landry ahead of him. Of course, given Green Bay has virtually no cap room and Adams is surely monitoring the whims of his good friend Rodgers, a lot to consider here for all parties.
Seahawks S Jamal Adams: This one is fascinating. Adams has been a Pro Bowler the past three seasons, and his 9½ sacks in 2020 (in just 12 games) set a single-season league record for a defensive back. Yet he also struggled in coverage, QBs with a 121.7 passer rating against him, per PFF, which also ranked him 53rd at his position in 2020. But would Seattle really let Adams walk in 2022 after trading two first-rounders to the Jets to get him? Adams is due $9.9 million in the final year of his rookie contract but will look to rocket up a safety pay scale recently reset by Simmons' four-year, $61 million arrangement.
Ravens TE Mark Andrews: Since being drafted in Round 3 in 2018, he's become the primary weapon in Baltimore's passing game, his 20 TDs in that span ranking fourth among tight ends even though the Ravens don't throw the ball much. Andrews, due $3.4 million in 2021 (the final year of his rookie deal), doesn't merit George Kittle or Travis Kelce compensation. But if Hunter Henry and Jonnu Smith are now getting $12.5 million per year ...
Chiefs LT Orlando Brown Jr.: Kansas City obtained QB Patrick Mahomes' new bodyguard from the Ravens because he didn't want to play right tackle any longer. If Brown, a third-round pick with Andrews in 2018, adjusts well to his new role on a pass-oriented team, good chance the $3.4 million he's set to earn during the final year of his rookie deal goes up dramatically, whether the Chiefs or another team antes up.
Browns RB Nick Chubb: A Pro Bowler the past two seasons, hard to argue he's not one of the league's top five backs ... even if he's got $3.4 million coming to him in the final year of his rookie contract — or about half what backfield mate Kareem Hunt will average over the next two years.
Colts LB Darius Leonard: A two-time All-Pro drafted 30 spots after Nelson, Leonard deserves a deal that makes him the league's richest off-ball linebacker. He's on course to get $3.4 million in his walk year.
Chiefs S Tyrann Mathieu: An All-Pro during both his seasons in Kansas City, he deserves a ton of credit for stabilizing a defense that wasn't Super Bowl-caliber prior to his arrival. The Badger has $14.8 million coming in the final year of his contract, but GM Brett Veach has already indicated an extension is on the radar.
Saints RT Ryan Ramczyk: Arguably the best right tackle in the NFL, he's scheduled to make $11 million in his walk year, roughly half what top left tackles earn. Philadelphia's Lane Johnson averages $18 million annually, best among right tackles — though New Orleans' currently maxed-out cap won't make it easy to get Ramczyk to that level.
Packers QB Aaron Rodgers: He hasn't publicly addressed reports stating he wants to break with the organization. However after receiving a $6.8 million roster bonus in March, Rodgers' contractual guarantees have been exhausted on an extension set to run through 2023. He is scheduled to take home another $67 million over that stretch, but his overall pact has fallen off the pace at a time when he's coming off his third MVP performance. Guaranteeing more money or, perhaps better, lengthening his deal and infusing cash that would get Rodgers' compensation in the $40 million average annual range enjoyed only by Mahomes and Prescott — Rodgers' extension averages $33.5 million per year, ranking fifth among QBs (tied with Jared Goff) — might help smooth over issues that have left his return to Green Bay in doubt.
49ers LB Fred Warner: He emerged as the top-rated off-ball linebacker in 2020, per PFF — just in time to cash in. Like Leonard, Warner is scheduled to make $3.4 million with free agency currently on the other side of the 2021 season.
Steelers OLB T.J. Watt: Now the preeminent defender of the Watt family, he's totaled 42½ sacks, 16 forced fumbles, 49 tackles for loss and 98 quarterback hits since 2018. Pittsburgh may be careening toward a reboot, but hard to see the franchise rebuilding without its best player. Watt will make $10.1 million in the final year of his contract, basically half of what fellow OLBs Khalil Mack and Miller average.
A link has been posted to your Facebook feed.
© 2021 USA TODAY, a division of Gannett Satellite Information Network, LLC.
ESPN 10 May, 2021 - 10:08am
CBS Sports HQ 10 May, 2021 - 10:08am
The Rich Eisen Show 10 May, 2021 - 10:08am
Yahoo Sports 10 May, 2021 - 10:08am
Dan Wetzel, Pat Forde, Pete Thamel
ESPN's Jeremy Fowler reported that there is a running joke amongst the teams in the NFL that NFC North rivals like Minnesota should chip in draft picks just to get Rodgers out of the division (H/T Bleacher Report's Tyler Conway).
I don't think you'd hear a lot of complaining from Vikings fans if Rodgers ends up outside the division next year. That said, we don't know definitively what the league MVP will do just yet. Minnesota fans will have to wait and see if Rodgers will still be playing the Vikings defense twice a season.
The actress says she was drinking two whiskey cocktails every night.
Did ABC intentionally choose Aaron Rodgers to make this guest appearance?
Helmut Jahn, a prominent German architect who designed an Illinois state government building and worked on the design of the FBI headquarters in Washington, was killed when two vehicles struck the bicycle he was riding outside Chicago. Jahn, 81, was struck Saturday afternoon while riding north on a village street in Campton Hills, about 55 miles (90 kilometers) west of Chicago. Jahn failed to stop at a stop sign at an intersection and was struck by the two vehicles, headed in opposite directions, Campton Hills Police Chief Steven Miller said in a news release.
Zach Wilson has been busy working the phones in his first week-plus as the newest quarterback of the New York Jets. "Talking to him on the phone, I could tell he's like a general just by what he was saying," said wide receiver Elijah Moore, the Jets' second-round selection. The 21-year-old Wilson understands the task at hand and fully embraces it.
Bill and Melinda Gates have been married for 27 years and announced their split on May 3. Melinda was reportedly seeking divorce since at least 2019.
The fish towed their boat for more than half a mile.
Just in case its tax plans were not evidence enough that the Biden administration has little understanding of the value of incentives, its proposal that intellectual-property protections should be waived in the case of COVID-19 vaccines bolstered the message that no economically productive deed should go unpunished. The New York Times provided some background: The United States had been a major holdout at the World Trade Organization over a proposal to suspend some of the world economic body's intellectual property protections, which could allow drugmakers across the globe access to the closely guarded trade secrets of how the viable vaccines have been made. But President Biden had come under increasing pressure to throw his support behind the proposal, drafted by India and South Africa and backed by many congressional Democrats. Scroll a little further down to see that wicked Uncle Sam had not exactly been alone in taking this position: Support from the White House is not a guarantee that a waiver will be adopted. The European Union has also been standing in the way, and changes to international intellectual property rules require unanimous agreement. Ms. Tai said the United States would participate in negotiations at the World Trade Organization over the matter, but that they would "take time given the consensus-based nature of the institution and the complexity of the issues involved." And speaking of the EU, here (via The Guardian) are some arguments from Germany: Angela Merkel's government came out against a waiver on Thursday. "The US suggestion for the lifting of patent protection for Covid-19 vaccines has significant implications for vaccine production as a whole," a government spokeswoman said. "The limiting factors in the production of vaccines are the production capacities and the high-quality standards and not patents," she added, arguing that the companies were already working with partners to boost manufacturing capacity. "The protection of intellectual property is a source of innovation and must remain so in the future." Just because these comments are coming from Angela Merkel's government doesn't mean that they are incorrect. Return to the New York Times and scroll even further down to see that the U.K. is also listed among "other opponents" of the idea. But Elizabeth Warren, predictably, was thrilled by the announcement, and, of course, didn't waste the opportunity to talk about "billions." Yahoo!Finance: The news came in the middle of a Yahoo Finance interview with Massachusetts Senator Elizabeth Warren. "Fantastic!" she said upon learning the news, raising her hands in the air in a double fist pump. . . . "I'm delighted." Shares of COVID-19 vaccine makers Moderna (MRNA), and BioNTech (BNTX) were down by as much as 8% and 6%, respectively, in morning trading on Thursday. Asked earlier in the interview about a potential patent waiver, Warren said that "this is not a time to be protecting the multi-billions of dollars in profits for these companies." Well, if we're talking time and billions, as Tom Chivers noted in the Post, there is also an October 2020 presentation by Michael Kremer, a Nobel Prize–winning economist, in which Kremer noted that the World Bank had estimated a $12 trillion loss in 2020–2021 because of COVID-19, implying a roughly $500 billion "gain from accelerating vaccine development by one month," and that was before factoring in "mortality and health losses." The sell-off in stock prices did not earn the companies' shareholders much sympathy from Representative Mark Pocan, a Democrat, who tweeted: It's almost as if Big Pharma relies on keeping life-saving medicine inaccessible. Some might say that, when it comes to making lifesaving medicine available, Big Pharma had done quite a bit, and in an astonishingly short time. Perhaps it's worth adding, as Kimberley Strassel did in the Wall Street Journal, that "Moderna spent 10 years developing its mRNA technology, and only this week turned its first profit." Or maybe read this from Moderna in October (my emphasis added): While the pandemic continues, Moderna will not enforce our COVID-19 related patents against those making vaccines intended to combat the pandemic. Further, to eliminate any perceived IP barriers to vaccine development during the pandemic period, upon request we are also willing to license our intellectual property for COVID-19 vaccines to others for the post pandemic period. So much for "inaccessible." As at Friday's close, the Moderna share price had recovered a little, but it remained well off where it was trading before the administration announced its support for a waiver. The same was true of shares in BioNtech and Pfizer. Returning to that New York Times story, it was not surprising to read this: Stephen J. Ubl, the president and chief executive of the Pharmaceutical Research and Manufacturers of America, called the announcement "an unprecedented step that will undermine our global response to the pandemic and compromise safety." "This decision will sow confusion between public and private partners, further weaken already strained supply chains and foster the proliferation of counterfeit vaccines," he said in a statement, adding that the move would have the effect of "handing over American innovations to countries [could, I wonder, China be one of those?] looking to undermine our leadership in biomedical discovery." The pharmaceutical industry has argued that a suspension of patent protections would undermine risk-taking and innovation. "Who will make the vaccine next time?" Brent Saunders, the former chief executive of Allergan, which is now part of AbbVie, wrote on Twitter. But that these comments were not surprising did not make them incorrect. Writing in Capital Matters, Alden Abbott: Patent rights were key to the unprecedentedly rapid development and rollout of COVID-19 vaccines in 2020. A number of highly successful COVID-19 vaccines (including the Moderna and Pfizer vaccines) came about due to earlier innovative mRNA research that was spurred by patents. Indeed, patent experts recently indicated that patent-inspired "mRNA vaccines could open the door for the approval of other mRNA-based medicines, creating a wide range of new markets." This point was underlined by Matthew Lesh in CapX: We are on the cusp of technologies that could end pestilence. But doing so will take efforts to understand viral threats, prepare vaccines, undertake early-stage testing and develop manufacturing and logistics in advance. This investment simply won't happen unless vaccines are also profitable. Abbott: Significantly, patents have not affected the mass production of important COVID-19 vaccines. As former U.S. Patent and Trademark Office chief Andrei Iancu explains, vaccine makers already have entered into a web of agreements with countries around the world, and "almost every factory on the planet that can make these vaccines is already doing so." In an editorial, the Wall Street Journal added some numbers: Pfizer and BioNTech this week said they aimed to deliver three billion doses this year, up from last summer's 1.2 billion estimate. Moderna increased its supply forecast for this year to between 800 million and a billion from 600 million. AstraZeneca says it has built a supply network with 25 manufacturing organizations in 15 countries to produce three billion doses this year. And (my emphasis added): AstraZeneca and Novavax have leaned heavily on manufacturers in India to produce billions of doses reserved for lower-income countries. But India has restricted vaccine exports to supply its own population. IP simply isn't restraining vaccine production. Back to Abbott: Patents are needed to provide the future financing that is critical to incentivize the huge amount of R&D needed to bring forth new medical treatments that improve the lives of millions. Developing new drugs and vaccines is very risky and costly. The cost of developing a new prescription medicine with marketing approval has risen to an average $2.6 billion, and the rate of success in clinical trials has dropped to 12 percent, according to a Tufts Center for Drug Development study. Also, because of the length of regulatory delays and drug trials, the actual period of patent protection for the few highly profitable pharmaceutical products is often relatively short. That places a premium on obtaining significant financial returns during the quite limited patent term. In sum, a waiver of COVID-19 patent rights would send a signal that pharma-related patents are undependable, potentially starting a ripple effect of reduced investment in drugs and vaccines throughout the health-care system. The long-term effect would be a reduction of future health-care quality and outcomes. A waiver could also generate near-term health-care harms for millions of individuals affected by the COVID-19 pandemic. It could do this by reducing quality-control efforts of new COVID-19 vaccine producers not subject to the oversight of patent holders. Norman Baylor, the former head of the Food and Drug Administration's Office of Vaccine Research and Review, recently pointed out: "There are hundreds of process steps involved in the manufacturing of vaccines, and thousands of check points for testing to assure the quality and consistency of manufacturing. One may transfer the IP, but the transfer of skills is not that simple." Absent quality assurance, the incidence of ineffective or harmful vaccine administrations could rise significantly, directly harming individuals and potentially disincentivizing many individuals from obtaining vaccine shots. There is certainly an argument that yet more could be done speed up vaccine production even more quickly. As CapX's Lesh pointed out: This would save lives and be in our own interest, delivering a faster global economic recovery while reducing the threat of vaccine-resistant strains arising. That goal is so important that we should be willing to pay whatever it takes, including making sure all the companies involved make a healthy profit, to speed up the process . . . However, in Lesh's view, the administration's move was "a lazy, virtue signaling stunt rather than a meaningful solution." It is hard to disagree. And even if the waiver doesn't go through, the signal sent by the administration's proposal, whether it's the contempt for private property, the disdain for the power of incentive, or the willingness to trash (another) successful American industry (remember the steps that have been taken against fracking) is unlikely to be forgotten — with results that will inhibit American innovation, throw away American jobs, and, in due course, cost lives, not just in America, but all over the world. Of course, no one should doubt for a moment, to quote Katherine Tai, the United States Trade Representative, that the pandemic is a "global crisis" and that these are "extraordinary circumstances." But at a time when the White House is also touting a climate "emergency" as another global crisis, the implied reassurance that this is a one-off is less than reassuring, and as for the means by which the administration is proceeding, well . . . Strassel in the Wall Street Journal: The move is also in keeping with the administration's attitude that Congress exists solely to rubber-stamp its spending proposals. Congress has spent decades wrangling over the contours of patent protections, producing bipartisan legislation from the Bayh-Dole Act of 1980 and the Hatch-Waxman Act of 1984 to the Leahy-Smith Act of 2011. Mr. Biden proposes to disregard all these laws with the wave of an executive memo to the WTO—much as he has already been governing by dubious executive orders on immigration, mask mandates, pipeline cancellations, and healthcare. Mr. Biden will use Congress when reconciliation makes it convenient. But what Congress won't give him, he will decree unilaterally. This is not where this country should be. This is not what this country should be. The Capital Record We released the latest of a series of podcasts, the Capital Record. Follow the link to see how to subscribe (it's free!). The Capital Record, which appears weekly, is designed to make use another medium to deliver Capital Matters' defense of free markets. Financier and NRI trustee David L. Bahnsen hosts discussions on economics and finance in this National Review Capital Matters podcast, sponsored by National Review Institute. Episodes feature interviews with the nation's top business leaders, entrepreneurs, investment professionals, and financial commentators. In the 16th episode David Bahnsen talked to Larry Kudlow about tax rates, energy policy, and more. But what David and Larry really talked about was an economic system based on incentives. And the Capital Matters week that was . . . The week began with Joseph Sullivan (our chart guy) arguing that the Trump tax overhaul did boost investment: After the Trump administration's corporate-tax cuts, investment's share of GDP was the highest it had been in the last four quarters of any business cycle since 1990. Its average level over the four quarters leading up to the COVID-19 contraction in Q2 2020, 13.16 percent, was 3.63 percentage points higher than in the business cycle's first quarter, Q2 2009, when it was 9.53 percent. Yes, the elevated level of investment in the late stages of the Dotcom boom that became a bust in Q2 2001 comes close at 3.42 percent . . . We published an excerpt from Steven Koonin's new book, Unsettled: What Climate Science Tells Us, What It Doesn't, and Why It Matters. Here's an excerpt from the excerpt: I'm a scientist — I work to understand the world through measurements and observations, and then to communicate clearly both the excitement and the implications of that understanding. Early in my career, I had great fun doing this for esoteric phenomena in the realm of atoms and nuclei using high-performance computer modeling (which is also an important tool for much of climate science). But beginning in 2004, I spent about a decade turning those same methods to the subject of climate and its implications for energy technologies. I did this first as chief scientist for the oil company BP, where I focused on advancing renewable energy, and then as undersecretary for science in the Obama administration's Department of Energy, where I helped guide the government's investments in energy technologies and climate science. I found great satisfaction in these roles, helping to define and catalyze actions that would reduce carbon-dioxide emissions, the agreed-upon imperative that would "save the planet." But then the doubts began . . . Kevin O'Connell and Alexander Salter discussed great-power competition on the final frontier: Great power competition is back, and it's headed to the stars once again. On one side is an international coalition led by the United States, committed to exploration and commercial development. On the other side are the rogue nations of Russia and China. Russia's glory days in space are behind it, but it still has the capacity to harm U.S. interests. China, on the other hand, is an up-and-coming space power determined to increase its sphere of influence both on the earth and above it. This past October, eight nations — the U.S., Australia, Canada, Italy, Japan, Luxembourg, the United Arab Emirates, and the United Kingdom — signed the Artemis Accords, a cooperative agreement for the peaceful uses of outer space. Russia and China were decidedly unimpressed. They recently signed a memorandum of understanding to partner on the construction of a lunar research base. Since President Biden reaffirmed American commitment to the Artemis Accords as a foundation for future moon missions, the Russia–China agreement is a clear challenge to the vision of the U.S. and its allies. Realpolitik is a basic fact of international relations. We can't eliminate it. But we can mitigate it, by creating governance institutions for space that incentivize governments to play nice. What we need is a clear and effective property-rights regime for celestial resources . . . Matt Weidinger explained how government "allowances" are the new welfare: Washington seems to have developed an "allowance" fetish, and it has nothing to do with parents paying their kids for completing chores: A number of new government "allowances" would distribute boatloads of taxpayer money to tens of millions of households. First came a proposal, which is now law, to temporarily convert the long-standing federal child tax credit into what supporters call a "child allowance." As implied by the name change, the new payments have little to do with whether a parent pays taxes. This year, parents don't need to have paid taxes at all to collect an annual allowance of up to $3,600 per child. In fact, the only parents not eligible for the allowance are the relative few high earners who pay the most federal income taxes. According to the New York Times, "more than 93 percent of children — 69 million" will benefit from the new federal giveaway . . . Jessica Hornik Evans reported from her grocery store: The self-serve olive bar is back at my supermarket. The one-way signs have been removed from the aisles. The cashiers are no longer required to clean the belt between customers. After a year of so much loss and misery, little restorations mean a lot . . . Jerry Bowyer asked some awkward questions: My firm, Bowyer Research, created a database of the companies in which we are invested that were listed by the Human Rights Campaign as Equality Act endorsers. I then signed up for the annual meetings of those companies and have been attending them. I have been asking each company in turn, via the proper, formal question-submission processes at the start of each meeting, to explain their support for this law. So far, I have attended and asked that question of Exelon, Cigna, Ameriprise, and Corning. What happened? My questions were simply ignored. It's actually worse than that. In the case of Exelon, after several other shareholder questions were read and addressed, it was suggested that there were no more questions. And in the case of Cigna and Corning it was stated, at least arguably (the forthcoming release of meeting records will allow readers to decide for themselves), that there were no further questions, even though mine was still unaddressed. In other words, not only was my question thrown down the memory hole, the memory hole was thrown down another memory hole . . . Robert VerBruggen discussed the latest turn in the "Mommy Wars": For couples with young kids, work and child care can be incredibly fraught topics. There are no perfect options, just trade-offs that different couples, with different values and different work situations, evaluate differently. Sometimes it makes the most sense for both parents to work while the kids go to day care; other times it's best for one parent to stay home or work part-time; still other couples are able to rely on family members to watch the kids rather than using day care. Joe Biden's American Families Plan would plop the government's thumb heavily on one side of the scale, using taxpayer money to massively subsidize child care for the working and middle classes. Stay-at-home parents, who watch their own kids so no one else has to, would no longer pocket the resulting savings for their families. This is far outside the proper role of government, contrary to the values of many American parents, and quite possibly harmful to kids . . . But Ramesh Ponnuru took issue with one aspect of Robert's argument: Robert VerBruggen makes a strong case against Biden's child-care proposal, and I agree with all of it except for one aside. While the proposal stacks the deck against families with "stay-at-home" parents (who are mostly mothers), he writes that other existing policies are unfair in the opposite direction: "In some ways the status quo is quite favorable to stay-at-home parents, who, for example, get an especially good deal from Social Security and Medicare." Policies that transfer money to these one-earner married couples are dwarfed in size, though, by policies that strongly tend to transfer money away from them, making them subsidizers rather than subsidized on net. And there are also policies that, while not transfering resources among households, have a bigger negative economic effect on large households (e.g., modern child-safety seat requirements) . . . Iain Murray made the case that labor law should adapt to the gig economy — not the other way around: The idea that a master-servant relationship with an employer is somehow best for the worker remains prevalent. This has been the motive behind various attempts, most notably California's AB5 bill, to forcibly convert gig workers into employees. The effect of these attempts has been to sweep up many traditionally freelance jobs that survived the legislation of the 1930s into an employment relationship. This is what helped doom the California attempt. Voters recognize that some people do not want an employment relationship and gravitate towards freelance work — which would not exist in an employment-only world. So many people were affected by AB5's broad brush that California voters rejected AB5 by a large majority in a ballot initiative. Yet Secretary Walsh's remarks indicate that the Biden administration might attempt to repeat AB5's mistakes. The PRO Act, for instance, which President Biden has touted as an essential part of his infrastructure package, aims to make all gig-economy and freelance workers eligible for unionization, a first step on the road to AB5 and the imposition of a master-servant relationship neither the workers nor the platforms want. Instead of trying to force everyone into an outdated model, Secretary Walsh and his department should be looking at how work has changed, and should provide the president with proposals to send to Congress that reflect those changes. Veronique de Rugy examined a case of cronyism: It is rare that we taxpayers get to see how crony deals are made in Washington. But what follows is an example provided to us by the Export-Import Bank. Bear with me while I give you some background. In January, ExIm announced a deal extending a 90 percent guarantee of a $50 million supply-chain-finance facility from Greensill Capital to Freeport LNG Marketing, LLC, a Texas-based company. The loan was extended through supply- chain-finance (SCF) provider Greensill. This came on the tail of a massive $4.7 billion ExIm deal to support the development and construction of an LNG project in Mozambique. Leading up to this project, the U.S. Liquefied Natural Gas (LNG) industry warned it would be hurt by its own government giving a leg up to a foreign LNG projects, and ExIm analysts warn the agency of security concern in the country that could lead to the demise of the project (that means the loss of taxpayers' money). That didn't matter . . . Marc Joffe took issue with the idea of a postal bank: Absent a large taxpayer-funded subsidy to offset the losses associated with providing more favorable terms on these loans, the market for a postal bank would be considerably smaller than the 63 million figure Senator Gillibrand cites. And even if there is a legitimate need to provide better access to these services, other institutions are stepping in to serve prospective users of a postal bank. Over the last few years, a group of venture-capital-backed firms have formed to tackle the needs of unbanked individuals. These "neobanks" do not have physical branches but are available to customers 24/7 through smartphone apps. The leading neobank, Chime, has raised $1.5 billion in venture capital and is valued at $14.5 billion. It offers an online account with a debit card and without fees, minima, or credit checks. Chime has several well-funded competitors including Dave, N26, and Varo. Even Robinhood, the online stock brokerage catering to younger customers, is now providing cash-management services . . . As mentioned above, Alden Abbott was unimpressed by Joe Biden's proposed waiver of intellectual-property rights for COVID-19 vaccines: Waiving intellectual property protections (including patents) for COVID-19 vaccines, which, as U.S. trade representative Katherine Tai announced Wednesday, the Biden administration supports, will if implemented prove disastrous for American innovation — and detrimental to public health as well . . . Brian Riedl reacted to some of the reaction to the disappointing jobs number: When Congress spends trillions and the economy responds positively, they credit the stimulus spending and claim that we should have done even more. When Congress spends trillions and the economy does not respond, the same advocates assert that the stimulus spending must have been too small, and Congress should double down on spending and debt. In this framework, the case for stimulus spending is non-falsifiable. Every possible economic outcome is considered proof that stimulus works. A similar thing happened during the 2008–2009 "Great Recession." President Obama's $800 billion stimulus bill did not end the recession – the economy was already out of recession by the summer of 2009, before more than a small fraction of the law had even been implemented . . . Charles Cooke was not that surprised by the jobs shortfall: A lot of people said they were "shocked." But why, exactly? Did they believe that Joe Biden had rendered gravity optional? This is what you get when you pay people not to work. It's what you get when you send check after check after check to people who, were they permitted to, would be perfectly capable of regaining employment. It's what you get when you allow the teachers' unions to shut down the schools ad nauseam, and put working parents in a long-term bind. There is nothing magical about 2021, or about Joe Biden, or about this set of legislators and appointees and special interests. The same rules apply to them that applied to their predecessors. You can't spend what you don't have. You can't tax and spend your way to prosperity. And human beings cannot be programmed out of responding to clear incentives. Call your plans whatever you want — Build Back Better, Modern Monetary Theory, Fairness, the Left-Handed Teacup Initiative — it doesn't matter. Reality doesn't care about branding . . . And nor, I think, was Noah Williams: Over the past couple months there have been increasing numbers of reports of businesses having trouble hiring, particularly in the restaurant industry. This industry was hit hardest by the pandemic, due to mandated closures, capacity restrictions, and shifts in dining behavior. It is also the largest sector employing low-wage labor, which puts it in direct competition with enhanced unemployment benefits. Although job openings had grown, and new online job listings were well above pre-pandemic levels, the reports and surveys pointing toward labor shortages and hiring difficulties were dismissed as anecdotal. That all ended with the April employment report. Where should policy go? As is often the case, states are leading the way. Over the past week two states, Montana and South Carolina, have opted out of the federal unemployment expansions. Of these, Montana's decision to roll four weeks of the federal unemployment expansions into a re-employment bonus, which provides a direct incentive to return to work, seems the most promising. Previous trial programs have found that re-employment bonuses shorten unemployment durations, generate social gains by putting workers back to work, and even reduce the cost of unemployment programs. Robert Smullen and Jonathan Williams turned their attention to New York's woes: Even when the COVID-19 pandemic becomes a distant memory, Americans will still be paying for the record-breaking government debt incurred by government overspending — the vast majority of which unfortunately had little or nothing to do with pandemic-induced health-care needs. After all, while the pandemic negatively affected every American in some way, it was thankfully not an existential threat to the free world — and it did not require World War II levels of national debt to keep Americans on their feet. Yet New Yorkers, more so than any others in the country, are on the verge of feeling the true weight and cost of the pandemic. New York tax and fiscal policy has not gone unnoticed. Indeed, as thousands and counting have left the Empire State, the U.S. Census recently reported that New York will lose one seat in the 2020 congressional reapportionment. As demographers now attempt to sort out some discrepancies between the annual Census estimates this past decade, which in recent years showed even more of a loss, and the actual new numbers, one thing is crystal clear: New York's population continues to grow at a substantially slower pace than the nation as a whole. The real long-term problem in New York is its embrace of big-government-style tax and spending. It is difficult to comprehend, but New York's budget for 2021 was more than twice as much as Florida's, despite having only 2 million fewer residents . . . Robert Brooks underlined the importance of shareholder primacy: Companies are owned by their shareholders and hence should be solely managed based on the fiduciary trust granted to managers. Operating a company on behalf of any other stakeholder is a breach of fiduciary duty. Obviously, treating employees, customers, and suppliers with integrity and respect is simply fulfilling managers' fiduciary duty as it results in direct benefits to the shareholders. But shareholders should actively push back against managers who pursue ideological goals at the expense of their businesses, not only because it will hurt their wallets, but because it undermines the shared premises necessary to a functioning economy. If the heft of large shareholders proves insurmountable in attempts to influence management, an alternative is to allocate capital toward only those businesses with a demonstrable commitment to shareholder primacy. The more power that Americans cede to ideologically driven asset managers, the more likely we are to sacrifice the tremendous gains in wealth and technology provided by traditional values . . . To sign up for the Capital Letter, follow this link.
Of all the potential landing spots for Aaron Rodgers, Stephen A. Smith likes Ron Rivera's club the most.
14-year-old Florida girl Alice Wagner has taken a stand against her school after her teacher accused her of wearing inappropriate clothing to class.
The flight features swanky business class and premium economy class seats but there's not much to love in economy if you don't pay up.
Allegiance to a lie has become a test of loyalty to Donald Trump and a means of self-preservation for Republicans. Trump's discredited allegations about a stolen election did nothing to save his presidency when courtrooms high and low, state governments and ultimately Congress — meeting in the chaos of an insurrection powered by his grievances — affirmed the legitimacy of his defeat and the honesty of the process that led to it. Republicans are expected to believe the falsehoods, pretend they do or at bare minimum not let it be known that they don't.
A number of college basketball players have succeeded in the NFL as tight ends. Will Jibri Blount be next?
Here's why more artists are selling their song catalogs as buyers see annual returns in perpetuity.
Dave Chappelle opened up to podcaster Joe Rogan Friday, talking freely about his career and the state of the world over three hours. The podcast covered Elon Musk on SNL, cancel culture, the global pandemic, gay rights, the post-Trump America, and in one special revelation, buying weed from Idris Elba. The full interview can be […]
With last night's deeply questionable choice of SNL host Elon Musk having admitted that some people (not him, never him) will have to die so that his dreams of being the king of Mars can become a someday reality, the question has always been, "Well, who's it going to be?" Of course, there are other questions, like, "Why would anyone die for Elon Musk?," and "Um, why are rich white men planning to colonize other planets while we're still trying to live on this this one?" But, for the purposes of one of the only decent sketches in last night's predictably host-hobbled episode, the answer to that first question is clear. And his name is Chad.
Action star Johnny Cage didn't go MIA in "Mortal Kombat" after all. Plus, all about Sub-Zero star Joe Taslim's finale breakdown. Spoilers ahead!
Star players rarely go out gracefully, but the future Hall of Famer's departure from Anaheim was especially uncomfortable.
Brandon Bair pulled a man out of a fiery truck on Thursday after it was hit by a train in Idaho.
Steph knows what the NBA wants, but he knows he can't say anything.
Bryson DeChambeau is known as "the Scientist" because of his academic approach to the game and so certain was the former quantum physics student of the accuracy of his sums, that he departed this Wells Fargo Championship in North Carolina on Friday certain he had missed the cut. Yet when his private jet touched down in his hometown of Dallas, he realised – shock, horror – that his calculations had been wrong. In the three hours he had spent in the air, the wind had created havoc on the Quail Hollow leaderboard. "So yesterday I made triple bogey on the seventh [his 16th] and even though I chipped in at the eighth, I finished with a 74 on two over and thought there's no way, I'm in 90th with 65 making it," DeChambeau said. "But by the time I landed I was in 64th or 63rd and I'm like 'whoops!' " Surely the aircraft could have performed a hasty about-turn. "I hoped so, but the problem was that the crew had done their hours, so we had to get a new crew and although we tried we couldn't work it out, so had to leave it until the early hours," DeChambeau explained. "I went to bed at 8pm, was up at 1am and I left Dallas at 2.45am, I got here at 6.20am, drove the 30 minutes to the course, put on my clothes in the locker room and headed out. I did get a workout in my gym last night, though." Well, of course he did, and the exhaustion was worth it as the 27-year-old shot a 68 to move to one under. However, at one stage it seemed as if DeChambeau would take emphatic advantage of his unexpected Saturday tee-time, but he double-bogeyed the 18th.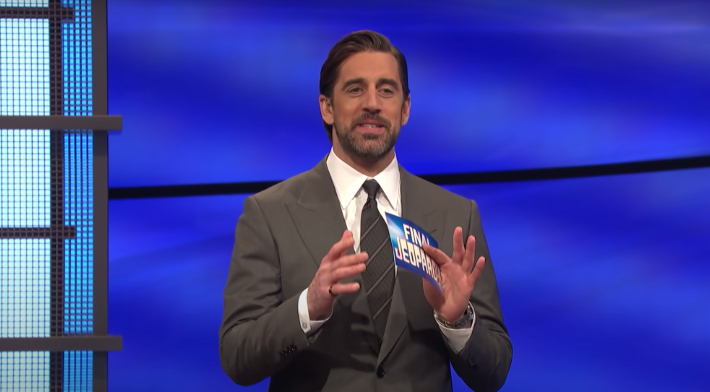 UPROXX 10 May, 2021 - 10:08am
Rodgers will serve as the host of Jeopardy! on an episode of The Conners, running the board while a character from the show makes an appearance during an upcoming episode. The show's Twitter account shared the news on Saturday, announcing Rodgers as one of the guest stars of the final two episodes of the show's third season.
Big guest stars, big events, AND two proposals?! 😮 Don't miss the final two episodes of this season of #TheConners starting on May 12, with guest stars Candice Bergen, Brian Austin Green, and @AaronRodgers12! pic.twitter.com/UfpRLD4Yf6
— The Conners (@TheConnersABC) May 8, 2021
"Aaron Rodgers, this — I've been feeling some obvious chemistry here."
He doesn't appear to notice the advances, taking the role a bit more seriously than Jackie, who appears to be in the red money-wise during the game.
Rodgers was really enthusiastic about Jeopardy! during his two-week hosting stint, using the occasion to raise COVID-19 relief funds, chat with supporters and share clips from the show. He's yet to address The Conners and his appearance on social media just yet, but it's another example of his commitment to Jeopardy! that he wants to host in the ABC television canon, too. We'll have to wait and see if he gets another chance at the actual Jeopardy! stage later in the year, but he certainly continues to look the part.