Jason Schreier
jasonschreier
The California Department of Fair Employment and Housing has filed an explosive lawsuit against Activision Blizzard for discrimination. Some of the details in the complaint are horrifying news.bloomberglaw.com/daily-labor-report/activision-blizzard-sued-by-california-over-frat-boy-culture pic.twitter.com/dRuP8HPyqe

Rami Ismail (رامي)
tha_rami
I wish I couldn't believe the list of severe content warnings that come with this lawsuit on how women are treated at Activision-Blizzard, but in gamedev it remains not hard to believe at all. CW for: suicide, rape "jokes", sexual harassment. Do better. news.bloomberglaw.com/daily-labor-report/activision-blizzard-sued-by-california-over-frat-boy-culture
Dean Takahashi
deantak
Activision Blizzard sued by California for sex discrimination venturebeat.com/2021/07/21/activision-blizzard-sued-by-california-for-sex-discrimination/
Matt Kim 김태민
LawofTD
The Activision Blizzard lawsuit (by the state of California, btw) might be one of the most horrifying I read in a while.
Bloomberg Law 21 July, 2021 - 09:10pm
A two-year investigation by the state agency found that the company discriminated against female employees in terms and conditions of employment, including compensation, assignment, promotion, and termination. Company leadership consistently failed to take steps to prevent discrimination, harassment, and retaliation, the agency said.
According to the complaint, filed Tuesday in the Los Angeles Superior Court, female employees make up around 20% of the Activision workforce, and are subjected to a "pervasive frat boy workplace culture," including "cube crawls," in which male employees "drink copious amounts of alcohol as they crawl their way through various cubicles in the office and often engage in inappropriate behavior toward female employees."
The agency alleges male employees play video games during the workday while delegating responsibilities to female employees, engage in sexual banter, and joke openly about rape, among other things.
Female employees allege being held back from promotions because of the possibility they might become pregnant, being criticized for leaving to pick their children up from daycare, and being kicked out of lactation rooms so male colleagues could use the room for meetings, the complaint says.
Female employees working for the World of Warcraft team noted that male employees and supervisors would hit on them, make derogatory comments about rape, and otherwise engage in demeaning behavior, the agency alleges.
The suit also points to a female Activision employee who took her own life while on a company trip with her male supervisor. The employee had been subjected to intense sexual harassment prior to her death, including having nude photos passed around at a company holiday party, the complaint says.
The agency seeks an injunction forcing compliance with workplace protections, as well as unpaid wages, pay adjustments, back pay, and lost wages and benefits for female employees.
Causes of Action: Employment discrimination because of sex; retaliation; failure to prevent discrimination and harassment; unequal pay.
Relief: Compensatory damages; punitive damages; unpaid wages; injunctive relief; declaratory relief; equitable relief; pre-judgment interest; attorneys' fees; costs.
Response: Activision Blizzard didn't immediately respond to Bloomberg Law's request for comment.
Attorneys: Internal counsel represents the Department of Fair Employment and Housing.
The case is Calif. Dep't of Fair Emp. & Housing v. Activision Blizzard Inc., Cal. Super. Ct., No. 21stcv26571, 7/20/21.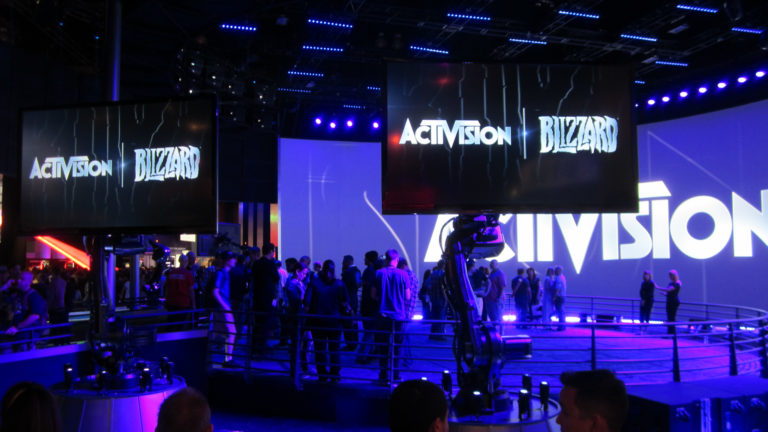 Dot Esports 21 July, 2021 - 08:46pm
The California Department of Fair Employment and Housing filed suit against Activision Blizzard, alleging that the company fosters a "frat boy" workplace where female employees are mistreated, according to a complaint filed in a Los Angeles court today.
The explosive suit comes after a two-year investigation into the company by California's top labor agency. In it, the department states that 20 percent of the company's workforce are women and that it found that women are frequently belittled, sexually harassed, and subject to unequal pay and retaliation. The complaint was first reported by Bloomberg.
Women are subjected to what the complaint describes as "cube crawls," where male employees drink "copious" amounts of alcohol and engage in "inappropriate behavior" toward their female coworkers, the agency alleged.
One female worker told the department that men working at Activision Blizzard would approach her on her work site and comment on her breasts. According to the complaint, several female employees told the agency they were held back from promotions because of the possibility they may become pregnant, as well as received critiques for having to leave work to pick up their children early. The complaint also alleges that male employees "proudly come into work hungover" and play video games while delegating the lion's share of work to their female coworkers.
In one example given in the complaint, a female employee committed suicide during a business trip. She was accompanied by a male supervisor who she allegedly previously had a sexual relationship with. He, according to the complaint, brought "butt plugs and lubricant" along on the trip.
Numerous complaints were made to Activision Blizzard's HR department, but the complaint states that the game publisher failed to respond effectively.
In a statement made to IGN, Activision Blizzard accused the Department of Fair Employment and Housing of including "distorted, and in many cases false, descriptions of Blizzard's past" and refusing to be transparent about the findings of its investigation before escalating to the courtroom.
"We have been extremely cooperative with the DFEH throughout their investigation, including providing them with extensive data and ample documentation, but they refused to inform us what issues they perceived," an Activision Blizzard spokesperson said. "They were required by law to adequately investigate and to have good faith discussions with us to better understand and to resolve any claims or concerns before going to litigation, but they failed to do so.
"The picture the DFEH paints is not the Blizzard workplace of today. Over the past several years and continuing since the initial investigation started, we've made significant changes to address company culture and reflect more diversity within our leadership teams."
The Department of Fair Employment and Housing is seeking compensatory and punitive damages, among attorney's fees and general relief the court deems to be just. The news is the latest of high-profile sexual misconduct allegations against California-based game developers.
The Department of Fair Employment and Housing previously intervened in a class action lawsuit filed in 2018 by former female employees of Riot Games for similar allegations. There, representation for the women plaintiffs and Riot struck a $10 million settlement in August 2019, which the department then filed complaints asking the court to not accept that settlement. In its view, that settlement should be closer to $400 million. Riot later withdrew the settlement offer in February 2020 and forced that case into arbitration in February 2021.
CharlieINTEL.com 21 July, 2021 - 08:39pm
The state of California filed the lawsuit on July 20, 2021 against Activision Blizzard for what they state is a work place environment that is sexist and that of a 'frat boy' culture.
The lawsuit, first reported by Bloomberg, states Activision Blizzard offices had a "frat boy workplace culture." The lawsuit states that male employees of the company would "drink copious amounts of alcohol as they crawl their way through various cubicles in the office and often engage in inappropriate behavior toward female employees."
The California Department of Fair Employment and Housing alleges that Activision Blizzard discriminated against female employees by providing lower salaries, benefits, and contracts that differed from male counter parts. The suit alleges that female employees experienced numerous sexual harassment incidents working at Blizzard offices.
Some female employees who worked on World of Warcraft at Blizzard had to work with male employees who would hit on them or flirt with them during workplace encounters, the suit alleges. Some of these males were supervisors for departments, too.
Another aspect describes a male employee giving his duties to a female employee to give himself more time to play Call of Duty on work hours.
One of the more horrifying allegations states a female employee took her own life while on a company trip with her male supervisor because of extensive sexual harassment she experienced by the supervisor at the company.
It even alleges that male employees shared sexual content during work place parties.
The full lawsuit, filed in the state of California court jurisdiction, is readable here.
The Department of Fair Employment and Housing states that they attempted to work with Activision executives to address the issues over the last two years, even as recently as this year. But the department was not pleased by Activision's responses and believed the company failed to adequately address the allegations.
Activision Blizzard has issued a lengthy comment to multiple outlets about the lawsuit. The company denies the serious allegations of the suit, even going after California state 'bureaucrats' for the suit.
Activision Blizzard states that "we are confident in our ability to demonstrate our practices as an equal opportunity employer that fosters a supportive, diverse, and inclusive workplace for our people."
No other updates on what's next in the lawsuit has been announced.
The developer of console hacks for Warzone has reportedly said that Activision has shut down the cheat development.
It was recently reported that Warzone console cheats were in development, allowing Xbox Series X|S and PlayStation 5 players to install "the next generation of cheating." Thanks to a voluntary anti-cheat group, players were warned that the hacks were on their way.
It appears that Activision took notice of this, too, with the videos advertising the cheat being taken down. Now, it appears Activision went one step further to nip it in the bud, shutting down development entirely.
Cheaters and hackers have been running rampant in Warzone since the game's launch, with a developer saying that cheaters are "ruining some of the best work" of his life. Activision announced in April that they are "investing more" in anti-cheat, and have now clamped down in console cheats in development.
Twitter account 'Anti-Cheat Police Department,' who originally exposed the console cheats, shared an update from the cheat developer.
"At the request of Activision Publishing, Inc ("Activision"), I will no longer be developing or providing access to software that could be used to exploit their games," announced the cheat developer. "My intent was never to do anything illegal. At the end of the video that brought attention to this project, it stated, 'coming soon.' The software was never published."
After claiming that the software could also have "assistive benefits," they said, "because of its potential negative impact, I will not be developing it further."
Activision's last major ban wave was back in May 2021, where they reported that over 500,000 Warzone accounts had been banned for cheating. The number of Warzone cheaters is reportedly on the rise again, so it's possible that another ban wave will be announced soon.
A new Activision internal studio has been created focusing on Mobile development.
A new job listings on Activision site has revealed that the company has established a new "Activision Mobile" internal development studio that will focus on continuing the company's push to expand their mobile presence following Call of Duty: Mobile's success (first spotted by VGC News).
The description of the new internal studio states that Activision Mobile will focus on the publishing operations and live services of Call fo Duty: Mobile, but also expand to partner with development studios on creating a "new AAA Call of Duty mobile game".
The new details in the job listing also states that Activision Mobile is now working on an AAA mobile title in the Call of Duty franchise.
The team has job listings up for a "Producer, Mobile" that says the team's "first project" is a AAA Call of Duty franchise game.
Activision has not announced what the new "AAA" mobile game will be or how it will connect with the currently existing Call of Duty: Mobile title.
There's a bunch of rumors about the potential of Call of Duty: Warzone coming to Mobile devices at some point, with job listings and even Activision LinkedIn confirming mentions.
Activision has not officially announced a "Activision Mobile" studio at this time. We've reached out for a comment.
Activision are offering Call of Duty players free Double Pass XP Tokens for enabling Two-Factor Authentication and protecting their account.
With unified progression across Cold War, Modern Warfare, and Warzone, your Call of Duty account is likely filled with a plethora of valuable cosmetic items. Unfortunately, there are people out there who will try to steal your account, taking away all of your progress and purchased items.
If the worst happens and your account is breached, you can check out our complete guide on how to get your stolen Activision account back, but you should enable Two-Factor Authentication to reduce the risk.
As an incentive to activate Two-Factor Authentication, Activision is offering players two hours worth of Double Battle Pass XP Tokens.
Here's how to enable 2FA, secure your account, and get some free Double XP Tokens.
After you've completed the process, be sure to log in to your account one more time just to verify the process was correct.
Once this is done and activated, when you log in to your Activision or Call of Duty account, you will be asked to use the Google Authenticator passcode in addition to your regular password to log in.
After you set up Two-Factor Authentication, you'll immediately get access to your two, 1-hour 2x Battle Pass XP Tokens. And if you already had 2FA enabled, you'll receive your Tokens when they roll out on May 28.
With Season 3 drawing to a close and Season 4 set to launch on June 16 or 17, these 2x XP Tokens will be a major boost in helping you finish the Season 3 Battle Pass.
The state of California has filed a lawsuit against Activision Blizzard over the company's alleged toxic workplace culture that was...
The C58 Assault Rifle is a powerful option in Warzone Season 4, and we have the attachments and perks to...
Warzone players are fed up with one of Plunder's more frustrating features, slamming the Attack Helicopter mechanic and calling for...
IGN 21 July, 2021 - 08:07pm
As reported by Bloomberg, Activision Blizzard is being accused by the state of California of discriminating against female employees at nearly all levels of employment, including in regards to compensation, promotion, assignments, and termination. The state alleges Activision Blizzard's leadership has failed to address any of these outstanding issues or prevent them from occurring within the workplace. You can read the full details of the lawsuit here.
The suit, filed Tuesday in the Los Angeles Superior Court, says Activision Blizzard — which is made up of about 20 percent women — assigns women, and women of color, to "lower paid and lower opportunity levels" with lower starting pay for similar work as their male counterparts.
The documents also accuse Activision Blizzard of fostering a "pervasive 'frat boy' workplace culture in the office. Male employees are said to drink "copious amounts of alcohol" as they make their way through cubicles and "often engage in inappropriate behavior toward female employees."
Have you played Call of Duty: Black Ops Cold War?
Male employees are said to come to work hungover, play video games during work "while delegating their responsibilities to female employees, engage in banter about their sexual encounters, talk openly about female bodies, and joke about rape."
The lawsuit also cites one particular incident where a female employee, who was already subjected to intense sexual harassment at the company, committed suicide during a work trip with a male supervisor who allegedly brought inappropriate, sexual items with him on the trip.
The lawsuit is asking for an injunction that will force Activision Blizzard to comply with workplace protections, as well as deliver unpaid wages, pay adjustments, back pay, and lost wages and benefits for female employees.
An Activision Blizzard spokesperson sent the following statement in response to the allegations: