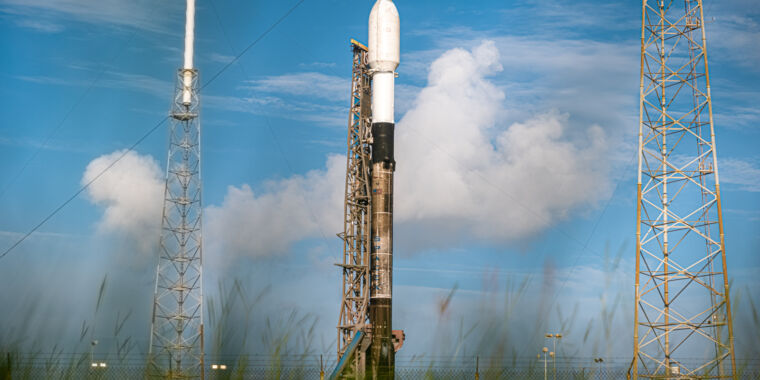 Sign up or login to join the discussions!
3pm ET Tuesday update: The countdown clock got to T-11 seconds on Tuesday afternoon before SpaceX called a hold to the launch of its Transporter-2 rideshare mission. The scrub was necessitated by a range issue caused by an airplane in the launch zone. The company will now turn around the vehicle for another launch attempt on Wednesday afternoon.
SpaceX founder Elon Musk was not happy with the situation.
Unfortunately, launch is called off for today, as an aircraft entered the "keep out zone", which is unreasonably gigantic.
There is simply no way that humanity can become a spacefaring civilization without major regulatory reform. The current regulatory system is broken.
— Elon Musk (@elonmusk) June 29, 2021
Original post: SpaceX is preparing to launch its second dedicated rideshare mission for its Falcon 9 rocket, named Transporter-2, from Cape Canaveral Space Force Station on Tuesday afternoon.
The mission will carry a total of 88 small satellites from a variety of customers, including private companies such as ICEYE and Umbra, as well as the US government's Space Development Agency.
Part of the Department of Defense, the Space Development Agency seeks to advance the ability of the nation to get its satellites into space in a timely and cost-efficient manner. The agency is launching five satellites on the Transporter-2 mission at a cost of about $21 million.
"This figure represents a tremendous value to the government for four satellites and a payload," an agency spokesman said. "The invaluable information gathered from these experiments will far outpace the monetary investment made up front as we begin to lay the foundation for the national defense space architecture."
SpaceX developed the rideshare program for its Falcon 9 rocket to increase the number of purely commercial launches performed by the workhorse booster. The company advertises access to Sun Synchronous Orbit for as little as $1 million for 200 kg. SpaceX plans to launch such rideshare missions about every four months, depending on demand.
The rideshare service offered by SpaceX—which has the world's lowest-cost, only fully reusable orbital rocket in the Falcon 9—helps the company fill out its manifest. The program also leverages the investment SpaceX put into developing reusability. Tuesday's launch attempt will fly to orbit on a first stage that has already flown seven times. The anniversary of the rocket's first flight is Wednesday.
However, SpaceX's expansion into small-satellite launches has put considerable pressure on other companies developing small rockets to deliver satellites into orbit. These companies can offer dedicated launches to specific orbits, but the service comes at a price. For example, Rocket Lab's Electron rocket can deliver about 300 kg into low Earth orbit for about $7.5 million. Virgin Orbit's LauncherOne can deliver up to 500 kg to Sun Synchronous Orbit for about $15 million. Neither of these vehicles can offer the reliability of a Falcon 9, however, which has more than 100 consecutive successful launches.
Weather conditions look favorable for Tuesday's launch attempt, which has a nearly hour-long launch window that opens at 2:56 pm ET (18:56 UTC). The booster will return to the launch site instead of making a drone ship landing due to the spare fuel capacity on board the Falcon 9 for this mission.
You must login or create an account to comment.
Join the Ars Orbital Transmission mailing list to get weekly updates delivered to your inbox.
Read full article at Fox Business
Futurism 29 June, 2021 - 04:22pm
The plan was to send 88 satellites, including three Starlink internet satellites, into orbit as part of SpaceX's Transporter 2 rideshare mission. But then things went off the rails.
"Unfortunately, launch is called off for today, as an aircraft entered the 'keep out zone,' which is unreasonably gigantic," Musk complained in a tweet.
"There is simply no way that humanity can become a spacefaring civilization without major regulatory reform," he added. "The current regulatory system is broken."
It's yet another instance of Musk railing against regulations, many of which were set up long before private companies were sending satellites into orbit.
The Falcon 9 rocket, erected at the Space Launch Complex 40 at Cape Canaveral, Florida, was a mere 11 seconds away from launch when the countdown hold was called. It would've been the eighth flight of the rocket's first stage.
"Hold called due to Range being no-go; teams are setting up for tomorrow's backup opportunity," SpaceX wrote in a tweet. The roughly one-hour launch window will open back up again on Wednesday at 2:56 pm.
Holds have become an increasingly large thorn in Musk's side. The billionaire has repeatedly voiced his discontent with what he says are overly limiting airspace regulations, and has ended up in disputes with the Federal Aviation Administration (FAA) on a number of occasions.
The FAA recently investigated the company's safety protocols after several test launches of Starship prototypes ended in massive explosions.
In January, Musk argued in a tweet that "unlike its aircraft division, which is fine, the FAA space division has a fundamentally broken regulatory structure," after the regulatory body reportedly scrubbed the launch of an early Starship prototype.
SpaceX is launching more rockets than ever before — and at an unprecedented rate, including 19 Falcon 9 launches this year alone. That also means future delays may end up being almost inevitable.
"Their rules are meant for a handful of expendable launches per year from a few government facilities," Musk wrote in the January tweet. "Under those rules, humanity will never get to Mars."
More on SpaceX: Elon Musk Says He Goes on Twitter to Check on Starship's Progress
Futurism 29 June, 2021 - 03:36pm
The development of the Mars-bound rocket is "followed quite rigorously on the internet," Musk said today during a video feed interview at the Mobile World Congress (MWC) in Barcelona. "In fact, often when I want to know what the latest thing is, I just go on the internet."
"Because it's being developed in South Texas, right next to a public road, we have members of the public pointing telephoto lenses at our vehicles," Musk explained.
It's a rather odd comment coming from the CEO of SpaceX, a man who has unfettered access to literally every aspect of Starship's development.
Is he not getting the full picture? It's even stranger considering that Musk is currently choosing to live on site, inside a $50,000 prefab box.
Indeed, the internet is chock full of photographs and livestreams taken near the company's testing facilities near Boca Chica in South Texas.
SpaceX enthusiasts and space journalists have meticulously documented the fabrication, installation, and testing of each component that goes into building the various Starship and Super Heavy booster prototypes.
Previous launch attempts have also gotten extensive coverage, with several unofficial cameras allowing for multiple, simultaneous livestreams — in addition to SpaceX's own, and arguably far less detailed, coverage.
So in a way, Musk revealing he just goes "on the internet" to check up on Starship doesn't come as a huge shock.
At the same time, one would expect the CEO of a company — particularly one who lives on site — to be provided with all the information he could possibly need, not to mention the ability to have a first-hand look.
The comment could also have had a tongue-in-cheek component, or a nod to how closely Starship's development has been documented by outsiders.
At the same time, those onlookers may indeed be providing Musk with distance shots that he doesn't have access to using SpaceX's equipment.
Fortunately, those onlookers will be able to witness the next big step in Starship's development within the coming weeks.
Musk revealed at today's event that the company will be ready for the "first orbital launch attempt in the next few months."
"We certainly will have an orbital-capable booster and orbital-capable ship, and the orbital launch site ready within the next month or so," he added.
Perhaps then, Musk will be able to watch the show through the literal lenses of his most active followers.
More on Starship: SpaceX President Says Orbital Starship Launch Is "Shooting for July"