CNBC Television 30 June, 2021 - 08:40pm
Reuters 30 June, 2021 - 08:40pm
Didi absorbed Uber's China business in 2016 - Uber retains a 12.8% stake in the firm - and averaged 25 million rides a day in the first three months of the year in China, where it is the dominant operator.
Here are some key facts of the company and its global rival, U.S.-based industry pioneer Uber Technologies Inc (UBER.N), which has a market capitalisation of $95 billion:
- Didi was founded by Chief Executive Will Cheng, formerly at Alibaba, in Beijing in 2012. Co-founder and President Jean Liu joined in 2014.
- Uber was founded in 2009 by Garrett Camp and Travis Kalanick. It went public in May 2019.
- Didi's main business is ride-hailing in China. It operates in 15 international markets including South America, Japan, Australia, Russia and South Africa. It also provides services including food delivery, community group buying and logistics.
- Uber's core business includes ride-hailing, which operates in about 70 countries, and restaurant food delivery under its Uber Eats brand in 34 countries.
The company generates the bulk of its revenue in the United States and Canada.
- Didi has 15 million annual active drivers globally for the twelve months ended March, 2021.
- Uber in February 2020 said it had some 5 million drivers worldwide.
- Didi was loss-making from 2018 through 2020 but made a $30 million profit in the first quarter this year.
- Uber keeps losing money but has promised investors to be profitable on an adjusted EBITDA basis by the end of this year.
- Many Didi drivers rent cars from fleet companies. Didi has fleet management partnerships with carmakers including Toyota (7203.T), BYD (002594.SZ) and Nissan (7201.T).
- Uber drivers in most of the company's markets are independent contractors who use their own vehicles. Uber disbanded its own vehicle rental program in 2018, but drivers can still sign up for short-term rentals with other companies.
- Didi is testing autonomous driving with a fleet of more than 100 cars.
- Uber in December sold its autonomous driving unit, Uber Advanced Technologies Group (ATG), to self-driving car startup Aurora.
- Didi rolled out a purpose-built vehicle for ride-hailing with China's BYD and is working on a future model with autonomous driving functions with GAC (601238.SS), a Chinese carmaker.
- Uber announced it was working with British electric van and bus maker Arrival to develop a purpose-built model for ride-hailing that will go into production in 2023.
Our Standards: The Thomson Reuters Trust Principles.
Reuters, the news and media division of Thomson Reuters, is the world's largest multimedia news provider, reaching billions of people worldwide every day. Reuters provides business, financial, national and international news to professionals via desktop terminals, the world's media organizations, industry events and directly to consumers.
The most comprehensive solution to manage all your complex and ever-expanding tax and compliance needs.
The industry leader for online information for tax, accounting and finance professionals.
Information, analytics and exclusive news on financial markets - delivered in an intuitive desktop and mobile interface.
Access to real-time, reference, and non-real time data in the cloud to power your enterprise.
Screen for heightened risk individual and entities globally to help uncover hidden risks in business relationships and human networks.
All quotes delayed a minimum of 15 minutes. See here for a complete list of exchanges and delays.
© 2021 Reuters. All rights reserved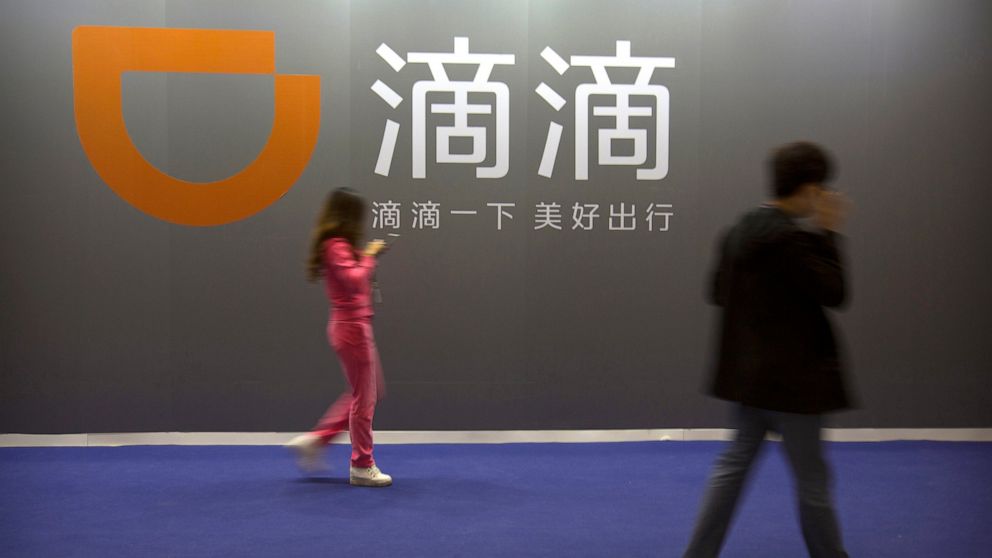 The Washington Post 30 June, 2021 - 08:40pm
Didi Global, a Chinese ride-hailing service, rose 16% shortly after making its U.S. stock market debut
The stock opened at $16.65 on the New York Stock Exchange. The Beijing-headquartered company's initial public offering of 288 million shares was priced at $14 a share. The company said it aimed to spend 30% on technology development, another 30% to expand outside China and 20% on new products.
Didi's U.S. market debut comes a day after the company said it lost $5.5 billion over the past three years, though the company also touted its global reach and investments in developing electric and self-driving cars. Didi operates in 16 countries, though almost 90% of the 493 million customers who used the service at least once in the past year are in China.
The company founded in 2012 by Will Wei Cheng, a veteran of e-commerce giant Alibaba Group, says it aims to become the "world's largest one-stop transportation platform" and operator of vehicle networks.
"We aspire to become a truly global technology company," said Cheng and president Jean Qing Liu in the prospectus. Liu is a former Goldman Sachs managing director and the daughter of Liu Chuanzhi, founder of computer maker Lenovo Group.
Early investors included Apple Inc., Japan's Softbank, Alibaba and Chinese internet giants, Tencent Holding Ltd. and Baidu Inc.
Didi acquired rival Kuaidi in 2016 and Uber Technologies Inc.'s China operation the following year, ending a battle in which the American company said it was losing $1 billion a year.
China's populous ride-hailing market has gone through abrupt changes as the ruling Communist Party tries to nurture development of technology while keeping control of promising industries.
Founded as a smartphone-based taxi-hailing service, it launched ride-hailing in 2014 and expanded abroad in 2018 by acquiring Brazil's 99 Taxis and setting up operations in Mexico.
In 2015-16, regulators tightened control in what state media said was an effort to curb traffic congestion and prevent crime linked to ride-hailing services. Drivers were required to be residents of cities and towns where they worked and to be more closely supervised.
Didi has plowed money into development of self-driving, electric vehicles and other technology. The company launched an electric car last year with Chinese automaker BYD Auto, a unit of BYD Ltd.
Didi lost 15 billion yuan ($2.3 billion) in 2018, 9.7 billion yuan ($1.5 billion) in 2019 and 10.6 billion yuan ($1.6 billion) last year, according to its prospectus. It says Didi had $3 billion in cash as of Dec. 31.
24/7 coverage of breaking news and live events
Yahoo Finance 30 June, 2021 - 08:40pm
The price represented an increase of 1.4% from Didi Global's IPO price of $14 per American depository share on Tuesday. Earlier, shares opened at $16.65 apiece and climbed to as high as $18.00 during the session.
The company said it sold 316.8 million shares to raise $4.4 billion on Tuesday, in the largest initial public offerings of a Chinese company in the U.S. since Alibaba's (BABA) $25 billion listing in 2014.
Didi, founded in 2012, has grown to be the largest ride-hailing player in China. It has received backing from Softbank and Tencent, and Uber (UBER) sold its Chinese business to the company in 2016 and retains a 12.8% stake in the firm. Didi was founded and is led by Alibaba veteran Will Cheng, who most recently worked as vice president of the e-commerce behemoth's Alipay payments platform.
While based in China, Didi also operates across 15 countries and in a total of about 4,000 cities, counties and towns.
"We believe China is the best starting place for realizing our vision for mobility. China's massive and urbanizing population presents opportunities for new mobility services," Didi said in its prospectus. It cited data from China Insights Industry Consultancy Limited saying it anticipates China's mobility market to reach $3.9 trillion by 2040. "This will accelerate the rapid development of shared mobility and transform urban living."
Didi has seen some choppiness in results over the past several years, with the pandemic weighing on what had been an upward trend in growth. Revenues were 141.7 billion yuan, or $21.6 billion, in 2020, compared to 154.8 billion yuan, or nearly $24 billion, in 2019. Net losses widened to 10.6 billion yuan, or $1.6 billion, in 2020 from 9.7 billion yuan, or about $1.5 billion, in 2019. However, this was narrower than the loss of 15 billion yuan, or about $2.3 billion, posted in 2018.
Average daily transactions were 41 million in the 12 months ended in March 2021, and a total of 493 million annual active users were on the technology platform over that period.
"Overall, we believe [the] pandemic headwind has been a bit milder for Didi as compared to Uber and Lyft's ride-sharing business," Rohit Kulkarni, MKM Partners managing director, wrote in a note on Tuesday. "During 1Q '20 and 2Q '20, mobility bookings declined -42% and -15% on a y/y [year-over-year] basis, respectively, and have consistently increased on a y/y basis since then, unlike Uber and Lyft."
Still, the company faces some regulatory concerns both in the U.S. and in China. Didi acknowledged meeting with China's market regulators and other major Chinese. internet companies over antitrust concerns, and the firm wrote in its prospectus that, "We cannot assure you that the regulatory authorities will be satisfied with our self-inspection results or that we will not be subject to any penalty." And domestically, the U.S. Senate recently passed a bill to crackdown further to delist U.S.-listed Chinese companies that decline to be audited to ensure they meet accounting standards.
"It's important when we look at Q1 2021 earnings for the [major Chinese internet] companies, they're tremendously strong. So despite these regulations, the companies are still doing well, they're very, very critical parts of the domestic consumption story," Brendan Ahern, KraneShares ETFs chief investment officer, told Yahoo Finance Live on Wednesday. "On the U.S. regulation … delisting would take many, many years to come and I think you're seeing Chinese companies like Didi coming to the New York Stock Exchange because they don't believe the delisting will ever happen."
The technology platform enters the U.S. public market at the start of a hot summer for new listings. Companies from direct-to-consumer eye care company Warby Parker to salad chain Sweetgreen have announced their intentions to conduct initial public offerings. The companies are banking on an ongoing strong market backdrop for their debuts, with the S&P 500 up 14% for the year-to-date and hovering at all-time highs, and investors' appetite for growth stocks increasing as the economic recovery rolls on.
The Renaissance IPO ETF, which includes a basket of recently public companies, has risen only 3.8% for 2021 so far, however, compared to its 107% rise in 2020.
Emily McCormick is a reporter for Yahoo Finance. Follow her on Twitter: @emily_mcck
Facebook may have scored an early win in its antitrust battle with the FTC, but the war is far from over for the social networking giant, or the rest of Big Tech.
This often overlooked measure of stock market valuation is entering the danger zone.
From working at a foot massage company to setting up China's biggest ride-hailing firm, Will Wei Cheng has navigated several hurdles on the path to taking Didi Global Inc public in a $4.4-billion New York float. As Cheng rose to the upper echelons of Chinese technology entrepreneurs, he faced challenges including tough competition, intense criticism for Didi after rape and murder cases linked to its drivers in 2018, and a COVID-19 induced slowdown at home. While the biggest share sale by a Chinese company in the United States in seven years, which values Didi at $67.5 billion, is a big win for Cheng and co-founder Jean Qing Liu, experts say the challenges are unlikely to go away soon.
China's Didi Global Inc shares soared nearly 19% in their New York Stock Exchange debut on Wednesday, valuing the ride-hailing giant at $80 billion in the biggest U.S. listing by a Chinese company since 2014. SoftBank-backed Didi's stock opened at $16.65, compared with the initial public offering price of $14 per share. It had priced an upsized offering of 316.8 million American Depositary Shares at the upper end of its $13 to $14 range, raising $4.4 billion.
Stocks were mixed Wednesday to hover close to all-time highs. Traders considered stronger-than-expected prints on private payroll gains and pending home sales and looked ahead to more economic data out at the end of this week.
Gucci owner Kering wants to usher in a new generation of talent at its storied fashion houses.
Chinese ride hailing company Didi Global Inc raised $4.4 billion in its U.S. IPO, pricing it at the top of its indicated range and increasing the number of shares sold, the company said. Didi sold 316.8 million American Depository Shares (ADS), versus the planned 288 million, at $14 apiece. This would give Didi a valuation of about $73 billion on a fully diluted basis and $67.5 billion on a non-diluted basis.
Atlantic Equities analyst Xiao Ai launched coverage of the ride-sharing company with an Overweight rating and a target of $25 for the stock price.
Apple and several iPhone chipmakers neared buy points in Tuesday's quiet market rally. Ride-hailing giant Didi priced its IPO.
(Bloomberg) -- Chinese ride-hailing giant Didi Global Inc. closed its U.S. trading debut up a mere 1% after raising $4.4 billion in an initial public offering.The company's American depositary shares opened Wednesday at $16.65, rising as much as 29% from the $14 offer price. The shares closed at 14 cents above that price, though, giving Didi a market value of about $68 billion. Accounting for stock options and restricted stock units, the company's diluted value exceeds $71 billion.That valuation
The rising inflation rates is a key worry in the economic situation right now. With prices going up, dollars don't go as far – it's an interaction that threatens to derail consumer spending, the engine of the US economy. Investors got some clarity in June, however, after the latest FOMC meeting. The Fed had long kept an 'inflation target' of 2%; with inflation running more than double that, there was much speculation that the Fed would take an aggressive stance against it. Such a stance would ne
The Beijing-based ride-hailing company, one of 10 companies that went public on Wednesday, closed 14 cents above its IPO price.
SentinelOne Inc.'s stock bolted out of the gate Wednesday after the cybersecurity company priced shares of its initial public offering above its previously estimated range.
Micron Technology Inc. reported earnings and an outlook that surpassed Wall Street expectations in the extended session Wednesday as the chip maker announced it was selling one of its facilities to Texas Instruments Inc.
Memory-chip maker Micron Technology late Wednesday beat Wall Street's targets for its fiscal third quarter and topped estimates with its outlook.
The housing market saw a brief reprieve last month thanks to lower mortgage rates and an uptick in sales listings.
At $14 a share, the company's valuation would exceed $67 billion, and on a fully diluted basis would be more than $70 billion.
Top news and what to watch in the markets on Wednesday, June 30, 2021.
TechCrunch 30 June, 2021 - 08:37pm
The American IPO market is hot for many companies, but surprisingly cool for others. The gap between the two cohorts of private companies looking to list is becoming notable.
When Chinese ride-hailing giant Didi first set an IPO price range, The Exchange was curious about why the company felt so inexpensive. Compared to its American comps, shares in Didi simply felt underpriced at its proposed valuation interval. Recently, Didi stuck to its initial expectations by pricing at $14 per share, the upper end of its range, but no higher.
This week also brought a lackluster float for Chinese grocery-delivery company DingDong, which cut its IPO raise but only managed a flat American debut. Another China-based online grocery delivery service that went public domestically last week, Missfresh, is doing even worse.
We're talking tech companies here, I should add; The Exchange doesn't track IPO results for commodities diggers and biotech labs. It's a big world. We have to focus.
There are contrary data points to our general thesis. Nio's recent share price appreciation could be construed as such. But if we parse recent IPO news from SentinelOne and Xometry in contrast to what we've seen from Chinese tech companies' own paths to the American public markets, there really does seem to be a gap forming.
Didi's IPO price of $14 per share values the company at around $67 billion on a nondiluted basis, and as high as $70 billion if we counted more shares in its market cap calculations. As we previously calculated, with around $6.5 billion in total Q1 2021 revenue and positive net income, the company is trading at a stiff multiples discount to Uber.
Indeed, Uber's trailing price/sales ratio is north of 8x. If we valued Didi's revenues from the last twelve months at the same price, it would be worth nearly $179 billion. It's not. And that's the gap that we want to stress.