Detlef Schrempf
Dschrempf
Let's gooooo @AlaskaAir Can wait to get there! pic.twitter.com/GRXof0RnvJ
Don Graves
dgravesjr
Love that @AlaskaAir is playing Lift Every Voice as the background music as folks board. #songoffaith #songofhope #marchontovictory

Sebastian Robertson
srobertsontv
#MtRainier as seen through an @AlaskaAir prop. We're en route to #Reno to assist @abc10 with #wildfire coverage. pic.twitter.com/aP3Yqhoc9i
Dominic Gates
dominicgates
More detail on @AlaskaAir vaccination push * Unvaccinated employees must be regularly tested * They must attend a vaccine education program * They won't be paid for absences due to exposure or infection * All new hires must be vaccinated * $200 payout to all vaccinated employees
Yahoo! Voices 06 September, 2021 - 08:40pm
She said she was asked to change shirts by flight attendants and complied.
Howard claimed she was approached by staff three separate times.
Visit Insider's homepage for more stories.
A woman claimed that she was "harassed" and kicked off an Alaska Airlines flight over her outfit.
Ray Lin Howard, a musician known as Fat Trophy Wife, uploaded a video to her TikTok account that's garnered more than 1.3 million views so far.
In the video caption, Howard claimed that an Alaska Airlines flight attendant "harassed and called the airport police" on her for wearing an "inappropriate outfit."
Footage shows Howard being escorted off the plane before sitting down with authorities to recount the events.
@alaskaair Flight attendant harassed and called the airport police on me for my inappropriate outfit. ##bbw ##plussize ##plussizeedition ##bbws ##fyp
"I was harassed about my outfit," Howard apparently tells police officers in the video. She claims that she was approached by staff because she wore a grey top that showed her stomach. Howard appears to tells the officers that she put on another shirt when staff initially asked her.
"And then they approached me again," Howard says in the video. "Saying that I can't wear this because my stomach is showing and it's inappropriate."
A police officer can be heard telling Howard that she's not in any criminal trouble but pointed towards Alaska Airlines' dress policy.
According to the Alaska Airlines website, the airline's dress code is "casual, and the requirement is simply a neat and well-groomed appearance. Clothing that is soiled or tattered and bare feet are never acceptable. You are expected to use good judgment, but customer service agents will have the final authority to refuse travel for inappropriate attire or appearance."
Howard later shared a second TikTok video that showed what she was wearing on the flight.
@alaskaair called the police on me for wearing this outfit #bbw #plussize #plussizeedition #flying #airline #alaskaairlines #bbws #thicktok
A third TikTok video was uploaded to her account, where she claimed that Alaska Airlines contacted her about the flight. Howard said that the airline refunded her money for the three seats she purchased and offered a discount code to use on a future purchase.
Howard and Alaska Airlines representatives did not immediately respond to Insider's request for comment.
Airports and airlines have made headlines for several mishaps in recent months.
Earlier this month, a woman said on TikTok that an Alaska Airlines flight attendant shamed her for her outfit. Another instance involved a woman being escorted off of a Spirit Airlines flight for lighting a cigarette and blowing smoke into an asthma sufferer's face.
One woman on TikTok claimed that American Airlines lost her two cats on a flight from Los Angeles to New York City.
Read the original article on Insider
A lawyer from a prominent South Carolina legal family who found his wife and son shot to death at their home three months ago and was injured days ago when a bullet grazed his head as he changed a tire said Monday he is resigning from his law firm and entering rehab. Alex Murdaugh issued a statement Monday saying he regretted decisions he made, but didn't give any details just two days after reporting someone shot at him after his car had a flat tire along a rural road in Hampton County. The statement came two days after investigators said Murdaugh was able to call 911 after he was hurt Saturday afternoon on Salkehatchie Road in Hampton County.
A Yellowstone National Park tourist on Saturday captured video footage showing a wolf repeatedly biting a grizzly bear in the rear.
Americans faced seven-hour waits at border crossings when Canada opened to vaccinated US citizens in August. Now, crossings have dropped and businesses are suffering.
As one of only two people who survived 9/11 by surfing down the Twin Towers collapse, Pasquale Buzzelli has a mixture of survivor's guilt and gratefulness.
An unidentified blonde woman walking through an airport in only a bikini and mask has become a viral video.
Polk County JailA Marine veteran who identified himself as a "survivalist" experiencing visions from God told police that he didn't know the four members of a family he brutally murdered over the weekend—and admitted he shot a 3-month-old baby because he's a "sick guy," according to court documents.The suspect, 33-year-old Bryan Riley of Brandon, Florida, was ordered held without bond during his first court appearance on Monday. He requested his own lawyer and will be appointed one until he can
It's your last chance to grab deep discounts on Apple, Bose, Sony, Samsung, Nintendo, Shark, iRobot, Le Creuset, Instant Pot and more.
The son of a victim of the Sept. 11 attacks condemned President Joe Biden as the "killer in chief" Monday and told him not to attend 20-year memorial ceremonies at Ground Zero.
COVID vaccine lesson? Identical twins Billy and Bobby Ford of Vero Beach took different tacks on getting inoculated. The result might be instructive.
Experts say it's a job seeker's market in which, for the first time in years, employees have the upper hand.
The man refused to leave the property after being asked to do so, witnesses told police.
Police said "some sort of unknown phenomena" seem to have caused the shaking and explosion.
"Orange is the new black," the reality star and real estate agent wrote of the photos
The 40-year-old found a saucy way to promote her next concert.
Michael K. Williams, who memorably portrayed Omar Little in "The Wire" and Chalky White in "Boardwalk Empire," has died at age 54. The New York Police Department confirmed to Variety that the actor was found dead on Monday at 2 p.m. inside of his Brooklyn residence. Williams was a regular on many acclaimed HBO series, […]
The girl was throwing a ball with her friends in the sea near to the Oceanarium at around on 18 July.
The court allowed Texas to enact a law that bans abortion after six weeks.
"Kindness starts fundamentally from seeing it, doing it, and then finally feeling it and believing it," an expert tells Yahoo Life.
Sen. Richard Blumenthal took aim at the White House and State Department on Monday, saying he is "furious" over struggles to secure planes to evacuate a group of Americans and Afghan allies from Afghanistan.
UNILAD 06 September, 2021 - 08:40pm
Ray Lin Howard, also known by her rap stage name as Fat Trophy Wife, documented her experience on an Alaska Airlines flight on August 4, in which she claims she was escorted off by police due to her choice of outfit.
She uploaded her ordeal to TikTok, where she's since amassed more than 1.3 million views and thousands of comments backing up Howard's accusations of harassment.
The clip opens with Howard being escorted off the plane into a room with police officers, who ask her what happened. 'I was harassed about my outfit. I put my shirt back on,' she says.
The officer then asks if she had it off in the first place, to which she shows him her crop top underneath. 'I had this on, they asked me to put my shirt on, I put the shirt back on, and then they approached me again, saying that I can't wear this, my stomach is showing and it's inappropriate,' she tells police.
Howard defended her clothes, saying she was covered up. She told the flight attendant to just kick her off if that's what she wanted to do, because she'd already done what she'd been asked and they approached her three times. 'That's why you were called, because of this,' she says.
The officer tells her she's not facing any criminal charges and they're just trying to hear her side of the story. However, he then tries to allege the airline has its policy 'it needs to follow' – Howard says her outfit followed the guidelines. 'I looked it up, I'm within the dress code… I'm being harassed and now I'm being detained. I wore an outfit – that's what happened,' she says.
As per Alaska Airlines, the dress code on flights is 'casual, and the requirement is simply a neat and well-groomed appearance. Clothing that is soiled or tattered and bare feet are never acceptable. You are expected to use good judgement, but customer service agents will have the final authority to refuse travel for inappropriate attire or appearance.'
The airline hasn't commented on the video or Howard's allegations.
Topics: Viral, Dress Code, TikTok, Travel, US
Live and Let's Fly 06 September, 2021 - 08:40pm
A woman who proudly calls herself "Fat Trophy Wife" claims she was harassed by an Alaska Airlines flight attendant over her choice to wear a crop top before being thrown off the flight, even after she covered up her midriff.
She was traveling to Fairbanks and chose to wear what appeared to be bicycling shorts and a crop top on the flight. Her "private parts" were fully covered. She claims that flight attendants approached her multiple times and berated her for her choice of wardrobe. Furthermore, she claims that when asked to cover up her exposed midriff, she pulled down her shirt immediately.
Nevertheless, she was removed from the flight by police, so I have to imagine that things got tense onboard.
In a video posted on TikTok, she is seen being escorted off the flight and later sitting down with police officers to discuss what happened.
@Alaska Airlines Flight attendant harassed and called the airport police on me for my inappropriate outfit. #bbw #plussize #plussizeedition #bbws #fyp
@Alaska Airlines called the police on me for wearing this outfit #bbw #plussize #plussizeedition #flying #airline #alaskaairlines #bbws #thicktok
She whines that she is being detained, despite very clearly being told by the officer that she is there on a voluntary basis and they just trying to help mediate.
"I was harassed about my outfit…They asked me to put my shirt on, I put my shirt back on, and then they approached me again, saying that I can't wear this, my stomach is showing and it's inappropriate. And I said 'I'm covered up, I'm fine.'"
Before we say that Alaska Airlines targets passengers of size, it's worth noting that a skinny girl was also shamed by a flight attendant on Alaska Airlines over a crop top just one month ago. While she complied and wasn't thrown off, the two incidents unfolded in a very similar fashion.
Personally, I don't want to see anyone's stomach when I'm on an airplane. In this case, the very name "Fat Trophy Wife" and the way she chooses to dress is all about bringing attention to her. I don't find that empowering, but pathetic. At the same time, I respect her self-confidence and I don't find her wardrobe choice offensive enough to remove her.
Alaska Airlines apologized to the skinny girl a month ago…we'll see if they apologize here.
Sometimes I wonder if people like this want to be thrown off a flight for the attention it will bring. In any case, I'm not convinced she was fat-shamed as much as Alaska Airlines seems uncomfortable with crop tops no matter the passenger size.
(H/T: Paddle Your Own Kanoo)
Matthew is an avid traveler who calls Los Angeles home. Each year he travels more than 200,000 miles by air and has visited more than 135 countries. Working both in the aviation industry and as a travel consultant, Matthew has been featured in major media outlets around the world and uses his Live and Let's Fly blog to share the latest news in the airline industry, commentary on frequent flyer programs, and detailed reports of his worldwide travel.
I don't care that her shirt doesn't cover her stomach, but I do care that her mask doesn't cover her nose.
Truly sad cry for attention! Unfortunately the world .. well, the US, is full of people in the same quest for validation. If it isn't a crop top, it's foul language and crass behaviour! And you're cancelled if you don't like it and "respect" it. Where will we be 10-20 years from now?! Truly, truly frightening.
She says she knows the dress code and complied. Actually I've seen pax like her on board and at airports dressed similar or worse for 30 yrs …..retired now as flight attendant, airlines do have dress codes for crew and pax. There's expected etiquette by everyone who chooses to fly since day one. The rules are in place to create a safe and pleasant experience. She's obviously creating her own ego driven distraction because she's got a captive on board audience who she feels must be entertained. Sorry "Karen", you're act is canceled. 1) read the rules and know the meaning of them. 2) when in doubt, see #1.
She clearly wins the fat trophy.
Its sad. Doesn't she have a friend tontell her she is a fat skank with those god-awful tattoos amd piercing through her snot locker. The poor woman is pathetic and looking for attention. Needs psychiatric help. Poor airline personnel. No one wants to call out these losers, but they insist upon self-immolation. SAD!!!
I didn't know they have tattoo parlors inside a Dollar Store.
I thought Devine died about 15 years ago.
Advertiser Disclosure: Some links to credit cards and other products on this website will earn an affiliate commission. Outside of banner ads published through the Boarding Area network, this compensation does not impact how and where products appear on this site. While we do try to list all the best miles and points deals, the site does not include all card companies or credit card offers available in the marketplace. Please view our advertising policy page for additional details about our partners.
Editorial Disclosure: The editorial content on this page is not provided by any entity mentioned herein. Opinions expressed here are the author's alone, and have not been reviewed, approved or otherwise endorsed by any of these entities.
Join our mailing list for a daily summary of posts! We never sell your info.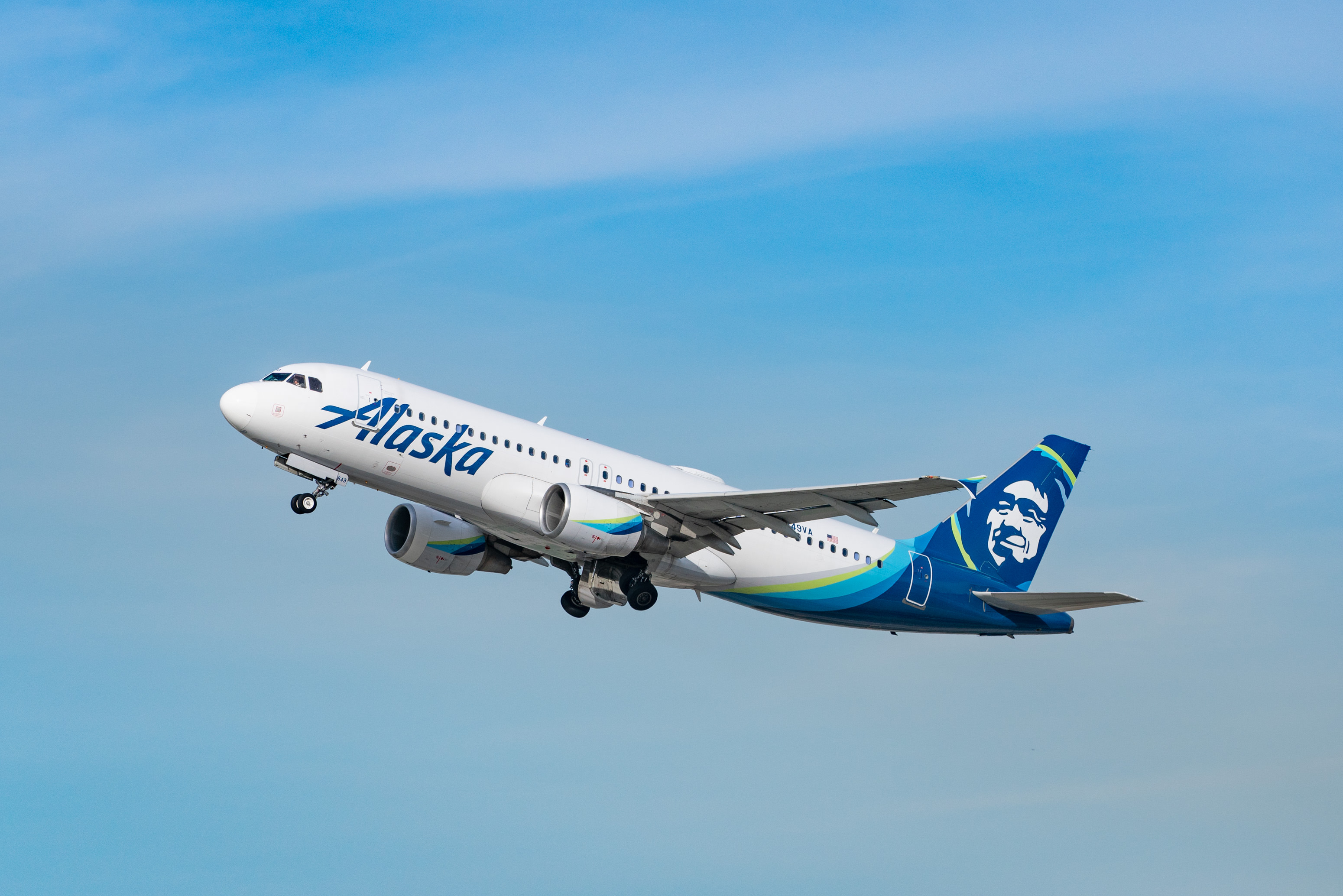 Newsweek 06 September, 2021 - 08:40pm
Alaska Airlines flight 109 was scheduled to fly from Seattle to Anchorage on Saturday night but was delayed by several hours due to a series of setbacks.
Multiple passengers were removed for "disruptive behavior" before the flight even took off, the airline said.
"Before the flight departed Seattle, a group of guests was removed from the aircraft because of their disruptive behavior," Alaska Airlines said in a statement provided to KTUU. "Others in the party were allowed to continue onto Anchorage."
An Alaska Airlines flight came in hours after scheduled following several passengers having to be removed for causing a disturbance on board. https://t.co/Jfcx0l6WKz
Once in the air, one of the five remaining group members started to threaten crew members and other passengers, the publication reported.
The behavior caused the flight to divert to the Alaskan capital of Juneau, where the rest of the group was removed.
The passengers removed in Juneau did not continue to Anchorage on an Alaska Airlines flight, according to the airline.
Footage taken from inside the aircraft and shared by the outlet showed at least five male passengers being escorted from the plane by authorities. It is unclear whether the men were removed from the aircraft in Seattle or Juneau.
It also remains unclear how many passengers were part of the original group and the exact nature of their disruptive behavior.
Newsweek has contacted Alaska Airlines for comment.
In August, an Alaska Airlines flight evacuated all passengers onboard due to a fire caused by a cell phone in the plane's cargo hold.
The Port of Seattle Fire Department (POSFD) responded to reports of a fire on the Alaska Airlines's flight at around 8:30 p.m. local time on Monday, August 23, after the aircraft landed at the Seattle-Tacoma International Airport in Washington.
An Alaska Airlines spokesperson told Newsweek that the blaze broke out on the plane "shortly after landing" when a passenger's phone caught on fire, prompting everyone onboard to be evacuated once it landed at the Seattle airport.
In total, 128 passengers and six crew members were evacuated from the plane while the plane was towed to the gate without any impact on aircraft operations.
The airline also hit the news recently when it announced Friday, September 3, that all employees vaccinated against COVID-19 would receive a $200 bonus payment.
The company said that while 75 percent of its employees have already been vaccinated, it is aiming to move closer to the 100 percent mark. In addition to offering a financial bonus, the airline will require all new employees to be vaccinated before being hired.
Furthermore, unvaccinated staff members will now have to submit to a new testing protocol and participate in a mandatory vaccine education program. Those employees will also not be eligible for special coronavirus pay if they contract COVID-19.
The airline joined other major air travel companies including American Airlines, Air Canada, Delta, and United Airlines in adopting stricter COVID-19 vaccination policies and incentives. Both United and Delta airlines have also announced vaccine mandates for employees, while American is offering vaccinated employees an extra day off in 2022 and $50 in its recognition program.
Daily news headlines & detailed briefings enjoyed by half a million readers.