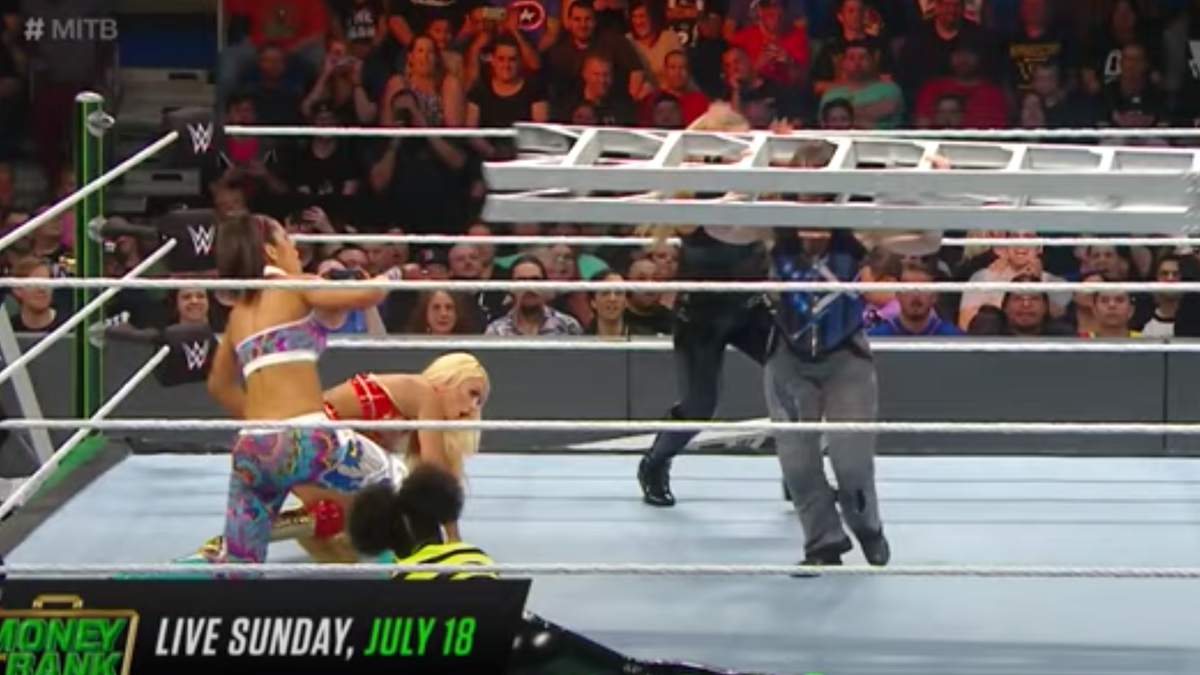 This year, Money In The Bank will be, since the beginning of the COVID pandemic overtaking America, the first major WWE pay per view with fans outside of WrestleMania 37 from this past April, which was in Tampa, Fla. This Sunday will be held from Fort Worth, Texas at Dickies Arena, and naturally, we'd expect some returns and major occurences given that they're out of the Thunderdome.
We're only doing Bank matches, but they'll obviously tie into the world title picture. Apologies to the tag team division, we got y'all next month for Summerslam, promise.
Fonseca: I've been freestyling a "Big E wins the briefcase and cashes in on Kofi Kingston" idea for a few weeks. The old adage, after all, is "anything could happen in the WWE," right? Let's have Kingston shock Lashley, and Big E come out to congratulate and celebrate with him and Xavier Woods, reunited in the ring, and then, boom, the most epic heel turn of the year, and your new monster heel WWE Champion, Big E.
Now, I'm not sure if I even love this personally, because Lashley's run is one of my favorite things going at the moment, but if we do get Lashley vs. Brock Lesnar at SummerSlam as some rumors suggest, he won't need the title for that anyway. Big E and Kingston could embark on a feud that could carry for the rest of the year, and possibly even to WrestleMania depending on how it's booked. Woods would obviously roll with Kingston throughout this as Big E embraces this villainous persona. Do I think this will happen, though? Nah.
Fonseca: I'd still roll with Banks for the reasons outlined previously, but let's venture elsewhere here. I love love LOVE the idea of fellow Puerto Rican Zelina Vega returning to win this. She was mostly a manager in her previous WWE run, and is actually a superior wrestler to most of her counterparts. It just feels like she hasn't quite had an extended opportunity to showcase how good she is to the majority of WWE fans, and she's a star in the making if given the proper push. Vega is women's championship worthy and would provide a top-two most interesting scenario regarding potential outcomes for this match, with the other being a Banks return. Though, at least with Vega, it would be fresh. Glad to see her back, now let's see her win.
Fonseca: Well, I already went into Banks returning, which counts as a surprise, as does the fantasy booking of a Big E MITB win and swerve on Kingston. Lesnar could confront Lashley one way or another even as reports suggest that might not happen for SummerSlam, because in wrestling, you don't truly know until you get there. Sam just went the Becky Lynch route, which has to go down at some point and would be the perfect ending to the show. What else is there to—hmm …
Read full article at Ringside News
Sports Illustrated 17 July, 2021 - 10:14pm
When the timing is right, it needs to be seized—and the timing is opportune for WWE to take a chance and make Big E a world champion, beginning with a win on Sunday at Money in the Bank in the ladder match.
"If it's my time to grab that briefcase, I will do everything in my power to make it unique and to make it different," said Big E, whose name is Ettore Ewen. "It would be a new challenge, one that I would love to take on."
A victory in the Money in the Bank ladder match would serve as the next step in Big E's career ascent. The winner of the match is guaranteed a world title shot, and the timing of the pay per view couldn't be better for Big E, who will have a full crowd behind him at Dickies Arena in Fort Worth, Texas.
"I know we often see heels in that position," said Ewen. "I would love to bring a whole new energy to this."
Ewen was part of the main event on Friday's SmackDown, wrestling Seth Rollins, Kevin Owens, and Shinsuke Nakamura in a four-way. All four will be involved in the Money in the Bank ladder match, which appeared to foreshadow a win for Rollins, who stomped out Big E to win the SmackDown match and then enjoyed a brief moment with the briefcase.
"It felt amazing to be out there," said Ewen. "There is nothing like that crowd reaction, and nothing like looking someone in the eyes, someone that paid for a ticket to come to the show. I had the chance to go out there and close the show, doing what I love.
"I'm so grateful for our fans. I had the chance to say thank you to everyone for being so loud and being so passionate. It was a beautiful moment, and it gave me this renewed sense of energy."
"It would be very easy to have New Day fatigue if there wasn't so much love for us," said Ewen, referring to his partnership with Kofi Kingston and Xavier Woods. "I can't believe we've been babyfaces this long. We're coming from a very authentic place, showing the world who we are. I really think that people recognize that this is us. It is a very real bond, a very real chemistry, and there is a genuine love for what we do."
Ewen signed with WWE a dozen years ago. This December will mark his ninth year on the main roster. While he is a decorated champion, he is still seeking his first-ever run as world champ. Witnessing him climb that next step, beginning at Money in the Bank, would be a captivating journey.
"This is all new ground for me, and it's such an exciting time," said Ewen. "There are going to be no regrets. I will do everything in my power to bring something special to this once-in-a-lifetime opportunity."