What is baby Doge Crypto?
Baby Doge is the new favourite of crypto enthusiast and Tesla CEO Elon Musk. What is it? A spinoff of already existing meme cryptocurrency Dogecoin. Yepp, the joke has gone too far. Cryptocurrencies have truly exploded in 2021 and alternative tokens or alt coins are dominating the scene. India TodayWhat is Baby Doge? Meet Elon Musk's new favourite cryptocurrency
WASHINGTON (Reuters) - U.S. states halting federal unemployment benefits early had crossed a key threshold in their economic recovery early this spring, with the number of available jobs exceeding the number of unemployed people, new federal data shows.
The data, which estimates job openings and turnover at the state level, showed the ratio of job openings to the unemployed had risen to 1.01 in March in the 26 states that are ending a $300 federal jobless benefit before its nationwide expiration in September. The ratio was 0.74 in the other 24 states and the District of Columbia, meaning there were still more unemployed people than available jobs in those parts of the country.
The new figures - currently being published on a quarterly basis by the U.S. Bureau of Labor Statistics as an experimental series - offer some texture to the uneven nature of the U.S. labor market recovery and the fierce political debate about the need for continued safety-net measures for those out of work as the coronavirus pandemic abates around the country.
Matt Luzzetti, chief U.S. economist for Deutsche Bank, said his analysis comparing job openings to hiring, what is known as the "vacancy yield," showed that while hiring was tough across the country, it had hit a particular lull this spring among the states that subsequently decided to end the federal supplement.
"For that group of states, they have been having more difficulty translating job openings to hires," said Luzzetti, while cautioning that the data did not allow conclusions about the impact of the lower unemployment benefits on the job market.
The data uses the agency's Job Openings and Labor Turnover Survey (JOLTS) to produce state-level estimates of the number of jobs available. It also provides state-by-state volumes of hires, layoffs and employee "quits," information that economists use to understand how labor markets are working at a level beyond the headline unemployment numbers.
Graphic: State labor markets as of March, 2021 - https://graphics.reuters.com/USA-ECONOMY/JOBS/yzdpxlxnmpx/chart.png
More recent data are not available, and the state-level JOLTS estimates do not answer the central policy question of whether halting the unemployment benefits early will affect hiring and job creation by encouraging people currently reliant on those benefits to take jobs.
Insight on that may come later this month when state-level employment estimates are issued for June, when the first of the states halted federal benefits.
So far, data and surveys point to a potentially modest impact of policies that have taken on a partisan hue, with virtually all Republican governors in the country halting the benefits early, and only Louisiana, among Democratic-led states, joining them.
Benefits began running out in early June, with states generally announcing their plans in May. Since then, continuing claims for state unemployment have fallen more in states that have already halted or intend to halt the benefits early than they have elsewhere.
That does not mean those unemployed people took jobs. A recent online survey by hiring site Indeed suggested the federal benefits ranked behind other factors like spousal income, lingering fears of the coronavirus, family obligations and even the desire for time off in influencing individual decisions about whether to work.
Critics argue that ending the benefits now is putting workers at risk at a still-sensitive moment in the pandemic.
Economists, meanwhile, have been parsing the data in what has become an experiment in unemployment policy at a time when the U.S. economy seems almost befuddled - with record job openings, relatively high unemployment, yet slower-than-anticipated hiring.
"All the signs that we have right now is that those benefits going away might have some positive effects on labor supply, but it is not going to be huge," said Nick Bunker, economic research director for North America at the Indeed Hiring Lab.
The online survey of 5,000 people from May 26 to June 3 found "an urgency mismatch," Bunker said. "Employers would like to ramp up quickly. But a large chunk of job seekers are more patient and want to take more time."
Still, the new data does suggest that labor markets in states cutting benefits early had tightened faster than elsewhere, underscoring the concerns of officials like Montana's Republican Governor Greg Gianforte, who announced on May 4 that he would halt the federal unemployment benefit early.
Graphic: Jobseekers per job opening - https://graphics.reuters.com/USA-ECONOMY/CLAIMS/bdwpkozzqpm/chart.png
"I hear from too many employers throughout our state who can't find workers. Nearly every sector in our economy faces a labor shortage," Gianforte said in a statement announcing his plan to cut the benefits in June. As of March, according to the BLS estimates, Montana had 1.75 job openings for each unemployed person, the seventh-highest ratio in the country.
The overall U.S. figure was about 0.84 at that point - half of Montana's but an improvement over previous months. The fact that national job openings were nearing the level of the unemployed caught the attention of policymakers like St. Louis Federal Reserve President James Bullard as a sign that labor markets might be closer to fully recovered than realized.
The data, which the BLS will start publishing monthly in October, showed broad regional variations and the potential for geographic mismatches between labor demand and labor supply to slow hiring at the national level.
In a highly politicized policy debate, both sides may have a point: 21 of the 26 states stopping benefits early had more job openings than job seekers, while 16 of the remaining 24 states still had more unemployed than available jobs as of March.
There are outliers on both sides. Vermont is not stopping benefits, for example, but as of March had the highest ratio of jobs to unemployed people, with 2.07 openings for each job seeker. Texas, Arizona and Louisiana - three of the states stopping benefits early - still had appreciably more unemployed people than job openings.
(Reporting by Howard Schneider; Editing by Dan Burns and Paul Simao)
(Bloomberg) -- The U.S. Treasury is facing growing pressure to slash its bill supply to meet a debt ceiling target poised to be reinstated at the end of the month.The potential return of the debt limit, last suspended in 2019, will force the department to cut its cash balance to around $450 billion by the end of July, from more than $700 billion on June 29. That means cutbacks in bill offerings will be needed to help draw down the balance. But after announcing plans to keep sales unchanged next
This news suggests that worries about expanded unemployment insurance slowing hiring were overblown. The bonus payments to Americans without a job were designed to help those whose employers were forced to close by the virus, but their generosity was seen by some economists and employers as a reason for people to delay returning to work. The story about a "labor shortage," it is increasingly clear, was a story about a public health crisis and low wages.
The benchmark 10-year yield was last up 3.1 basis points at 1.4747%. Friday's closely watched U.S. Labor Department report is expected to show that nonfarm payrolls increased by 700,000 in June, after rising by 559,000 in May, according to a Reuters poll of economists. The unemployment rate is forecast to have fallen to 5.7%, from 5.8% in May. The Fed has been focusing on the labor market's recovery as well as inflation as it contemplates when and how to roll back measures put in place last year to aid the coronavirus-battered economy.
U.S. job growth accelerated in June, offering tentative signs that a worker shortage could be starting to ease as companies raise wages and offer incentives to entice millions of unemployed Americans sitting at home. The Labor Department's closely watched employment report on Friday also showed just over 150,000 people entered the labor force last month. Still, employment gains remained less than the million or more per month that economists and others had been forecasting at the beginning of the year.
Oil prices are on the rise, which could mean costs are going up for almost everything. And experts tell Axios that tight capacity means prices have much higher to go.Why it matters: Gasoline, diesel and jet fuel come from oil — which is also used widely in the chemicals industry. Climbing oil prices mean higher costs for consumers and businesses at a time when prices for many goods and services have already been rising.Stay on top of the latest market trends and economic insights with Axios Mark
If you can afford a supercar, do you want it to be a Porsche 911? Short of the race-bred GT3 line, the Turbos are as much Porsche 911 as anyone could ever desire. The high performance efficacy of the Turbo S comes from the 3.7-liter boxer six-cylinder, which produces a stunning 60 hp more than the previous generation.
Federal law enforcement are quietly asking Missouri police whether they will continue assisting in federal firearm investigations.
ABOARD AIR FORCE ONE (Reuters) -The U.S. federal government is sending more emergency officials on Thursday to support search-and-rescue efforts at the condominium collapse in Surfside, Florida, according to the White House. New personnel from the Federal Emergency Management Agency (FEMA) were sent at the request of local officials, according to White House spokeswoman Karine Jean-Pierre, who briefed reporters traveling with President Joe Biden to the city where the tower collapsed.
The star is a special constable.
Mexico's governmental human rights commission said Thursday that migrants have been detained in filthy conditions in the border town of Piedras Negras, across from Eagle Pass, Texas. The commission said its inspectors found 13 migrants in the facility; while it did not list their nationalities, most migrants detained in Mexico are from Central America. It called on authorities to improve the conditions.
The oil giant would like you to know that statements from its "Senior Director for Federal Relations" in no way represent its position on federal climate policy
As the Trump Organization faces charges, Florida Gov. Ron DeSantis has the edge over Donald Trump to score the 2024 Republican presidential nomination, according to the latest odds in the betting market PredictIt.
(Bloomberg) -- Charles Schwab Corp. said it will take a $200 million charge in the second quarter related to a U.S. Securities and Exchange Commission probe of its robo-adviser platform.The compliance inquiry relates to past disclosures around the firm's Schwab Intelligent Portfolios product, according to a regulatory filing Friday. The company said it's been cooperating with the SEC and its ultimate liability may differ from the amount it's earmarking now.The SEC filed its first enforcement act
Budget traveling during a boom like this isn't impossible, it's just more challenging.
The refunds crisis that rocked both the travel industry and all of its customers last year may not be making headlines but it is still rumbling on. Within a month of the pandemic shutting down the world, it was estimated that £7billion was languishing in unpaid refunds for cancelled flights and holidays. By June last year, the figure was as much as £4.6billion. We are smart to the uncertainty of the coronavirus now, so the rate of bookings, and subsequently cancellations, has slowed down somewha
NEW YORK (Reuters) -Donald Trump's namesake company and longtime financial chief pleaded not guilty on Thursday to what a New York prosecutor called a "sweeping and audacious" tax fraud, arising from a probe into the former U.S. president's business and its practices. The indictment against the Trump Organization and its chief financial officer Allen Weisselberg is the first in a nearly three-year investigation by Manhattan District Attorney Cyrus Vance, which New York Attorney General Letitia James joined in May. It could undermine the Trump Organization's relationships with banks and business partners, and complicate Trump's political future as the Republican resumes addressing rallies and mulls a 2024 White House run.
Read full article at Yahoo Finance
BGR 02 July, 2021 - 11:39am
Musk's, house, so to speak, was designed by Boxabl, a construction startup that specializes in easy to construct housing modules. The houses Boxabl sells can cost as much as $50,000. That cost doesn't include costs related to landscaping, permits, and utility hookups like electricity and water. Still, it's not as if Musk doesn't have the money to spare to fill in the details.
Earlier this month, word emerged that Elon Musk's house isn't a posh mansion you'd expect from a multi-billionaire. Sure, Musk enjoys splurging on items like fancy cars, but he no longer has sprawling mansions and various properties. Rather, Musk today has one house in the Bay Area for special events and a $50,000 home in Texas.
Musk himself admitted as much this month. Musk a few weeks ago said his "primary home is literally a ~$50k house in Boca Chica / Starbase that I rent from SpaceX." Musk said his relatively small home is "kinda awesome" and that the only "big house" he still owns is for events.
By design, Boxabl homes aren't exactly extravagant. They can be a bit bare-bones but owners can customize them to their liking. Recently, the Houston Chronicle shed some light on what Musk's specific Boxabl unit likely looks like.
Boxabl posted a video in November from inside the Casita, announcing the company had just built it for a "high-profile" and "top secret" customer in Boca Chica. But while the company didn't name names, Boca Chica isn't exactly teeming with celebrities, especially ones who would have a poster of a SpaceX Falcon 9 rocket on the door.
Make sure to watch the video of Musk's house below. Remember, Boxabl built a custom home for a "top secret" customer in Boca Chica. To that end, Musk admitted that's where his home now is. Put simply, it's not hard to put two and two together.
A life long Mac user and Apple enthusiast, Yoni Heisler has been writing about Apple and the tech industry at large for over 6 years. His writing has appeared in Edible Apple, Network World, MacLife, Macworld UK, and most recently, TUAW. When not writing about and analyzing the latest happenings with Apple, Yoni enjoys catching Improv shows in Chicago, playing soccer, and cultivating new TV show addictions, the most recent examples being The Walking Dead and Broad City.
InsideEVs 02 July, 2021 - 11:39am
Posted on EVANNEX on July 01, 2021 by Charles Morris
Tesla stock's rocket-fueled rise has stalled of late—at this writing, it's in the high $600 range, far below the all-time high of $880 that it saw in January. The main reason seems to be a feeling that the California carmaker isn't going to be alone in the EV game for much longer—legacy automakers such as VW, GM and Ford have exciting new vehicles in the pipeline, and they're investing serious money in battery plants and new production capacity.
For the first time, Tesla will be facing serious competition, and there's no denying that this will be a challenge. However, it doesn't mean that the party's over for TSLA stock—far from it. As many have noted, Tesla is "more than just a car company," and its stock price isn't tied to the dynamics of the auto industry.
As I argued in a March article, Tesla's most important product is not vehicles, batteries, solar panels or even Robotaxis. The real product, which it continues to crank out at a dizzying pace, is disruptive ideas. As long as the pipeline of innovation keeps flowing, Tesla will keep growing, and TSLA should keep advancing.
As many a pundit has proclaimed, only a fool would bet against Elon Musk and Tesla—a Motley Fool, perhaps. Trevor Jennewine, writing in that august stock-market publication, recently offered three reasons why TSLA should continue to be an excellent investment over the next decade.
First, Tesla relentlessly pursues efficiency gains. In 2017, it introduced the 2170 battery cell, boosting energy capacity by 50%, with a commensurate decrease in costs. In 2019, Tesla brought Gigafactory Shanghai into service, slashing its shipping costs and delivering massive savings. In 2020, Tesla broke ground on two new Gigafactories, in Germany and Texas.
Once the new plants come on line, which is expected to happen this year, they will deliver efficiency gains in several ways. Not only will Tesla save on delivery costs for European-bound vehicles, but it will be implementing a whole raft of new, more efficient manufacturing processes at both factories.
Tesla's obsession with efficiency is no quixotic quest—it has delivered substantial cost savings. As Jennewine reports, "Since 2017, [Tesla's] average cost per vehicle dropped 55% ($84,000 to $38,000) and Tesla achieved an industry-leading operating margin of 6.3% in 2020." (So much for the naysayers who falsely claim that Tesla "loses money on every car it sells").
Tesla's second big advantage is closely tied to its first—the company continually innovates in every sphere of its operations, and these innovations not only save costs, they lead to better products, keeping customers happy and keeping Tesla a step or two ahead of any potential competitors.
Tesla's battery innovations have given it the lowest costs in the industry—according to Jennewine, even the highest estimates put Tesla's battery costs at $187 per kilowatt-hour, 10% cheaper than the closest competitor and 24% cheaper than the industry average. Lower battery costs enable an automaker to reduce the price and/or increase the range of its vehicles.
Tesla is doing both—its EVs offer the longest ranges on the market, and while the current chip shortage, coupled with high demand, has recently led to price increases, the long-term price trend is surely downward. Last October, Elon Musk predicted that Tesla would be able to field a $25,000 car within three years.
The third reason Jennewine (along with many others) believes that TSLA stock will continue to soar is the company's lead in artificial intelligence and self-driving technology. Switching from gas to electric drive will be a major technological transformation.
Switching to autonomous vehicles will be a much bigger deal—it will trigger one of the greatest societal shifts in human history, analogous to the adoption of steam engines, computers, or the automobile itself. The potential income for the companies that enable this transition is incalculable, and Tesla is in position to lead the revolution.
Research from Ark Invest indicates that autonomous ride-hailing platforms could generate $1.2 trillion in annual profits by 2030, and that an automaker selling autonomous EVs could earn a tidy $250 billion each year. Tesla has a finger in both pies, and several advantages over other players in the space.
Tesla has over a million vehicles on the road, and their cameras are capturing video data as you read this—over 3 billion miles' worth as of February 2020. The data libraries of Alphabet's Waymo and other potential competitors are minuscule by comparison.
Tesla uses supercomputers to train the neural nets that enable its Autopilot system, and it recently unveiled a new machine that it says is the fifth most powerful in the world. An even more powerful processor, to be called Dojo, is slated to go into service by the end of this year. Elon Musk says Dojo will be an "order of magnitude" more efficient than existing supercomputers (there's that efficiency obsession again).
Yes, TSLA stock is expensive, at a recent price/earnings ratio of almost 700 (though it has been much higher), but the company's ethos of efficiency, its endless innovation, and its leading position in autonomous driving technology should make it one of the big winners in the coming clean-tech boom.
Read The Following Related Tesla Articles: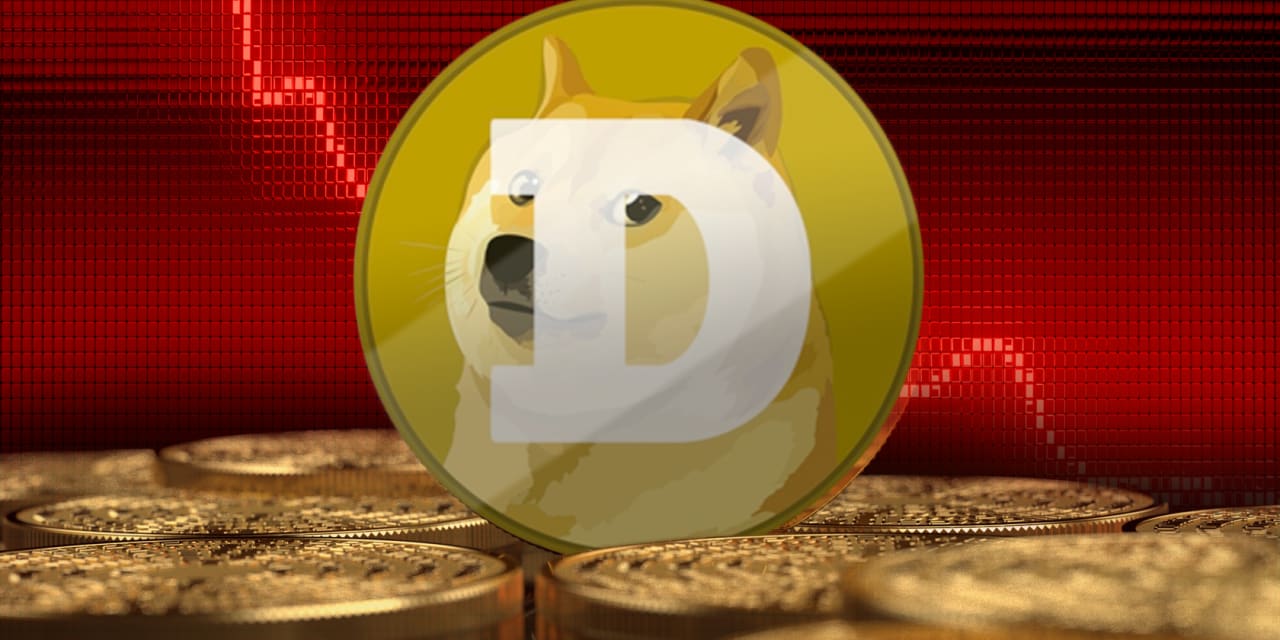 MarketWatch 02 July, 2021 - 11:39am
Dogecoin, which was created back in 2013, has spawned a host of copycats and offshoot assets that are mostly influenced by social-media mentions and not necessarily by fundamentals. Dogecoin was originated as a lighthearted coin in the midst of a flurry of digital assets aiming to be alternatives to bitcoin.
Musk's comments on Thursday delivered a slight nudge to dogecoin but the virtual currency has mostly been trading under pressure since hitting a peak in early May at 74.07 cents.
At last check, dogecoin was changing hands at 24.6 cents on CoinDesk, up 1.4%, but it was up nearly 5,100% since Musk started issuing missives about doge earlier this year.
Meanwhile, Baby Doge Coin, described on its website as a "new crypto birthed by fans & members of the Doge Coin online community,' was the real winner in the Musk tweets. The meme-of-a-meme crypto was created about a month ago, according to its website and was trading under $0.00000001.
It is unclear if Musk was specifically referencing Baby Doge in his tweet or parodying the popular children's song Baby Shark made by a South Korean company called Pinkfong!. 
Musk's social-media messages over the past year have had outsize influence on the prices of dogecoin and bitcoin and he's at least partly blamed for the slump in bitcoin and the broader crypto complex in the last two monhs. An article in May in The Wall Street Journal described him as bitcoin's biggest influencer.
However, some were questioning whether he was losing his mojo with his latest social-media messages.
The current downturn in crypto has morphed into a narrative about the migration of bitcoin miners out of China after the country has banned crypto activity in the People's Republic.
Robinhood Markets has officially filed for an initial public offering that will be one of the more hotly anticipated of the coming months, but one of the most intriguing elements of the its public documents, made public on Thursday, was its dependence on dogecoin.
Mark DeCambre is MarketWatch's markets editor. He is based in New York. Follow him on Twitter @mdecambre.
Yahoo Finance 02 July, 2021 - 11:39am
The South African entrepreneur playfully tweeted "Baby Doge, doo, doo, doo, doo, doo" – a doff of the cap to the popular 'Baby Shark' children's song – and the meme coin that was launched as joke suddenly jumped more than nine per cent.
Williamson's team managed to get the balloon high enough in the stratosphere to see the curvature of the Earth.
Created by Australian entrepreneur Jackson Palmer and software engineer Billy Markus in 2013, Dogecoin was initially designed as a joke. At the time, Palmer ironically tweeted that Dogecoin would be "the next big thing" but later admitted he had no comprehension the coin would go on to cause shockwaves in 2021.
In January, community members of a Reddit sub called 'wallstreetbets' pumped stocks of the US gaming merchandise retailer GameStop following a comment from Citron Research which said its value would fall.
Soon after the GameStop incident, r/wallstreetbets rapidly grew by 1.5 million users overnight before members decided to turn their attention to the little-known Dogecoin.
Their actions then pumped Doge by 142 per cent in the space of 24 hours before a handful of influencers and celebrities jumped on the bandwagon – including the self-proclaimed 'Dogefather' Elon Musk – and its outrageous rise continued beyond 200 per cent.
Musk recently admitted he was working with Dogecoin developers in order to "improve system transaction efficiency", adding that he was worried about a "massive increase" in coal and carbon-intensive energy to generate the electricity needed to mine Bitcoin. He also reversed a decision to accept Bitcoin as a payment method for Tesla vehicles – a u-turn which saw the price of Bitcoin plummet.
Gary Lachance, an early dogecoin backer and founder of the Decentralized Dance Party, is giving away 1 million doge to seed his latest venture.
Robinhood Markets has officially filed for an initial public offering that will be one of the more hotly anticipated of the coming months, but one of the most intriguing elements of the its public documents, made public on Thursday, was its dependence on dogecoin.
The changes would be implemented gradually over multiple software releases.
Growing uncertainty surrounding the extent of China's crackdown had largely contributed to a steep decline in demand for the flagship crypto.
Chris Paul will play in his first NBA Finals after an eventful postseason.
Trading in EtherLite, a hard fork of Ethereum, is set to begin on July 1 based on the project's roadmap.
Along with his donation, Jake Paul opined, "imagine a rookie in the NBA had to start a GoFundMe to play."
It's been a bearish start to the day. Dogecoin would need to move back through the day's pivot level to avoid another day in the red.
WTI and Brent crude oil are rallying on the expected OPEC+ Production Hikes because some traders had expected a bigger output rise in August.
Author Robert Kiyosaki joined Yahoo Finance Live to discuss why he believes a market crash is coming as well as his outlook for bitcoin and other stores of value.
Toronto FC forward Ayo Akinola has switched his affiliation from the USMNT to Canada and could debut for his new nation in the Concacaf Gold Cup.
"Despite there being a sign in the recent bear market that investors are scared off, we don't see massive outflow from institutional users," one crypto exchange executive said.
Bitcoin's second-quarter decline looks like a technical pullback, one observer said.
The Rams have top-end talent, a veteran quarterback and good depth at most positions, giving them a great roster overall.
Facebook Gaming currently has more than 25 games including "Roller Coaster Tycoon Touch" by Atari, and "Lego Legacy Heroes Unboxed" and "Dragon Mania Legends" by Gameloft. With the Ubisoft tie-up, Facebook said its users will now have access to titles including "Hungry Shark Evolution", "Hungry Dragon" and the blockbuster "Assassin's Creed" franchise.
Facebook (NASDAQ: FB) joined the other tech giants in the four-comma club on Monday. The social media giant temporarily topped $1 trillion in market value, rising 4.2% after the District Court for the District of Columbia threw out an antitrust suit filed by the Federal Trade Commission (FTC) and more than 40 states. The decision alleviates Facebook's biggest risk -- that it could be broken up or face stricter regulations, for now.
The move signals that the chip shortage will hamstring the industry well beyond the second quarter, a period that some auto executives had said would mark the worst of the supply problem.
Gadgets 360 02 July, 2021 - 12:43am
Elon Musk's tweets continue to have an irrational impact on Dogecoin prices
Dogecoin price rallied briefly after an Elon Musk tweet, again. The Tesla and SpaceX CEO once again tweeted a joke where he worked in Dogecoin, and predictably, prices went up for a little while. Musk tweeted the popular kid's song Baby Shark (by South Korean company Pinkfong) but instead of Baby Shark, he wrote Baby Doge. Apparently that was good enough for his fans, who helped the meme currency recover briefly from its downward spiral.
Shortly after Musk's tweet on Thursday, Dogecoin surpassed the psychological barrier of $0.25 (roughly Rs. 18.69). It has stabilised since and was trading at $0.24 (roughly Rs. 17.94) Friday morning IST, according to CoinDesk. The Dogecoin price in India currently stands at Rs. 18.9, with a 24-hour change of -1.9 percent, in line with the overall trend in the cryptocurrency market prices.
The 'Baby Shark' song became a huge hit on YouTube in November last year. Musk appeared to have used the song's popularity to reach a wider audience and push the meme currency's brief rally.
Baby Doge, a Dogecoin spinoff, saw a meteoric rise over the past 24 hours, gaining more than 120 per cent in value, according to CoinMarketCap. Bitcoin's value continued to go south, losing 3.5 per cent in the past 24 hours, CoinDesk data showed.
Musk has raised concerns about Bitcoin driving up the use of fossil fuels for mining and trading. In a U-turn, his electric vehicle-making company Tesla said it would not accept the world's largest cryptocurrency as payments, after announcing that it would do so. Of late, Musk has appeared to show more faith in Dogecoin, and his commercial space exploration company SpaceX is set to put "a literal Dogecoin on the literal Moon."
His latest tweet about Dogecoin has been received well by many of his over 57 million followers.
ahahahaha you are crazy man pic.twitter.com/tmoL5GVxaW
Another user called Musk the "Daddy Shark".
Elon the daddy shark...he really wants to tweet about $AMC pic.twitter.com/EkmTm2BdqQ
A third user posted an edited photograph of Musk and the "Doge" in spacesuits and ready for the Moon mission.
???????? pic.twitter.com/m0wi9GooYn
One other user just had fun seeing Musk tweet again about Dogecoin and fuel its rise.
Wow! #doge #dogearmy #DogecoinRise pic.twitter.com/lyPLAVDKLp
Musk, a self-proclaimed 'Dogefather', has often pumped Doge prices by sharing references and memes about the dog-themed crypto on his Twitter account.
For the latest tech news and reviews, follow Gadgets 360 on Twitter, Facebook, and Google News. For the latest videos on gadgets and tech, subscribe to our YouTube channel.