By Jazz Tangcay
Documentary filmmaker Morgan Neville paints a raw and personal image of Anthony Bourdain in his new documentary, "Roadrunner: A Film About Anthony Bourdain" which opens in theaters on Friday.
In the documentary, editors Eileen Meyer and Aaron Wickenden weave in narration by Bourdain pulled from audio clips, show outtakes, video interviews and audiobooks. However, when asked how he obtained some quotes from Bourdain in a new article in the New Yorker, Neville tells writer Helen Rosner that he used artificial intelligence to create three quotes with Bourdain's voice. "I created an AI model of his voice," Neville says. He goes on to say, "If you watch the film, other than that line you mentioned, you probably don't know what the other lines are that were spoken by the AI, and you're not going to know."
Speaking to GQ magazine, Neville explained the process to Brett Martin. He said, "We fed more than ten hours of Tony's voice into an AI model. The bigger the quantity, the better the result. We worked with four companies before settling on the best. We also had to figure out the best tone of Tony's voice: His speaking voice versus his "narrator" voice, which itself changed dramatically of over the years. The narrator voice got very performative and sing-songy in the "No Reservation" years. I checked, you know, with his widow and his literary executor, just to make sure people were cool with that. And they were like, Tony would have been cool with that. I wasn't putting words into his mouth. I was just trying to make them come alive."
Washington Post reporter Dave Weigel tweeted the interview excerpt and simply commented, "Thanks I hate it."
Critic Sean Burns wrote, "When I wrote my review I was not aware that the filmmakers had used an A.I. to deepfake Bourdain's voice for portions of the narration. I feel like this tells you all you need to know about the ethics of the people behind this project."
Documentary filmmaker Lindsay Beyerstein questioned whether the use of AI was disclosed to viewers, tweeting, "There's no real problem with using AI in the place of a soundalike actor in a non-fiction film, as long as the creators are upfront about what they're doing." Another user replied to her saying, "Regardless, I'm pretty sure that would make Anthony Bourdain puke."
Author Issac Butler wrote, "This feels unethical to me maybe?"
Other twitter commenters called his use of AI fraudulent and manipulative.
Neville adds in the New Yorker article, "We can have a documentary-ethics panel about it later."
Variety has reached out to Neville and Focus Features, the studio behind the film, for comment.
what do you call the audio version of the uncanny valley but for dead people https://t.co/ucKBL8Buxm
— scott (@orlyck) July 15, 2021
I fully acknowledge that my heebie-jeebies do not constitute a stance, but what if Bourdain himself *wouldn't* have approved? What if he intended the lines to stay in the medium of writing?
— Katie Kvell (@KatieKvell) July 15, 2021
This feels…strange? Questionable? https://t.co/SJCu8qk2tZ
— Heidi N. Moore (@moorehn) July 15, 2021
If they had to create an Anthony Bourdain AI (they didn't, gross idea) why didn't they get it to say this in his voice too pic.twitter.com/nTIEzpvGVU
— Alistair Ryder (@YesitsAlistair) July 15, 2021
the Anthony Bourdain voice AI thing is so upsetting
— calm jawn (@small_jawn) July 15, 2021
I feel like using AI to make Anthony Bourdain's voice appear to say something that he never actually said is not ONLY wildly unethical but also something that Anthony Bourdain would absofuckinglutely hate on account of it being ghoulish and awful. https://t.co/2VdFwss4NI
— Howard Ashman stan account (@MichaelChu7) July 15, 2021
Read full article at Variety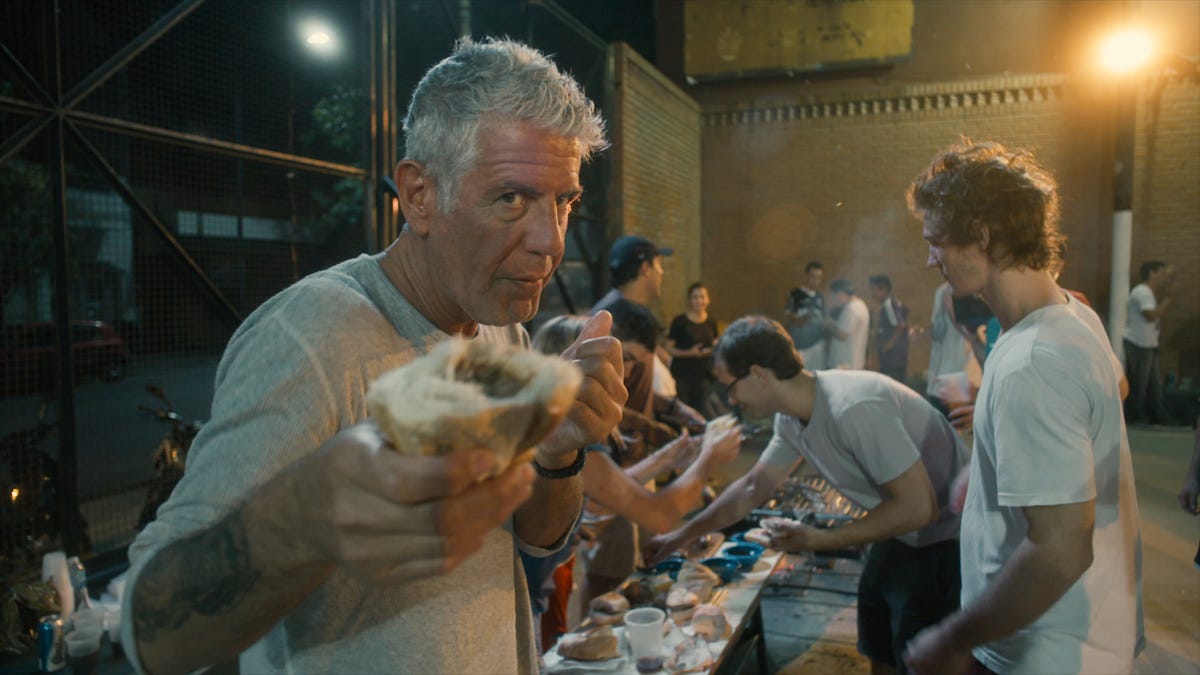 The A.V. Club 15 July, 2021 - 04:32pm
To be clear, Roadrunner is very far from an advertisement for suicide. That would be horribly irresponsible, and also inconsistent with the style of its director, Oscar winner Morgan Neville. As he proved with his last feature-length biographical documentary, the Mr. Rogers film Won't You Be My Neighbor?, Neville excels at tearjerkers. And yes, the end of this movie is quite moving, as Bourdain's friends, colleagues, and family members attempt to articulate the bewildering void Bourdain left behind. (Perhaps saddest of all, Eric Riper, Bourdain's friend and fellow chef who discovered his body while they were filming on location in France, simply says, "I don't talk about that day.") But the majority of the film doesn't wallow in sentimentality. How could it, when Bourdain is narrating his own life?
That is, until we get to the last year of Bourdain's life, when he was caught up in a whirlwind romance with actress and director Asia Argento that led him to become an outspoken advocate for #MeToo. The longtime agents, producers, and crew members interviewed in the film clearly do not like Argento, and Neville puts a much sunnier spin on Bourdain's domestic life with his second wife, Ottavia Busia, than on his unconventional relationship with the adventurous actor. He isn't so reckless as to blame her outright for his death, but there's a palpable change in tone when she enters the narrative. And while Argento is indeed a complicated person, the fact that she does not appear in the film to defend herself—nor do any of the other interviewees defend her—results in a biased indulgence in the sexist trope of the femme fatale, especially considering the note of raw, unresolved pain on which this film ends.
This may be due to a lack of source material. Why, after all, would there be footage of Bourdain from when he was a mere line cook, especially back in the '80s and '90s, before every moment of everyone's life was constantly being documented? But it does feel unbalanced for a film that purports to lift the curtain on a beloved public figure to treat that figure as if he emerged fully formed in the late '90s like a pithy Athena from the head of Zeus. Many of the people who watch Roadrunner will do so out of their affection for Bourdain, a pop saint of wanderers and troubled souls everywhere. And in terms of celebrating his life by letting us soak in his impassioned, inspiring presence one more time, the film is successful. But viewers should take one more note from the man himself and not fall for easy scapegoats and trite narratives, whether they concern countries or a person who devoted his life to exploring them.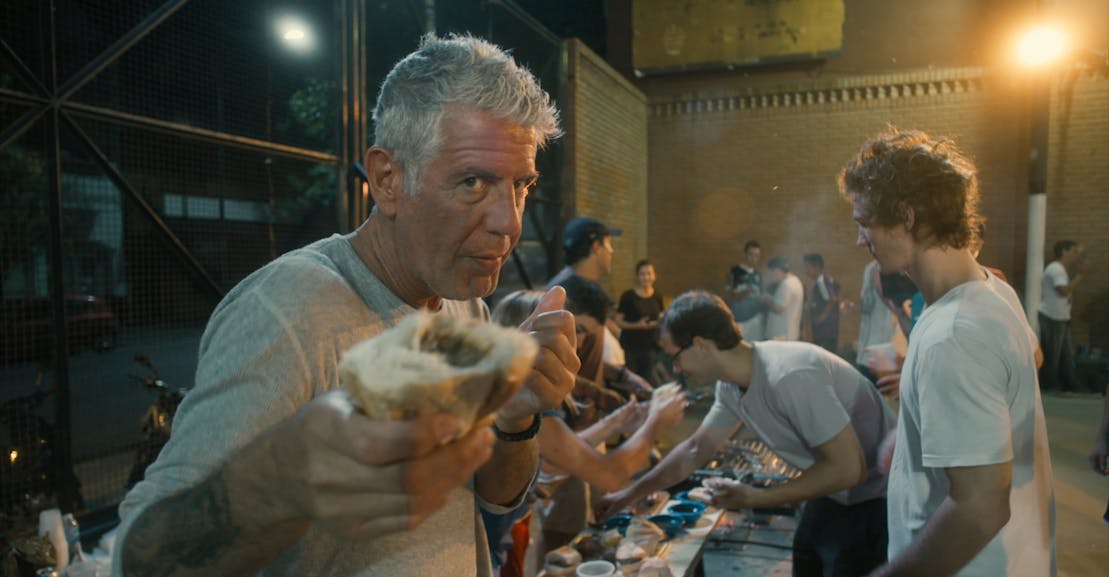 The New Republic 15 July, 2021 - 04:32pm
"He committed suicide, the fucking asshole," the artist John Lurie says in an interview three minutes in, setting the tone for all that follows. Like so many fans, I found Bourdain's death three years ago shattering, but it didn't occur to me to reconsider the demands and difficulties of his life. I deeply admired his shows, his books, his public persona, the lifestyle and values he modeled, his candor in interviews, and of course his taste in food—everything about him seemed aspirational. Without questioning Bourdain's goodness or greatness, Roadrunner confronts us with the human costs of a remarkable public life, especially one powered by personal demons. The qualities that made Bourdain so relatable to so many—the addictive personality, the world-weariness, the charisma masking shyness, the snark masking empathy and sensitivity, the total contempt for phoniness, and the anxiety that he himself might be a phony—all seem to foreshadow his fate. Neville also offers glimpses of a Bourdain we've never seen before—a very ordinary, loving, all-American paterfamilias grilling poolside, at peace with himself—and captures the toll that the work of showing us the world took on him.
Drawing on vast troves of footage produced over nearly two decades of TV appearances, Neville is able to make Bourdain a posthumous narrator of his own life, accompanied by interviewees such as Bourdain's second wife, Ottavia Busia—the mother of his only child—as well as multiple former members of his TV crew and friends like chefs David Chang and Eric Ripert and artists Lurie and David Choe. Bourdain himself was fixated on death and joked frequently about his own, which might be one reason why none of Neville's interviewees seem entirely blindsided by how things turned out, even as they remain traumatized by it. Choe says Bourdain "disappointed" him, while a former producer recounts telling his 7-year-old son in the aftermath that he can always talk to someone if he's in crisis. Philippe Lajaunie, the restaurateur who accompanied Bourdain on his first trip to Vietnam—the country that seemed to make him happiest—decides to relocate there permanently in the wake of the suicide. In the face of the unbearable, Neville gives these people room to voice affection, grief, and anger.
The day Bourdain died, I wrote that he "had the life many of us dream about," but the truth is that traveling the world 250 days of the year when you have a wife and a young kid at home in New York is a punishing schedule, no matter how much foie gras you get to taste along the way. Bourdain was in his early forties when he became an overnight celebrity after publishing Kitchen Confidential, his bestselling tell-all memoir of the restaurant industry, in 2000. By that point, he had kicked his substance addictions, become a modestly successful if undistinguished executive chef at Les Halles, and been married to his high school sweetheart for 15 years. Appearing on Oprah and Letterman utterly remade his life: Within five years, Bourdain had become a TV star, quit the restaurant industry, and ended his marriage. His brother Christopher describes him as reborn in the wake of Kitchen Confidential's success. Multiple interviewees characterize Bourdain as obsessive; in the absence of heroin or cocaine, he would throw himself completely into figuring out how to be an on-screen personality, or immersing himself in the different cultures he encountered, or learning jiujitsu in his late fifties. This seems to have been his approach to celebrity itself, and for all the people he inspired and all he learned about the world along the way, it's not at all clear that wealth and fame were in his own best interest.
The high point of Bourdain's life seems to have been his second marriage, to Busia, during which his daughter, Ariane, now 14, was born. Ariane didn't speak for the documentary, but we do see some footage of her at a much younger age, playing with her adoring father. This, Roadrunner suggests, was one life Bourdain could have chosen. But the filming schedule for his travel shows meant that he frequently wasn't present, and the marriage broke down, albeit on what Busia says were amicable terms. One friend speculates that the marriage to Busia was a healthy digression from the dangerous trajectory of most of Bourdain's life, and that things really started to go wrong following their divorce.
The final act of the film, and of Bourdain's life, centers around his relationship with the Italian actress and director Asia Argento. Argento is not interviewed, though several of Bourdain's friends and former colleagues talk about the couple—none of them fondly. By all of their accounts, Bourdain threw himself into his relationship with Argento with the same obsessiveness he brought to everything he did. His former crew members recall an episode filmed in Hong Kong in 2018 that he invited Argento to guest direct; she brought an avant-garde filmmaker's sensibility to Parts Unknown that clashed with the established formula. When a loyal longtime cameraman disagreed with one of Argento's decisions, Bourdain fired him immediately, leaving the rest of his crew demoralized; this was not the person they thought they were working for. Bourdain also became an outspoken public advocate of the #MeToo movement—Argento was among Harvey Weinstein's accusers—and one of his crew members claims that he cut off many people in his life over old remarks they had made that clashed with his new, crusading persona.
One detail this mostly unflinching film does not address is The New York Times' report in August 2018, two months after Bourdain's death, that in 2017 Argento had paid $380,000 to a former co-star who had accused her of sexually assaulting him in 2013 when he was a minor. (In a statement, Argento acknowledged the payment but called the assault allegation "absolutely false.") According to the Times, "Bourdain helped Ms. Argento navigate the matter," and the two shared a lawyer. Neville does not reference this story at all, much less attempt to investigate how much Bourdain knew or how he reconciled it with his very public advocacy against sexual misconduct.
In an already emotionally fraught film, the scenes about Argento are especially trying. They hint at the tensions surrounding an unresolved and bitterly contested scandal, one Bourdain himself will never be able to account for. But for whatever reason, Neville does not reckon with one of the larger mysteries Bourdain left behind, which makes Roadrunner's coverage of the Argento relationship uncomfortable to watch—and to write about.
Everyone in the documentary agrees that Bourdain struggled with mental health problems throughout his life, long before he was famous. In footage taken from an episode he recorded on the beaches of Provincetown, Massachusetts, where he spent summers as a youth, Bourdain wistfully acknowledges that drugs and hedonism were a way to rebel against his perfectly decent, boring middle-class childhood with a loving family—something the film repeatedly emphasizes that he wished he could have recreated for his own child. According to his longtime producers, at one point he approached them with a desperate desire to walk away from Parts Unknown and fully commit to his loved ones, and they told him to go for it—but instead he sat still, paralyzed with fear, unable or unwilling to walk away from the adventure his work had become.
One crew member recalls that toward the end of his life, Bourdain remarked that in his ideal version of the show, he himself would be invisible, and viewers would experience the world through his eyes without seeing or hearing him at all. That would not likely have been the show that most of his fans would want to watch; we wanted to see the world, yes, but we also wanted to see it specifically with Bourdain as our guide. That he saw himself as extraneous to the experience is as tragic as it is revealing.
I won't spoil the note on which Roadrunner ends, except to say that Neville and his interviewees have thought carefully about how Bourdain himself would have wanted to be remembered—not as an icon or a role model or a martyr to his own psychic torment but as an obnoxious, irreverent, and painfully human figure. Bourdain, we're reminded, took us not only to Michelin-starred restaurants in Tokyo and Paris but to an active war zone in Lebanon, to meet with an amputee survivor of the U.S. bombing campaign in Laos, and to earthquake-ravaged Haiti—and in doing so, he forced comfortable viewers to witness human suffering. With Roadrunner, Neville forces us to witness a different kind of human suffering—that of Bourdain himself, and that of everyone he left behind.
David Klion is an editor at Jewish Currents and a writer for The Nation and other publications.
Yahoo News 15 July, 2021 - 04:32pm
"Here's a little preemptive truth telling: There's no happy ending." That's Anthony Bourdain, sounding cheerful, unmistakable and eerily prophetic. Lifted from a cornucopia of footage, his voice welcomes us into the opening scenes of "Roadrunner," a restless and anguished new documentary that proves to be as much about his death as it is about his life.
You can understand why. Arriving three years after Bourdain, the celebrated chef, writer and world traveler, died by suicide at the age of 61, the movie doesn't just politely explore or recount or even eulogize. As directed by Morgan Neville ("20 Feet From Stardom," "Won't You Be My Neighbor?"), it scratches, seethes, grapples and sometimes flails, as if it were desperate to make sense of an outcome that still feels raw and unresolved. That's a testament to the millions of people all over the world who watched, read, followed and loved Bourdain, and who remain not just shattered but mystified by his death, by the absence of someone who always seemed so insistently, voraciously alive.
Those who knew Bourdain best, several of whom are interviewed here, have their own questions as well as answers. Neville introduces them in a literal setting-the-table montage — a fitting introduction for a celebrity profile that sometimes plays like a collective seance, with a touch of the too-late intervention. There's as much exasperation and fury as there is affection in these remembrances ("He committed suicide, the f—ing a—hole!" one interviewee sputters at the outset), offered up with the unspoken acknowledgment that Bourdain himself wouldn't have wanted anything less than an honest response.
Bourdain's own savage honesty and self-lacerating wit helped propel him to unexpected literary stardom with the 2000 publication of his dishy, revelatory and wildly successful memoir "Kitchen Confidential." In offering up an unauthorized, bracingly unsanitized look inside the world of restaurant kitchens, Bourdain, then a 44-year-old chef at the Manhattan brasserie Les Halles, may have bitten the hand that fed him (and fed everyone). But he also revealed a remarkable talent for writing, storytelling and, perhaps most important, reinventing himself. He was the lowly disgruntled cook who became the bestselling bad-boy whistleblower who became the world-traveling TV personality who became something greater and more unpredictable still: an epicure of the people, a debunker of cultural myths and assumptions, the consummate global outsider-as-insider.
Neville and his editors, Eileen Meyer and Aaron Wickenden, carve and shape the footage with a hurtling momentum that echoes the one-thing-after-another rush of Bourdain's own career. Their story begins, fittingly, right around the moment when people started following him around with cameras. It's tremendously moving to see the young Tony Bourdain, tall and lanky as ever but darker of hair and greener of spirit, hanging around his kitchen and an apartment whose rent he could barely cover at the time. (He shared it with Nancy, his first wife, to whom he was married for 20 years.) And it's marvelous to relive the early days of his success, all the more so because the movie doesn't simply leap from milestone to milestone; at every turn, it uses his achievements to cut its way back to the heart of who Bourdain was.
And who was he? A chain smoker, a brilliant writer, a recovering drug addict, an incurable romantic. Also not the easiest of colleagues, and not a natural TV host at first, per his longtime producers Lydia Tenaglia and Christopher Collins, who began working with Bourdain on the Food Network series "A Cook's Tour." But before long the paradoxical key to his onscreen persona emerged: He had the rare ability to magnetize the camera's attention and then displace that attention onto the people he was meeting, the food he was eating, the places he was exploring. He was both a strong, forceful personality and an admirably self-effacing one, an authority renowned for his humility and approachability. And his growing curiosity about the world — before working in TV, he hadn't traveled much — dovetailed with a heightened awareness of its injustices and the specific role of food in that political-cultural ecosystem.
The show itself became the catalyst and the conduit for Bourdain's own soul searching, undertaken with loyal behind-the-scenes collaborators — including Tom Vitale, Morgan Fallon, Helen Cho and Michael Steed — who speak with warmth and candor about Bourdain's perfectionism, his controlling streak and his irascible brilliance. They talk about his intense cinephilia, the way he fashioned certain episodes of his shows, including "No Reservations" and "Parts Unknown," as tributes to classic movies. ("Apocalypse Now" looms heavily over an early "A Cook's Tour" episode devoted to Vietnam, one of Bourdain's favorite destinations.) Elsewhere, the documentary lingers on a few episodes — a 2006 shoot in Lebanon that coincided with conflict between Israel and Hezbollah, a 2011 trip to post-earthquake Haiti — that led Bourdain to a profound reconsideration of how his work could either reinforce or challenge the status quo.
That creative evolution transpired alongside similar convulsions in his personal life. His first marriage ended, and in 2007 he wed Ottavia Busia, with whom he had a daughter — a life-altering experience for anyone, but especially for Bourdain, who never thought he'd be a father. Bourdain's personal and professional evolution is charted with acuity and insight. Well-known chefs like Éric Ripert and David Chang describe the joys and frustrations of his friendship. We get a sense of someone whose exhilarating highs — an extraordinary new career, a beautiful new family — were answered by crushing lows, including the challenges of being on the road for more than 200 days a year. If "Roadrunner" has a thesis, it's that everything about Bourdain, from his outsized success to his fear of mediocrity, was rooted in serially addictive patterns. Drugs or no drugs, he had a way of turning every new interest into an all-consuming obsession. (Busia, a mixed martial artist, recalls how intently Bourdain threw himself into Brazilian jiu-jitsu.)
After their marriage ended, the movie theorizes, Bourdain found his last and most destructive obsession: the actress and filmmaker Asia Argento, who became his romantic partner and creative collaborator (she directed the 2018 Hong Kong episode of his series "Parts Unknown"). She also became a prominent if not uncontroversial figure in the #MeToo movement, and her searing sexual-assault allegations against Harvey Weinstein galvanized Bourdain into his own ferocious, no-holds-barred activism. That activism is regarded mostly with skepticism here by his friends and colleagues, who dismiss it as the byproduct of his blind loyalty to a lover who would prove both emotionally volatile and flagrantly untrustworthy.
It was at this point, incidentally, that I found myself not entirely trusting "Roadrunner." Bourdain's advocacy may well have been motivated by love (incidentally, a lot of worthwhile advocacy is). But there's something troubling and distasteful about the way this documentary trivializes it, leaving behind a whiff of misogyny that grows more pronounced with the not-so-subtle collective insinuation that the woman Bourdain loved was effectively to blame for his death. The filmmakers would likely argue that they've insinuated no such thing; one colleague takes pains to reassert that Bourdain alone bears the responsibility for his actions. But the subtly accusatory tone of these passages speaks louder than anyone's words. So does the conspicuous absence of Argento, who isn't interviewed.
Those who are interviewed remember their friend and colleague with an intense commingling of grief and rage, best expressed by a sequence in which a mural of Bourdain is defaced by the artist David Choe, one of his longtime friends. But that anger is also its own expression of love, and the fact that it all feels so unprocessed and unfiltered is what makes this movie such a strange and sometimes troubling gift to its audience. For two hours it places Bourdain's voice alongside the voices of those who knew him, as if they were still able to converse on the same spiritual plane. There's beauty and solace in that illusion, even if the movie can't — and maybe shouldn't — begin to answer the unbearably sad question that haunts every frame.
This story originally appeared in Los Angeles Times.
There are many startling moments in "Roadrunner," Morgan Neville's rich and moving documentary about the singular culinary storyteller Anthony Bourdain, who tragically took his life at the age of 61. As Bourdain lies on her couch, cameras rolling for an episode of his show, he describes some frightening psychological urges he has. It's also an example of just how much material Neville had to work with.
Morgan Neville explains why "Roadrunner" doesn't romanticize Bourdain's death. "There's nothing romantic about it."
Stacey Silva reveals how newlywed life with Florian Sukaj is really going, plus hints at twin sister Darcey Silva's emotional engagement to Georgi Rusev during the Darcey & Stacey premiere.
Brad Pitt spent four months developing his "Almost Famous" character with writer-director Cameron Crowe.
The first-time Emmy nominee says she's surprised the Disney+ show has become one of TV's biggest hits
The Cannes-acclaimed actor explained how he accepted the demanding role even though he didn't fully understand it at first.
Bloody Marys, breakfast burritos, eggs Benedict: These delicious drinks and dishes are just a sampling of brunch must-haves. But thanks to Gordon Ramsay and his now-viral TikTok, we're adding two more b's to the list: berries and brie. Topped on a slice of butter-drenched and -toasted sourdough bread, may we present to you a brunch […]
The Forum's rock-christened return has been put on pause. The Inglewood arena was set to reopen with a Foo Fighters show on Saturday, but the band announced today that a COVID-19 case within their organization has led to the postponement of their show. "Despite having made every effort to follow CDC Covid protocols and local […]
Spears also asked the Los Angeles court to charge her father, Jamie Spears, with conservatorship abuse.
The "Loki" finale just changed everything and should have ripple effects across the MCU. It's not clear when, or if, things will return to normal.
Social media users are sharing a photo of a tortoise said to be Jonathan, the oldest, known terrestrial image. The image shows another tortoise.
Though he spent most of the year traveling, Bourdain "loved being a father" to daughter Ariane.
As the group gears up for its 40th-anniversary celebration in December, take a look at the grand finale of its 30th-anniversary party where a Metallica super jam broke out
No parties will be thrown at 1 Patriot Pl.
A dramatic photo shared on Facebook shows a green streak of light from a meteor alongside a volcano. The image is real.
Hate crime investigators working through 'large number of reports from across the country', says chief constable leading probe