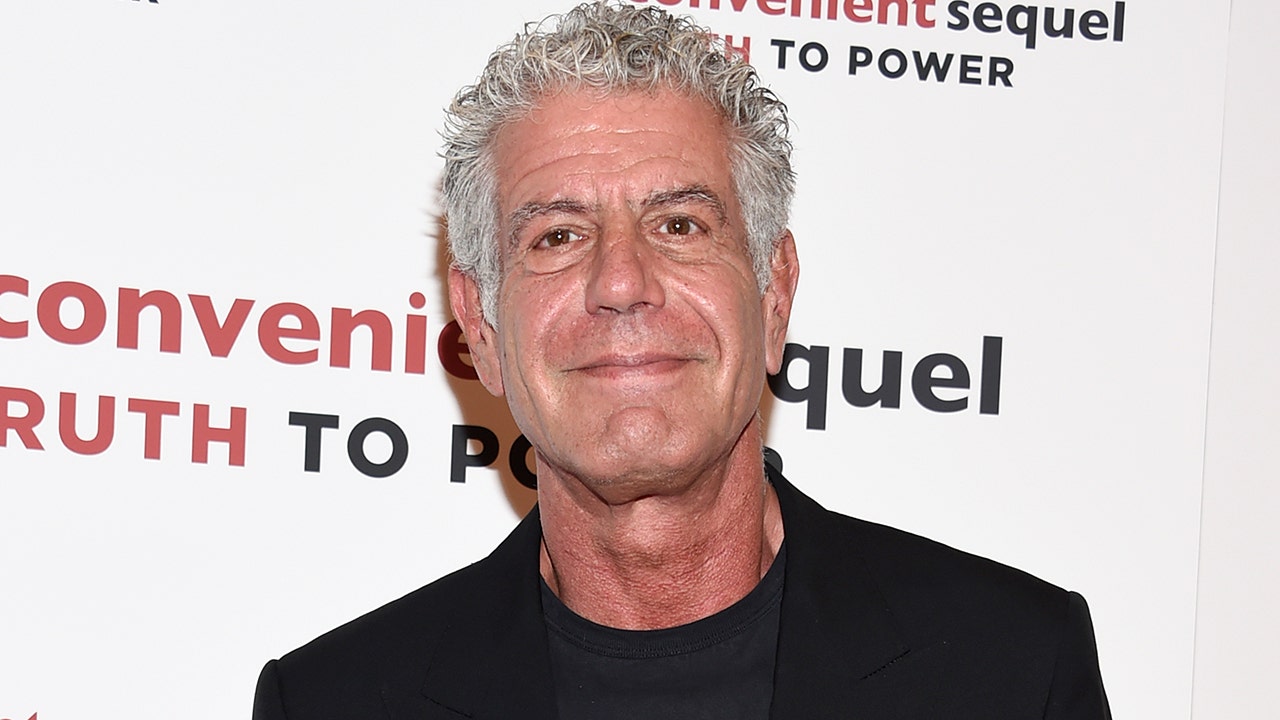 This material may not be published, broadcast, rewritten, or redistributed. ©2021 FOX News Network, LLC. All rights reserved. Quotes displayed in real-time or delayed by at least 15 minutes. Market data provided by Factset. Powered and implemented by FactSet Digital Solutions. Legal Statement. Mutual Fund and ETF data provided by Refinitiv Lipper.
Fox News Flash top entertainment and celebrity headlines are here. Check out what's clicking today in entertainment.
The revelation that a documentary filmmaker used voice-cloning software to make the late chef Anthony Bourdain say words he never spoke has drawn criticism amid ethical concerns about use of the powerful technology.
The movie "Roadrunner: A Film About Anthony Bourdain" appeared in cinemas Friday and mostly features real footage of the beloved celebrity chef and globe-trotting television host before he died in 2018. But its director, Morgan Neville, told The New Yorker that a snippet of dialogue was created using artificial intelligence technology.
That's renewed a debate about the future of voice-cloning technology, not just in the entertainment world but in politics and a fast-growing commercial sector dedicated to transforming text into realistic-sounding human speech.
"Unapproved voice cloning is a slippery slope," said Andrew Mason, the founder and CEO of voice generator Descript, in a blog post Friday. "As soon as you get into a world where you're making subjective judgment calls about whether specific cases can be ethical, it won't be long before anything goes."
Before this week, most of the public controversy around such technologies focused on the creation of hard-to-detect deepfakes using simulated audio and/or video and their potential to fuel misinformation and political conflict.
But Mason, who previously founded and led Groupon, said in an interview that Descript has repeatedly rejected requests to bring back a voice, including from "people who have lost someone and are grieving."
"It's not even so much that we want to pass judgment," he said. "We're just saying you have to have some bright lines in what's OK and what's not."
Angry and uncomfortable reactions to the voice cloning in the Bourdain case reflect expectations and issues of disclosure and consent, said Sam Gregory, program director at Witness, a nonprofit working on using video technology for human rights. Obtaining consent and disclosing the technowizardry at work would have been appropriate, he said. Instead, viewers were stunned — first by the fact of the audio fakery, then by the director's seeming dismissal of any ethical questions — and expressed their displeasure online.
"It touches also on our fears of death and ideas about the way people could take control of our digital likeness and make us say or do things without any way to stop it," Gregory said.
Neville hasn't identified what tool he used to recreate Bourdain's voice but said he used it for a few sentences that Bourdain wrote but never said aloud.
"With the blessing of his estate and literary agent we used AI technology," Neville said in a written statement. "It was a modern storytelling technique that I used in a few places where I thought it was important to make Tony's words come alive."
Neville also told GQ magazine that he got the approval of Bourdain's widow and literary executor. The chef's wife, Ottavia Busia, responded by tweet: "I certainly was NOT the one who said Tony would have been cool with that."
Although tech giants like Microsoft, Google and Amazon have dominated text-to-speech research, there are now also a number of startups like Descript that offer voice-cloning software. The uses range from talking customer service chatbots to video games and podcasting.
Many of these voice cloning companies prominently feature an ethics policy on their website that explains the terms of use. Of nearly a dozen firms contacted by The Associated Press, many said they didn't recreate Bourdain's voice and wouldn't have if asked. Others didn't respond.
"We have pretty strong polices around what can be done on our platform," said Zohaib Ahmed, founder and CEO of Resemble AI, a Toronto company that sells a custom AI voice generator service. "When you're creating a voice clone, it requires consent from whoever's voice it is."
Ahmed said the rare occasions where he's allowed some posthumous voice cloning were for academic research, including a project working with the voice of Winston Churchill, who died in 1965.
Ahmed said a more common commercial use is to edit a TV ad recorded by real voice actors and then customize it to a region by adding a local reference. It's also used to dub anime movies and other videos, by taking a voice in one language and making it speak a different language, he said.
He compared it to past innovations in the entertainment industry, from stunt actors to greenscreen technology.
Just seconds or minutes of recorded human speech can help teach an AI system to generate its own synthetic speech, though getting it to capture the clarity and rhythm of Anthony Bourdain's voice probably took a lot more training, said Rupal Patel, a professor at Northeastern University who runs another voice-generating company, VocaliD, that focuses on customer service chatbots.
"If you wanted it to speak really like him, you'd need a lot, maybe 90 minutes of good, clean data," she said. "You're building an algorithm that learns to speak like Bourdain spoke."
Neville is an acclaimed documentarian who also directed the Fred Rogers portrait "Won't You Be My Neighbor?" and the Oscar-winning "20 Feet From Stardom." He began making his latest movie in 2019, more than a year after Bourdain's death by suicide in June 2018.
This material may not be published, broadcast, rewritten, or redistributed. ©2021 FOX News Network, LLC. All rights reserved. Quotes displayed in real-time or delayed by at least 15 minutes. Market data provided by Factset. Powered and implemented by FactSet Digital Solutions. Legal Statement. Mutual Fund and ETF data provided by Refinitiv Lipper.
Read full article at Fox News
The Washington Post 17 July, 2021 - 06:00am
But the editorial decision to deepfake Bourdain's voice has come under fire from critics who have questioned the ethics behind using AI for the film, which opens in theaters Friday. Among those critics is Ottavia Bourdain, his widow, who disputed that Neville approached her about recreating her husband's voice through AI in the documentary.
"I certainly was NOT the one who said Tony would have been cool with that," she tweeted early Friday.
Neither Neville nor Focus Features, the documentary's distributor, immediately responded to requests for comment Friday. Neville emphasized to Variety on Thursday that the decision to use AI technology was made "with the blessing of his estate and literary agent."
"It was a modern storytelling technique that I used in a few places where I thought it was important to make Tony's words come alive," Neville said.
Anthony and Ottavia Bourdain married in 2007 after his first marriage, to Nancy Putkoski, ended in divorce. They had a daughter, Ariane, and the couple later separated in 2016, but they never finalized their divorce before his death. Ottavia Bourdain did not immediately return a request for comment.
The film, which comes three years after Anthony Bourdain's death, has been met with mostly positive reviews since it premiered at the Tribeca Film Festival last month. In his review for The Washington Post, Tim Carman noted that Neville's raw, very public take on Bourdain's life produced a "nervy, impressionistic film, which over the course of two hours quietly peels back the layers of an onion that sweetened almost everything it touched and left many of us with tears in our eyes."
Neville is regarded as one of Hollywood's most decorated documentary filmmakers, with "20 Feet from Stardom" winning the Academy Award for Best Documentary Feature in 2014.
As Neville combed through every book, podcast and voice-over session Bourdain had participated in, he noticed a few lines that the globe-trotting chef had wrote but was never recorded saying. Since the filmmaker wanted Bourdain's voice to be the dominant one in the film, Neville told GQ that he "had this idea to create an AI model of his voice."
After he reached out to a software company, Neville and the film's editors, Eileen Meyer and Aaron Wickenden, fed more than 10 hours of recordings featuring Bourdain into an AI model that would deepfake his voice, the filmmaker said. Otherwise known as "synthetic media," the deepfake clips created by the support of AI are so effective that it's often impossible to tell whether the content is altered or fabricated. The much-debated technology has caused tech giants such as Facebook and Twitter to put out policies addressing video and audio that regularly trick people.
Neville recounted to the New Yorker that three written quotes of Bourdain's are now in his deepfake voice in the film. One of the lines, as reported by the New Yorker, was from an email Bourdain sent to a friend before his suicide: "You are successful, and I am successful, and I'm wondering: Are you happy?"
The filmmaker claimed that he got approval from Bourdain's estate and that he "wasn't putting words into his mouth."
"If you watch the film … you probably don't know what the other lines are that were spoken by the AI, and you're not going to know," he told the New Yorker. "We can have a documentary-ethics panel about it later."
Critics did not want to wait until later, taking to social media to lambaste Neville's decision as "manipulative" and "extremely weird."
Film writer Sean Burns, who reviewed the film for WBUR, said he was unaware the film used an AI model for several of Bourdain's lines by the time his review published early Thursday.
"I feel like this tells you all you need to know about the ethics of the people behind this project," he tweeted.
David Friend, an entertainment reporter at the Canadian Press, wondered why the film did not disclose that some of the words said by Bourdain were actually from an AI model.
"We need a serious check on ethics in documentary filmmaking," he said.
While technology has regularly been used in films to bring back actors such as Carrie Fisher and Paul Walker who appeared posthumously, critics have noted that those instances did not involve someone who was the subject of a documentary. Part of the backlash to the deepfake technique in this case was because of how devastated fans were over Bourdain's death, Hollywood Reporter tech editor Carolyn Giardina told ABC News.
"This and similar uses, I think are going to continue to be a gray area for quite some time," she said.
Helen Rosner, the New Yorker staff writer who interviewed Neville, said that while she was against the deepfake voice, it did not take away from a documentary she enjoyed.
"If it had been a human voice double I think the reaction would be 'huh, ok,' but there's something truly unsettling about the idea of it coming from a computer — which is both a logical and illogical response!" she tweeted. "I think the nature of the film — structurally, topically, and tonally — tempers my knee-jerk recoil to the idea of AI line readings. I don't like it! But I don't think my dislike makes it grotesque, opportunistic, or morally wrong."
Breakfast Television 17 July, 2021 - 06:00am
NPR 17 July, 2021 - 06:00am
Anthony Bourdain was in his 40s when he got famous. A lot of people don't realize that. He'd lived a cook's life — hot, sweaty, messy, sometimes ugly — and wrote a book about it. He was still on the line when that book, Kitchen Confidential, hit the bestseller list. He found out about it by phone. He stepped away from his post, the rush, his knives and pans, to take the call, laugh, splash water on his face. There was a camera there to capture it, and the footage ended up in Roadrunner, the new documentary by Oscar winner Morgan Neville, about Bourdain's life, fame, stardom and death.
I thought I knew him a little. I was wrong. I read the books, watched the shows, saw him speak, same as you. I met him, talked with him, spent a night on the loading dock behind a restaurant in New Mexico drinking beers and passing a bowl with him and the rest of the kitchen crew after a book signing, caught a ride home with his driver while he fell asleep in the back seat, but there are a thousand people out there who can likely claim the same. The man shook a lot of hands in his time. He bent a lot of elbows. He talked and talked and talked. One of the most remarkable things about him (and this I know is true) is that none of it was an act. The person he was on your TV? That was the person he was when he went home at night (or, more likely, back to his hotel). He was curious, funny, angry, goofy and weird. He'd read a lot of books and seen a lot of movies, and all of them lived forever in his head.
I met him, talked with him, spent a night on the loading dock behind a restaurant in New Mexico drinking beers and passing a bowl with him ... but there are a thousand people out there who can likely claim the same.
Roadrunner gathers the people who knew him best — most of them, anyway (there are a couple of very notable exceptions, like Bourdain's last girlfriend, Asia Argento, and his first wife, Nancy Putkoski). Friends, partners, chefs, members of his team, his second wife, his brother. They're all there to tell their stories, to explain him — and then admit that they never could. To laud him and say how much they loved him, and then dissolve into fury at his end.
Bourdain was honest and that anger is honest, and the film doesn't look away from it. It doesn't look away from much of anything. It honors its subject by presenting him as flawed when he was flawed, exhausted when he was exhausted, cruel when he was cruel, and like any of us, he was those things sometimes. It's just that he lived his life on television.
Early on, there's a small moment that maybe means more than anything else in the entire film. It's easy to miss. A passing comment almost lost in the frenetic liftoff energy of trying to capture the beginnings of the celebrity whom Bourdain would become.
And then she says that what they — she and Collins — quickly learned was that Bourdain had no idea what he was doing. This was right after Kitchen Confidential, and he'd hardly been anywhere at that point, hardly seen anything that wasn't fryer baskets, shallots in the pan, the alley behind some NYC bistro while sucking down cigarettes and waiting for the fish delivery.
She said that everything he knew about the world beyond was borrowed. Secondhand. It came from a lifetime of consumption — books, movies, comics, lyrics. It came from dreaming about a larger world he thought he'd never have the chance to see. And that if the show (which became many shows, many books, all done with a lot of the same people who'd been there at the start, most of whom show up here, for the denouement) was ever going to be anything, it had to be something different. Not a food show, not a travel show, but a show about a man given a Golden Ticket to go out into the actual world and see how it measured up against his fantasies.
That hurt. It made me flinch. Because here was a man who compared the world with his image of the world and ultimately, after hundreds of thousands of miles and years dedicated to the looking, couldn't stay. His friends say it was one bad night. But his words, given in ghostly voice-over, were maybe the truest truth in two hours of often painful honesty: "You're probably going to find out about it anyway, so here's a little preemptive truth-telling: There's no happy ending."
At the end of Willy Wonka & the Chocolate Factory (the good one, the freaky one, 1971, Gene Wilder), Wonka, Charlie Bucket and Grandpa Joe are all riding in the glass elevator, soaring over the city. Charlie has survived the chocolate factory. He has passed every test, proved that he is good and honest and true. And Wonka has just told him that the factory is his — that he's going to learn all the secrets, get all the chocolate, whatever.
Right at the end, though, Wonka takes Charlie by the shoulders and tells him, "Don't forget what happened to the man who suddenly got everything he always wanted."
That scene haunts me. I think about it a lot. I've been thinking about it even more since seeing Roadrunner.
'Roadrunner' makes the point that the journey isn't about the destination, just like a story isn't all about its ending. You start dumb and you end wise, and everything that happens in between? It's all important. It all matters.
Anthony Bourdain was given the entire world. A lot of people probably think he was the luckiest motherf***** on Earth. According to Willy Wonka, he should've lived happily ever after.
There are no answers in Roadrunner. That's not its purpose. But Bourdain lived a remarkable, improbable life. He bore witness to things even when he knew they'd hurt him. He told the truth even when it was hard. Maybe he went too far, or maybe couldn't ever go far enough, but he went out to look at the world he'd been given and brought along every one of us who wanted to go with him. Roadrunner makes the point that the journey isn't about the destination, just like a story isn't all about its ending. You start dumb and you end wise, and everything that happens in between? It's all important. It all matters. And the best thing you can do is be honest about it no matter the cost.
In the wrap-up, artist and longtime friend of Bourdain's Dave Choe closes things out with a fitting tribute while the soundtrack blares and the film runs down. It may seem weird to not want to give away the ending of a documentary about someone whose end is already known, but trust me. It's worth seeing fresh. It's a moving moment, made of all the things that Bourdain lived for. It's cathartic. Chaotic. Destructive. Fun. Probably illegal. It's fantastic. It's real. And it leaves the world just a little bit better before everything fades to black, which I think Bourdain would've appreciated.
If only he'd stuck around long enough to see it.
Yahoo Entertainment 17 July, 2021 - 06:00am
Busia responded to the matter on Twitter Thursday night, clearing up something the filmmaker, Morgan Neville, had mentioned in an interview.
He had told GQ in an interview that he "checked with his widow and his literary executor, just to make sure people were cool" with recreating Bourdain's voice in that way. "And they were like, Tony would have been cool with that," he said. "I wasn't putting words into his mouth. I was just trying to make them come alive."
"I certainly was NOT the one who said Tony would have been cool with that," Busia tweeted.
Responding to a Twitter user who asked if she had anything to do with Roadrunner, she wrote, "Besides the interview I gave and supplying some of the footage, not really."
A rep for the movie's distributor Focus Features and the filmmakers didn't immediately respond to EW's request for comment.
The film sparked a debate on social media platforms about the ethics of using computer technology to recreate Bourdain's voice after Neville revealed he did so with "three quotes" that Bourdain had written but never spoken.
Jamie McCarthy/Getty Images Ottavia Busia and Anthony Bourdain
"We fed more than 10 hours of Tony's voice into an A.I. model," he told GQ. "The bigger the quantity, the better the result. We worked with four companies before settling on the best. We also had to figure out the best tone of Tony's voice: His speaking voice versus his 'narrator' voice, which itself changed dramatically over the years."
Focus Features provided the following statement from Neville to EW on the matter on Thursday: "There were a few sentences that Tony wrote that he never spoke aloud. With the blessing of his estate and literary agent we used A.I. technology. It was a modern storytelling technique that I used in a few places where I thought it was important to make Tony's words come alive."
Roadrunner released Friday.
"Irina is so upset at the lies about her and Kanye [cooling off]," a source tells PEOPLE about the couple
Machine Gun Kelly hung a poster from Megan Fox's sexy 2008 GQ shoot in his room before they dated.
The Green Bay Packers quarterback announced the couple's surprise engagement back in February
The 16-year-old is apparently the heir to an entire "collection" of Roberts's favorite looks.
Blue Origin has tested its spaceship's emergency-escape system three times - on the ground, in the air, and in space.
The warehouse director had hoped to raise money for Britney Spears' cause and support the #FreeBritney movement.
Hannah Fuhlendorf says exercise used to represent nothing to her "except a path to thinness." The post 'Focus on doing what feels good': TikToker shares her journey toward finding joy in movement amid recovery appeared first on In The Know.
The SI Swimsuit model explains why she's happy the "narrative" in the modeling industry is changing
"I don't judge you, and I do forgive you... Sometimes we just don't know enough. That's when we should be quiet."
"This song has taken me through so many roads and it has taken me on an adventure," Shakira said of her new single
"There's always a holdup when you're talking about a woman breaking through in a man's business," Diana Taurasi told Insider. "The NBA is a boys' club."
A brilliant performance in Black Widow that even made Scarlett Johansson cry shows that 13-year-old actor Ever Anderson is very much following in her mother, Milla Jovovich's footsteps and taking Hollywood by storm.
Phone records show the former president and his allies tried to pressure Republican election officials in Maricopa County to stop counting votes.
"Have someone I would love you to meet," Ant Anstead wrote, appearing to reference Zellweger, whom he began dating in June
Australian great Andrew Bogut seemingly mocked Cambage online, while another Aussie NBA alum said she's "unbearable to be around as a teammate."
Russian President Putin capitalized on the divisiveness of US politics and sowed dissent to further those divides. It was a resounding success.
"Unless my Party reforms, its extremist elements represent the leading threat to our democracy," said Miles Taylor, a former Homeland Security official.
"This is publicly open information, people sharing information online, just as you are all reporting information on your news stations," Psaki said.
Debi Mazar previously said she and longtime friend Madonna "manage to get our children together" often
CTV News 17 July, 2021 - 06:00am
Focus Features 17 July, 2021 - 06:00am
The Week Magazine 17 July, 2021 - 06:00am
Roadrunner: A Film About Anthony Bourdain, is, in its director's off-camera words, an attempt to understand why its subject "was the way he was." But what was that way, exactly? Because if one answer is settled on over the course of the already controversial film, out Friday, it's that Anthony Bourdain was radiantly and exasperatingly human.
Of course, Bourdain was more than just anybody, which is why a documentary has been made about him, why fans keep returning to the incomprehensible fact of his 2018 suicide, and probably why you're reading this article. But even if Roadrunner refrains from hagiography, never pulling back from the knotty puzzle of Bourdain, it also fails to fully grasp why the chef and storyteller meant so much to so many people. Yes, it was his magnetic humanity, which so often seemed a little closer to the surface than it is in the rest of us: a little rawer, a little more vulnerable, a little more visible. But nothing illustrated that quality better than Bourdain's uncompromising devotion to the cause of #MeToo, which the film, to its grave and mystifying error, frames as one of his tragic flaws.
While Roadrunner doesn't explicitly set out to explain why Bourdain took his own life, the question of his happiness haunts the entire film. He got too famous to live a normal life, he was an addict, he was a hopeless romantic, he was dark as f--k — all get raised as possible explanations for why Bourdain "was the way he was." But Morgan Neville, the film's Academy Award-winning director, seems to have an overriding theory of his own: that Bourdain was an obsessive, bouncing from one single-minded focus to the next: drugs, cooking, travel, jiu-jitsu — and eventually, a woman.
The Italian actress and director Asia Argento was Bourdain's last romantic partner, and the friends and employees interviewed in Roadrunner describe his attraction to her as being immature, teenage-like, foolishly head-over-heels (Neville did not interview Argento for the film, a decision he's dubiously defended). For evidence of Bourdain's supposedly blinkered obsession with Argento, Roadrunner cites his dedication to the #MeToo movement. Argento, notably, was among the first and most vocal accusers of Harvey Weinstein, telling Ronan Farrow in his explosive 2017 New Yorker article that she'd been sexually assaulted by the producer. Bourdain likewise credited Argento as the catalyst for his activism: "I ain't 'woke,'" he tweeted in December 2017. "I was lucky enough to meet one, truly extraordinary woman."
But for all the depiction by the media and Bourdain himself of his involvement in the #MeToo movement being an extension of his love for Argento, his support of victims was entirely in keeping with the Bourdain that his fans knew and loved — the tremendous listener, disarming in his open-mindedness and intensity of emotion.
Still, Roadrunner proposes this fervor was somehow a sign of his too-far-gone romantic intoxication; friends in the film testify that it wasn't like Bourdain to throw himself into a cause, and his ex-wife, Ottavia Busia, claims that Bourdain's involvement in #MeToo led him to cast off friends who had made comments in the past that he perceived as insensitive. It's baffling to try to find fault in Bourdain's advocacy for #MeToo, when he became one of the highest-profile role models for the kind of unmitigated belief and allyship that victims were seeking. More men should have done like Bourdain and reflected on their friendships and their internalized toxic masculinity. His public self-examination remains one of his greatest legacies.
By all evidence, his focus on #MeToo wasn't just the result of caring about a woman who'd been raped either — although that should have been sufficient explanation enough — but also his decades of working within and adjacent to the restaurant industry. When Bourdain described himself as "merciless" on the issue of #MeToo, he wasn't uninformed about what went on in kitchens. "It's Batali. And it's bad," Bourdain tweeted in 2018, ahead of Eater publishing allegations that his fellow celebrity chef was a serial sexual predator.
In a subsequent Medium post, he emphasized that "right now, nothing else matters but women's stories of what it's like in the industry I have loved and celebrated for nearly 30 years  —  and our willingness, as human beings, citizens, men, and women alike, to hear them out, fully, and in a way that other women can feel secure enough, and have faith enough that they, too, can tell their stories." Such admirable comments didn't make it into the movie.
I worked in restaurants for 7 years in college and when I was a struggling freelance writer. Anthony Bourdain once saw a busboy sexually harass me and he told my manager. I was vocal about the issue for weeks, and it wasn't until he said something that they took it seriously.
Rather than dismiss Bourdain's involvement in #MeToo as being the result of an unhealthy infatuation, Roadrunner would have done well to see it as exactly what made Bourdain, Bourdain. Caring about victims of sexual misconduct and assault wasn't out-of-character or a red flag; it was an extension of the deep empathy and compassion he had for others. That Bourdain listened to and connected with the experiences of people who were dramatically different from himself is precisely why he is so missed today — not just as a gifted television host and writer, but as a person.
Bourdain was hardly flawless, and Roadrunner does an otherwise fantastic job capturing his essence as a complicated and troubled person in all the expected shades of gray. But to cast #MeToo, and by extension Bourdain's adoration of Argento, as among his character flaws is an unpardonable error. We didn't love him despite his empathy for others, but because of it.
Daily Mail 17 July, 2021 - 06:00am
By Dan Avery For Dailymail.com
The director of a new Anthony Bourdain documentary admits he used artificial intelligence and computer algorithms to get the late food personality to utter things he never said on the record.  
Bourdain, who killed himself in a Paris hotel suite in June 2018,  is the subject of the new documentary, Roadrunner: A Film About Anthony Bourdain.
It features the prolific author, chef and TV host in his own words—taken from television and radio appearances, podcasts, and audiobooks.
But, in a few instances, filmmaker Morgan Neville says he used some technological tricks to put words in Bourdain's mouth.
As The New Yorker's Helen Rosner reported, in the second half of the film,  L.A. artist David Choe reads from an email Bourdain sent him: 'Dude, this is a crazy thing to ask, but I'm curious...'
Then the voice reciting the email shifts—suddenly it's Bourdain's, declaring, '. . . and my life is sort of s**t now. You are successful, and I am successful, and I'm wondering: Are you happy?'
Rosner asked Neville, who also directed the 2018 Mr. Rogers documentary, Won't You Be My Neighbor?, how he possibly found audio of Bourdain reading an email he sent someone else.
'There were three quotes there I wanted his voice for that there were no recordings of,' Neville said.
So he gave a software company dozens of hours of audio recordings of Bourdain and they developed, according to Neville, an 'A.I. model of his voice.'
The director of a new documentary about Anthony Bourdain admits he used AI to re-create quotes in the food personality's voice in several scenes
Ian Goodfellow, director of machine learning at Apple's Special Projects Group, coined the phrase 'deepfake' in 2014, a portmanteau of 'deep learning' and 'fake'.
It's a video, audio or photo that appears authentic but is really the result of artificial-intelligence manipulation.
A system studies input of a target from multiple angles—photographs, videos, sound clips or other input— and develops an algorithm to mimic their behavior, movements, and speech patterns.
Rosner was only able to detect the one scene where the deepfake audio was used, but Neville admits there were more.
Morgan Neville said he gave a software company a dozen hours of audio tracks, and they developed an 'A.I. model of his voice,' so that Neville could have Bourdain read aloud from an email he sent to a friend about whether he felt happy
'If you watch the film, other than that line you mentioned, you probably don't know what the other lines are that were spoken by the A.I., and you're not going to know,' he told her. 'We can have a documentary-ethics panel about it later.'
But the use of deepfakes, even in seemingly benign ways, has already sparked an ethical debate.
Earlier this year, a deepfake video viewed on TikTok more than 11 million times appeared to show Tom Cruise in a Hawaiian shirt doing close-up magic.
Viral clips from March showing Tom Cruise doing magic tricks and walking through a clothing store turned out to be deepfakes. Although they were for entertainment purposes, experts warn that such content can easily be used to manipulate the public
While the clips seemed harmless enough, many believed they were the real deal, not AI-created fakes.
Another deepfake video, of Speaker Nancy Pelosi seemingly slurring her words, helped spur Facebook's decision to ban the manufactured clips in January 2020 ahead of the presidential election later that year.
In a blog post, Facebook said it would remove misleading manipulated media edited in ways that 'aren't apparent to an average person and would likely mislead someone into thinking that a subject of the video said words that they did not actually say.'
It's not clear if the Bourdain lines, which he wrote but never uttered, would be banned from the platform.
After the Cruise video went viral, Rachel Tobac, CEO of online security company SocialProof, tweeted that we had reached a stage of almost 'undetectable deepfakes.'
'Deepfakes will impact public trust, provide cover & plausible deniability for criminals/abusers caught on video or audio, and will be (and are) used to manipulate, humiliate, & hurt people,' Tobac wrote.
'If you're building manipulated/synthetic media detection technology, get it moving.' 
Deepfakes are so named because they are made using deep learning, a form of artificial intelligence, to create fake videos of a target individual.
They are made by feeding a computer an algorithm, or set of instructions, as well as lots of images and audio of the target person.
The computer program then learns how to mimic the person's facial expressions, mannerisms, voice and inflections.
With enough video and audio of someone, you can combine a fake video of a person with fake audio and get them to say anything you want.
The comments below have not been moderated.
The views expressed in the contents above are those of our users and do not necessarily reflect the views of MailOnline.
By posting your comment you agree to our house rules.
Do you want to automatically post your MailOnline comments to your Facebook Timeline?
Your comment will be posted to MailOnline as usual.
Do you want to automatically post your MailOnline comments to your Facebook Timeline?
Your comment will be posted to MailOnline as usual
We will automatically post your comment and a link to the news story to your Facebook timeline at the same time it is posted on MailOnline. To do this we will link your MailOnline account with your Facebook account. We'll ask you to confirm this for your first post to Facebook.
You can choose on each post whether you would like it to be posted to Facebook. Your details from Facebook will be used to provide you with tailored content, marketing and ads in line with our Privacy Policy.
Part of the Daily Mail, The Mail on Sunday & Metro Media Group
KTNV Channel 13 Las Vegas 17 July, 2021 - 06:00am