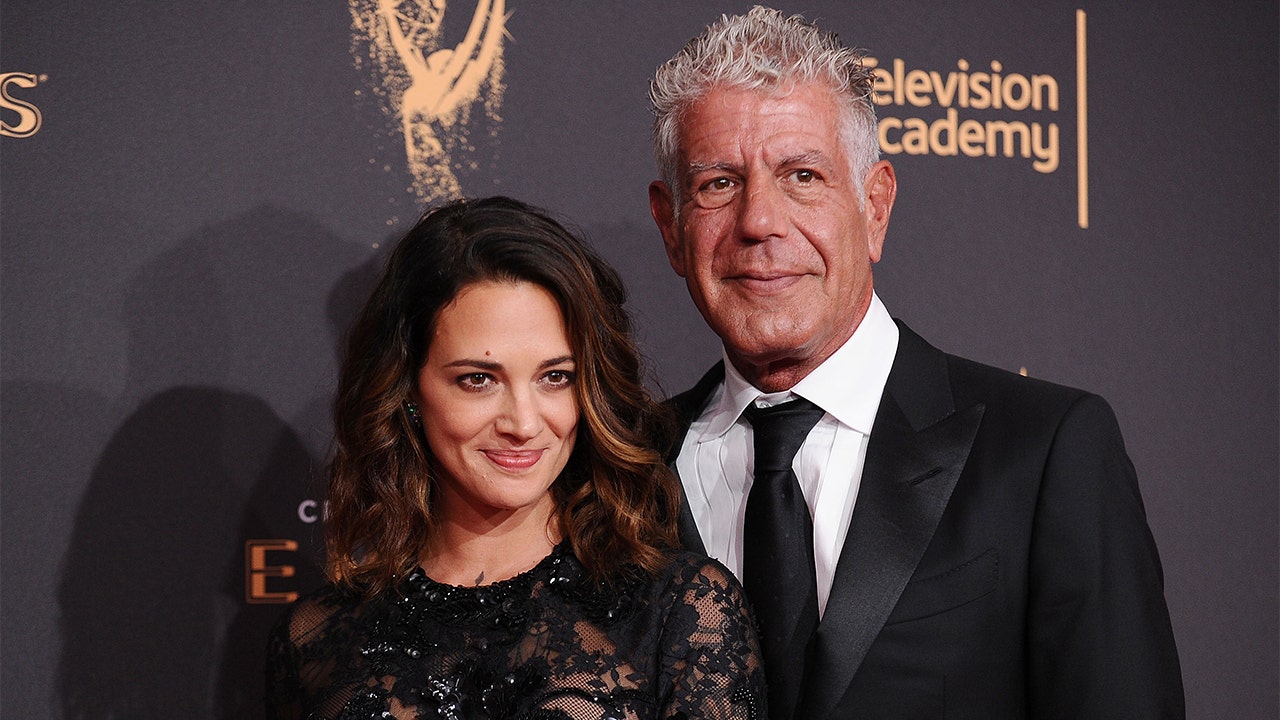 This material may not be published, broadcast, rewritten, or redistributed. ©2021 FOX News Network, LLC. All rights reserved. Quotes displayed in real-time or delayed by at least 15 minutes. Market data provided by Factset. Powered and implemented by FactSet Digital Solutions. Legal Statement. Mutual Fund and ETF data provided by Refinitiv Lipper.
Fox News Flash top entertainment and celebrity headlines are here. Check out what's clicking today in entertainment.
A new documentary about Anthony Bourdain has one person missing – his girlfriend Asia Argento.
Morgan Neville's film, titled "Roadrunner," focuses on the world-renowned chef, who took his life in 2018 at age 61 in France. It's the first time many of those who were closed to Bourdain discussed his life and death, including his ex-wife Ottavia Busia.
Argento, 45, was dating Bourdain before his passing. The actress faced backlash following his suicide when images surfaced of her with a journalist friend, which were taken before Bourdain died.
"We debated it for months," Neville recently told Vulture about interviewing Argento.
"I just felt like if I crack that door open, I really better be damn sure it's what I want," he explained to the outlet. "Because it would have been painful for a lot of people, honestly, if I had interviewed her. So I just said – and believe me, we talked and talked about it – is this really want I want?"
Neville said he struggled to figure how to address Argento's take in the film.
"It just became this thing that made me feel like I was sinking into this rabbit hole of she said, they said, and it just was not the film I wanted to make," said Neville. "I just want to know why he was who he was and felt like the balance of the film would have tipped over if I had put her in it."
"Again, we played with edits of trying to go deeper into the story and looking at everything she had said," he continued. "And every time I even screened it for people in longer versions, all I got were people wanting to go down this rabbit hole of more and more about their relationship in the last year of his life. I felt like I'm trying to make a psychological portrait of a person's entire life. And I just didn't want to be capsized by it. So I made the call. People can disagree."
On June 25, which would have been Bourdain's birthday, Argento took to Instagram and shared several photos and videos of the "Parts Unknown" star.
"Celebrating the most extraordinary man I have ever met," she wrote. "Missing you every day. Cherishing each moment we shared in our life together. I feel your presence and your strength. You shine so bright within me. I love you my A. Happy birthday.
Neville previously told The Associated Press that it was difficult addressing the final chapter of Bourdain's life.
"The way I came to think of it is: Tony was an ultimate searcher and a seeker," Neville told the outlet. "But if you are really always seeking and always curious, then you can get lost. He had this tattoo that he got late in life that said in Greek 'I am certain of nothing.' That sounds very Zen, but it's also a little sad."
"If you're truly certain of nothing and always looking for something, it means you're leaving everything behind at every moment," he shared. "I think for Tony, that rootless ultimately disconnected him from the things he should be certain about, like the love of people around him."
This material may not be published, broadcast, rewritten, or redistributed. ©2021 FOX News Network, LLC. All rights reserved. Quotes displayed in real-time or delayed by at least 15 minutes. Market data provided by Factset. Powered and implemented by FactSet Digital Solutions. Legal Statement. Mutual Fund and ETF data provided by Refinitiv Lipper.
Read full article at Slate
The Ringer 21 July, 2021 - 07:00am
How do you navigate the thin line between honesty and exploitation in telling the stories of those who aren't in a position to tell them themselves?
Roadrunner thinks about death quite a bit—certainly for more than a few minutes. The film explores Bourdain's life, mostly after the memoir Kitchen Confidential gave him a fresh start at the age of 43. (Bourdain's brother, Chris, likens his sudden fame to a rebirth in middle age.) But the film's most noteworthy and, ultimately, controversial elements have to do with Bourdain's death by suicide in 2018. In the days leading up to Roadrunner's Friday release, the backlash to certain creative decisions threatened to overshadow the production itself. In promotional interviews, Neville disclosed that he'd hired a software company to train an AI model to read three passages of Bourdain's writing in a convincing dupe of his voice; Neville also revealed that he'd declined to reach out to Asia Argento, the actress and director who was Bourdain's last romantic partner and figures prominently in Roadrunner's wrenching final act. Both decisions are imperfect answers to an impossible question, one Bourdain himself struggled with in his work: How do you navigate the thin line between honesty and exploitation in telling the stories of those who aren't in a position to tell them themselves?
Toward the end of Roadrunner, Neville includes a disclaimer of sorts. "I don't want to, like, blame the girlfriend, or blame the lover, or blame the husband," says Michael Steed, a producer on Bourdain's shows No Reservations and Parts Unknown. "Tony killed himself. Tony did it." (Steed is just one of the many close associates Neville interviews, a group that spans Bourdain's friends, family, and colleagues. Roadrunner's guest roster is so comprehensive that Argento's absence is especially obvious.) The interlude is both uncomfortable and necessary; without it, Roadrunner would walk right up to the line of doing exactly what Steed says he wants to avoid—linking Argento to Bourdain's downward spiral. But by not giving Argento herself a chance to appear or even respond to the film's contents before its release, Roadrunner essentially drifts across the line anyway.
There are reasons Neville may not have wanted to give Argento the same platform he extends to, say, Bourdain's ex-wife Ottavia Busia. Argento was one of numerous women who said they were raped by Harvey Weinstein. Months after Bourdain's death, The New York Times reported that Jimmy Bennett, an actor and musician, said that Argento sexually assaulted him in 2013, when he was 17. According to the Times, "Mr. Bourdain helped Ms. Argento navigate the matter." Roadrunner makes no mention of the allegations. "I feel like the complication and weight of her part of the story could capsize the film in a heartbeat," Neville told GQ. "I just didn't want to get into that game of he said, she said, they said," he added in an interview with Thrillist.
But the fact remains that Argento is a part of Bourdain's story, and therefore Roadrunner's; in avoiding the "game," Roadrunner simply settles on "they said." She's still a presence, even if she wasn't given the opportunity to be an active one—an opportunity that's as much about fairness to Argento as it is Neville's credibility as a documentarian. (Argento may well have declined the invitation, had one actually been made; at least Neville could then have said he extended it.) Neville is not the steward of Bourdain's legacy, which also includes projects like the posthumous collection World Travel, coauthored by longtime collaborator Laurie Woolever, as well as Woolever's upcoming Bourdain: The Definitive Oral Biography. Still, he is a steward, a responsibility underscored by the still-raging debate over Roadrunner's use of AI.
The manufactured voice-over is easy to miss in the movie itself; the device became an issue only when The New Yorker's Helen Rosner picked up on a scene in which Bourdain appears to read aloud a despondent email he sent to the artist David Choe. To offended acolytes, the inconspicuousness is exactly what rankles: It feeds the perception that there's some kind of deception at work. Mostly, though, the incident drives home the reality that Bourdain's body of work, which he oversaw with a fervid focus Roadrunner takes care to note, is no longer under his control. There's a dissonance between the idea of Bourdain's voice as an irreplaceable treasure and Bourdain's voice as a predictable pattern that can be simulated by a computer. Neville compounded the issue by claiming to GQ that key figures such as Busia were "cool with" the technique. Busia has since rebutted the claim, which Neville subsequently walked back.
One of the strongest choices Neville makes in discussing Bourdain's death is letting the interviewees contradict each other. Some say Bourdain shouldn't be remembered for the way he died; others that he was a tragic figure, chased down by his own pain. Some say his suicide was a "clear decision"; others that it was impulsive, irrational. Some say he left without warning; others say the signs were there. Taken together, these testimonials drive home how unknowable Bourdain's reasons are and always will be. You could argue, as some critics have, that this unknowability makes discussing the death pointless, even unseemly. But there's also honesty in admitting how much the end of Bourdain's journey cast a pall over the extraordinary path he took to get there for fans and friends alike.
There's an admirable candor in how Roadrunner centers Bourdain's death: explicitly and from the start, in the opening scenes. "He committed suicide, the fuckin' asshole," scoffs John Lurie, the musician and painter who hosted Bourdain in his New York apartment for what would become the star's last on-screen meal. The line serves as a preview of the hurt, pain, and confusion expressed by many of Neville's interviewees. These are ugly, often unfiltered emotions, ones Neville allows to exist alongside more acceptable feelings like nostalgia. Their inclusion is what keeps Roadrunner from a mere homage, or worse yet, a clip show.
After all, a project like Roadrunner comes with the responsibility to prove it can explain Bourdain in a way Bourdain hasn't already done himself; what does Roadrunner have to offer that a rewatch of No Reservations, available in full on Discovery+, or Parts Unknown, on HBO Max, does not, apart from saving the viewer some time? (Roadrunner is currently in theaters only, but will land on Max at a later, currently unspecified date.) Neville's solution lies in looking into what Bourdain would not or could not put in his shows: behind-the-scenes clips and unused outtakes; home videos of Bourdain with his daughter; finally, inevitably, his death.
Argento's portrayal is the closest Roadrunner gets to an explanation of the inexplicable—a choice that's not just irresponsible, given her exclusion from the process, but also counter to the ambiguity the film otherwise tries to embrace. In its closing minutes, Roadrunner lays out a timeline: Days before a Parts Unknown shoot in Alsace, France, paparazzi photos showed Argento with another man; Bourdain's final Instagram story was set to music from Violent City, an Italian revenge film that begins with a couple photographed from afar. It's here where Roadrunner's ambiguity collides with an indulgence in easy answers. After watching, I have to admit a part of me was gratified that Roadrunner makes Bourdain's death seem slightly less out of nowhere than it initially felt. It's just not a part of me I'm especially proud of. Roadrunner tries to capture Anthony Bourdain, but it does a better job of capturing what it means to admire someone, and how admiration doesn't always do right by the admired.
Juliet and Amanda also discuss Prince Harry's memoir deal and Tom Cruise's latest appearance at the English Grand Prix
Mirin talks to David Shoemaker about the process of converting her original feature story into a book, how Giannis's free agency affected the timeline, and what it's like publishing a book in real time as Giannis is currently in the NBA Finals
Why does an 8-year-old fall to the floor after the slightest contact from a sibling? For the same reason NBA players do. It's all about gaining an advantage with the refs, er, mom and dad.
Las Vegas was at a crossroads when Wynn's mega-casino opened in 1989. Its success upped the ante on decadence and changed how Americans pursue pleasure and entertainment on the Strip.
By drawing inspiration from previous generations and paying homage to legends, Devin Booker has found a style that is uniquely his—and become a one-of-a-kind star
The reasons 'Space Jam: A New Legacy' was made are also the reasons there are hardly any films about sports anymore
ET Canada 21 July, 2021 - 07:00am
FOX 11 Los Angeles 21 July, 2021 - 07:00am
The Washington Post 21 July, 2021 - 07:00am
Filmmaker Morgan Neville found himself at the center of controversy late last week when he admitted that he used artificial intelligence to simulate the voice of Anthony Bourdain in his latest documentary, "Roadrunner: A Film About Anthony Bourdain," about the beloved cook, author and television personality who died three years ago.
The idea that what we thought was Bourdain's voice was, in fact, a deepfake elicited gasps among purists, as well as some of Bourdain's passionate fans, who expressed feelings of betrayal and even trauma at having their idol posthumously exploited. Although Neville insists that he had the permission of Bourdain's former wife and literary executor to make the AI recordings, Ottavia Bourdain issued a tart statement disavowing her cooperation: "I certainly was NOT the one who said Tony would be cool with that," she tweeted Friday.
Documentaries are in the midst of a new Golden Age, as streaming services scoop up compulsively watchable feature films and series that satiate the audience's voracious appetite for true stories — especially those involving lurid crime, quirky human nature and wild animals. But the deluge of nonfiction filmmaking and its seemingly endless permutations — from the cosmeticized pseudo-verite of "reality TV" to the increasing use of fictional techniques such as special effects, animation, lush musical scores and even actors — has rendered the term almost meaningless. Technically, a documentary is so called because it documents events as they unfold. But, contrary to conventional wisdom, documentaries are never mere recordings of reality. On some level, they always lie, or at least bend the truth — which doesn't always mean they're dishonest.
The outcry over Bourdain's synthesized voice in "Roadrunner" is but the latest iteration of an argument that has attended the nonfiction genre throughout its evolution. That debate goes as far back as 1922, when Robert Flaherty released the silent film "Nanook of the North," a portrait of an Inuk family in the Canadian Arctic that contained staged scenes of the protagonist hunting and interacting with a White fur trader. In 1988, Errol Morris revolutionized the form with "The Thin Blue Line," a riveting true-crime procedural in which he used stylized, slow-motion inserts and re-creations to heighten dramatic tension.
In so unapologetically embracing narrative-fiction production values, Morris was flying in the face of documentary film's long-standing techniques, which hewed either to the flat-affect narration and rote visuals of educational films and newsreels, or the fly-on-the-wall naturalism of cinema verite, which came into fashion in the 1960s. But even the most raw observational portraits of verite's heyday didn't reflect un-mediated reality: Rather, they were composed of moments selected by the filmmaker to be photographed, and then cut and rearranged in the editing process to create an overall mood, tone and narrative arc. The very presence of a camera no doubt affected subjects' behavior in ways that were impossible to discern or quantify.
Today's glut of investigatory films has led some observers to consider documentaries "the new journalism." But, as the "Roadrunner" episode demonstrates, documentaries aren't journalism. They're art. Although nonfiction filmmakers use journalistic tools such as interviews, research and acute observation, they aren't reporters but storytellers, who will go to any lengths necessary to engage their audience not just through information, but emotion.
That distinction is often lost on viewers who are all too happy to go along with a filmmaker creating a compelling and convincing world on screen. And it's blurred by filmmakers themselves, who often consider transparency about their methods to be at odds with the immersive emotional experience they're trying to create. Most of Neville's toughest critics agree that he could have avoided controversy simply by disclosing the fact that a few lines in "Roadrunner" were produced in a computer rather than spoken by Bourdain. That disclaimer could have appeared in the film's opening or closing credits, or within the body of the film.
One of the best examples of this kind of transparency can be found in "Stories We Tell," Sarah Polley's exquisite 2012 documentary about a family mystery in which she artfully braids together straightforward interviews and documentary footage with reenactments and speculative material, delicately disentangling them at the end of the film to reveal her creative process and the liberties she took. It's a gesture that simultaneously reflects Polley's confidence as a director and a deep respect for her tacit contract with viewers for whom the word "documentary" entails the expectation that, even if what they're seeing isn't the whole "truth," at least they won't be tricked or purposefully deceived.
It's that contract that led Heidi Ewing — best known for the nonfiction films she has co-directed with Rachel Grady — to insist that her latest production, "I Carry You With Me," be called a narrative feature, not a hybrid (and certainly not a documentary). The film tells the story of two real-life men who met in Mexico and eventually moved to the United States; Ewing cast actors to play them as children, dramatizing early events of their lives, creating composite characters and adding imaginary scenes. Although the actual protagonists appear in "I Carry You With Me," Ewing says, she had no doubt what category the film belonged in.
"It's a narrative with a twist, not a documentary with re-creations," she explains. "Aside from the fact that 80 percent of the movie is scripted and played by actors, I think the expectations are different when something's a narrative. . . . You owe a lot of people a lot of things when you make a documentary film. You owe a huge debt to the subjects who have entrusted their lives and their time to you — without payment, at least most all of the time. And you owe the audience your most truthful interpretation of the story. You owe it to them to be much more transparent than you would ever be in a fiction film with how something occurred. You owe a lot to everybody."
Ewing adds that filmmakers must contend with the fact that "audiences still staunchly believe that a documentary is 100 percent factual, and that things happened exactly that way." The more engrossing the movie, the deeper that belief becomes, along with the artist's responsibility. "It's really the [interior] meter that the filmmaker has," Ewing says. "Does she have to 'come clean' with some technique at some point? It's a question most filmmakers have to ask themselves."
Neville seems to have asked the question only to glibly dismiss it. Speaking with New Yorker staff writer Helen Rosner, who noticed one line of Bourdain's dialogue that turned out to be computer-generated, he said, "You probably don't know what the other lines are that were spoken by the A.I., and you're not going to know. We can have a documentary-ethics panel about it later."
It looks like we're having that documentary-ethics panel now. And it looks like the term "documentary" is here to stay. It's not that it doesn't mean anything. It's that it never meant what we thought it did in the first place.
Chicago Tribune 21 July, 2021 - 07:00am
Like any good tavern, the Old Town Ale House is quiet in the hours before opening, which it does now at 3 p.m. I was there a little after noon on Friday, having come to see and talk to Bruce Elliott, the writer, storyteller, painter, blogger and proprietor of the Ale House, which Roger Ebert once called "the best bar in the world that I know of."
It's always good to see Elliott, and I had not done so since COVID-19 came calling. He looked good, tan and fit, having spent parts of every sunny day playing golf at Jackson Park Golf Course, or hitting balls at its driving range. He proudly tells me that he is shooting his age, meaning that he consistently shoots in the 70s on the 18-hole course.
He has not been visiting the tavern as often as he once did and so he misses seeing some of his old friends. There are dozens of them here, in the form of paintings of Elliott's creation on the walls. Some are tavern regulars, now ghosts, and of such famous people as Sarah Palin (in the nude). There is a lovely portrait of Ebert and next to him an equally arresting painting of Anthony Bourdain.
That's one of the reasons I was there. Elliott had known Bourdain well enough to consider him a friend, and I was eager to ask him what he thought of "Roadrunner: A Film About Anthony Bourdain." Wednesday night he and his friend/companion, the delightful and lively Ruth, had gone to a special preview screening of the film, which is a documentary about the life and the 2018 suicide of the immensely popular author, chef and television star.
He had been invited by the film's producers to a special screening in advance of the film's formal opening Friday across the city and country, which it did to generally favorable reviews and very good box office receipts. My colleague Michael Phillips gave the film 3.5 stars, writing, "'Roadrunner' is smoothly engineered, deeply respectful assessment of a troubled, fabulously charismatic soul."
The film also caused controversy after its director, Morgan Neville, admitted to having used voice-cloning software to reproduce Bourdain's voice for a total of 45 seconds. Phillips wrote a fine story about it, saying in part, "With movies, we often wonder: Can I believe my own eyes? Did I just see what I think I saw?
"With documentaries, we sometimes ask the same questions, but the contract is pretty clear between filmmaker and audience. Yes. You can. You can believe what you're seeing, or hearing."
Elliott did not care about that, saying, "It's kind of like the same thing that was done in the Ebert documentary (the Steve James directed 2014 "Life Itself.")
What he cared about was his relationship with Bourdain, which began with Ebert.
As Bourdain once told me, "I was a devoted Twitter follower of Roger's. He mentioned Bruce's blog, and I started to read it, and as I did, I thought to myself, 'This is unlike anything I've ever read before.'"
Ebert had written that Elliott was "a friend for over 40 years and a born storyteller," adding that Elliott "shows himself in the direct line of descent from the host in the 15th century 'The Canterbury Tales.'" Bourdain quickly became one of Elliott's biggest fans and a friend. He featured him in an episode of his Travel Channel show "The Layover" in 2012.
He hooked Elliott up with a big-time book publisher. And when that deal fell through, Bourdain nevertheless wrote the foreword for the book, which was titled "Last Night at the Old Town Ale House." It was short but highly complimentary: "I like the Old Town Ale House, the saloon. It's both a convivial drinking establishment and home to the magnificent and erudite Bruce Cameron Elliott. He's proprietor, bon vivant and observer of life's comedies and tragedies. He's also a terrific writer."
Elliott has published three more books since then. They are available on his Geriatric Genius blog, which now features his review of "Roadrunner."
This is some of what he writes:
"I was surprised at how much early film and video there was of the pre-celebrity Anthony. Even though he came from a solidly middle-class family, his early adult years portrayed an impecunious unfocused Anthony. I would have liked to have known who was taking all the videos of such a self-described loser?"
"It was easy to find fault with Bourdain toward the end of his life, but criticism and analysis even when taken collectively, can never have the last word on a subject as complicated as Anthony Bourdain."
There is more, and some of it has to do with what Elliott saw as Bourdain's unhealthy relationship with the Italian actress and singer Asia Argento. Elliott writes that he had a "particularly harsh, voice raised telephone conversation with Bourdain" that was caused by Elliott's frequent blog posts about a woman he considered "toxic" and resulted in Elliott agreeing to "lay off" Argento.
The last time Elliott spoke to Bourdain in person was in 2015. He captured it on his blog.
They were taking a walk around the Alfred Caldwell Lily Pond behind Lincoln Park Zoo.
Elliott said, "Everyone I know wants to be Anthony Bourdain, but after watching how hard you had to work all week, I don't."
"I leave here as soon as we're done," Bourdain said. "I spend one night with my family and then I'm headed out west. … I travel 250 days a year."
"Why, you've got plenty of money," said Elliott. "What are you running away from?"
"Bruce, I don't know what I'm running away from," said Bourdain.
The film does not include that scene (which was filmed) or anything about Chicago. That's a shame, because Bourdain loved Chicago and his 2015 "Parts Unknown" episode about the city is great fun. In it he says, "Chicago's big and it's outgoing. It's tough. It's opinionated and everybody's got a story."
Elliott is the star of that show and though he does not appear in "Roadrunner," he and Ruth liked the film. "I suppose that this film will provide some closure for Anthony's television fans," he said. "The night he died, and for days afterward, people came in here looking stunned and shocked, and I suspect looking for answers. Why would someone like this, who seemingly had a great life, end it at 61? This movie doesn't answer that question. ... Maybe there is no answer."
Copyright © 2021, Chicago Tribune
The Indian Express 21 July, 2021 - 07:00am
What would Anthony Bourdain have made of his voice being deep faked? This is a question that fans have been asking since it was revealed last week that a new documentary called Roadrunner: A Film About Anthony Bourdain used AI to clone Bourdain's voice. The documentary is narrated by the late chef himself, a feat that was achieved by stitching together audio clips of Bourdain from various sources, and director Morgan Neville has stated that the only faked bits are three lines from a letter he once wrote to a friend.
This revelation has made many uncomfortable. Some have expressed discomfort over Bourdain's voice being faked because there's no way of knowing if he would have consented to being deep faked if he had been alive. That the lines were actually written by Bourdain himself is irrelevant. Others have pointed to the lack of transparency. The use of AI in this context is unsettling because it was stated only after the fact, with the director even joking that a "documentary ethics panel" could be set up later to debate the issue. To be clear, this is not a question of documentary ethics, as cinema — whether fiction or nonfiction — often aims for a truth that is much more than "the truth of accountants", as German filmmaker Werner Herzog once put it.
The fact that no one would have known about the cloned voice in the documentary if the director himself hadn't mentioned it has drawn attention to how easy it is to be fooled by AI. And this is the real issue — being confronted with a problem we didn't want to imagine would exist, never mind that words like artificial intelligence, deep fakes etc have been a part of the collective vocabulary for a while now. This is ethically treacherous ground and the only way to navigate it is by preparing for the fault lines before arriving at them.
For all the latest Opinion News, download Indian Express App.
Variety 21 July, 2021 - 07:00am
I first learned that "Roadrunner," Morgan Neville's documentary about the life and death of Anthony Bourdain, contains three sentences spoken by Bourdain that he never actually spoke out loud in the same way that you learn about a lot of things these days: by seeing an eruption of outrage about it on Twitter. The eruption immediately sent me to the New Yorker article in which Neville, the award-winning director of "Won't You Be My Neighbor?" and "20 Feet From Stardom," first explained how he used AI technology to feed 10 hours of Bourdain voice recordings into a computer, which then simulated Bourdain's reading of those sentences — every one of which he had, in fact, written.
The words weren't faked; the sound of him speaking them was. This was characterized, on social media, as an ethical lapse, and my first reaction is to say that I don't necessarily disagree. My second reaction is to say that as ethical lapses go, this isn't exactly a major-league one. The reason I believe it's a vital discussion to have, but one that (to me) provoked a bit of pearl-clutching, is that if the issue on the table is how documentaries represent and manipulate and distort reality, there has been too much inauthentic water under the bridge already. When it comes to swapping in fake reality, documentaries have been sliding down a slippery slope for years.
Neville, in the New Yorker article, defended his choice as a novel way to make Bourdain's words come alive, adding, "We can have a documentary-ethics panel about it later." Maybe we should have one. But maybe a reason that Neville, in that quote, adopted what will strike some as a cavalier attitude is that no one understands more than documentary filmmakers what an impure form the documentary can be. Investigations into the gray areas of documentary integrity have often gone back to the movie that planted the genre on the map, Robert Flaherty's 1922 silent film "Nanook of the North," which presented itself as a "documentary" portrait of Inuit life, even though most of it was staged. It used actual Inuk people and settings, but Flaherty directed the action and, in many cases, concocted it. It's about as far from a pure-form documentary as you can get.
To be fair, "Nanook of the North" didn't set the standard that documentaries are now measured against. The form became more authentic over time, and by the 1960s, the age of the cinéma vérité revolution, filmmakers like Albert and David Maysles, D.A. Pennebaker, Richard Leacock, Jean Rouch and Fred Wiseman had forged a stunning new art form in which the technology of portable sound-sync cameras allowed us to eavesdrop on life as it was happening. A story that generally remained untold was one about the subtle off-camera relationship between the directors and their subjects, and how that impacted the reality we were seeing. (There could be a documentary-ethics panel on that one.) Nevertheless, the vérité revolution was genuine, and it established certain codes. So did the classic-form archival doc that began to come into its own around the time that Ken Burns was making "Brooklyn Bridge" (1981). For those of us who revere documentaries, this was the start of a grand era.
But by the late '80s, the documentary was starting to be messed with. Michael Moore, in his proletarian baseball cap, placed himself at the center of his films, turning them into a form of political performance art, and in "Roger & Me" (1989) he manipulated the chronology of events. The biggest change, though, arrived with Errol Morris's "The Thin Blue Line" (1988), a documentary-as-murder-investigation that more or less introduced the idea of plopping staged reenactments into the middle of an otherwise nonfiction film. Morris did it for what appeared to be a grave moral purpose (exonerating an innocent man), and "The Thin Blue Line" was such an ingeniously made true-crime-story-as-documentary-noir that it seemed, at the time, to create a new art form. But what was really happening is that Morris, in taking the liberties he did, had let a genie out of the bottle.
The staged scenes in "The Thin Blue Line" didn't bother me at the time, and they don't now. That movie really is a one-of-a-kind landmark. What did bother me is when I began to notice how routinely documentaries were folding in staged reenactments. It first struck me around the time of "Man on Wire" (2008), James Marsh's otherwise enthralling film about Philippe Petit's staggering, don't-look-down walk on a high wire strung between the two towers of the World Trade Center in 1974. Amazingly, there wasn't any filmed footage of the event, so the documentary, at its climax, had to rely on still photographs of Petit standing on that wire.
But to tell the more prosaic story of how he and his helpers hid out in the World Trade Center, the film featured staged scenes of actors sneaking into the buildings, as if out of some Hollywood thriller. I could feel the scenes taking me out of the movie, even as their purpose was, ostensibly, to heighten our involvement. This kind of thing has now become routine, employed in documentaries as diverse as Kevin Macdonald's harrowing mountain-climbing epic "Touching the Void" (2008), Yance Ford's murder-investigation autobiography "Strong Island" (2017), Alex Gibney's "Client 9: The Rise and Fall of Eliot Spitzer" (2010) and Andrew Jarecki's influential true-crime serial "The Jinx" (2015). I wouldn't call the staged scenes in any of these documentaries "unethical," but I would say that they're a way of synthesizing realities it would have been better to let us imagine in our heads. To me, staged reenactments, even though we're all used to them, are a more dispiriting phenomenon than the faking of Anthony Bourdain's voice.
You might say that they're two separate things, and that reenactments don't pretend to be genuine. But I see it differently. A reenactment and a voice fake actually do different versions of the same thing: Both cement a reality in your mind — the image of something or the sound of something — that didn't happen, at least not in the way it's presented. And I'd argue that the deepfake Bourdain voice probably gets closer to reality than most reenactments do. Many of those who objected to what Morgan Neville did with Bourdain's voice argue that if the same technique had been labeled, it would have been okay. I tend to agree. But where should the labeling happen: During the movie or during the closing credits? I've seen good documentaries in which an actor will read a subject's words, sometimes simulating their tone of voice (as in the superb 2006 film "Jack Smith and the Destruction of Atlantis"). It's not much of a leap from that to what "Roadrunner" does.
I think what bothers people, justifiably, about the Bourdain film isn't so much the "ethical lapse" as the sudden dramatic implication of how scarily reality can now be manipulated. We're only at the dawn of the age of the deepfake. People can now be made to look like they're doing things, or saying things, that they never did or said. The manipulation of Bourdain's voice in "Roadrunner" seems to open a Pandora's Box. What happens when unethical filmmakers employ such techniques? But let's not pretend that we've been purists about it. Documentaries have been inching away from unalloyed reality for a long time. And it's we in the audience who enable it. We're the ones who like our reality sweetened, heightened, finessed until it looks just like a movie.