Team Bahrain Victorious
BHRVictorious
🗞 Team Bahrain Victorious official statement @LeTour #TDF2021 bahraincyclingteam.com/bahrain-victorious-hotel-searched-ahead-of-stage-18-of-tour-de-france/

Neal Rogers
nealrogers
Tadej Pogacar: 22 years old. Three Grand Tours, nine Grand Tour stage wins. One Tour de France victory, another slated for Sunday, and a podium in his Grand Tour debut at the 2019 Vuelta. The crown prince of professional cycling. #TDF2021 pic.twitter.com/2yC3SLRh3c

Jamie Freeman 🪓
jamiefreeman
The @BBCSport page has over 80 items on it. Not a SINGLE reference to the world's largest cycle race! Just 'cos you're not broadcasting it, that doesn't mean Tour De France doesn't exist. Unless this site is just an extension of/advert for your broadcasts? 👀 #cycling #TDF2021 pic.twitter.com/eE94zzdnez

Guy Faulconbridge
GuyReuters
Cycling - Tour de France - Stage 17 - Muret to Saint-Lary-Soulan Col Du Portet - France - July 14, 2021 A France flag is seen as the peloton passes during stage 17 REUTERS/Stephane Mahe pic.twitter.com/woST7UJNpJ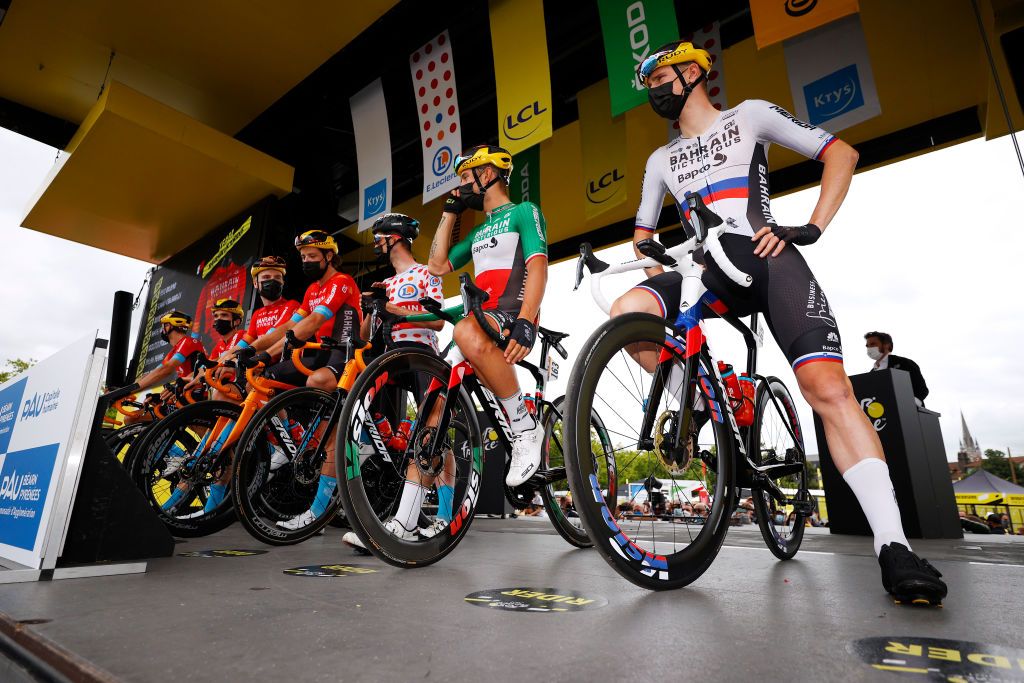 Dylan Teuns reveals his mobile phone was seized during search
According to the Reuters news agency, the French investigation began last year amid suspicions of doping.
Police investigations have often uncovered the biggest doping scandals in sport, while intelligence has become an important factor in the fight against doping. Anti-doping organizations often hire former police detectives and former team staff to help understand how athletes and teams dope.
"The ITA confirms that it has been in communication with the Central Office for the Fight against Environmental and Public Health Damage (OCLAESP) as part of the operations carried out by the French authorities on the sidelines of the Tour de France two days ago," the ITA told Cyclingnews.
"The UCI has been informed accordingly and the ITA will not make any further comment."
The ITA took over anti-doping operations from the UCI's Cycling Anti-Doping Foundation (CADF) in 2021. The ITA is a not-for-profit Foundation that works for a number of sporting federations.
The Bahrain Victorious investigation is being carried out by the Office Central de Lutte contre les Atteintes à l'Environnement et la Santé Publique, responsible for public health based in Marseille, with the investigation formally opened by a public prosecutor.
A statement from the Marseille prosecutor's office said the investigation was opened on July 3 into the possible "acquisition, transportation, possession and importing of a prohibited substance or method for use by an athlete without justification by members of Team Bahrain Victorious, currently in action at the 2021 Tour de France."
Possessing, using, and selling doping products are all criminal offenses in France. However, L'Equipe reported that, while objects and information was seized, nobody was placed under formal investigation, though Bahrain Victorious team doctor Marjan Korsic faces formal questioning at the end of the Tour de France.
"The preliminary investigation is continuing to determine the reality or not of the offenses that justified its initiation," a statement from the Marseille prosecutor's office said.
"The existence of this investigation and the operations carried out do not in any way predict the existence of criminal offenses. Anyone suspected or prosecuted is presumed innocent until proven guilty."
On Thursday morning Cyclingnews broke the news that the Bahrain Victorious team hotel had been raided by the French police with dozens of officers on the scene.
Riders personal belongings were searched and their training data reportedly seized. According to Dylan Teuns, the police took his mobile phone to study his messages, giving him just a few minutes to note down three phone numbers.
"I was just allowed to write down three numbers from my loved ones," Teuns told Het Nieuwsblad. "When I asked the officers when I would get my cell phone back, they told me: It could take up to two months. Everything is there: personal photos, my contacts, you name it. But there was not an ounce of understanding."
"We have a visit from the police, they ask for riders' training files, they check the bus and that's it," Bahrain Victorious team boss Milan Eržen told Cyclingnews on Thursday.
"They disturb riders for one hour and at the end, they said thank you. They didn't tell us what's the reason of the visit, but we will find this out through lawyers."
Pau has historically been the scene of a number of doping raids, investigations and scandals over the years.
The Tour de France organisers tried to focus on the racing but race director Christian Prudhomme showed his anger through gritted teeth.
"We do not like cheating," he said, speaking briefly to the media at the Tour de France.
"I do not know if there was cheating but everyone must do their job, including the gendarmes of the OCLAESP, they must work to the end of it all."
Thank you for signing up to Cycling News. You will receive a verification email shortly.
There was a problem. Please refresh the page and try again.
Cyclingnews is part of Future plc, an international media group and leading digital publisher. Visit our corporate site.
© Future Publishing Limited Quay House, The Ambury, Bath BA1 1UA. All rights reserved. England and Wales company registration number 2008885.
Read full article at Cyclingnews.com
FloBikes 16 July, 2021 - 05:10pm
FRANCE 24 English 16 July, 2021 - 05:10pm
Pogacar's victory came after French police searched the hotel rooms and team bus of the Bahrain Victorious cycling team taking part at the Tour de France in an anti-doping raid that went on for several hours overnight.
The raid took place late Wednesday and carried on until around 2am, sources close to the dossier told AFP in Pau on Thursday.
Bahrain Victorious has won two stages on the 2021 edition: Slovenian rider Matej Mohoric claimed stage seven and Dylan Teuns triumphed on stage eight. 
The team's climb specialist, Wout Poels of the Netherlands, wore a grim smile as he lined up on the front row of stage 18 on Thursday wearing the polka dot king-of-the-mountains jersey.
The team's press officer said his team had complied with all that was requested of them, and that they were now expecting an explanation for the raid.
The Movistar team were at the same hotel as Bahrain Victorious but no searches were carried out on the Spanish team in the overnight operation in the southern Basque town of Pau, which is a gateway to the Pyrenees and known for its French Top 14 rugby union team. 
The police unit concerned confirmed the raids and said files on the riders had been confiscated.
The sports director of the team, Croatian Vladimir Miholjevic, said his riders were shaken.
"Following stage 17, we were greeted by several French police officers. We were not given a warrant to read through, but the team complied with all the officers' requests," he said.
"The process had impacted our riders' recovery and meal planning," he said after access to team facilities was temporarily denied overnight.
The outfit, which leads the Teams standings and may be in line for two awards on the final Tour de France ceremony in Paris on Sunday, said they had fully cooperated with the police.
"We are committed to the highest level of professionalism and adherence to all regulatory requirements," he said.
Police told AFP the affair was in its preliminary stages.
"A preliminary enquiry has been opened to see if there has been, or not, acquisition, transport or possession of banned substances," the Marseille-based police unit dealing with public health matters overseeing the matter told AFP.
The team have had excellent results on recent races such as the Giro d'Italia and the Tour de France warm-up, the Criterium du Dauphine.
The president of the anti-doping group Movement for Credible Cycling (MPCC) told AFP much still needed to be done in the fight to find cheats.
"We can see doping controls are taking place but the doubts linger, we have to try and diminish those doubts," Roger Legeay said.
The Bahrain team was created in 2017 and qualified for the elite-level World Tour in its first season.
Team general manager Milan Erzen of Slovenia, whose name was cited in the "Aderlass" investigation into an international blood-doping ring, has vigorously denied previous anonymous accusations of doping by the Bahrain outfit.
The Tour winds up on the Champs-Élysées on Sunday.
Daily newsletterReceive essential international news every morning
Konrad conquers a hilly stage 16 to claim maiden Tour de France victory
Cavendish equals Merckx's all-time Tour stage win record with 34th victory
Rugby: France beat Australia 28-26 in first away win in more than 30 years
Hundreds of England fans try to storm Wembley gates for final
Djokovic takes Wimbledon title to tie Federer, Nadal record with 20 Grand Slams
Ashleigh Barty wins first Wimbledon title on idol Cawley's anniversary
Politt breaks away to win stage 12 as Pogacar stays in yellow
CyclingTips 16 July, 2021 - 05:10pm
VeloNews 16 July, 2021 - 09:33am
Get access to more than 30 brands, premium video, exclusive content, events, mapping, and more.
Sprinting great Mark Cavendish has won four stages of the 2021 Tour de France. Twice, his chain has come off right at the finish line as he abruptly stops sprinting to celebrate. What is going on?
We asked suppliers to the team, industry experts, and Cavendish himself about the phenomenon.
The basic situation is that when the spinning momentum of his cassette and rear wheel and the forward momentum of his chain are suddenly met with an abruptly stopped or briefly backpedaled chainring, the chain loses tension and comes off. The fact that he is usually in a big gear with his chain at an angle (53/11) may contribute. The fact that he sharply switches from a super-high cadence sprint to a brief backpedal sometimes may contribute. And a small bit of friction in the freehub that could prevent it from immediately stopping could contribute to the chain slack, too.
Whatever the cause or collection of causes, Cavendish isn't worried.
"The chain thing has happened my whole career," he said. "It's more with how I ride the bike than the actual bike. I just stop pedaling very quickly when I cross the line. It's just physics — the freewheel will keep turning."
Indeed, Cavendish's chain popped off earlier this year at the Tour of Turkey at the end of a sprint. In 2015, he lost his chain during a sprint, which caused consternation in the Quick-Step camp.
At Specialized Racing, which provides the bikes and the Roval wheels to the team, Scott Jackson didn't have more to add. "Unfortunately I don't have any explanations or inside line on this one… sorry!"
High-level representatives at other parts companies didn't want to go on the record with speculation as to a cause.
In any event, Cavendish doesn't appear to be worried, so long as he is crossing the line first.
"How I specialize in the past I've done a lot of testing on the bike and I ride very different than a lot of bike riders, and it causes some stuff that is a little abnormal," he said. "It's not something I worry about because it happens after the finish."
I mentioned to one industry representative how I've seen this happen to others over the years, including a friend last weekend after a sprint. Their advice to my friend was this: "Have him clean his freehub and see if it improves."
With the final stage into Paris, Mark Cavendish has a chance to set a new record for Tour de France stage wins. Let's see what his chain does.
Get the latest race news, results, commentary, and tech, delivered to your inbox.
Eurosport COM 16 July, 2021 - 07:53am
Rouleur 15 July, 2021 - 05:05pm
The sport of cycling at its finest: in print and online, to read, watch, listen, experience and buy.