Read full article at Newsweek
KREM 2 News 21 July, 2021 - 11:01pm
Yahoo Finance 21 July, 2021 - 11:01pm
The criticism came in response to remarks made by Bezos thanking Amazon customers and employees whose purchases and work "paid for" the space expedition, which was carried out by another Bezos-backed venture, Blue Origin.
In a tweet responding to the remarks, Warren said Bezos, "Forgot to thank all the hardworking Americans who actually paid taxes to keep this country running while he and Amazon paid nothing."
U.S. Rep. Alexandria Ocasio-Cortez (D-NY) also responded sharply to Bezos on Twitter.
The investigation calculated a "true tax rate" based on the amount in taxes paid by a billionaire and the amount his or her wealth grew over a given period. By that measure, from 2014 to 2018, Bezos paid a 0.98% tax rate, the investigation found.
By comparison, in recent years, the median American household brought in $70,000 per year and paid 14% in federal taxes, the report says.
Alongside the low taxes paid by Bezos, tech giant Amazon effectively paid no federal income taxes for 2017 and 2018, according to an analysis conducted by the left-leaning Institute for Taxation and Economic Policy in 2019.
The company saw an uptick in recent years, paying $162 million in taxes in 2019 and reporting in February a tax expense of $1.8 billion, an approximation of its 2020 tax bill, according to documents filed with the Securities and Exchange Commission.
The criticism from Warren comes as some Democrats in Washington D.C. seek to raise taxes on corporations and wealthy individuals.
President Joe Biden has called on corporate America to pay its "fair share," referring to his proposed tax hike that would raise the rate for corporations from 21% to 28%. Prior to a tax overhaul passed during the Trump administration, the corporate tax rate was 35%.
In addition, Biden has proposed tax hikes on the wealthy that would increase the top individual income tax rate to 39.6% from 37%, tax capital gains as normal income for households making more than $1 million, and close the carried interest loophole.
In March, Biden singled out Amazon as a corporation that should pay a higher tax bill. A month later, Bezos said he supports a higher tax rate for corporations in order to pay for Biden's infrastructure plan.
Amazon did not immediately respond to a request for comment on Warren's tweet.
In 2019, in response to criticism from then-presidential candidate Biden over its purported failure to pay taxes, Amazon tweeted, "We pay every penny we owe. Congress designed tax laws to encourage companies to reinvest in the American economy. We have. .$200B in investments since 2011 & 300K US jobs. Assume VP Biden's complaint is w/ the tax code, not Amazon."
Israeli spyware company NSO Group has said repeatedly that its surveillance tools do not work against smartphones based in the United States, but Americans traveling overseas and using foreign cellphones may not enjoy that protection. A list of more than 50,000 phone numbers that included some for documented surveillance targets also included the overseas phone numbers for about a dozen Americans, including journalists, aid workers, diplomats and others, according to an investigation by The Wash
Cuban's call-out tweet disguised as a proposal came after Beasley's tongue-in-cheek response to a ProFootballTalk tweet about NFL vaccine incentives.
Heather Williams walked into the doctor's office feeling confident and calm. She had researched the intrauterine device that her obstetrician-gynecologist was about to place inside her uterus: People online told her to expect "major cramping" during insertion, but she figured it wouldn't be worse than a period. As long as she took a few ibuprofen, she thought she'd be fine. Thirty minutes later, Williams was lying on the cold tile floor in the bathroom at the doctor's office.Subscribe to The Pos
Two months after the Centers for Disease Control and Prevention said vaccinated individuals didn't need to wear masks in most settings, a growing number of experts are warning it's time to put them back on. First, there was Los Angeles County, where the rising menace posed by the delta variant of the coronavirus prompted health officials to reimpose a mask mandate. Then, Bay Area health officers on Friday recommended that residents of seven counties and the city of Berkeley, Calif., resume weari
The 56-year-old model announced the breakup on Instagram.
The singer wanted to pose for Playboy for her 75th birthday, but she got the next best thing.
Brady quipped that President Joe Biden could relate to claims that the Bucs didn't actually win the Super Bowl.
Unvaccinated individuals are continuing to add to the number of COVID cases across the U.S. as the Delta variant becomes increasingly pervasive.
Apparently Deion Sanders isn't a fan of being addressed by his own first name.
A woman took to TikTok to describe how on a recent flight a man sitting next to her body-shamed her over text.
The woman's skin was stuck to the seat, and human waste was leaking from the passenger side of the vehicle, according to the sheriff's office.
Julius Ssekitoleko fled on Friday, leaving a note that said he didn't want to return to Uganda.
The chair of former President Donald Trump's 2017 inaugural committee was arrested Tuesday on charges alleging he secretly conspired to influence U.S. policy to benefit the United Arab Emirates, even while he was seeking a position as an American diplomat. Tom Barrack, 74, of Santa Monica, California, was among three men charged in federal court in Brooklyn, New York, with acting as unregistered foreign agents as they tried to influence U.S. policy on the UAE's behalf while Trump was running in 2016 and later while he was president. The indictment goes to the heart of the U.S.' longtime close relationship with the UAE and directly ties its de facto ruler, Abu Dhabi Crown Prince Mohammed bin Zayed Al Nahyan, to Barrack's charges.
Jennifer Aniston spent a decade-plus with the (often fictional) ins and outs of her dating life on the front page of every tabloid, and the past three years since her split from ex-husband Justin Theroux in 2018 have seen her enjoying a well-deserved break from being linked to new romantic partners, with the exception of […]
U.S. life expectancy fell by a year and a half in 2020, the largest one-year decline since World War II, public health officials said Wednesday. The decrease for both Black Americans and Hispanic Americans was even worse: three years. The drop spelled out by the Centers for Disease Control and Prevention is due mainly to the COVID-19 pandemic, which health officials said is responsible for close to 74% of the overall life expectancy decline.
There have always been a lot of questions about Donald Trump's marriage to Melania Trump because we often witnessed moments that looked less-than-happy during their time in the White House. Now author Michael Wolff is questioning whether the former First Lady is even living with her husband. Wolff had a bird's eye view of the […]
Shortly after Jeff Bezos — the world's richest man — completed his first spaceflight, Rep. Earl Blumenauer (D., Oreg.) announced he's working on a plan for a new tax targeting space tourism.
Sen. Rand Paul said he plans to send a letter to the Justice Department regarding a criminal referral focused on Dr. Anthony Fauci.
"It was… weird," judge Heidi Klum said of dance illusionist Pasha's act, to which he simply answered, "I know."
This mom was shocked to find that every inch of her home had been plastered in hamster signs.
Oneindia News 21 July, 2021 - 11:01pm
CBS This Morning 21 July, 2021 - 11:01pm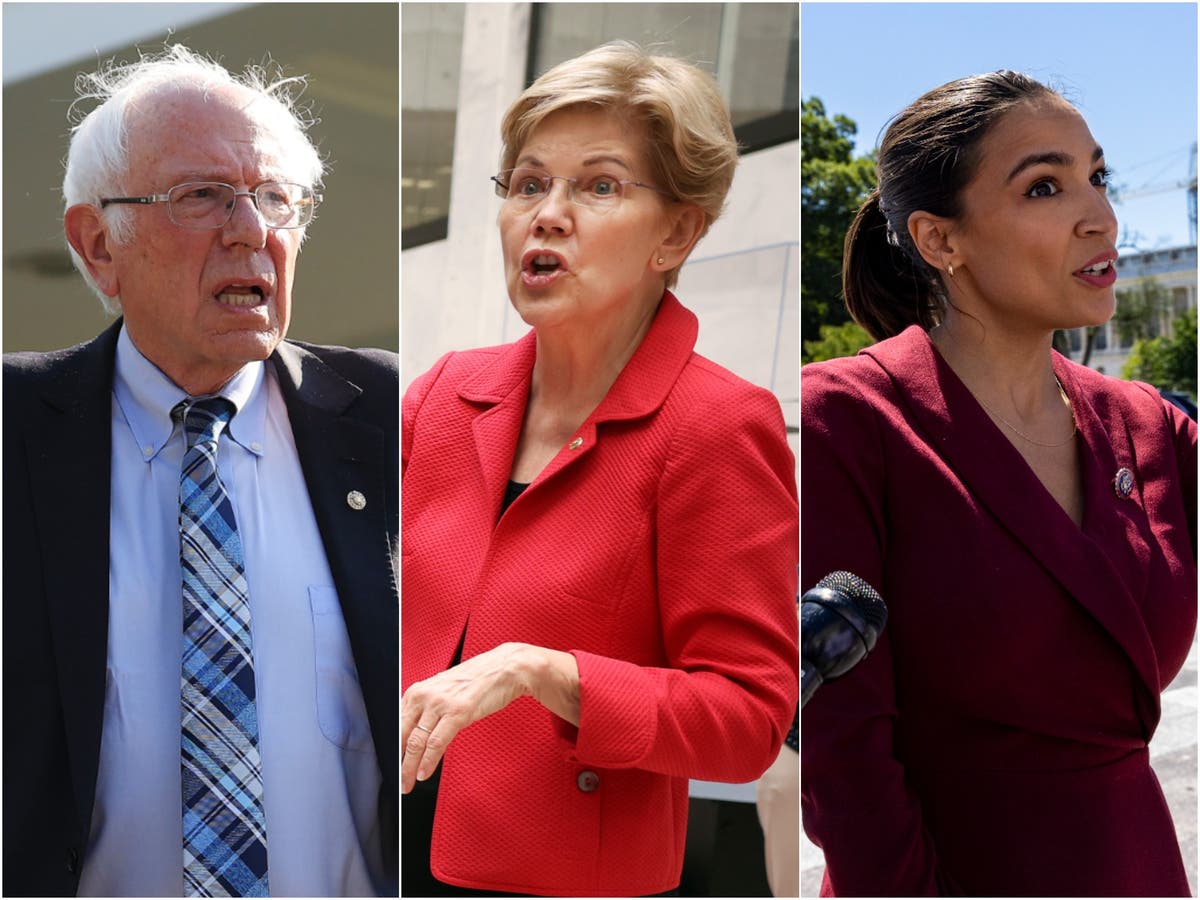 The Independent 21 July, 2021 - 09:46am
Progressive politicians such as Bernie Sanders, Alexandra Ocasio-Cortez, and Elizabeth Warren have all blasted Amazon owner and the world's richest man Jeff Bezos for flying to space after not paying taxes.
During a post-flight press conference on Tuesday, Mr Bezos thanked "every Amazon employee and every Amazon customer, because you guys paid for all this", in what many called a tone-deaf remark.
"So seriously, for every Amazon customer out there, and every Amazon employee, thank you from the bottom of my heart, very much. It's very appreciated," Mr Bezos, who is reportedly worth more than $200bn, said.
He was quickly criticised by progressive politicians, such as Independent Vermont Senator Bernie Sanders, who tweeted: "Am I supposed to be impressed that a billionaire went to space while he's paid zero in federal income taxes some years and the workers at his company struggle to afford their medical bills, rent, and food for their kids? Nope. It's time to invest in working people here on Earth."
Massachusetts Democratic Senator Elizabeth Warren tweeted: "Jeff Bezos forgot to thank all the hardworking Americans who actually paid taxes to keep this country running while he and Amazon paid nothing."
She used the moment to push her priorities on getting corporations and wealthy individuals to pay more in taxes.
"I'm pushing for three changes to our tax laws – a Wealth Tax, a Real Corporate Profits Tax, and long-term funding for the IRS to go after wealthy tax cheats – to make billionaires and mega-corporations start paying their fair share," she added.
ProPublica revealed last month that Mr Bezos paid no federal income taxes in 2007 and 2011 by reporting to the IRS that he lost more money than he earned. He claimed and got a $4.000 child tax credit meant for families making less than $100.000. At the time in 2011, Mr Bezos was worth $18bn.
Ms Warren told TMZ that Mr Bezos was "laughing at every person in America who actually paid taxes. Jeff Bezos's trip to outer space is being financed by all the rest of the US taxpayers who paid their taxes so that Jeff Bezos didn't have to".
"Yes, Amazon workers did pay for this," New York Rep Alexandria Ocasio-Cortez tweeted about the spaceflight. "With lower wages, union-busting, a frenzied and inhumane workplace, and delivery drivers not having health insurance during a pandemic. And Amazon customers are paying for it with Amazon abusing their market power to hurt small business."
Assistant Speaker and Massachusetts Rep Katherine Clark tweeted: "You don't have to be a rocket scientist to know it's time for billionaires to pay their fair share."
California Democratic Rep Adam Schiff, who gained notoriety as the lead impeachment manager during former President Donald Trump's first impeachment trial in early 2020, tweeted: "Listen, I'm all for space exploration and it must have been an amazing view. But maybe – and I'm just spitballing here – if Amazon and other companies paid their fair share in taxes, we could lift all kids – if not into space, at least out of poverty. Sincerely, Earthlings."
Mr Bezos started his space company Blue Origin in 2000.
"What we're doing is the first step of something big, and I know what that feels like, I did it three decades ago, nearly three decades ago, with Amazon," Mr Bezos said following the launch. "Big things start small, but you can tell when you're onto something, and this is important."
"We're going to build a road to space so that our kids and their kids can build the future, and we need to do that, we need to do that to solve the problems here on Earth," Mr Bezos added. "This is not about escaping Earth."
"When you go to space and see how fragile it is, you want to take care of it even more, and that's what this is about," he said.