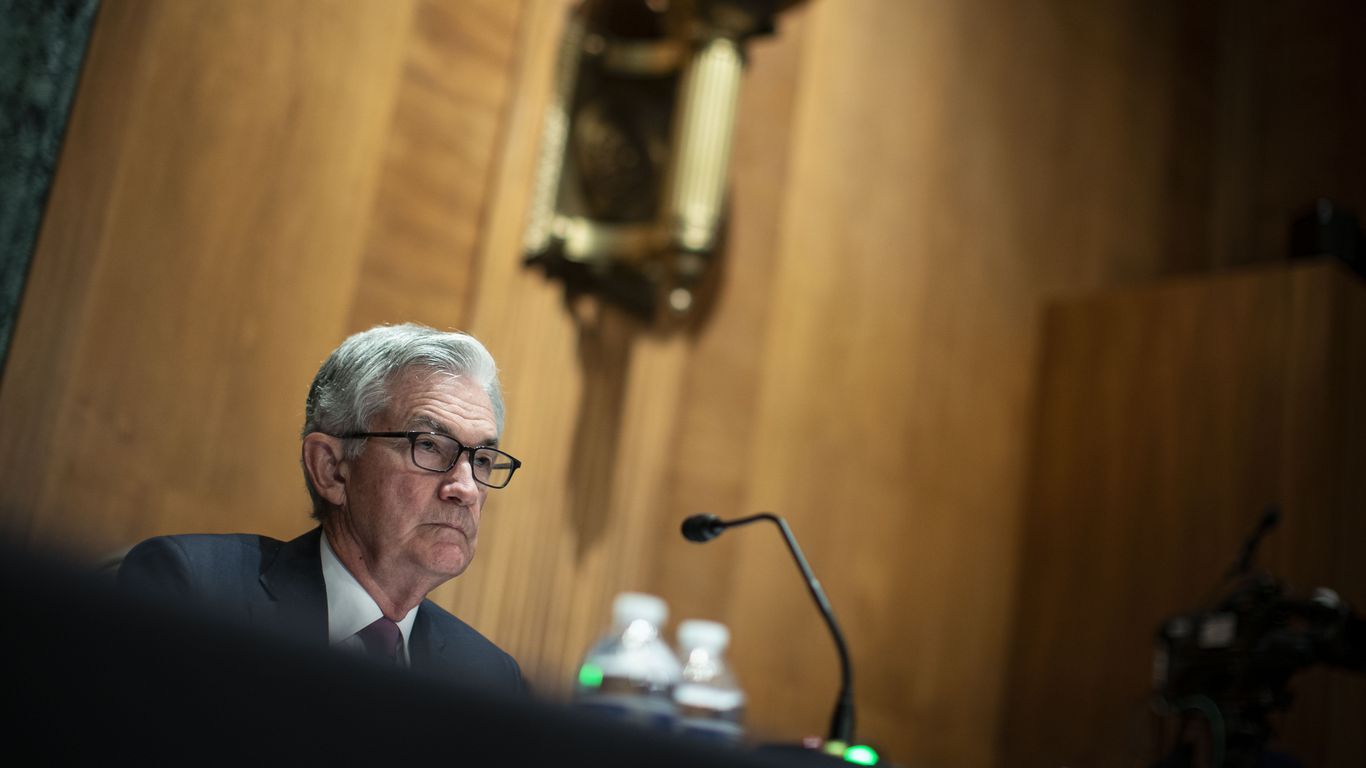 Reps. Alexandria Ocasio-Cortez (D-N.Y.), Rashida Tlaib (D-Mich.) and Ayanna Pressley (D-Mass.) are calling on President Biden to replace Federal Reserve Chair Jerome Powell with someone more focused on "eliminating climate risk and advancing racial and economic justice," according to a joint statement reported by Politico.
Driving the news: Powell's term will end in early 2022, though some economists have said Biden will likely reappoint him.
What they're saying: Though the progressive lawmakers recognized that the Fed has "made positive changes" under Powell, they pushed Biden to appoint someone more aggressive on financial regulation and climate change.
Worth noting: Few Democratic lawmakers have publicly opposed Powell, but some including Sens. Sherrod Brown (Ohio) and Elizabeth Warren (Mass.) have similarly called him out on his deregulatory efforts, Politico noted.
Go deeper: The growing push for a green Fed
Fed chair Jerome Powell isn't in a hurry to dial back loose monetary policy because he doesn't want to cause "lasting harm" to the economy.
Why it matters: With the economy progressing, everyone wants to know when the Fed will taper its monthly purchases of $120 billion worth of bonds, an emergency policy intended to keep interest rates low and financial markets liquid during the pandemic.
The percentage of Republicans who say they trust national news organizations has been cut in half over the past five years, according to a new study from Pew Research Center.
Why it matters: The party's trust in media starting dropping when President Trump took office, but has plummeted much more dramatically in the Biden era.
The launch next month of the first all-civilian mission to orbit is an ambitious test for a burgeoning space industry's futuristic dream of sending many more ordinary people to space in the next few years.
Why it matters: Companies and nations envision millions of people living and working in space without having to become professional, government-backed astronauts. Those hopes are riding on SpaceX's next crewed mission, called Inspiration4.
Read full article at Axios
BusinessLine 31 August, 2021 - 04:30am Investing.com 31 August, 2021 - 04:30am
All eyes were on Jackson Hole last week. Well actually, all eyes were on their computer screens as Fed Chair Jerome Powell gave his much anticipated speech virtually at the Kansas City Fed conference, which is usually held in Jackson Hole.
In short, investors of all shapes and sizes wanted to know whether or not Powell was going to start "talking taper." And if he did, would he also discuss the Fed's next move – as in, when the U.S. central bank would start raising rates?
To review, the term "taper" refers to a reduction in the amount of bonds the Fed purchases each month under what has become known as quantitative easing ("QE"). The plan is for the FOMC to buy bonds on the open market in order to keep rates low and liquidity high. The latest QE program was implemented as part of the central bank's extraordinary monetary support in response to COVID's impact on the economy. In case you don't follow such things, the Fed has been buying $120 billion in bonds each and every month for some time now. And many analysts believe that the QE program has helped to keep rates exceptionally low this year, despite the surge in inflation that has occurred.
With the economy having recovered from the self-induced lockdown and the ensuing stop/start recession, the belief is the Fed's extra support is no longer needed. As such, most believe Powell & Co. need to figure out how to wind down the current QE program. Without causing a lot of disruption in the markets, of course.
The good news is there is an historical analog for such a thing. If you recall, it was in 2013 that then Fed Chair Ben Bernanke first started talking about tapering the Fed's QE program that had been enacted to help support the economy after the Great Financial Crisis. At that time, Bernanke's "taper talk" took the market by surprise and a "taper tantrum" ensued in the stock market.
However, I'm not sure the previous QE tapering example will be of much help to investors this time around as things are very different now. Thus, the hissy fit the market threw in response to the idea of the Fed tapering QE (I.E., reducing the bonds bought on the open market) in 2013 doesn't appear to be happening now.
The reason is the Fed has learned to communicate its plans better - as in, much better. Therefore, the idea of the Fed pulling back here isn't a surprise. No, everybody on the planet knows this move is coming. It's just a question of when.
The trick for Powell on Friday was to communicate to the markets that he and his FOMC colleagues (a) recognize that the time to taper the QE program has arrived, (b) that inflation might not be transitory and as a result, may require Fed action, and (c) to address when rates might need to rise - all without upsetting markets to any great degree.
Those with a bearish bent considered the chairman's task on Friday to be a tall order. The thinking was that Powell was likely to disappoint and as a result, market participants would vote with their feet - hitting the sell button repeatedly and in rapid fashion.
But instead, the S&P 500 rallied in response to the chairman's speech and finished with the 52nd new all-time high this year.
It appears that Jay Powell threaded the needle. Yes, he did "talk taper." But... he also left the door open on the timing by referencing the uncertainty the Delta variant brings to the Fed's monetary calculus.
On the subject of inflation, Powell did admit that prices are running hotter than expected. But... he also stuck to his guns and explained in detail why he believes that the surge in inflation is likely to be temporary. And while several of his FOMC colleagues publicly disagree, the market seemed to like what Powell was saying.
And then there was the subject of interest rates. From my seat, this was probably the most important topic of the day. You see, most folks figure that once the Fed is done tapering the QE program, the next move will be to start raising rates. In market terminology, this is called a "hiking cycle." And the bottom line is everybody knows that stocks don't tend to fare well when the Fed is in the process of raising rates.
Therefore, there have been numerous reports by Wall Street firms speculating when the tapering would begin (most believe sometime between November and January) and end (likely eight months later), and then, when the first rate-hike would occur (usually something on the order of six months later).
But that last part is where Powell surprised to the upside. Instead of talking about when the Fed has traditionally started to raise rates, the Fed chair told us that the end of QE didn't necessarily mean the start of a hiking cycle. No, Powell told us the Fed would need to look at the data, the state of COVID and the economy, and then act accordingly. Nice.
Powell laid out a logical path that appeared to be a pleasant surprise to the markets. Every potential negative was accompanied by a market appeasing "yea, but." And my take is it looks like he may have threaded the needle beautifully.
Here's hoping you have a great week. Now let's review our indicator boards.
We start with six of our favorite long-term market models. These models are designed to help determine the state of the overall market.
* Source: Ned Davis Research (NDR) as of the date of publication. Historical returns are hypothetical average annual performances calculated by NDR.
Next, we review the market's fundamental factors, including interest rates, the economy, earnings, inflation and valuations.
* Source: Ned Davis Research (NDR) as of the date of publication. Historical returns are hypothetical average annual performances calculated by NDR.
After reviewing the big-picture models and the fundamental backdrop, I like to look at the state of the current trend. This board of indicators is designed to tell us about the overall technical health of the market's trend.
Next, we analyze the momentum indicators/models to determine if there is any "oomph" behind the current move.
* Source: Ned Davis Research (NDR) as of the date of publication. Historical returns are hypothetical average annual performances calculated by NDR.
Finally, we look at our early warning indicators to gauge the potential for counter-trend moves. This batch of indicators is designed to suggest when the table is set for the trend to "go the other way."
* Source: Ned Davis Research (NDR) as of the date of publication. Historical returns are hypothetical average annual performances calculated by NDR.
Last week, the U.S. Federal Reserve reiterated statements in support of continued easy money policies and support for a recovering U.S. economy. Additionally, Fed Chair Jerome...
After years of mistrust, Salesforce.com (NYSE:CRM) is slowly winning back investor confidence. The stock is currently trading close to the highest level it hit almost a year ago,...
Manulife Financial (NYSE:MFC) is the largest insurance company in Canada by total assets. Along with various types of insurance, including annuities, the company provides a range...
We encourage you to use comments to engage with other users, share your perspective and ask questions of authors and each other. However, in order to maintain the high level of discourse we've all come to value and expect, please keep the following criteria in mind:
Are you sure you want to block %USER_NAME%?
By doing so, you and %USER_NAME% will not be able to see any of each other's Investing.com's posts.
%USER_NAME% was successfully added to your Block List
Since you've just unblocked this person, you must wait 48 hours before renewing the block.
I feel that this comment is: