Tim Cook
tim_cook
Good morning from somewhere a little different this time. We're California streaming in 3 hours! See you soon. 👀 #AppleEvent pic.twitter.com/C5V5hiel8F
Majin Bu 🫵
MajinBuOfficial
iPhone 13 Case Lineup Colors #Apple #iPhone13 pic.twitter.com/jXrRqLhUmd
Jon Prosser
jon_prosser
looks like our ipad mini leak was accurate our iphone 13 CADs were accurate apple watch... don't know what happened 😂
Tim Cook
tim_cook
Introducing iPhone 13 and iPhone 13 Pro, all-new iPad mini, Apple Watch Series 7, and so much more! Check out the highlights from today's #AppleEvent. pic.twitter.com/2Vas3M4NB4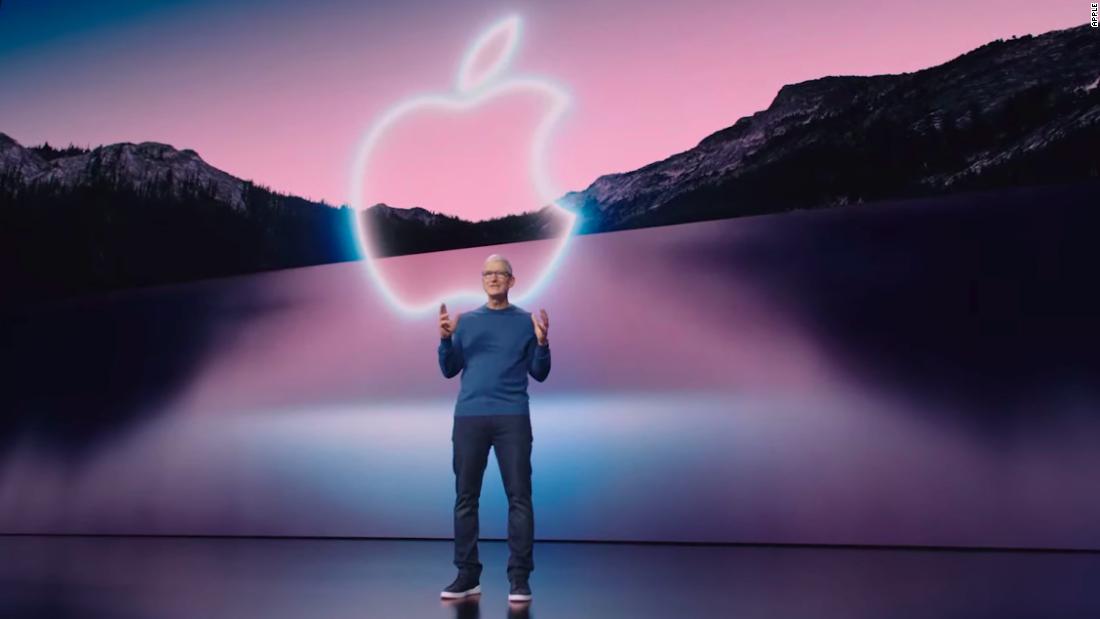 By Samantha Murphy Kelly, Rishi Iyengar, Clare Duffy and Kerry Flynn, CNN
Here are the new products Apple announced today, plus their prices and launch dates:
Apple is adding massive storage capabilities to the iPhone 13 Pro, with a new 1 terabyte option.
The 1 TB iPhone Pro will be available in addition to the existing 128 GB, 256 GB and 512 GB editions of the device. If you're willing to shell out the big bucks for it (Apple didn't reveal exactly how much), it might be a very long time until you have to delete any photos or videos to make space for new ones.
Apple showed off updates to its higher-end iPhone Pro line.
The 6.1-inch iPhone 13 Pro and 6.7-inch iPhone 13 Pro Max feature the same A15 Bionic chip as the iPhone 13 and iPhone 13 mini. But it also packs in a five-core CPU, promising 50% faster graphics which should appeal to many gamers. The Pro devices also feature a bright Super Retna XDR display with a faster refresh rate, and all-day battery life.
The camera system got a solid refresh, too. It comes with a new 77 mm telephoto lens with 3 times optical zoom as well as new wide and ultrawide cameras.
The Pro and Pro Max start at $999 and $1,099, respectively, and come in graphite, gold, silver and sierra blue.
The iPhone 13 is powered by a new chip designed by Apple: the A15 Bionic.
Executives called the chip the "fastest CPU in any smartphone."
Consumers won't get a fully uninterrupted display on the new iPhone: Apple's latest smartphone still has a notch for its front-facing camera at the top of the display, but it's smaller than in the past.
Rather than doing away with the notch, as some company observers had expected, Apple said Tuesday that it made it 20% smaller on the iPhone 13 than on previous versions of the device.
Apple unveiled the 6.1-inch iPhone 13 and 5.4-inch iPhone 13 mini at its closely watched media event on Tuesday. The devices feature a new look with a dual-camera system, which are arranged diagonally.
The iPhone 13 and iPhone 13 mini run on the A15 Bionic chip and feature longer-lasting batteries. Apple said the iPhone 13 will last 2.5 hours longer than the iPhone 12 and the iPhone 13 mini will go 1.5 hours longer on a single charge. Other updates include a more efficient display, an updated 5G chip, and an option called Cinematic Mode, which is like the popular Portrait mode feature but for videos.
The iPhone 13 mini will start at $699 for 128 GB (more storage for its base model than ever before) and the iPhone 13 will cost $799, starting with 128 GB.
The smartphones come in five new colors: pink, blue, black, white and red.
Apple's Fitness+ program, which is designed to work specifically with the Apple Watch, has a handful of new features, including guided meditation, a new workout program that gets skiers and snowboarders ready for snow season, and Groups workouts, which allow users to exercise with up to 30 people.
Fitness+ is coming to 15 new countries and subtitles in six languages later this fall.
Apple unveiled the new Apple Watch Series 7, a slimmer device with a wider screen than its predecessor.
The new watch has a display that is 20% larger than the Series 6. It can display 50% more text and also has a full keyboard that you can tap or swipe to type out text messages.
True to its California roots, the watch adds several features tailored to one of the state's favorite activities: bike rides. It includes automatic detection when a ride starts and if the rider falls off.
The Apple Watch Series 7 starts at $399 and will be available later this fall.
Apple's first big product reveal at the event was the latest version of the iPad and a 5G-capable iPad Mini.
Here's a look at some of the specs:
Under the hood, the 10.2-inch iPad features a powerful A13 chip with 20% faster performance than the previous model. Apple says it's now 3 times faster than a Chromebook. It comes with a new 12MP ultrawide camera with Center Stage, which uses machine learning to adjust the front-facing camera during FaceTime video calls, and more accessory support that works with the first-generation Apple Pencil. It also supports a True Tone feature that adjusts the screen's color temperature to ambient lighting.
It costs $329 for 64GB storage -- double the storage that typically ships on an entry-level iPad. For schools, the device costs $299. Pre-orders start today and shipping begins next week.
The 8.3-inch iPad mini now comes with smaller bezels, more rounded corners, upgraded cameras on the front and back, Apple's Liquid retina display, USB-C support, magnetic support for Apple Pencil, an updated speaker system and new colors, such as pink and purple. It starts at $499.
Read full article at New York Post