Do you have to wear a mask in Las Vegas casinos 2021?
Masks are back in Las Vegas, where regional health officials pointed to a rising number of coronavirus cases and advised everyone — vaccinated or not — to wear facial coverings in crowded indoor places. July 16, 2021, at 1:49 p.m. ... The recommendation from the Southern Nevada Health District isn't a requirement. U.S. News & World ReportOfficials Advise COVID-19 Masks Again Indoors in Las Vegas
Nevada casinos take in record $1.23 billion in winnings in May
LA County residents will again be required to wear masks indoors, regardless of vaccination status, as COVID cases spike.
Nevada casinos took in a record $1.23 billion in gaming revenue in May -- that's the highest single-month in state history.
Read full article at KABC-TV
Las Vegas Review-Journal 17 July, 2021 - 06:01am
The Southern Nevada Health District's recommendation extends to both those vaccinated against COVID-19 and unvaccinated people.
The Southern Nevada Health District on Friday recommended face masks for everyone — both those who are vaccinated against COVID-19 and those who are not — in crowded indoor public places.
Previously, Nevada and local authorities were adhering to guidance from the Centers for Disease Control and Prevention that advised only unvaccinated individuals to wear masks in crowded indoor settings.
The health district's recommendation comes as COVID-19 test positivity rates, case counts and hospitalizations continue to increase in Southern Nevada, which has been designated as a "sustained hotspot" for the disease by the federal government.
"Using masks correctly has proven to be effective in helping to prevent people from getting and spreading COVID-19," the health district said in a news release. "With the rise in cases and slowing vaccine rates in Clark County, the health district's recommendation to wear masks in crowded public settings, including grocery stores, malls, large events, and casinos, is a step to fully utilize the tools we have available to stop the pandemic."
At a news briefing Friday afternoon, district health officer Dr. Fermin Leguen said, "At this point, we are making a strong recommendation to the public and our business community."
Whether the health district ultimately will call for a requirement that masks be worn will depend on the community's response over the next few days, said Leguen. He noted that the public health agency does not have the authority to impose a mandate and that a state or local government would need to implement such a rule.
Meanwhile, a representative of the Vegas Chamber said that the business organization next week would begin requiring all individuals at its events and in its offices to wear masks.
"In addition to a public health issue this is an economic issue, which is why as an organization we are going to require full masks at our events and place of business," said Cara Clarke, the chamber's vice president of communications. "And we're encouraging other businesses to do the same because we want to keep Las Vegas open."
The health district's recommendation comes a day after Los Angeles County announced it would be requiring everyone to again wear masks in all indoor settings. It also follows a recommendation by the county's top health official that residents reconsider traveling to Nevada and other states where COVID-19 rates are increasingly high, particularly if they are unvaccinated.
Currently about 52 percent of Clark County's population is vaccinated, including about 65 percent of those 18 and older.
Related: L.A. County health official: Reconsider travel to Nevada
Contact Mary Hynes at mhynes@reviewjournal.com or 702-383-0336. Follow @MaryHynes1 on Twitter.
U.S. Surgeon General Vivek Murthy said Thursday that misinformation about the COVID-19 pandemic poses an "imminent and insidious threat to our nation's health."
New cases, hospitalizations and test positivity rate have risen steadily for more than a month and Clark County's top health official says there is no sign the rise is slowing.
The weeklong camp, which started in 2019 but skipped last year because of the COVID-19 pandemic, aims to inspire students to pursue a career in nursing.
A health official said California residents, particularly the unvaccinated, should rethink traveling to Nevada or other states where COVID-19 cases are high.
Dr. Anthony Fauci answers questions from RJ readers about a mask mandate and whether a Las Vegas concert with tens of thousands of audience members could be attended safely.
The second "Vax Nevada Days" ceremony took place Thursday night at Sand Harbor-Lake Tahoe Nevada State Park.
Nevada on Wednesday reported 692 new coronavirus cases and six deaths over the preceding day as the state's COVID-19 test positivity rate continued to increase.
The data represents where an infected person traveled in the 14 days prior to them becoming symptomatic or getting tested. Cases have been rising since early June.
The two-week moving average of new cases, which now stands at 468, has been climbing since it reached a low of 132 on June 5.
Southern Nevada health officials sounded the alarm in June over a cluster of "breakthrough" cases of the coronavirus delta variant among vaccinated employees of a Las Vegas hospital.
Copyright © 2019 Las Vegas Review-Journal, Inc. | Privacy Policy | Terms of Service
Powered by WordPress.com VIP sub log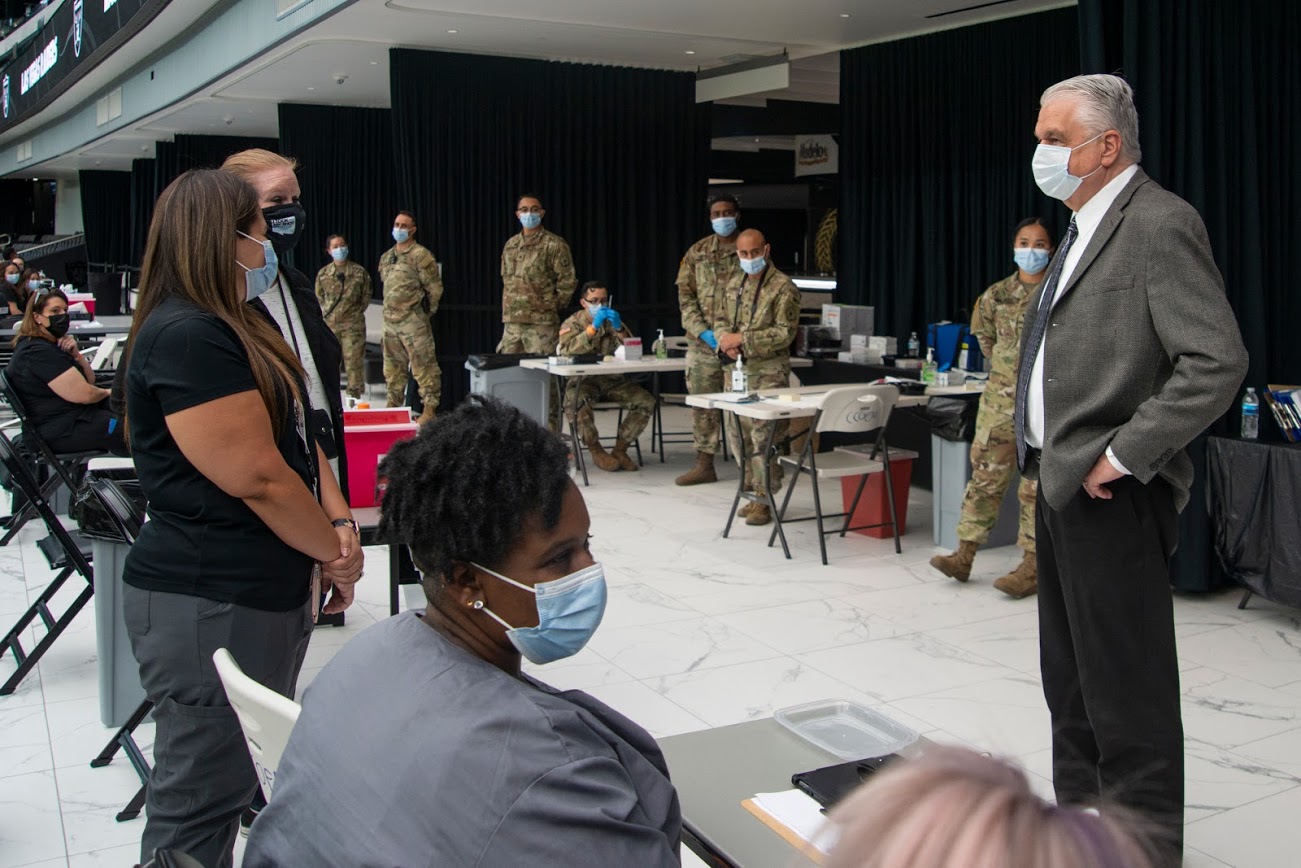 The Nevada Independent 17 July, 2021 - 06:01am
For more than fifteen months we have brought you the latest COVID-19 numbers in Nevada, including COVID-19 cases, hospitalizations and deaths, and provided context to them on a near-weekly basis through this series. (You can view the prior editions of "Coronavirus Contextualized" here.)
As noted in recent editions, we will continue providing you with the data you need to know about COVID-19 in Nevada for as long as necessary, though "Coronavirus Contextualized" now publishes on a semi-regular basis, meaning that you can expect to see a new story every few Fridays.
Don't fear, though: You'll still be able to continue to find the latest data daily on our COVID-19 data page and on Twitter. As always, you can reach out to [email protected] with any questions.
Below, we take a look at the latest COVID-19 case, hospitalization and test positivity numbers, which have been quickly rising as Nevada remains among the top states in the nation for most COVID-19 cases per capita over the last seven days.
As of Thursday, an average of 710 new COVID-19 cases in Nevada were reported each day over the last seven days, up from 430 last week and five times the recent low point of 142 on May 31.
However, Nevada hasn't yet seen the kinds of case numbers it saw during its summer and fall peaks, when Nevada's seven-day case averages were 1,176 and 2,736, respectively. The bulk of the surge continues to be concentrated in Clark County, though Washoe County has started to see some increases in case numbers in recent days as well.
Data from the Nevada State Public Health Lab released on Monday show that the highly transmissible Delta variant continues to crowd out other variants. In the 14-day period leading up to July 9, the Delta variant was responsible for 68 percent of sequenced COVID-19 cases in the state. The previous week, it was responsible for 60 percent of cases, and the week before that, it was responsible for 46 percent.
By contrast, the Alpha variant, from the U.K., was responsible for 11 percent of sequenced cases in the last 14 days, while the Gamma variant, from Brazil, was responsible for 4 percent.
In Clark County, the Delta variant was responsible for 59 percent of sequenced cases in June, compared to 45 percent in Washoe County and 56 percent in Carson City. So far, the Delta variant has been responsible for 83 percent of sequenced cases in Washoe County in July. Only two cases from Clark County have been sequenced so far in July by the Nevada State Public Health Lab — which lab officials believe is related to a logistical issue with how samples from the south are shipped up north to Reno for sequencing — making it difficult to determine how prevalent any of the variants are in the county so far this month.
As of July 9, there had been 150 cases of the Delta variant confirmed in Clark County; 68 in Washoe County; five each in Carson City, Elko County and Lyon County; three in Churchill County and one in Lander County. Not all positive COVID-19 samples are sequenced, however, meaning those totals likely represent just a fraction of all Delta variant cases.
The Washoe County Health District, in a press release this week, said there have now been three Delta variant-related deaths in the county and 11 Delta variant-related hospitalizations. Of the 11 hospitalizations, only one had received a COVID-19 vaccine.
Experts say a two-dose course of the vaccine is still very effective against the Delta variant.
Since the beginning of the pandemic last year, there have been 342,230 COVID-19 cases confirmed statewide, and 1 in 9 Nevadans has tested positive for the virus. A little more than 4 percent of those cases, 14,399 have been diagnosed in the last month, and a little more than 1 percent, or 4,971 cases, have been reported in the last week.
Meanwhile, the test positivity rate, which looks at the percentage of tests coming back positive out of the total tested, has been rapidly increasing.
It is not possible to independently calculate the test positivity rate based on test encounters because the state only publicly reports the number of positive cases, not the number of positive test encounters. However, the state does provide this number, calculated as an average over a 14-day period with a seven-day lag. As of Wednesday, that number was 10.87 percent, up from a low of 3.34 percent on June 9. The test positivity rate is now more than twice the World Health Organization's recommended 5 percent threshold but still less than the peak test positivity rate of 21.25 percent that the state saw in mid-January.
Since the beginning of the pandemic, more than 1.7 million people — 56 percent of Nevadans — have been tested for COVID-19, and there have been more than 3.6 million individual testing encounters.
As of Thursday, more than 51 percent of Nevadans have been either partially or fully vaccinated against COVID-19, and about 36 percent of Nevadans eligible for the vaccine have yet to receive it.
Since vaccinations started in December, more than 2.8 million doses of the COVID-19 vaccine have been administered in Nevada. In total, nearly 1.6 million people have received at least one dose of the COVID-19 vaccine and more than 1.3 million Nevadans have been fully vaccinated. Nevada has received more than 3.1 million doses of the vaccine for distribution.
The pace of vaccine distribution in Nevada continues to slow even as the Vax Nevada Days campaign, a vaccine incentive program that will award $5 million in prizes to vaccinated Nevadans, continues. As of Thursday, about 5,300 vaccines were reported administered each day over the last seven days, down from a high of nearly 30,000 on April 15. The pace of vaccination hasn't been this slow since the early days of the vaccination campaign back in mid-January.
Among the counties, Carson City continues to have the highest percentage of residents fully vaccinated against COVID-19 at 49.6 percent, followed by Washoe County at 47.7 percent, Douglas County at 45.4 percent and Clark County at 38.1 percent. Tiny Storey County has still vaccinated the least, with only 14 percent of its residents partially or fully vaccinated.
Nationally, Nevada ranks 34th among the 50 states for percentage of adults fully vaccinated, at 43.1 percent, continuing to trail all of its neighbors except Idaho, which comes in at 45th with 36.8 percent vaccinated. Oregon ranks 12th at 54.9 percent; California ranks 17th, at 51.4 percent; Arizona ranks 30th at 44.3 percent; and Utah ranks 32nd at 43.6 percent.
As of Thursday, there have been 186 breakthrough cases — fully vaccinated individuals who have tested positive for COVID-19 — identified in Washoe County. In Clark County, which only reports serious breakthrough cases, there have been 122 breakthrough hospitalizations and 20 breakthrough deaths.
Of those breakthrough hospitalizations, 84 percent had underlying conditions, 72 percent were of those 65 years or older and 66 percent were of men.
The number of new COVID-19 deaths reported on average each day has been fluctuating though showing some signs of increases in recent days. Experts have been hopeful that because it is generally younger, unvaccinated folks who are falling ill with the virus that the death toll from this current wave won't be as high as it was during the summer and winter waves.
As of Thursday, six COVID-19 deaths were being reported on average each day over the prior seven days, up from two last week and four the week before that.
Over the last seven days, 45 COVID-19 deaths have been reported across the state, including:
Since the beginning of the pandemic, there have been 5,752 deaths from COVID-19. In the last month, 122 deaths from COVID-19 have been reported statewide, about 2 percent of the deaths reported statewide since the beginning of the pandemic.
COVID-19 hospitalizations have also continued to quickly increase since hitting a record low of 209 on June 12. As of Wednesday, that number had increased more than threefold to 771, though it is still less than the peak hospitalizations the state saw during the summer and winter surges, 1,165 and 2,025, respectively.
"The general population appears desensitized to the threat, and individuals are not following CDC guidelines related to mask wearing for unvaccinated persons or maintaining social distancing in crowded indoor locations," the Nevada Hospital Association wrote in its weekly report. "Vaccinations have plateaued, and while most patients are unvaccinated, hospitals are seeing some breakthrough cases requiring advanced medical treatments."
Data provided to the Nevada Independent by the Nevada Hospital Association last week showed that adults aged 20 to 59 were responsible for 57 percent of new hospitalizations between June 27 and July 7, compared to only 36 percent between Nov. 27 and Dec. 7 during the prior surge. By comparison, those 70 and up only made up 22 percent of new hospitalizations, compared to 41 percent during the previous surge.
Those numbers appear to correlate with vaccination rates. More than 76 percent of Nevadans aged 60 and up have received at least one dose of the vaccine, while only 51 percent of those 20 to 59 have received their first shot.
The hospital association said that some facilities are reporting increased hospital and ICU occupancy rates at or about 90 percent, though they noted that those patients are "all-cause hospitalizations," not just related to COVID-19.
"Hospitals are not reporting shortages of ventilators, supplies, vaccines, or other therapeutics, although ICU and ventilator use is increasing," the hospital association wrote.
Six of the state's 17 counties are now considered at elevated risk for the spread of COVID-19 according to state criteria as of Thursday: Clark, Nye, Esmeralda, Lyon, Churchill and Elko.
Counties are considered at risk for elevated spread of COVID-19 if they meet two of the following three metrics:
Three counties — Elko, Churchill and Lyon — have been flagged for all three metrics, while Clark has been flagged for a too high case rate combined with a too high test positivity rate, Esmeralda has been flagged for a too high case rate with a too low testing rate and Nye County has been flagged for a too high test positivity rate and a too low testing rate.
One other county, Lander, has been flagged for a high case rate but isn't considered at elevated risk for the spread of COVID-19 under the state's criteria because it doesn't meet other of the two criteria.
KTNV Channel 13 Las Vegas 17 July, 2021 - 06:01am