Will Tokyo Olympics be canceled?
Covid-19 cases are rising in Tokyo and the Games, postponed last year because of the pandemic, will be held without spectators. ... Organizers, for whom International Olympic Committee (IOC) President Thomas Bach said cancelling the event had never been an option, have promised to keep the Games "safe and secure". CNBCTokyo 2020 chief Muto doesn't rule out 11th-hour cancellation of Olympic Games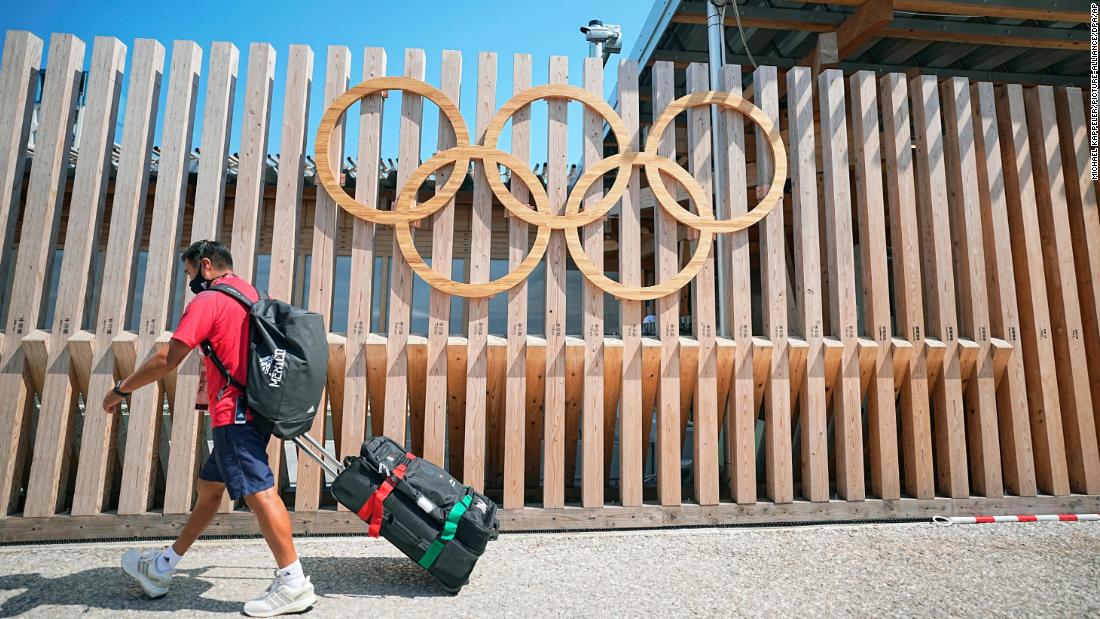 CNN International 20 July, 2021 - 04:10pm
Updated 1108 GMT (1908 HKT) July 20, 2021
CNN's Kevin Dotson, Amir Vera, Jill Martin and Gawon Bae contributed to this report.
The Washington Post 20 July, 2021 - 04:10pm
This is the only way the Pandemic Games can be staged: not by pretending the virus has been completely defeated, but by dealing with it when it surfaces, surely and swiftly. This would not have been possible last summer, when there was no vaccine and the world knew less about the virus than it does now. Tokyo 2020 had to be punted to 2021, even if the signs that line the streets here still post last year's date.
"What we're seeing is what we expected to see, essentially," McCloskey said here Monday. That sounds casual and crass. Yet, what other answer is there?
There were never going to be zero positive tests at these Games, so put aside the surprise that there are positive tests at these Games — 67 to date, five of from the more than 11,000 athletes who will eventually show up. Tuesday's Tokyo2020 report brought nine new cases — seven among contractors working at the Games, one from a volunteer and one from an athlete.
Here's a guess: Over the course of the Games, particularly in the first week or so, that'll be a fairly typical daily report. (Sunday had 10 positives, Monday three.) The arrival of athletes and coaches from all over the world is more staggered than normal because of the virus. As people reach Tokyo, some will test positive. They will be isolated. Their close contacts will be monitored, tested, and tested again. There are protocols in place. This is the world most of us have lived in for nearly a year-and-a-half.
Look, it's fair to question the IOC's motivations — not only in foisting the Olympics on Japan, but in everything else it does. The organization has a history of corruption that's all but ingrained, and there is insincerity in almost all of its utterings. Why, just Tuesday, Thomas Bach, the IOC's president, said at a meeting of the group here: "Solidarity is at the heart of everything we do. It fuels us."
If that were true, then his organization would have listened to the will of the Japanese people, who — overwhelmingly and repeatedly in polling — have expressed their opposition to these Olympics.
In the same breath, Bach said, "The IOC never abandons the athletes." That's laughable, too, and the Games to come will be monitored not only for who wins and how, but for whether the medalists will use this forum to protest — pick a cause — human rights abuses worldwide, or police brutality back home, or whatever they deem important.
The IOC frowns upon such displays of dissent, and too often doesn't give athletes a proper seat at the table as it shapes what the Games are and what they will become. Plus, as my colleague Sally Jenkins so correctly pointed out, forcing athletes to sign liability waivers absolving the IOC of responsibility should they come down with covid is, indeed, abandoning them. Over a decade, Bach has trained us to treat every word out of his mouth with some combination of skepticism and disbelief.
But if the Games are to be held — and they will be held — the hand-wringing about the positive tests in the days leading up to opening ceremonies rings as melodramatic. Yes, covid is a potentially serious disease that can still be fatal, even as doctors have gotten better at treating it. Cases in Japan are on the rise, and the Japanese government has declared the "state of emergency" that will last throughout the Olympics. That reads rather dramatically, and indeed should warrant caution.
Still, Tokyo2020 President Seiko Hashimoto said Tuesday that the positivity rate for people arriving at Tokyo's airports since July 1 is about 0.1 percent. Plus, Japan's current virus rates would be the envy of so many countries, both developed and not. According to The Washington Post's coronavirus tracker, there are 17 new cases per 100,000 Japanese people over the last seven days — less than two-and-a-half per day. By contrast, the U.S.'s rolling average is more than four times that.
Or take another example: Great Britain. There, the rate is 480 new cases per 100,000 people — a real struggle, another surge. Yet this month, the country played host to Wimbledon, the British Open and the Euro2020 soccer tournament. All were held with fans. The latter concluded with some 60,000 people at London's Wembley Stadium. Maybe that was unwise or unsafe.
But with fans banned from the Olympics by Japanese authorities, the opportunities for the virus to roar through the Games are more limited. Odds are that any disruption in these Olympics more likely hinges on who tests positive rather than on how many. Sure, South Africa's men's soccer opener against host Japan would be in jeopardy if the virus spread through that team. But the soccer tournament won't be canceled because of it.
All four major American sports pulled off versions of their seasons in 2020, when the pandemic was new and the virus was killing and bubbles were deemed necessary. All four will do the same in 2021 — without the bubbles, and with fans in the stands. Last week, six New York Yankees tested positive for covid following the all-star break, and their Thursday game against Boston was postponed. But the season was never in jeopardy. On Friday, they opened their second half.
Maybe we should be having a debate about whether the prevalence of the highly transmissible delta variant means restrictions on travel and gathering should be more stringent than they are at the moment. And we can wonder whether the Olympic bubble is truly that, sealed and sacrosanct, because athletes from one corner of the globe are living in close quarters with those from another.
But what covid demands of the athletes is more important than what the IOC does, and that's to follow the protocols to which we have all become accustomed. Wear masks. Stay apart from each other. Wash your hands. Any participant in the Games — athlete, volunteer, journalist, whoever — has her or his close contacts monitored electronically, anyway.
There are nightmare scenarios involving these Olympics, and maybe they'll play out. But the Games haven't begun, nor have the nightmares. Here's trusting that, in a year-and-a-half of this pandemic, we have learned something about how to mitigate risk — and perform despite it.
The Tokyo Olympics begin officially July 23 with the Opening Ceremonies and end August 8. Here's what you need to know about the Games.
WCNC 20 July, 2021 - 04:10pm
BBC News 20 July, 2021 - 08:31am
Athletes were aware and so too were journalists. But the call of the Olympics is strong.
For most competitors it's the pinnacle of their career - four years of preparation for a month against the best in the world. It can often be a similar story for those who cover the action.
At BBC Scotland we prepared for well over a year for the Games in Tokyo - travel arrangements, who to send, accommodation, logistics on the ground. The list was almost endless.
But the most time-consuming aspect for us this time, like so many other organisations, was the Covid protocols.
In order for Japan to safely stage the Games, a year after they were scheduled to take place, strict rules were applied to those who would travel. Completely understandable.
Mitigating risk was the key to selling the safety of a Games that many believed should have been cancelled instead of postponed.
Given those risks, BBC Scotland scaled back on the numbers of those who would travel. In the end it was decided on a team of three - myself, my producer and a cameraman.
We were to be despatched to broadcast on the success, or otherwise, of the Scots in Team GB and provide an insight into what an Olympics being staged during a pandemic would look and feel like.
We recorded our temperatures for 14 days before flying and took daily PCR tests for three days before our travel date. Thankfully all were negative.
On arrival into Tokyo the scale of the counter Covid operation became clear.
An army of officials checked paperwork as we were moved, with great efficiency and welcoming smiles, to various checkpoints. We were asked to produce proof of negative tests as well as a forest of other paperwork, all Covid related.
After getting the all clear from another on-site PCR test, we finally made it through immigration and into an awaiting pick-up.
Given the backdrop, the whole process felt comforting and necessary.
We had made it through. Now just a case of three days hotel quarantine, then we would be free to cover an Olympics like no other.
Two days into quarantine I was awakened, from a jet lag slumber, by a text from my producer.
It was alerting me to a story about six Team GB athletes and two officials who had been identified as close contacts to a positive Covid case on our flight.
They were now self-isolating. The side eye emoji that accompanied the link said it all.
More than 24 nervous hours passed and we heard nothing. It seemed to us that maybe the cases in question were situated in a different part of the plane and so we continued our preparation as normal.
Not my usual work phone, but the Japanese phone provided by the BBC in order for us to stay in contact and register test results, etc.
As soon as the unfamiliar tone sounded, I knew it wasn't good news.
It was the voice of the BBC's Covid liaison officer. "Where are you? In your room? Good. Stay there, You've been identified as a close contact and we're trying to work out exactly what that means."
Suddenly the walls, in my already small room, started to close in. All the conversations we'd had that day about where we would film and what interviews we had planned started to feel irrelevant.
Over the next few hours it was confirmed we would be confined to our rooms for 14 days, starting on the day we arrived in the country.
My heart absolutely sank and in all honesty, some panic set in about how I would cope.
How would I get food? Could we exercise? Strictly in our room?
A year's preparation gone in a 45-second phone call.
Over the next few hours there followed a series of frantic calls and emails to get the answers to all of the questions. None of them were particularly welcome or comforting.
As we were digesting the news, it emerged that those Team GB members who were also identified could train in a bubble and most likely compete if they continued to provide negative tests.
I was clearly relieved for them. The Olympics should be about protecting the athletes and of course they should be given every opportunity to compete.
I would be lying if I said there wasn't also huge frustration about differences in the rules.
In the main, the Japanese public haven't supported these Games since the pandemic took hold in their country. Organisers need to prove to them that hosting the Games won't jeopardise their recovery.
Being strict on contact tracing, whilst also trying to maintain the integrity of the sport, is part of that.
I could be angry, but there's nobody to be angry at. I'm just thankful our team continues to test negative.
Is the room small? Yes. Is the food being delivered to the door what I'd like? No.
But given the past 18 months, it could be worse.
As a journalist, the biggest frustration is watching the parade go by directly outside your window and not feeling part of it.
Not yet, anyway. Freedom comes on 30 July.
Record rainfall has left more than 12 dead and flooded stations and roads in Zhengzhou city.
15 sayings from around the world