Read full article at Clevver News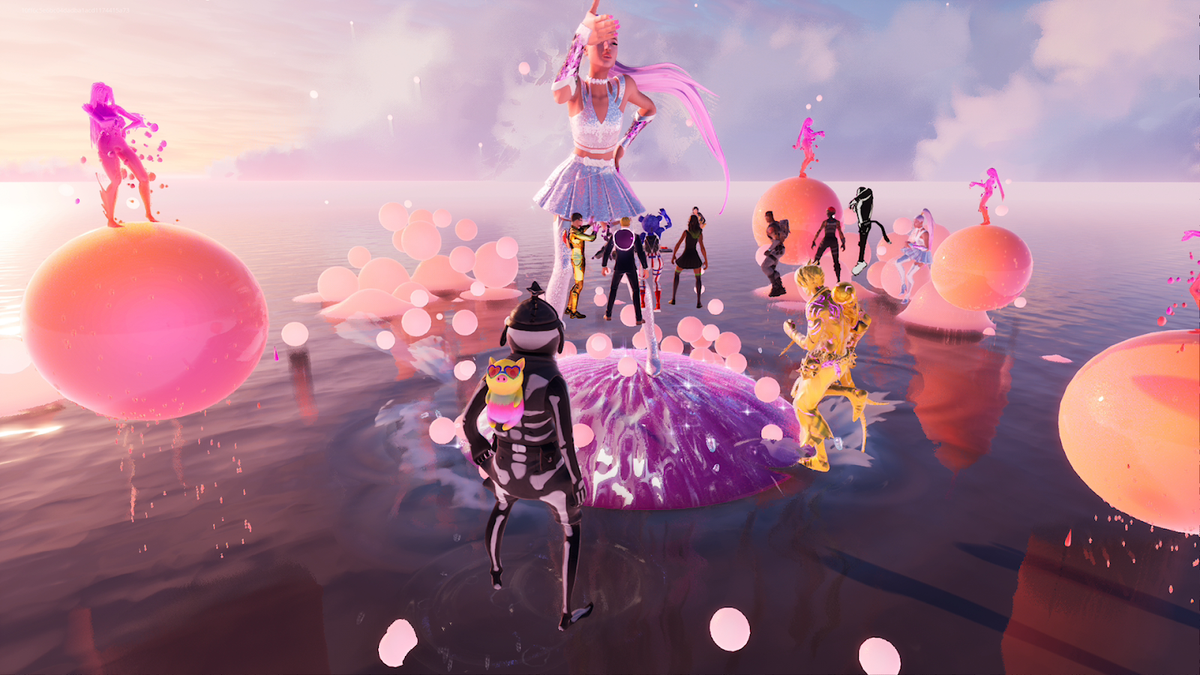 Kotaku 11 August, 2021 - 01:10am
No, I didn't play Fortnite. The battle royale version of Epic's base-building game had come out the previous September. I remember the buzz building through the winter and into spring. I had covered the game's predecessor, Fortnite: Save the World, from announcement through its early access launch in mid-2017 and subsequent lukewarm reception. Fortnite: Battle Royale was a game I'd get around to eventually.
I hadn't gotten around to it by March of 2018. The day the lining of my aorta split open, interrupting blood flow to my spine and causing near-instant paralysis from the chest down, I was playing Sea of Thieves for review. I've not been able to play that game since, but that's a story for another time. I managed to call 911, was rushed to a nearby hospital, then flown by helicopter to another facility for surgery. I should have died, but thanks to the speedy medical response, I did not. I should have woken up the next day, but thanks to years of smoking causing complications getting me off of the ventilator, I did not. After several days of keeping me sedated to keep me from pulling out my breathing tube, I was given a tracheotomy and put to sleep for several weeks.
Read More: The Dreams Of A Man Asleep For Three Weeks
When I woke up sometime in early to mid-April, I could not talk. I could mouth words, and for a brief period when my trache tube had gotten a little loose I could form raspy, gasping sounds, but that's not a fun way to converse. It took a couple more weeks to regain proper hand and arm movement, so I couldn't write or type. I could, however, hear the nurses asking my spouse about what I did for a living and, upon hearing the answer, ask if I played Fortnite. The Fortnite. That Fortnite thing. Battle Royale. Their child / nephew / friend / husband played it obsessively.
The Fortnite craze had been gaining steam as a mainstream cultural sensation for months at that point, but I'm not one who ventures outside of my established gaming circles much. I don't go to bars. I don't meet friends for lunch. I don't grab a quick coffee and catch up. Even before I became paralyzed I enjoyed staying home, talking with folks on the internet. Folks who knew I was aware of Fortnite as a game and didn't feel the need to talk to me about it.
In the hospital it felt like it was all anyone wanted to talk about. In the first hospital, where I recovered from my initial surgery before spending a month and a half in intensive care, there was a sign board where my family could write facts about me for the staff. I think it was my younger sister who wrote about me being a video game journalist, so she is at least partially to blame for all of the Fortnite talk. I saw dozens of nurses during my stay, and at least half of them brought up the game. So I guess the sign board worked.
My favorite Fortnite mention came from an attending doctor, who asked me about the game during his rounds one morning. This was right before he took my spouse aside and asked her to consider what would happen if they couldn't wean me from the ventilator and to think about what my quality of life would be like.
In May of 2018, I was moved from the main hospital to an LTAC, or long-term acute care facility. It was there, over the course of a month, that I was finally weaned off of the ventilator. They got me breathing on my own again. They reintroduced me to talking. They got me eating properly instead of through a tube in my stomach. They asked me about Fortnite three or four times a week. There was one guy, a bald, brutish physical therapist, who would talk to me about Game of Thrones instead. I quite liked him. He knew nothing about Fortnite.
I left the LTAC in early June, transferred to a facility closer to home for in-patient rehabilitation, preparing me for my new life as a person with use of one third of their body. Fortunately, part of that one third was my mouth, and re-armed with a voice I could finally tell the staff, clearly and concisely, not to ask me about Fortnite. No, I didn't play it. Yes, I know it's popular. I'm more of an RPG fan. Role-playing games. Final Fantasy? Lower stakes, more story? I'd go on like that until the staff got bored and left, at which point I'd put Food Network back on and take a nap.
I finally came home from those many hospitals in July of 2018. I started working again in early August. Three years later I played my first full round of Fortnite.
I am not an Ariana Grande fan, but I am not so old and heavy as to not get swept up by particularly powerful waves of hype. Last Friday, as my online coworkers and colleagues began to buzz feverishly about the singer's in-game concert, I decided it was time to install the game once more. And hey, I had some promotional V-Bucks in my Xbox account's wallet, I might-as-well use that towards the Ariana Grande skin.
Read More: Ariana Grande's Fortnite Event Is Epic's Best Concert Yet
I recorded the entire event. Unfortunately, I recorded it without sound, so I vowed to catch another show the next day. While I was waiting out the countdown timer, I hit play. Then I hit play again. Then I started queuing up immediately upon dying, eager to get back into the action.
All the excuses I had for not playing started to melt away. Worries that everyone would be better than me at shooting quickly dissipated as I realized there were still plenty of opponents dumb enough to get lured behind a rock or building to chase a seemingly terrified foe. I was concerned about gathering resources and building things, but you don't have to do any of that. If anything, a freshly built structure is a sure sign that someone is around to shoot at. And nothing is more fun than standing on the other side of a wall some player is demolishing for resources, shotgun in hand, just waiting for the rubble to clear.
Okay fine, I was having fun. I bought the battle pass. I started doing quests to unlock new skins and gear. Around ten a.m. Sunday morning, I got my very first Victory Royale.
I went on to earn two more Victory Royales yesterday, which I feel is quite the accomplishment but others tell me is much easier to do these days, what with the game's use of bots and all. Still, that doesn't take away from my sense of accomplishment. I look at my stats on Fortnite Tracker, and I feel proud.
GameRant 11 August, 2021 - 01:10am
Ariana Grande strutted and soared around a candy-colored series of Fortnite sets in Epic's latest major in-game live music event. The multi-day "tour" offered gamers and Grande fans alike plenty to enjoy while showcasing Epic's impressively smooth and visually inventive vision for live events that millions of people can enjoy simultaneously.
Fortnite players have known an Ariana Grande event was in the works for a while, and the concert followed previous in-game events featuring rapper Travis Scott and Marshmello. Scott's in-game performance saw 12.3 million live viewers, a number that the Ariana Grande event is likely to top, given that it ran over multiple days.
Epic put up a video of the concert that's well worth checking out, if only to marvel at the kind of stuff that's possible in gaming worlds these days. Experiencing the event live in the game is obviously ideal, but the video captures the experience pretty well, minus the sense of presence from having an avatar zooming around the space with grande Grande.
This time around, the show featured a handful of mini-games that gave players more to do than just flying around while a gigantic virtual pop star does her thing. The sequence kicked off with players surfing a rainbow racetrack, hitting power ups in a cross between Mario Kart and Splatoon to "Come & Go" by Juice WRLD and Marshmello. The racetrack sequence was followed by bouncing players through a Dr. Seuss-style landscape with candy-pink trees and giant floating eyeballs before dropping them into a mini-game shooting down the game's Storm King boss to Wolfmother's "Victorious."
Grande made her Fortnite debut a few songs in with the 2019 hit "7 Rings," streaking across the sky and materializing on top of a planet suspended in a sea of stars. Later she soared through the clouds with angelic wings as players followed, suspended in rainbow bubbles. In the coolest portion, a skyscraper-high Grande ascended a series of Escher-esque staircases with a giant diamond mallet before slinging it to shatter the sky, shotput-style.
Fortnite's latest event didn't have any huge surprises, but that's only because Epic sets the bar so high. Getting dressed up in your favorite skin to sail around a skyscraper-tall pop star along with millions of people around the world might not be everyone's vision for the metaverse, but Fortnite's wildly imaginative live events are a taste of the future that here's right now.
Sportskeeda 11 August, 2021 - 01:10am
Just Jared Jr. 11 August, 2021 - 01:10am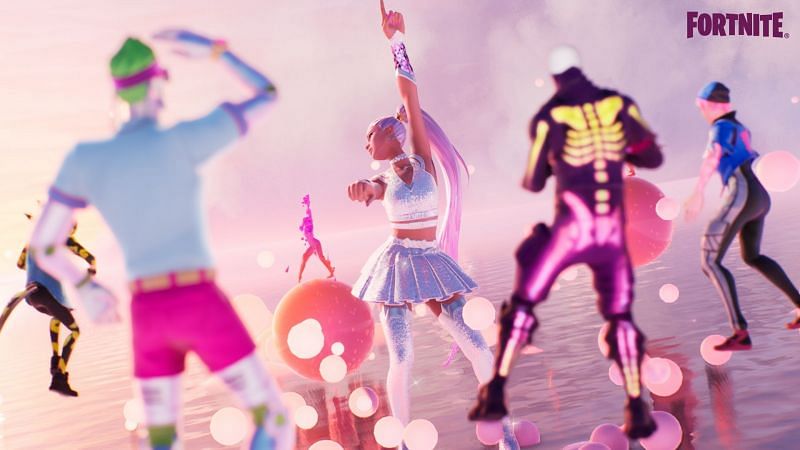 Sportskeeda 10 August, 2021 - 11:49am
Ever since the Fortnite documents were leaked during the Apple vs. Epic Games lawsuit, rumors of an upcoming in-game event began spreading like wildfire, and many believed that Lady Gaga would soon be featured in the game.
But that plan fizzled out. Although a lot of the leaked information did come true, the main event was still a mystery, and Epic Games kept a tight lip on the situation.
Going forward a few months, leakers and dataminers began finding clues about an upcoming in-game event featuring the popular diva Ariana Grande; and before loopers knew what hit them, prominent leaker iFireMonkey cracked the encrypted files and showcased the intro to the event.
The Fortnite Rift Tour set a new benchmark in terms of visuals in-game, and was a weird yet pleasant amalgamation of concepts and memories, all mixed up together and packed into 15 minutes of non-stop entertainment.
With that said, despite loopers absolutely loving the event, there were a few who thought it was subpar and lacking in general, aside from the game's technical issues that were causing it to crash.
Well, for the majority of fans and loopers who enjoyed the concert, the experience was like a once in a lifetime sort of deal. Given that players could enjoy a full-fledged audio-visual concert, it is a testament to Epic Games' dedication.
However, with that said, there were numerous technical issues involved, which put a lot of players off. The most common being that Creative was disabled hours prior to the event and loopers were left high and dry.
Bro I want to play fortnite creative but it's FUCKING DISABLED like I get it for the #RiftTour but still some people want creative and then after the event I'm going to have to wait like another 2 hours like EPIC
Can the stupid rift tour event not disable creative 4 hours prior to its start? :) it's bad enough there are FIVE different run times
In addition to Creative being down, many players had complaints regarding their game crashing while trying to enter the event, and having to either queue up again or miss the slot and having to wait for the next one.
Rift tour fucking sucks, literally crashed a minute into the actual event
listen ariana's rift tour was cool and all but it just fucked up fortnite so bad it's being so buggy
All my excitement just for my game to crash at the beginning of the #RiftTour event. I'm pissed beyond anyone's belief.
Nonetheless, perhaps the most consistent complaint from the players was the fact that the Fortnite Rift Tour was far too short and not as good when compared to Travis Scott's Astronomical.
Definitely Travis, although the rift tour event itself wasn't bad, the music wasn't good
That event suck a*s. The Travis Scott was so much better. All the hype and it was trouble. It was pretty but that's it. #fortnite #RiftTour
This event was so good and cool. I think the Travis Scott concert was better. I would rate the event a 8/10. It sucks that it was short and it could've been longer. Here's a picture from the Rift Tour. pic.twitter.com/aywuq3PUr9
I'm sort of disappointed at the Fortnite Rift Tour live-event. It was really short and I spent 30 minutes just floating around on a unicorn because I didn't realise that the event was already over. It wasn't bad but the Marshmello and Travis Scott live-events were better. 😬
Now, despite the negatives and minor road bumps, the question at play here is: Was the Ariana Grande Fortnite concert a failure? The answer is a resounding no.
For all the hiccups, technical glitches and issues that occurred during the Rift Tour, the digital concert was far from a failure. If anything, Epic Games is taking baby steps toward something bigger, brighter and much better for the foreseeable future. On that note, here are some positive reviews from fans regarding the Fortnite Rift Tour featuring Ariana Grande.
Epic Games has an incredible group of creative individuals. Simply amazing! #RiftTour pic.twitter.com/oVqH3RHXam
that event was fantastic, the aliens can have my memories for all i care if they keep hosting things like that!
Actually that's inspired by something that happened in one of the Ariana's concert, a lot of people were killed there.
Yep. I wanna watch it a million times in game I never wanted to leave it :(
How will the plane game work then?
Yea I agree! It was a great event even though I don't really like or dislike her music, and I also like how they showed the event multiple times so more people could see the event
No, thanks to you for all the things you do for us. pic.twitter.com/ABaCgWq7IQ
FortniteINTEL 10 August, 2021 - 06:19am
Ariana Grande's Fortnite concert featured a special tribute to her late ex-boyfriend involving 'The Way'.
Ariana Grande fans are crying after the singer included an emotional tribute to her late ex Mac Miller in her Fortnite concert.
Over the weekend (Aug 6), Ariana Grande became the latest star to perform an animated concert in the Fortnite video game. In The Rift Tour, an avatar version of Ariana performed some of her biggest hits, including the likes of '7 Rings', 'Be Alright' and 'Positions'. Fortnite also launched an Ariana skin alongside the event so that fans could play as her in the game.
However, alongside the incredible animated theatrics, it was Ariana's touching Mac Miller tribute that really stole the show.
READ MORE: Ariana Grande fans think her Off The Table lyrics are about Mac Miller
Since Mac Miller's passing almost three years ago, Ariana has regularly paid tribute to her ex-boyfriend and this concert was no exception. During the event, Ariana sang her debut single 'The Way' which features Mac. Not only that but during Mac's verse, Ariana's avatar climbed a stairway to heaven. Fans interpreted it as a nod to Mac now being an angel in heaven.
One fan wrote: "I'm sobbing! Ariana Grande pays tribute to Mac Miller during her Fortnite concert." Another added, "I'm just over here sobbing because Ariana was going up the stairs to Heaven while The Way was playing. I miss Mac." Someone else tweeted: "mac miller being a part of the ariana grande concert. my heart".
Everyone is debating whether the Concert was good but I'm just over here sobbing because Ariana was going up the stairs to Heaven while The Way was playing. I miss Mac. #RiftTour pic.twitter.com/wJBznrKSut
They play Mac Miller in the Ariana Grande concert on Fortnite 😭😭😭 pic.twitter.com/hg6mpiN3Lm
Ariana ascending a stairway to heaven while 'The Way' plays? We love you, Mac 😩 #RiftTour pic.twitter.com/6OB2ao7nbU
ariana really had mac have an appearances with "The way" AND I JUST 🥺😭#RiftTour pic.twitter.com/IYElfP08x9
Hearing Mac Miller at the Ariana Grande concert pic.twitter.com/7sZJAKFycC
mac miller being a part of the ariana grande concert. my heart 😭💔
No. I'm not crying. You are.
PopBuzz ‐ @popbuzz
Netflix's #Wednesday series just revealed two more cast members 👀 Catherine Zeta-Jones and Luis Guzmán will play Mo… twitter.com/i/web/status/1…