NASA
NASA
Following this morning's docking of the Nauka module to the @Space_Station, the module's thrusters started firing at 12:45pm ET inadvertently and unexpectedly, moving the station 45 degrees out of attitude. Recovery operations have regained attitude and the crew is in no danger: pic.twitter.com/jFlDZD7ZHp

Chris Hadfield
Cmdr_Hadfield
The Space Station did a sudden, unexpected, one-and-a-half backflip. Not good, but mistakes happen, no damage, and it's why spaceships need to be tough. @roscosmos @NASA Details: bit.ly/2X0oP6b pic.twitter.com/d9Q0GexXqr

Margaret Orr
MargaretOrr
If you missed the @Space_Station last night. Look up tonight at 8:08 PM - 8:15 PM. Good viewing! @wdsu #nola #lawx pic.twitter.com/Gk2pEkIMcO
Bill Nelson
SenBillNelson
So pleased to speak with @JAXA_en President Dr. Yamakawa about our space priorities and longstanding collaboration in exploration, science, and aeronautics research – here on Earth and on the @Space_Station, @NASA_Gateway, the Moon, and beyond! pic.twitter.com/puxxGBqQcY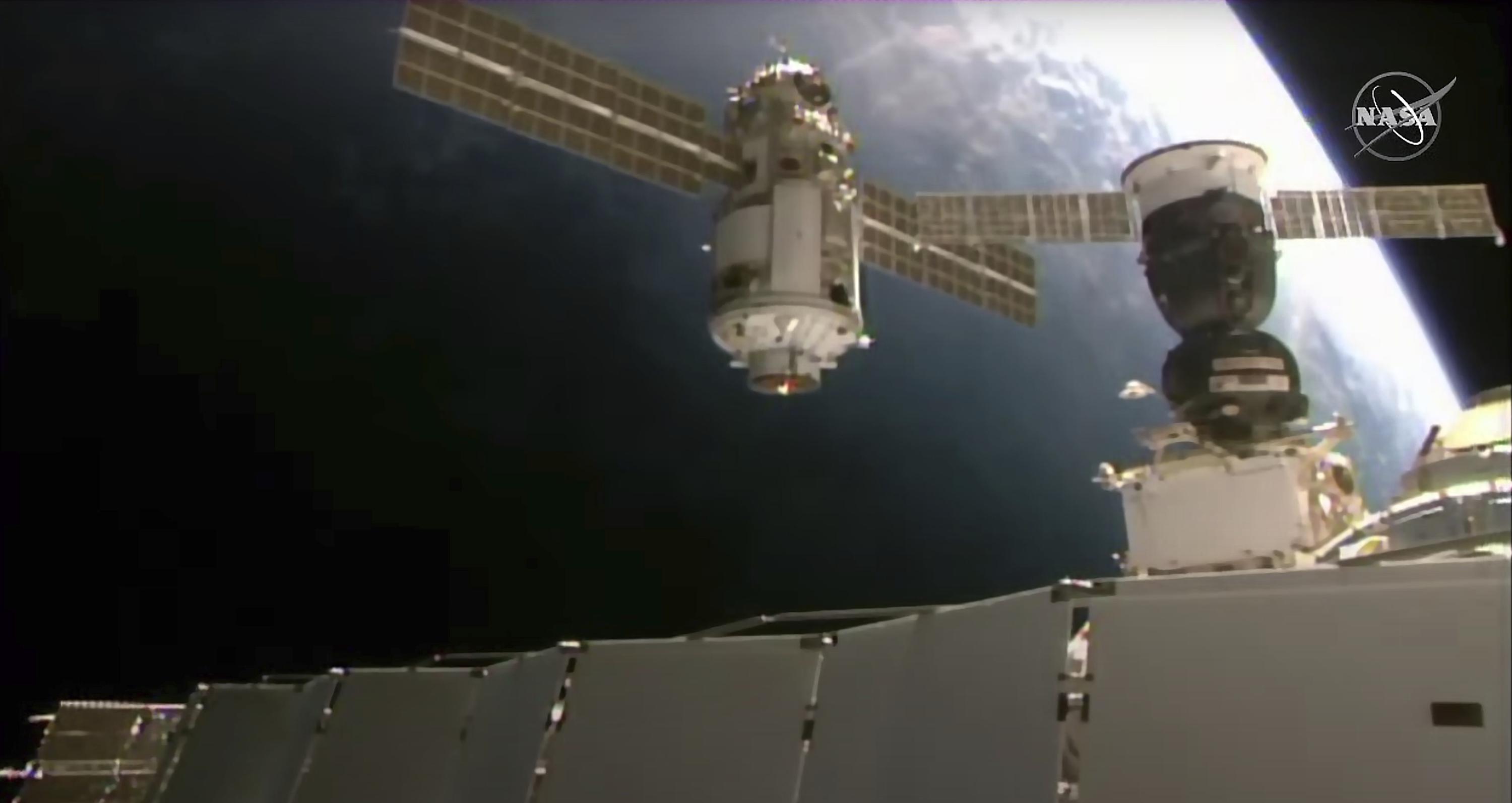 MOSCOW (AP) — Space engineers will analyze whether a glitch that caused the International Space Station to spin out of its normal orientation could have impacted any of its systems, a Russian space official said Wednesday.
Sergei Krikalev, the director of crewed space programs at the Russian space corporation Roscosmos, emphasized that last week's incident did not inflict any observable damage to the space station but he said that experts would need to study its potential implications.
"It appears there is no damage," Krikalev said in an interview broadcast by Russian state television. "But it's up to specialists to assess how we have stressed the station and what the consequences are."
NASA emphasized Wednesday that the station was operating normally and noted that the spin was within safety limits for its systems.
Thrusters on Russia's Nauka laboratory module fired shortly after the module arrived at the International Space Station on Thursday, making the orbiting outpost slowly spin about one-and-a-half revolutions. Russia's mission controllers fired thrusters on another Russian module and a Russian cargo ship attached to the space station to stop rotation and then push the station back to its normal position.
Both U.S. and Russian space officials said the station's seven-person crew wasn't in danger during the incident.
The station needs to be properly aligned to get the maximum power from solar panels and to maintain communications with space support teams back on Earth. The space station's communications with ground controllers blipped out twice for a few minutes on Thursday.
NASA said in a tweet Tuesday that the station was 45 degrees out of alignment when Nauka's thrusters were still firing and the loss of control was discussed with the crew. "Further analysis showed total attitude change before regaining normal attitude control was (tilde)540 degrees," NASA said.
On Wednesday, NASA noted that "continued analysis following last week's event with unplanned thruster firings on Nauka has shown the space station remains in good shape with systems performing normally."
"Most importantly, the maximum rate and acceleration of the attitude change did not approach safety limits for station systems and normal operations resumed once attitude control was regained," it said.
Roscosmos' Krikalev, a veteran of six space missions who spent a total of 803 days in orbit, noted Wednesday that firing orientation engines created a dynamic load on the station's components, making a thorough analysis of whether some of them could be overstressed necessary.
"The station is a rather delicate structure, and both the Russian and the U.S. segments are built as light as possible," he said. "An additional load stresses the drivers of solar batteries and the frames they are mounted on. Specialists will analyze the consequences. It is too early to talk about how serious it was, but it was an unforeseen situation that requires a detailed study."
Krikalev said Nauka's engines fired because a glitch in the control system mistakenly assumed that the lab module hadn't yet docked at the station and activated the thrusters to pull it away.
The launch of the 22-ton (20-metric-ton) module has been repeatedly delayed by technical problems. It was initially scheduled to go up in 2007, but funding problems pushed the launch back, and in 2013 experts found contamination in its fuel system, resulting in a long and costly replacement. Other Nauka systems also underwent modernization or repairs.
Nauka is the first new compartment for the Russian segment of the International Space Station since 2010, offering more space for scientific experiments and room for the crew. Russian crew members will have to conduct up to 11 spacewalks beginning in early September to prepare it for operation.
The space station is currently operated by NASA astronauts Mark Vande Hei, Shane Kimbrough and Megan McArthur; Oleg Novitsky and Pyotr Dubrov of Roscosmos; Japan Aerospace Exploration Agency astronaut Akihiko Hoshide and European Space Agency astronaut Thomas Pesquet.
In 1998, Russia launched the station's first compartment, Zarya, which was followed in 2000 by another big piece, Zvezda, and three smaller modules in the following years. The last of them, Rassvet, arrived at the station in 2010.
Read full article at Livescience.com
AP Archive 05 August, 2021 - 01:10pm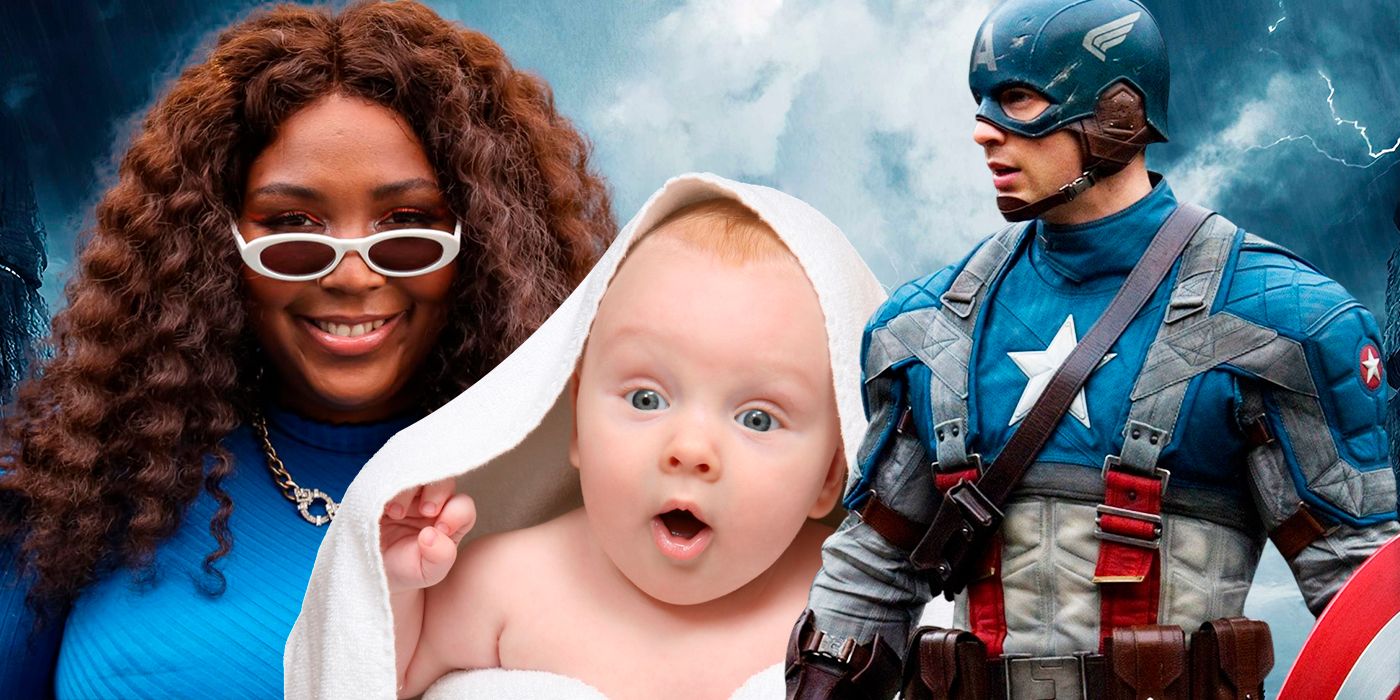 Daily Mail 05 August, 2021 - 01:10pm
Lizzo and Chris Evan continue their delightful flirting in direct messages as Lizzo jokes about her impending baby with Evans on TikTok.
Pop star Lizzo has continued her hilarious flirting with Captain America star Chris Evans with a new TikTok video "announcing" her impending baby with the Marvel star, and Evans is adorably playing along with the whole deal.
It started with a video with the "Juice," "Good as Hell" and "Truth Hurts" singer announcing, "This is something that I've been really trying to keep personal and private just between me and the father of my child," she said. "But since we're airing out all the rumors today, I've been sucking in. We're going to have a little America."
The singer then posted an update after Evans private messaged her about the announcement, adding that she had "secured the child support bag" while noting, "OMG YALL— HE SAW THE BABY BUMP! WE DID IT! NOW YALL GOTTA NAME LIL MERICA!!!!! WHAT YALL BOUTA NAME MY BABY ?!"
Evans wrote her, "Hi! Just heard about our little bundle of joy," he wrote with a laughing emoji. "My mother will be so happy lol. Just promise me no gender reveal parties lol."
The Lizzo/Evans flirtmance goes back to April, when the Grammy Award-winning singer shared a video on TikTok captioned, "Don't drink and DM, kids.... for legal porpoises this is a joke." The video shows the direct message that she sent to the actor suggesting that she was "taking her shot" through the use of emojis of a woman shooting a basketball.
Evans replied with, "No shame in a drunk DM," adding kissing face emoji. He then wrote, "God knows I've done worse on this app lol," adding a facepalm emoji. That was a reference to the Instagram story that Evans did where he accidentally showed a nude photograph of himself in the background.
Lizzo later showed her response to his message, as she told him, "Well... they say u miss 100% of the shots you never take (and even tho I unsent it like dork) I'm glad u know I exist now." He replied to that with, "Of course I do! I'm a fan! Keep up the great work! xxx."
Now we all have to just name Lizzo's "Baby America," with some fans suggesting Erica (since you can't spell America without Erica) while some just want her to go direct and simply name him Steve Rogers.
Source: TikTok
TASS 05 August, 2021 - 01:10pm
MOSCOW, August 4. /TASS/. The attempts to blame the Russian Nauka research module for the delayed launch of the CST-100 Starliner spacecraft to the International Space Station (ISS) look inappropriate, considering problems revealed in the US spaceship, Roscosmos Spokesman Vladimir Ustimenko said on Wednesday.
"What we fail to understand is that NASA and Boeing are trying to accuse the Russian Nauka module for the delay in the face of serious problems [with the US spacecraft]. Moreover, the weather conditions were unfavorable at the spaceport and the spacecraft and the carrier rocket were returned to the Vertical Integration Facility, which would have not been done, had the delay been caused by the Nauka module. This does not look appropriate," Ustimenko wrote on his Telegram channel.
Roscosmos understands, however, that work in the space industry today involves very complex equipment, Roscosmos' press secretary stressed.
"Each side encounters problems and faces delays. This is normal as maximum safety is prioritized over the speed for each launch," he added.
NASA announced last week that it had delayed the launch of the Starliner spacecraft to the orbital outpost scheduled for July 30. It said that the launch was delayed over the unplanned firing of the Russian Nauka research module's thrusters after its docking to the ISS.
Under the new plans, the Starliner was expected to blast off on August 3. However, several hours before the lift-off, Boeing announced it was considering rescheduling the launch for August 4.
Boeing later announced that the launch of the Starliner spacecraft to the orbital outpost scheduled for August 4 had been postponed indefinitely over the need for extra time to assess the spaceship's readiness.
The Hill 05 August, 2021 - 01:10pm
On Thursday, all seemed to be going well when a Russian research module called Nauka docked on the underside of the more than 900,000-pound orbiting space station.
NASA at the time said the incident caused the ISS to move out of altitude by 45 degrees and reassured the public none of the seven astronauts aboard were in any immediate danger. Nauka's thrusters eventually stopped firing and crews re-gained control of the ISS using thrusters around the space station after a little more than 45 minutes. Russian space agency Roscosmos said a software glitch resulted in the firing of the module's engines.
Scoville told the Times the ISS stopped upside down and had to carry out a 180-degree forward flip to regain its original position. He said it was the first time he has ever declared a "space emergency."
"You get about half a breath of 'Oh, geez, what?' and then you kind of push that down and just work the problem," Scoville told the news outlet.
The ISS performed a backflip at the rate of 0.56 degrees per second, slow enough that astronauts reported no noticeable change in conditions.
WESH 2 News 05 August, 2021 - 01:10pm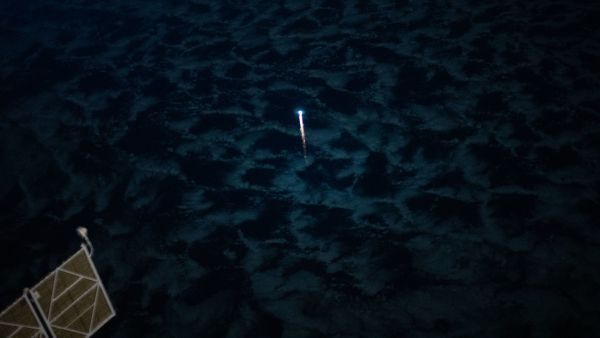 Euronews 05 August, 2021 - 06:35am
Russia's old Pirs module (safely) went down in flames.
The European Space Agency's Facebook page shows a sped-up timelapse of the module, called Pirs, meeting its fiery demise Monday (July 26) under the watch of Thomas Pesquet.
"Atmospheric reentry without a heat shield results in a nice fireball," Pesquet wrote in the post, which also included a French description. "You clearly see smaller pieces of melting metal floating away and adding to the fireworks."
The astronauts could watch Pirs breaking apart above the clouds for around six minutes, he added, then joked it might be a good idea to wish upon the next "shooting star" you see in the sky, which might be a meteor — or might be the orbital trash burning up. If it is trash, he continued, "not sure it [the wish] will be granted ... but you never know, I'd still advise to go ahead."
Pirs was retired from service after nearly 20 years of work at the space station. It came to orbit Sept. 14, 2001 after launching from the Baikonur Cosmodrome in Kazakhstan, along with a modified Progress spacecraft as the upper stage of its Soyuz-U rocket. Three days later, it docked with the Zvezda service module, becoming the sixth pressurized module of the orbiting complex.
The long-running docking compartment met its demise to make way for a new Russian science module called Nauka. The delayed module — held up for 13 years due to various technical and budgetary issues — temporarily created havoc Friday (July 30) when a misfire caused Nauka to temporarily yet severely tilt the International Space Station.
NASA representatives have repeatedly emphasized that the Expedition 65 crew was never in any danger and that the tilt was quickly corrected. "The change occurred was slow enough to go unnoticed by the crew members on board, and all other station systems operated nominally during the entire event," the agency told Space.com on Monday (Aug. 2).
Follow Elizabeth Howell on Twitter @howellspace. Follow us on Twitter @Spacedotcom and on Facebook.
Thank you for signing up to Live Science. You will receive a verification email shortly.
There was a problem. Please refresh the page and try again.
© Future US, Inc. 11 West 42nd Street, 15th Floor, New York, NY 10036.