Check out our growing list of Windows 11-ready laptops
Answering it can be tricky, because Microsoft has set some strict Windows 11 system requirements in the name of improved security. Most notably, Windows 11 requires your PC to have a pretty modern CPU and a 2.0 Trusted Platform Module or TPM, which means most older PCs are out of luck.
Of course, Windows 11 isn't due for a full public launch until the fall of 2021 (though your free Windows 11 upgrade will have to wait until 2022) and Microsoft has pledged to support Windows 10 through at least 2025, so you have plenty of time yet to evaluate whether you need to upgrade your PC to run the next generation of Windows.
The most straightforward way to check is to head over to Microsoft's Windows 11 page and (if it's available) download the PC Health Check app, which will check and see if your PC meets the Windows 11 system requirements. Unfortunately, Microsoft temporarily took down the Health Check app in late June in response to feedback that it was causing confusion, but it is expected to come back online before the fall.
Of course, this is just a cheat sheet running down the most notable Windows 11-ready laptops currently on sale from each manufacturer. We expect more laptops bearing Windows 11-ready badges to be announced in the months ahead, and there are many more laptops out there which aren't on this list that will probably still run Windows 11. 
To be absolutely sure, check whatever laptop(s) you're considering against Microsoft's Windows 11 system requirements page before you buy!
Acer has published its own Windows 11 page that aims to help customers get ready for the next big thing in Windows. Here's a list of the top Acer laptops that will be capable of installing Windows 11:
Asus is one of the few laptop manufacturers who have gone so far as to publish a complete list of its Windows-11 ready PCs. Here's an abbreviated version:
Dell has launched a Windows 11 page that offers some tips on upgrading and answers some frequently asked questions about moving from Windows 10 to 11. The company hasn't (yet) published a full list of which of its PCs will be Windows 11-ready, but it has begun putting "Free upgrade to Windows 11" on the product pages of Windows 11-ready laptops.
The company expects to begin selling PCs with Windows 11 pre-installed late in 2021; for now, here's a list of the top Dell laptops on sale now that are Windows 11-ready.
HP has its own Windows 11 page that offers some concise rundowns of which HP laptops you can expect to be Windows 11-ready, and when. Short answer: any laptop which meets the Windows 11 requirements and is currently running the latest version of Windows 10 should have no trouble upgrading when the time comes. Here's a list of the top HP laptops which will be Windows 11-ready:
Lenovo has its own Windows 11 Launch FAQ which runs down what Windows 11 is, how to upgrade, and which laptops will be Windows 11-ready. It's roughly the same as what other manufacturers have posted, down to the caveat that the only way to be sure a laptop is Windows 11-ready is to check its specs against Microsoft's minimum requirements. 
We did just that for Lenovo's laptop lineup, and here's our list of which products should have no trouble running Windows 11:
Razer hasn't published a full list of Windows 11-ready laptops yet, but given that the company exclusively puts out high-powered notebooks built for gaming, you can be pretty confident that any Razer laptop you buy this year will handle the next generation of Windows with aplomb. Here's our rundown of which Razer laptops are Windows 11-ready:
We haven't seen a formal list of Windows 11-ready laptops out of Samsung yet, but based on specs it's safe to say most of the company's recent Galaxy Books will have no trouble running the next version of Windows. Based on our research, here's a brief list of Windows 11-ready Samsung machines:
Thank you for signing up to Tom's Guide. You will receive a verification email shortly.
There was a problem. Please refresh the page and try again.
© Future US, Inc. 11 West 42nd Street, 15th Floor, New York, NY 10036.
Read full article at Wccftech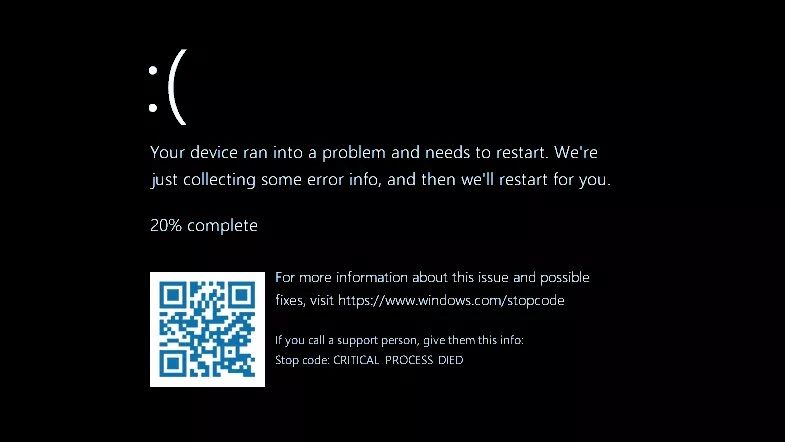 Tom's Guide 04 July, 2021 - 05:57pm
The famous 'blue screen of death' may be getting a new look for Windows 11
While the acronym will remain the same in such a circumstance, the blue color for serious errors has been a part of Microsoft's operating system since Windows 3.0 in 1990. So this would be quite a big change for the company.
It would also be a slightly strange one, given nothing else on the screen is said to be different. There will still be the same emoticon sad face, first seen in 2012 with Windows 8, and the QR code giving you more information on the error which debuted in 2016 will also be present.
Only the color is reportedly set to change and no explanation has been given. It could simply be to try and make the screen match the startup and shutdown colors, although it would be odd to make an alert designed to draw attention blend in more. Another possibility is that it's simply something to make Windows 11 stand apart from Windows 10, given the two have so much shared DNA, and there are already plenty of cosmetic changes afoot.
The change, first spotted by @XenoPanther on Twitter, can be enabled via a simple registry edit, tested by Tom's Hardware.
Via regedit, navigate to HKLM\SYSTEM\CurrentControlSet\Control\CrashControl and set the value of DisplayPreReleaseColor to 0. Restart, and the next time your PC encounters a critical error, you'll be seeing black rather than blue.
If you don't have the new operating system yet, but can't wait to give it a go, you can try it right now, assuming you have the required hardware. If you need help, here's how to install Windows 11.
Thank you for signing up to Tom's Guide. You will receive a verification email shortly.
There was a problem. Please refresh the page and try again.
© Future Publishing Limited Quay House, The Ambury, Bath BA1 1UA. All rights reserved. England and Wales company registration number 2008885.
The Week Magazine 04 July, 2021 - 05:57pm
A "rejuvenated" Microsoft is finding new ways to grow, said Jordan Novet at CNBC. After announcing the upcoming release of its first new version of Windows in almost six years, Microsoft saw its market capitalization reach $2 trillion last week — the second corporation, after Apple, to reach that milestone. The pandemic undoubtedly "bolstered demand for products such as the Teams chat app that kept organizations functioning." But it's not just the pandemic; Microsoft's share price has surged "more than 600 percent since Satya Nadella replaced CEO Steve Ballmer in 2014." While Ballmer failed to recognize the coming mobile-phone boom, Nadella's formula has been "looking beyond its dominant Windows operating system." He's acquired LinkedIn, the code-storage service GitHub, and videogame developer Mojang, the maker of Minecraft. And Nadella has put Microsoft's cloud business, Azure, on track to be the company's largest source of revenue by 2022.
The rivalry with Apple goes back "to the formative days of the personal computer era," said Tim Higgins and Aaron Tilley at The Wall Street Journal, and tensions are heating up again. Last month, Apple accused Microsoft of "pulling the strings" behind a high-profile court case involving the video-game developer Epic Games. The iPhone maker tried to discredit the testimony of a Microsoft vice president Epic called as a witness to discuss "her failed attempt to bring a bundled video-game service" to the App Store. And last week, Microsoft announced it was "lowering the cut it takes on content sold on its new app store," a move some observers saw "as a swipe at Apple."
Despite all of Microsoft's other lines of business, a lot is still riding on Windows 11, said Ina Fried at Axios. It "still runs on nearly three-quarters of the world's computers," but has been steadily "losing ground to MacOS and Chrome OS." That's a problem, since "the company's 'more personal computing unit', which includes Windows, Surface, and Xbox," made up 31 percent of its revenue last quarter. The company's biggest future bets rely on Windows as well. "HoloLens, the augmented-reality headset, is at its core a Windows PC on your face." Microsoft said in 2015 that Windows 10 "was going to be the last version," said Bob O'Donnell at USA Today. "Clearly, things have changed." With Windows 11, Microsoft is making "an incredibly strong statement about the ongoing importance of PCs." Enabling Android apps to run on Windows "shows that Microsoft has adjusted its thinking on how people use PCs."
Microsoft was the subject of the first major tech antitrust fight two decades ago, said Robert Hackett at Fortune, but in recent years it has developed a "seemingly uncanny ability to fly under the radar." This may be because it is "the rare Goliath that does not tend to dominate its main markets." Yes, Windows is the leader for operating systems, but "Amazon Web Services eclipses Azure; Facebook tops LinkedIn; Sony PlayStation beats Xbox; Zoom beats Teams." If Microsoft were a country, "its athletes would reign as Olympic silver medalists." After almost getting broken up once, Microsoft seems happy with duopolies — and that has served shareholders very well.
Nothing—not the Federal Reserve, not the Delta variant, not even old-fashioned fear and greed—has been able to slow its rise. "[Positioning] in markets should not be driven by this or any other subsequent variant of Covid-19 for which current vaccines are effective," he writes.
Robinhood experienced crypto trading and display issues on its platform for about an hour late Friday. At one point, more than 1,000 users were complaining about issues with Robinhood in the North America region, according to outage monitoring website Downdetector. Robinhood, which has been at the center of Wall Street's recent retail trading frenzy, on Thursday filed for its initial public offering.
The S&P 500 and Nasdaq hit record stock market highs last week. Facebook hit a $1 trillion market cap, as several megacap techs led the way. Nio and Tesla deliveries jumped.
One of the reasons that many iPhone users won't even consider switching to Android is the lack of iMessage. Losing those blue bubbles is simply not an option for some smartphones owners, and Android doesn't have an adequate substitute. But that is quickly changing as Google works to bring Rich Communication Services (RCS) to more … The post Android is one step closer to having its own version of iMessage appeared first on BGR.
Extras abound...we're talking a Bluetooth keyboard, DJ-style headphones, a tablet stand, a stylus and more!
For many of us buying a new TV, sound quality is an afterthought—but it shouldn't be. Out of more than 240 sets in Consumer Reports' TV ratings, most earn no more than a decent score for sound. T...
Amazon is posting huge growth across all of its businesses, but the company's stock has been stuck in a rut for nearly a year.
The big shareholder groups in Abbott Laboratories ( NYSE:ABT ) have power over the company. Insiders often own a large...
Three elite tennis players and now her kitbag too: Emma Raducanu has sent them all to the cleaners during her history-making first week at Wimbledon. A shortage of clean kit was the 18-year-old's only worry last night after she qualified for the last 16 with a performance to rival some of the greatest teenage British displays in the sport. Immediately after her straight-sets triumph over world number 45 Sorana Cirstea, thoughts turned to the conservative expectations of her parents prior to the
Former U.S. President Donald Trump will hold a rally on Saturday in Sarasota, Florida, his second campaign-style event of the summer as he seeks to retain his hold over the Republican Party and bolster allies ahead of the 2022 midterm elections. The rally, billed as a Fourth of July celebration featuring fireworks, is expected to draw several thousand people from across the state which Trump, a Republican, won by more than 3 percentage points in the 2020 presidential election. Trump is likely to berate President Joe Biden, repeat his false claim that he lost the 2020 election due to fraud, and urge his supporters to back his allies in their midterm campaigns as Republicans fight to take back control of Congress from the Democratic Party next year.
Working from home should no longer be the default after 19 July, say more than 50 business leaders.
The demolition of the remaining part of the Champaign Towers South in Surfside, Florida, could come as early as Sunday with the impending storm Elsa.
Baby boomers and older Americans had accumulated a net worth of around $35 trillion by the end of this year's first quarter, the Wall Street Journal reports.What's happening: The money is now going to their heirs and others, "unleashing a torrent of economic activity including buying homes, starting businesses and giving to charity," the Journal writes. They are expected to hand down around $70 trillion between 2018 and 2042. Stay on top of the latest market trends and economic insights with Axi
Twenty-four years ago, on the evening that the U.K. handed political control of Hong Kong to China in 1997, Hong Kong leading man and Cantopop superstar Andy Lau performed in state broadcaster CCTV's song-and-dance spectacular to mark the occasion. As the camera panned through an audience waving both Chinese and Hong Kong flags, he sang […]
There's a better way to fairly compensate employees.
What are the delta and delta plus variants? He's everything you need to know.
Los Angeles' new anti-camping laws tell homeless people where they can't go but not where they can go.
Forbes 04 July, 2021 - 05:57pm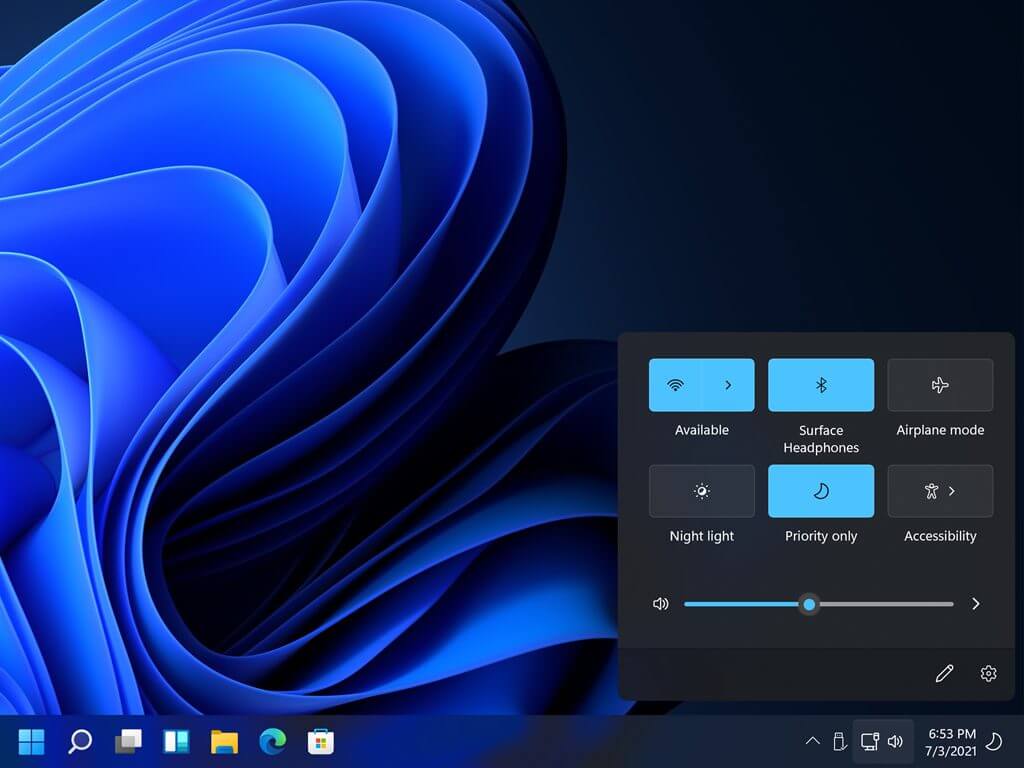 OnMSFT.com 04 July, 2021 - 11:39am
By this point, most of you have probably already seen Microsoft's new Start Menu design for Windows 11. To recap: the Start Menu and taskbar icons are now all centered on the Windows desktop. You'll find new icons, fonts, and rounded corners everywhere you look. New sound effects and animations complement the updated style and help bring the UI to life. Despite being the first publicly available preview build of Windows 11, everything looks polished and well thought out.
There are still plenty of new features in this build of Windows 11 that were not present in the build that leaked earlier this month. To start, the Date & Time flyout has been merged with the notifications area to create the new "Notification Center." Missed notifications will appear in Notification Center just like they did in Action Center in Windows 10.
The Quick Actions from the old Action Center have been grouped with the volume and network flyouts to create "Quick Settings." Like the taskbar, Quick Settings contains lots of new UI animations. All of the icon glyphs come to life with fun little animations when clicked.
Some work still needs to be done to polish up the system tray area, however. The Taskbar overflow tray is still unchanged and quickly fills up with applets from various applications which run in the background. This includes many of Microsoft's apps like Teams or OneDrive. With both these apps set to feature heavy integration in Windows 11, it would make sense for Microsoft to consider moving their features elsewhere.
OneDrive's system tray flyout would probably make more sense as a widget. In fact, Build 22000.51 does include a OneDrive widget, but only for OneDrive Photos "on this day last year." Several other new widgets are now available in this build, including Sports, Calendar, To Do, and more.
Widgets like To Do show that Microsoft intends them to be more interactive than live tiles on the start menu ever were. Despite this, all these widgets are powered by Microsoft's web services rather than their corresponding apps. Because of this, it seems unlikely that more advanced widgets like OneDrive sync could be developed for this experience.
Windows 11 build 22000.51 includes the first part of Microsoft's effort to revamp File Explorer. In this build, Microsoft ditched the ribbon and replaced it with a new action toolbar. The new toolbar is minimal and contains action buttons for creating new files, interacting with selected files, sorting, and adjusting the layout. Additional options specific to the open folder also become available in an ellipsis menu on the right.
In addition to the new toolbar, Microsoft has updated all the context menus in File Explorer to align with Windows 11's latest design principles. Like everything else in Windows 11, these context menus feature rounded edges and new iconography. Not only that, the menu options are now organized much more intuitively. Interestingly, there's also a 'show more options' option, which will open up the legacy context menu for the selected item.
Every major version of Windows comes with new multitasking features, and Windows 11 will be no exception. The same Window snapping capabilities from Windows 10 will still work in Windows 11, only now with a few new improvements. Like before, you can snap windows by dragging them to various edges around the screen, and Windows will suggest apps to snap beside them.
In Windows 11, even more layouts for snapping windows are available by hovering the mouse pointer over the maximize button. The snap layouts available to you will depend on the size of your screen. Larger screens will have more options than smaller ones. Snapped Windows will then appear as groups in the taskbar previews, allowing multiple windows which were snapped together to be restored at once.
Settings has been completely redesigned. The categorization of settings in this new app is more or less exactly how it was in Windows 10, so users who are already familiar with where things were in previous versions of Windows will have no problem locating them here. What has changed is the layout and presentation of everything in the new Settings.
All the sections in the new Settings app are now on the left pane. These sections will then stay there no matter where you navigate in the app. Along the top, there is a path of 'breadcrumbs' that remind you where you've navigated from. Every page in the Windows Settings has been completely redesigned to help you understand what you're looking at.
Settings is a great example of how Microsoft's new 'mica' effect can be applied to apps in Windows 11. Similar to acrylic in Windows 10, mica is semi-transparent and blurs out content behind it. Mica, however, is much more subtle than acrylic, and only samples from the desktop wallpaper. This effect helps give the impression that windows in Windows 11 are part of a shared environment.
The Microsoft Store is another app which has been completely redesigned in this build of Windows 11. Like Settings, the store currently offers more or less the same content as the previous app with a new layout guided by Windows 11's design principles.
Microsoft will continue to promote the use of the Store with Windows 11. To help with this effort, Microsoft has opened up the store to all apps developers might want to bring, including UWP, PWA, Xamarin, Electron, .NET, React Native, Java, and even Win32 apps. Microsoft will even allow developers to use third-party commerce platforms in their apps, which will let them keep 100% of the revenue earned from purchases.
Additionally, Microsoft recently announced a partnership with Amazon that will bring Android apps from the Amazon Appstore to Windows 10. Right now, none of these new features are in effect, however, as Microsoft continues to build Windows 11 over the coming months, Windows Insiders will be the first to get to test them out.
The changes presented here are available in Windows 11 Build 22000.51 to users enrolled in the Windows Insider program under the Dev channel. I wouldn't recommend installing development builds of Windows 11 on your device specifically to have access to any of these features. These builds can be buggy, so installing them may lead to unexpected issues or system instability. No, your PC most likely won't explode, however, Microsoft cannot guarantee system stability with development builds of Windows 11. The only way to return to Windows 10 after installing these builds may be completely resetting your PC. Should you want to try these builds out for yourself, proceed with caution.
Tom's Hardware 04 July, 2021 - 07:00am
This confusing error is often caused by drivers.
Microsoft also notes on the bug check page for SYSTEM_SERVICE_EXCEPTION that "If a driver that is responsible for the error can be identified, its name is printed on the blue screen…" Indeed, I've personally experienced this error with the Windows 10 NTFS file system driver (Ntfs.sys) identified as the culprit. This identification is a mixed blessing, because it does tell you some kind of file system error occurred. That said, one cannot and should not replace OS-level drivers for Windows as one might do for a device driver of some kind.
Such repairs are best left to the DISM and SFC commands. Thus, my first response to the SYSTEM_SERVICE_EXCEPTION stop code after a reboot would be to run these commands in an administrative Command Prompt or PowerShell session:
The first command will find and replace any corrupted or missing files in the Windows Component Store (usually C:\Windows\WinSxS). The second command will examine all Windows system files (SFC stands for System File Checker, in fact) and replace any damaged or missing files it identifies. The afore-cited DISM command usually takes 3-5 minutes to complete, and the SFC command can take longer (especially if it makes any repairs). If SFC finds and fixes errors, repeat that same command until you get a clean bill of health in its final follow-up:
Windows 10 and Windows 11 both include a built-in driver verification tool named verifier.exe. It resides in the C:\Windows\System32 folder (where Windows keeps many of its admin and repair tools). Drivers are indeed often involved in the SYSTEM_SERVICE_EXCEPTION error because they belong to the class of Windows code elements allowed to access protected system code (along with OS components themselves, of course). Pretty much any device driver can provoke this error, so it's not uncommon to see it pop up when you install new hardware, or plug in some kind of removable storage device (usually through a USB or Thunderbolt port).
If the previous system repairs (DISM and SFC) don't dispel the SYSTEM_SERVICE_EXCEPTION BSOD, the Windows Driver Verifier may be able to help you identify the culprit that's causing this BSOD to occur. This tool comes with a warning: be sure to create a current image backup for your PC before using it, because the verifier checks all device drivers and intentionally causes a BSOD when it finds a driver that cannot be verified or is corrupt or damaged.
1. Enter "verifier.exe" at an administrative Command Prompt or PowerShell This will open the Driver Verifier Manager program.
2. Click Next and leave the default setting, "Create standard settings" in place.
3. Select "Automatically select all drivers installed on this computer." If you'd rather focus on a list of drivers by name, click "Select driver names from a list" instead. Either way, click Next to continue.
Unless you want to let your computer take hours testing possibly hundreds of drivers, I have some tips for narrowing this list down and picking suspect drivers from the list.
A free GitHub project called DriverStore Explorer offers a handy focused software tool for inspecting and managing Windows drivers. I used it on my test system to confirm it had over 200 drivers present, and to clean up enough of the old ones to bring that count down to a "mere" 195. This shows that selecting all drivers can involve a huge number of checks and take a great deal of time. Thus, I tend to concentrate on drivers by name using DriverStore Explorer and focus on drivers by category (e.g. Network adapters, Human Interface Devices, Display adapters, and so forth).
Let's say I just switched from the Lenovo OEM video driver to the Intel DCH video driver on my test PC, after which the SYSTEM_SERVICE_EXCEPTION error started up. DriverStore Explorer tells me the name of that driver is iigd_dch.inf, so that's the one I want to check for a close match in Driver Verifier Manager's driver list. Usually igd is shorthand for "Intel graphics driver," so I choose the item named igdkm64.sys.
4. Click Finish to proceed through your checks. Next you'll see a warning from Driver Verifier Manager that you must restart your PC to start running its driver checks.
5. Click OK, restart your PC, and you're on your way! When the system reboots, it may take a little longer to get through the boot-up sequence, as Driver Verifier Manager does its thing. Be patient. As Driver Verifier Manager finds unsigned or suspect drivers it will cause BSODs.
6. Record any bluescreen messages that pop up (it's handy to snap them with a smartphone), so you can investigate later.
Any BSODs will need subsequent investigation, and should prompt certain actions. In most cases, replacing or upgrading drivers identified in crash dumps after using Driver Verifier will set your system back to rights.
If you find yourself stuck in a boot loop (repeated BSODs that Driver Verifier is causing), you'll need to boot into Safe Mode (insert link). Then you can access Driver Verifier (type verifier into the Command Prompt or PowerShell). Once you're into the Driver Verifier Manager UI, choose "Delete existing settings," then click Finish. After your next restart, your self-induced BSODs will stop.
If you still can't get out of the BSOD loop, you may need to take more drastic measures. Restore the OS image you created as a precautionary backup, and you will be back where you started. On the other hand, you could try a 30-minute repair reinstall of WIndows or, if that's not enough, choose to reset Windows entirely which is the same as a clean install. The last two are obviously maneuvers of last resort.
Thank you for signing up to Tom's Hardware. You will receive a verification email shortly.
There was a problem. Please refresh the page and try again.
© Future US, Inc. 11 West 42nd Street, 15th Floor, New York, NY 10036.