Kirsten
KirstenAcuna
#Dune: Beautiful hair, beautiful people. www.youtube.com/watch?v=8g18jFHCLXk pic.twitter.com/r7rGWFNzxw
Jamie East
jamieeast
Full #DuneMovie trailer. Looks EPIC. I need a timeline for Jason Mamoa's beard. www.youtube.com/watch?v=kcQx41TM6MY
Ryan Parker
TheRyanParker
My eyeballs are going to be on fire all day thanks to that #Dune trailer. Just — WOWWWWWWW
Barry Hertz
HertzBarry
The @TIFF_NET Tribute Awards are going ahead full-steam this year (albeit televised, like 2020), and the first #TIFF21 honorees are ... Alanis Obamsawin (at the fest with a retrospective) and Denis Villeneuve (in Toronto, in some fashion, with a lil thing called DUNE). pic.twitter.com/wCgfSPkVHV
A dark, enigmatic staging of Mozart's opera brings together the director Romeo Castellucci and the conductor Teodor Currentzis.
SALZBURG, Austria — "Chi son io, tu non saprai," the stage director Romeo Castellucci said during a recent interview in the lobby of the Salzburg Festival's main theater. He smiled and gestured to an interpreter, who gave the translation: "You will never know who I am."
The phrase is part of the title character's entrance line in Mozart's "Don Giovanni," and announces the work's strangeness and ambiguity, the way it shifts between comedy and tragedy. Few stage directors would seem better able to explore and honor its mysteries than Castellucci, who emerged from the world of experimental theater to produce an ongoing series of abstract and enigmatic opera productions.
His staging of "Don Giovanni," then, is a highly anticipated meeting of work and director. Its premiere, on July 26, will be broadcast live on Austrian television, and the Aug. 7 performance will be streamed online.
Also much anticipated is the first from-scratch collaboration between Castellucci and the conductor Teodor Currentzis, who have separately provided some of the Salzburg Festival's most acclaimed events in recent years. Their "Giovanni" will be unusual — with collapsing churches, falling cars and pianos, a live rat and other extreme images. But Markus Hinterhäuser, Salzburg's artistic director, said that it is not merely inflammatory.
"There is nothing more boring than that," Hinterhäuser said. "This is provocation in an epiphenomenal way: creating spaces of perception, of resonance, of seeing. That is the provocation that is actually interesting."
The festival, which last year was one of the first European performing arts institutions to resume live performances, is now pioneering a return to prepandemic scale. ("Giovanni," part of a centennial season originally set for last summer, is among a group of postponed productions.) While many theaters are still blocking out seats, Salzburg is selling — and, in most cases, selling out — its theaters at full capacity. Attendees will be required to be vaccinated, tested or recently recovered from a coronavirus infection; masks were originally not to be required, but now are after an audience member tested positive following an outdoor performance of the play "Jedermann." And artists are being regularly tested.
Castellucci's concept revolves around the desire to re-enchant — to respect the mystery of — the myth of Don Juan (Don Giovanni in the opera's Italian). "The stupidest and most superficial thing you could do would be to turn him into some kind of Latin lover," he said, proposing Giovanni instead as the principle of life itself, an element of chaos or disorder that is both feared and desired, violent and attractive.
"Even in the foundations of the myth," Castellucci added, "he is someone who desires, who needs. And Mozart and Da Ponte" — Lorenzo Da Ponte, the work's librettist — "only show us his failures."
It is significant that in the piece we never see this supposedly great seducer succeed. For Castellucci, then, Giovanni is representative of a childlike ego's search for love — "the melancholy of the satyr," which this director understands as beating near the heart of Western culture.
Giovanni is searching not for endless women but for one woman, an impossibly ideal synthesis of incompatible forms of female perfection: mother, lover, prostitute. Desperately searching for wholeness and salvation, he ends up destroying others, treating women only as objects.
Far from the stereotypical Casanova figure deriving pleasure from his conquests, this Don Giovanni is both victimizer and victim, pushed toward violence by the strength of his desires and by his fear of the honest encounter with the other that is required in any loving relationship.
"I think he has some childhood trauma," Davide Luciano, the Italian baritone who plays Giovanni, said in an interview. "I always thought that this was the true character; it's deeper and darker than just enjoying women. Casanova enjoys; Giovanni does not and cannot."
In the famous "catalog aria" in the first act, Giovanni's servant Leporello tells the abandoned (but still smitten) noblewoman Donna Elvira of his master's many lovers — 1,003 in Spain alone. Often played for comedy, this sequence is for Castellucci something far more serious.
"This is a horrifying interaction," he said, "in which humans are just numbers." In response, Castellucci will fill the stage throughout the opera with 150 women who are not professional actors or dancers. Trained in his precise gestural language by the choreographer Cindy van Acker, they will begin to trigger Giovanni's downfall.
"The 'mille tre' will be invested with literal substance," Castellucci said, "to turn the philosophy of the catalog upside-down by occupying all the space that is available, with these women who have a body, an age, a biography, a name, a history — who are real persons."
In the first act, Giovanni will brutalize and dominate these women. As the second act progresses, though, they will begin to take control, eventually leading him to hell.
Mozart, born here in 1756, is Salzburg's favorite son, and in 1922, "Don Giovanni" was the festival's first opera production — conducted by the great composer Richard Strauss, with the Vienna Philharmonic, which is still the house orchestra, in the pit. This year, for the first time, the opera will be played here by an ensemble other than the Philharmonic: Currentzis leads his devoted MusicAeterna, which has been heard at Salzburg in Mozart's "La Clemenza di Tito" and "Idomeneo" and made its name with a cycle of recordings of the three Mozart-Da Ponte operas.
"I have a very certain theory about the sound of 'Don Giovanni,'" Currentzis said in an interview after a rehearsal, "rooted in Salzburgian church music."
"It's a polystylistic opera," he added, referring to the score's combination of tropes from severe opera seria and jovial opera buffa, added to orchestrations that recall religious music. "I wouldn't say it's a prefiguration of Romanticism; it is already Romantic. Rather, he goes straight to contemporary music, straight to Alban Berg."
For Currentzis, the work's female characters reflect different styles of female singer: Donna Anna, for example, seems to have arrived from an opera seria and Zerlina, a peasant girl, from an opera buffa. In Don Giovanni's sexual and emotional scheme, Elvira represents the mother; Anna, the lover; and Zerlina, the prostitute.
These musical and psychological relationships, Currentzis believes, can only be brought out through historically informed performance. He has the players tune their A to 430 Hz, a quarter-tone lower than contemporary orchestras's standard performance pitch.
"It's obviously better," Currentzis said. "Mozart composed music at 430 Hz; that was the pitch of the time. When he made the plan of the tonality, he knew exactly what he wanted to give brightness and darkness."
"If you transpose everything a quarter-tone up," he added, "all the spectral stuff is completely different."
The precision of his work with intonation extends to Currentzis's expectations of singers and their tone. "It is very simple," he said. "You have a very tight polyphonic structure, and if everything is not precise, everything collapses. We have a Romantic type of singing that came in with the 20th century, and then singers brought this Romantic approach to the operas of Mozart, and to polyphonic music. When the voices have less vibrato, this helps me to make the architecture."
In his recordings, the difference in vocal production from the norm — even more dramatic than what one normally hears in historically informed performances — is immediately audible: harder consonants; very soft and often almost whispered singing; a great deal of straight, vibrato-less tone. Currentzis insists that even in the Grosses Festspielhaus, which seats more than 2,100, all this will be audible.
"You don't have to have the singer sing louder," he said. "The orchestra can also play softer."
The singers seem overjoyed rather than upset by the demands. "It's the greatest thing in the world," said the tenor Michael Spyres, who plays Don Ottavio. "It needs to be alive, and it needs to be flexible. Mozart is the farthest thing from stiffness." The lower pitch, he added, helps the singers to access more vocal colors; Luciano, the Giovanni, said he could pronounce words better at this tuning.
"Normally I work with great conductors," Luciano said, "but they don't always know about singing technique. Teodor knows about singing."
He added that he had been "a little bit afraid" to work with Currentzis and Castellucci, both of whom have well-earned reputations for rigor. But Luciano said that the atmosphere has been "very serene" and that Castellucci "never asks for strange or uncomfortable positions for singers. He is always at our service for the singing, for the music."
At the end of the interview, Castellucci discussed the opera's finale: a sextet of the plot's survivors, celebrating the downfall of the central antihero. "We hear how they try to reconstitute society without Don Giovanni," he said. "But we feel in this joyous music a terrible nostalgia for this person, because of the principle of life that he represented. Heidegger said that the artist is a problematizer, someone who creates problems. That, I think, is a wonderful definition of the whole process."
Currentzis felt similarly, despite the presentation of the title character in all his tortured darkness. "The audience will criticize him during the intermission," he said. "But in the hall, they want to be him. Don Giovanni does what they want. He has the guts to actually do it."
Read full article at The New York Times
We Got This Covered 22 July, 2021 - 10:00am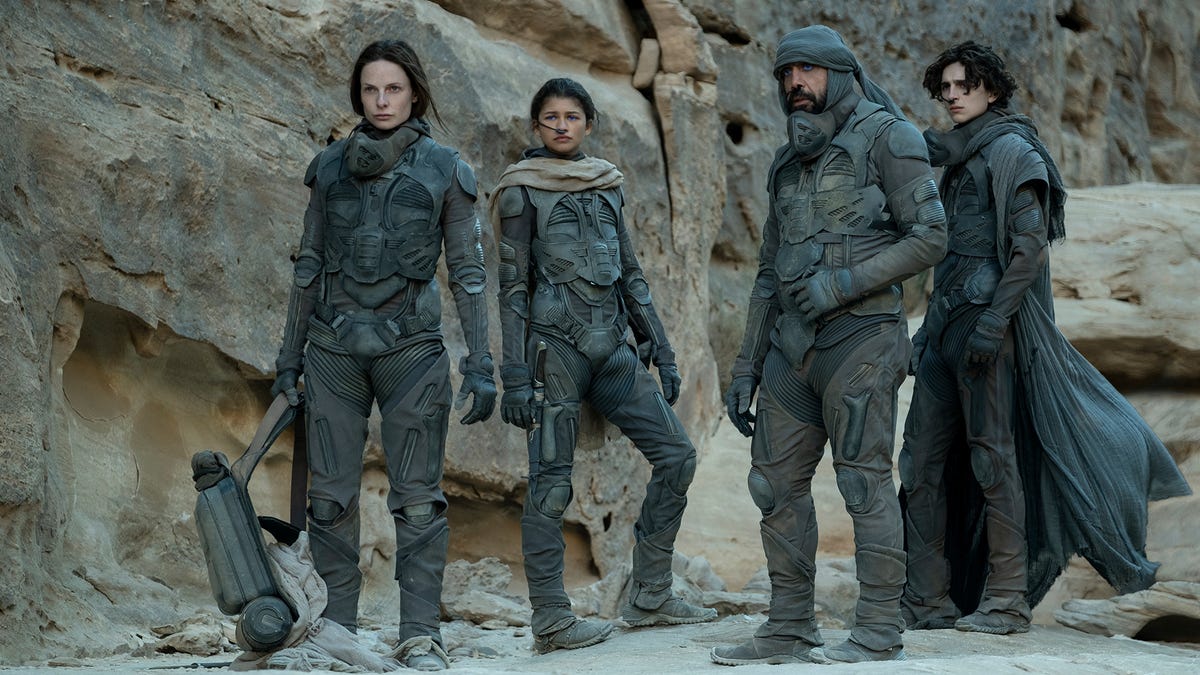 The A.V. Club 22 July, 2021 - 08:18am
As the opening voiceover from Zendaya's Chani (who sounds an awful lot like Lola Bunny) succinctly lays out, tensions are high on her home planet of Arrakis; the native Fremens have been under harsh rule of the Harkonnens, who harvest the land for a spice with metaphysical properties known as melange, the most valuable resource in the universe. We're also introduced to aristocratic heir Paul Atreides (Timothée Chalamet) who feels an innate and mysterious draw to Arrakis and its people. While the trailer doesn't do much to clarify Dune's sprawling plot to those unfamiliar with Herbert's novel, it more than delivers in action and scope, showcasing Villeneuve's beautifully-rendered vision of this stark, sandy world.
Perhaps the trailer's most notable scene is a lighter one between Paul and Atreides family friend/dashing Swordmaster Duncan Idaho (Jason Momoa). When the two are gleefully reunited, Duncan makes a crack at Paul's slender frame—it's a moment of levity that seems to cement Chalamet's status as Hollywood's leading twink, and one that signifies to audiences that Dune won't offer up strictly doom-and-gloom. Check the trailer out for yourself here:
But the biggest takeaway from the preview presentation is that the cast and crew really, really want you to be able to experience Dune on the big screen—preferably the biggest screen possible, if IMAX has their way. Villeneuve's been pretty vocal about his disappointment in the studio's decision to debut the film in theaters and on HBO Max simultaneously, so it's no surprise that the director and his ensemble (also including Oscar Isaac, Rebecca Ferguson, Javier Bardem, and Josh Brolin) were eager to point out how truly massive the story feels. It's so massive, in fact, that the second half of Herbert's Dune is being saved for a planned Dune: Part Two, which has yet to receive the official greenlight. If the future of Dune is determined by box office numbers—as Villeneuve alludes to—then perhaps it's ticket stubs that will prove to be the most valuable resource in the universe.
Dune is slated to hit theaters on October 22.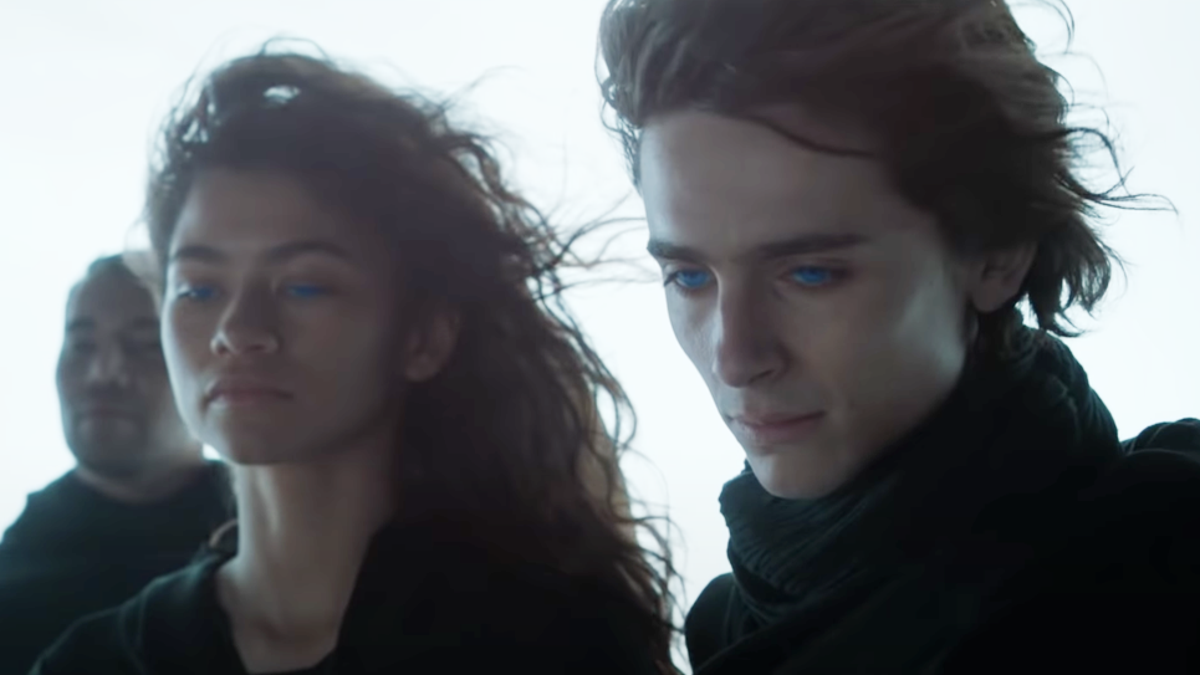 Gizmodo 22 July, 2021 - 08:00am
Warner Bros. has finally released a new trailer for Dune, the star-studded sci-fi spectacular based on the award-winning novel by Frank Herbert. Chalamet stars as Paul Atreides, the only son of Lady Jessica (Rebecca Ferguson) and Duke Leto Atreides (Oscar Isaac). He's set to inherit his father's empire—which includes Arrakis, a harsh, unforgiving desert planet that houses the most important substance in the known world.
Paul has spent years training to be the leader of House Atreides—while also under the tutelage of Lady Jessica, a member of the powerful Bene Gesserit order—only to see it crumble before his eyes as the villainous Baron Harkonnen and his nephew Glossu (Dave Bautista) start a war over control of Arrakis. It's a battle that brings him to the front door (or dunes) of the Fremen, the native inhabitants of the planet. Alongside the Fremen leader Stilgar (Javier Bardem) and warrior Chani (Zendaya), Paul strikes back to save the planet and its people—while also discovering a larger destiny that could change the very fabric of the universe.
Dune also stars Jason Momoa as Duncan Idaho, Charlotte Rampling as Reverend Mother Mohiam (aka Gaius Helen Mohiam), Josh Brolin as Gurney Halleck, Stephen McKinley Henderson as Thufir Hawat, Sharon Duncan-Brewster as Dr. Liet Kynes, Chang Chen as Dr. Wellington Yueh, and David Dastmalchian as the evil Mentat Piter de Vries. It was originally scheduled to come out on November 20, 2020, then got pushed back a few weeks to December 18, 2020. Because of the novel coronavirus pandemic, Dune was further delayed to October 22. It will be coming out simultaneously in theaters and on HBO Max—even though this is something Villeneuve spoke out against when it was first announced.
Polygon 21 July, 2021 - 01:02pm
We peeked the first 10 minutes of the sci-fi epic
Polygon was fortunate enough to be able to attend the IMAX screening, which offered a lot more of Dune than the sword fights and explosions in the trailers. So if you can't wait for the new trailer of Dune to be revealed tomorrow, here's a taste of what we saw.
[Ed. note: This piece contains some spoilers for scenes from the upcoming Dune movie — as well as for Dune, the book from 1965.]
Dune throws out as much exposition as possible as quickly as it can — a reasonable choice for a world as alien as the Padishah Empire — opening with the voice of Zendaya's character, Chani, describing the imperial pressure of the Harkonnen boot on the Fremen tribes of Arakkis.
It's a smart move to include Zendaya as a framing device, since although she's important to the overall plot of Dune, she is unlikely to appear much elsewhere in the movie. Chani is almost entirely absent from the first half of the Dune novel — appearing mostly in the dreams of Timothée Chalamet's regal character, Paul Atreides. This new adaptation of Dune is expected to limit itself to covering roughly the first half of the book. (Legendary has not yet given a green light to a sequel, though a spinoff based on witchy, eugenics-focused Bene Gesserit was ordered.)
Whether intentional or not, the opening is something of an evolution on David Lynch's Dune, which began with another of Paul Atreides' paramours who barely appears in the film: the imperial princess Irulan, superimposed like a specter over the galaxy's stars as she told us all about the Spice.
With Chani's final line — "Who will our next oppressors be?" — images of sand and ships fade to the title screen and then back into Paul Atreides, waking up in his comfy bed in his father's palace, with rain audibly drumming on the window. It's an obvious juxtaposition, but an important one for Dune.
The exposition continues to ebb and flow. Soon after, Paul and his mother demonstrate the Bene Gesserit ability to compel others using only your voice. Later he literally sits down and looks at a stillsuit diagram while we listen to another book reciting the Imperial equivalent of the Arrakis Wikipedia Entry to him out loud. Despite all the front-loaded info, Dune's opening left other things to mystery — the capabilities of mentat Thufir Hawat and the spookily robed Guild Navigators appear, but without much underlining.
By the end of the first 10 minutes, House Atreides had taken its first steps towards the Spice world itself. To give a taste of the rest of the movie, Warner Bros. showcased what's likely the first major action sequence in the movie, with Paul and Duke Leto's early confrontation with a spice harvester in distress. The presentation was followed by a Q&A with Villeneuve and composer Hans Zimmer, and a look at a new trailer, set for release on Thursday.
That footage alone gave a sense of Villeneuve returning to some of the imagery that made Arrival and Blade Runner 2049 so arresting — just more, more, more. The director frames his establishing shots so as to dwarf the human figures in them, and the intrastellar ships seen in the footage are almost horrifyingly large, the kind of size that make the brain rebel at the idea that they can leave the ground at all.
"Whenever I saw a movie about empires far, far away, other planets, etc., I always heard trumpets and French horns and cellos playing," Zimmer said, "and I'm thinking, Wow, there are all these amazing civilizations in different galaxies, places, and in different times, and they have the same instruments as we do!"
The composer said his goal was to get as far away from the typical John Williams/space epic score as possible, in part by trying to "invent our own instruments."
The musical sounds in Warner Bros.' presentation included low, didgeridoo-like droning; harsh percussion; whining chromatic strings; and discordant wordless vocals from a largely female chorus.
"The one thing that I felt would hold true to any civilization on any world was the human voice," Zimmer shared, adding that the chorus was also a tribute to the pivotal female characters in Dune.
Dune hits HBO Max and theaters around the world on Oct. 22.