Bryce Newberry
Bryce_Newberry
Regardless of vaccination status, everyone in Austin-Travis County is now being urged to wear a mask indoors. 😷www.kvue.com/article/news/health/coronavirus/austin-texas-covid-coronavirus-stage-4-stage-3/269-df69d2dd-fbc8-4ddd-9c19-cfdbe446ffe2 via @KVUE

Tori Larned
ToriLarnedtv
The Delta variant of COVID-19 is the prominent strand in the U.S. I've seen lots of confusion about whether or not this impacts #Austin-Travis County's ability to reach herd immunity. In short, yes. I reached out to the experts to find out why. I'll explain on @KVUE at 10 p.m.
Donna Howard
DonnaHowardTX
"Almost all of the hospitalized patients are unvaccinated, said Dr. Desmar Walkes, Austin-Travis County health authority. Officials urged residents to get their shot if they haven't yet, saying that vaccination is the best way to stop spread of the virus." bit.ly/3Bb3oyP
Christina Ginn
ChristinaKVUE
Austin-Travis County announced Thursday it is returning to Stage 3 of its COVID-19 guidelines. #Austin www.kvue.com/mobile/article/news/health/coronavirus/austin-covid-stage-3-mask/269-d41fe175-7440-41f0-8387-545dc39e6eba
But what does moving from Stage 3 to Stage 4 actually do? Here's a recap of the city's risk-based guidelines, and what they mean for Austinites:
Back in May 2020, Austin Public Health unveiled a five-stage guideline system to help residents understand the level of coronavirus risk to the community and offer guidelines they should follow to avoid transmitting or contracting the disease. The numbers increase to indicate a more dangerous stage of the pandemic and trigger more restrictions accordingly, with Stage 1 being the safest and the Stage 5 being the riskiest.
That changes in Stage 4. Unlike Stages 1, 2 and 3, vaccinated individuals are advised to put on masks when attending private gatherings, dining and shopping in Stage 4. Unvaccinated individuals are advised to avoid those activities altogether, unless they are essential.
What about businesses? Business owners under Stage 4 can still decide whether or not to require customers to wear masks. Dr. Desmar Walkes, Austin-Travis County health authority, said Friday that she had no immediate plans to attempt to reinstate the previous mask mandate that required businesses to have a masks-on policy.
Austin-Travis County only officially shifts stages when public health officials say so, but the city has laid out certain thresholds that indicate it might be time to shift. The primary indicator is the seven-day average for new daily hospital admissions, but the city also takes into account the seven-day moving average of hospitalizations, number of patients in the ICU, ventilator usage, positivity rate, and the seven-day moving average of cases.
Yes — the guidelines for vaccinated and unvaccinated people are just different.
In all five stages, unvaccinated individuals should wear masks. Vaccinated individuals can forgo their masks, unless traveling, in Stages 1 through 3. In Stages 4 and 5, unvaccinated people should avoid all non-essential gatherings and outings, while vaccinated people can engage in them as long as they're masked.
Austin Public Health officials say it will take between 70% to 90% of all eligible (currently those 12 years old and over) Austin and Travis County residents getting fully vaccinated to reach herd immunity. As of Wednesday, 53% of Travis County residents of all ages and 62% of Travis County residents 12 years old and over were fully vaccinated, according to Texas Department of State Health Services data.
Herd immunity occurs when enough people in a community are protected from getting a disease because they've already had the disease or they've been vaccinated. It's important because it even protects those who cannot be vaccinated, such as young children.
Read full article at Austin American-Statesman
KVUE 21 July, 2021 - 06:02pm
CBSDFW 21 July, 2021 - 06:02pm
KXAN 21 July, 2021 - 06:02pm
KVUE 21 July, 2021 - 06:02pm
FOX 7 Austin 21 July, 2021 - 06:02pm
News4JAX 21 July, 2021 - 06:02pm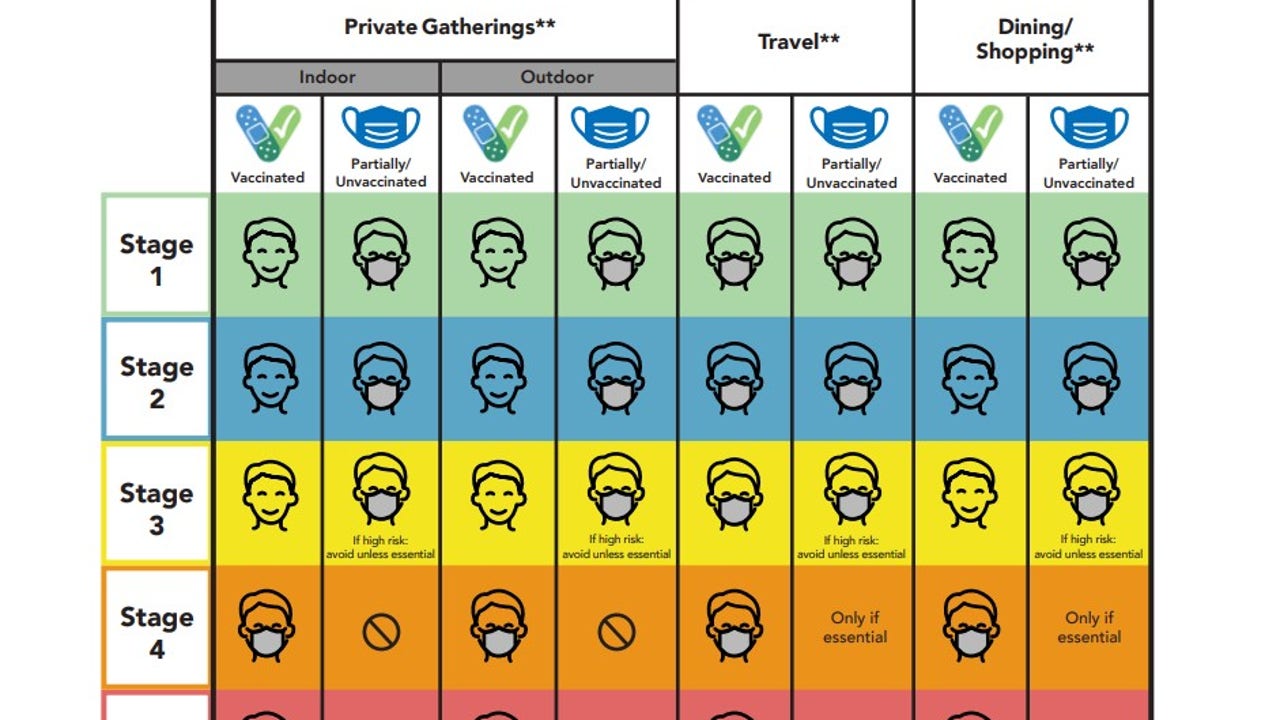 FOX 7 Austin 21 July, 2021 - 04:23pm
Austin-Travis County has moved to Stage 3 of the COVID-19 risk-based guidelines due to rising cases, hospitalizations, and the confirmed Delta variant cases.
AUSTIN, Texas - Austin-Travis County is currently in Stage 3 of their COVID-19 risk-based guidelines. The move from Stage 2 to Stage 3 was caused by an uptick in cases involving the Delta variant of COVID-19 as well as a rise in hospitalizations.
But what makes Stage 3 different from Stage 2 or even Stage 4, which Austin-Travis County could be moving back into for the first time in a year if trends continue?
The guidelines are recommendations from the city's health authorities on behaviors they consider safe for each level of COVID-19 risk from the lowest threat, Stage 1, through the most serious, Stage 5. The recommended behaviors are not meant to replace rules businesses or schools have already put in place and are meant to be guidelines for both vaccinated and unvaccinated people. 
In Stage 3, our current stage, a vaccinated person can participate in private indoor gatherings, and shop and dine indoors while maskless. Vaccinated people are still recommended to travel with precautions such as social distance and masking. Currently, due to the spike, it has been recommended even vaccinated individuals wear masks even though the city is still in Stage 3.
For unvaccinated people, the guidelines suggest masking and taking precautions for all gatherings, dining, or travel. 
The guidelines offer no change in recommended behavior between Stage 2 and Stage 3, however, moving back into Stage 4 would bring new recommendations for both vaccinated and un-vaccinated residents.
In Stage 4, a vaccinated person should mask for all gatherings, shopping, dining, and travel, which they have already been advised to do even though the city is in Stage 3. An unvaccinated person in Stage 4 is recommended to avoid all non-essential activities. 
According to the CDC, the chances of COVID-19 vaccine breakthroughs happening are low but still possible.
Austin Public Health still urges residents to get vaccinated as the best way to avoid contracting COVID-19, with a vast majority of hospitalizations they say being cases of unvaccinated people. There have been, however, a small amount of "breakthrough" cases of fully vaccinated individuals contracting the virus. 
The CDC says the chances of a vaccinated person contracting COVID-19 is low but is possible if direct contact is made with someone who has the virus.
This material may not be published, broadcast, rewritten, or redistributed. ©2021 FOX Television Stations
KEYE TV CBS Austin 21 July, 2021 - 11:47am
KXAN.com 20 July, 2021 - 09:59am
AUSTIN (KXAN) — In a joint special session for Austin City Council and Travis County Commissioners, Central Texas health leaders announced our community is on the brink of hitting Stage 4 on the city's risk-based guidelines.
That risk-based stage would suggest masking for even vaccinated individuals and would discourage people who are not vaccinated, or only partially, from gathering indoors or outdoors.
As of Monday, there are 877 active cases of COVID-19 in Austin-Travis County COVID-19 dashboard.
This includes 196 hospitalizations, of which 70 are ICU stays. Thirty-two of these patients are on ventilators. This is the highest total of hospitalizations since March 12.
The county reported the number of breakthrough cases since Jan. 1 increased to 488 this week. "25% of those people were asymptomatic," said Dr. Desmar Walkes, the local health authority. Last week, Austin-Travis County reported 333 breakthrough cases since the start of the year.
For context though, the 488 breakthrough cases are out of roughly 680,000 people who have been vaccinated since January in Travis County. Dr. Walkes reiterated that getting your vaccine was the first and more effective defense against getting the virus, and becoming seriously ill or dying from it.
"Almost all of the cases we're seeing right now, through cases investigations, are unvaccinated," Dr. Walkes said.
Dr. Walkes also said hospitalizations and case numbers increasing are likely a result of the delta variant.
Four delta variant cases of COVID-19 were identified in Travis County last week, and at least one of those people ended up in the hospital. Dr. Walkes says that variant is more than 60% more transmissible than other strains of COVID-19.
As a result of rising cases, hospitalizations and the persistence of the delta variant, the Health Authority is asking that Austin residents mask up again. Mayor Steve Adler, with the City of Austin, said even though he's fully vaccinated, he'll be doing just that.
He also addressed concerns about students returning to school in the fall: "We don't want to get involved in a legal issue with the Governor, and want to try to avoid that if we can, but if there was a way right now to order that all students have to wear masks in school, we would be doing it," Mayor Adler said.
Gov. Greg Abbott issued an executive order in May that bans school districts and other "governmental entities in Texas," from requiring or mandating masks.
Abbott said that counties, cities, public health authorities or government officials can't require people wear masks.
"Right now it's up to individuals," Mayor Adler said. Businesses and places of worship can require masks are worn inside their facilities, the mayor encouraged individual organizations to do so.
Williamson County is also reporting an uncontrolled spread of cases.
The county announced Monday, they are now in the red-level phase of transmission — the highest level — after cases more than doubled in just one week. Cases also increased 6.5 times since the end of June, the county reported.
Residents are advised to wear masks, observe social distancing of at least 6 feet, and avoid crowds. Williamson County is also reminding residents that vaccines are currently readily available and are effective to combat serious illness.
Copyright 2021 Nexstar Media Inc. All rights reserved. This material may not be published, broadcast, rewritten, or redistributed.
Right now, all trauma service areas are sitting below the 15% trigger that would allow local leaders to roll back business capacity. But with 52% of the state's eligible population fully vaccinated, hospitals are already concerned.
But a new app that launched in the city on Wednesday is trying to change that – by connecting locals with fresh leftover food that would otherwise be thrown away.
Cities like Juarez have drastically increased their vaccination rates in July, but most people have only received the first of two doses and no one under 18 years old has been inoculated, said Chihuahua Undersecretary of Health Dr. Mirna Betran.