France accused Australia of concealing its intentions to back out of the 90 billion Australian dollar ($66 billion) contract for French majority state-owned Naval Group to build 12 conventional diesel-electric submarines.
President Joe Biden revealed last week a new alliance including Australia and Britain that would deliver an Australian fleet of at least eight nuclear-powered submarines.
Morrison blamed the switch on a deteriorating strategic environment in the Indo-Pacific. He has not specifically referred to China's massive military buildup, which has gained pace in recent years.
"The capability that the Attack class submarines were going to provide was not what Australia needed to protect our sovereign interests," Morrison said.
"They would have had every reason to know that we have deep and grave concerns that the capability being delivered by the Attack class submarine was not going to meet our strategic interests and we have made very clear that we would be making a decision based on our strategic national interest," he added, referring to the French government.
France responded to the contract cancellation, which Morrison has said will cost his government at least AU$2.4 billion ($1.7 billion), by recalling its ambassadors from Australia and the United States.
French Foreign Minister Jean-Yves Le Drian on Saturday denounced what he called the "duplicity, disdain and lies" surrounding the sudden end of the contract and said France was now questioning the strength of the alliance.
On Sunday, the French government spokesman said President Emmanuel Macron will speak in the coming days with Biden in what will be their first contact since the crisis erupted.
The phone call is at the request of Biden, spokesman Gabriel Attal said, adding that there was "shock" and "anger" at first. But now it's time to try to move forward, he said.
China has denounced the sharing of such U.S. and British nuclear technology as irresponsible.
France won the contract in 2016 over offers from Germany and Japan. The Shortfin Barracuda was to be a nuclear submarine design adapted to be powered by diesel on the surface and battery underwater.
Japan was particularly disappointed because then-Prime Minister Tony Abbott had promised the close defense ally the contract before he was deposed by his own party in 2015.
The government has talked down media reports of ructions between the partners in the French submarine project and delays on the original delivery date of 2027.
There have been concerns of a defense capability gap emerging that the aging Australia-made Collins class conventional submarines could not fill.
Australia's first nuclear submarines are not expected to be delivered until close to 2040.
Defense Minister Peter Dutton said his government was prepared to lease nuclear submarines from the United States while Australia's fleet was being built.
Dutton and Foreign Minister Marise Payne are in the United States for annual meetings with their U.S. counterparts and their first with the Biden administration.
Morrison flies to the United States on Monday for a meeting with Biden and the leaders of India and Japan that make up the Quad security forum.
WASHINGTON — No president has ever packed as much of his agenda, domestic and foreign, into a single piece of legislation as President Joe Biden has with the $3.5 trillion spending plan that Democrats are trying to wrangle through Congress over the next six weeks. The bill combines major initiatives on the economy, education, social welfare, climate change and foreign policy, funded in large part by an extensive rewrite of the tax code, which aims to bring in trillions from corporations and the
A Texas doctor stepped forward Saturday to say he had performed an abortion that is illegal under the state's restrictive new law to force a test of its legality. "I understand that by providing an abortion beyond the new legal limit, I am taking a personal risk, but it's something I believe in strongly," Alan Braid, a San Antonio OB/GYN, said in an op-ed in The Washington Post. "I have daughters, granddaughters and nieces. I believe abortion is an essential part of health care. . . . I can't ju
Kenny Young appeared to graze the official's hat while yelling at him.
Fields wasn't special in replacing Andy Dalton, but he might have done enough to be the starter going forward.
MANILA (Reuters) -Boxing star Manny Pacquiao said on Sunday he will run for president of the Philippines next year, after railing against corruption in government and what he calls President Rodrigo Duterte's cozy relationship with China. Pacquiao accepted the nomination of his political allies during the national assembly of the faction he leads in the ruling PDP-Laban Party, days after a rival faction nominated Duterte's long-time aide, Senator Christopher "Bong" Go https://www.reuters.com/world/asia-pacific/philippine-senator-first-declare-2022-run-presidency-2021-09-08, as its presidential candidate. That faction nominated Duterte for vice president, a move that critics called a cynical ploy by Duterte to retain power.
LADERA RANCH, Calif. — When Gail Grigaux first moved to Ladera Ranch in Orange County from the East Coast more than 15 years ago, she knew she had arrived in the conservative heart of Southern California. "If I met anybody new, I would assume they were Republican," said Grigaux, 53, a teacher's assistant. It often felt that way, even as recently as last year when supporters of former President Donald Trump drove golf carts with Trump flags and sold Trump paraphernalia on street corners of the ma
Jets fans lobbed boos at Wilson three quarters into his home debut.
"It wasn't very nice or fair," the actress says in a new book exposing the show's behind-the-scenes drama.
Australian Prime Minister Scott Morrison said Sunday that France had to have known of Australia's "deep and grave concerns" over the submarines the French were building, AP reports. Why it matters: Morrison's comments come after Australia scrapped a submarine deal with France, worth roughly $66 billion, setting off what is now a diplomatic crisis.Stay on top of the latest market trends and economic insights with Axios Markets. Subscribe for freePresident Biden's announced last week the U.S. woul
After the Food and Drug Administration's vaccine advisory panel rejected a plan on Friday to offer Pfizer booster shots for all Americans, White House chief medical adviser Dr. Anthony Fauci defended the White House's earlier plan to begin rolling out the shots this month. "The plan was that we have to be ready to do this as soon as the decision is made and when you have a plan, you put a date on it, and you say we want to be able to get ready to roll out on the week of September the 20th," Fauci said Sunday. "So giving that date I don't think was confusing, we needed a date to be able to say, let's get ready to roll this out, pending the decision of the deliberation by the FDA and ultimately the (Centers for Disease Control and Prevention)."
Dr. Anthony Fauci defended the Biden administration's booster rollout plans, downplaying confusion over who should get the jabs. Latest COVID news.
A military training jet crashed Sunday in a neighborhood near Fort Worth, Texas, injuring the two pilots and damaging three homes but not seriously hurting anyone on the ground, authorities said. Both pilots managed to eject from the plane before it crashed in Lake Worth, which is just west of Fort Worth, authorities said at a news conference. "This incident could have been much worse knowing that this plane went down in a residential area," Lake Worth Fire Chief Ryan Arthur said of the crash, which was reported to authorities shortly before 11 a.m.
Tagovailoa sustained a rib injury on a big hig by A.J. Epenesa.
Saturday offered a reminder of all the equalizers that this season offers. And while it wasn't a day of chaos, the confluence of close games made the favorites look fallible.
While Mississippi State's players initially looked to be at fault for giving up on the play, the real culprits were the officials.
Authorities say a body discovered Sunday in Wyoming is believed to be Gabrielle "Gabby" Petito, who disappeared while on a cross-country trek with a boyfriend who has been identified by authorities as a person of interest and is now being sought within a Florida nature preserve. The FBI said the body was found by law enforcement agents who had spent the past two days searching campgrounds. The cause of death has not yet been determined, said FBI Supervisory Special Agent Charles Jones.
Donald Trump Jr.'s posts don't exactly 'back the blue.'
The Ohio Republican's attack on Democrats got flipped back on him.
The Arizona State Senate and the company it hired are now at loggerheads over records the Cyber Ninjas company is not releasing after a court order.
The editorial board of Albany's Times Union asks the New York Republican "how low" she can go in its withering essay.
Read full article at Yahoo News
News On 6/KOTV 19 September, 2021 - 09:42pm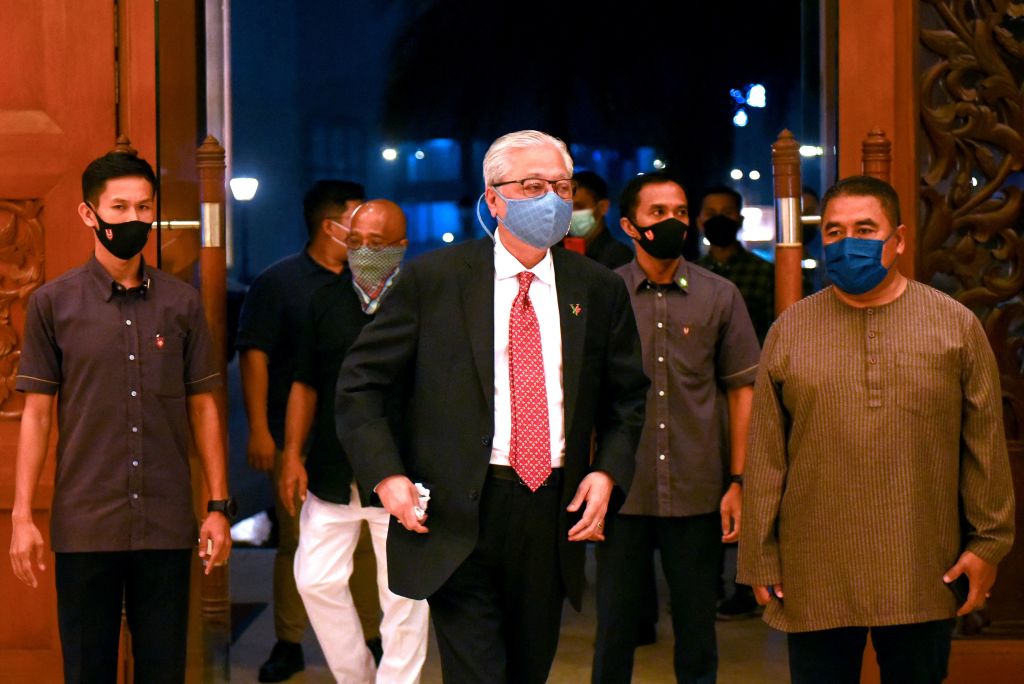 Newsweek 18 September, 2021 - 11:43am
Prime Minister Ismail Sabri Yaakob warned that the deal between the U.S. and Australia could lead to a nuclear arms race in the region, Malaysia's Daily Express newspaper first reported. The Malaysian leader raised his concerns directly with Australia's Prime Minister Scott Morrison in a Friday phone call, according a statement from Yaakob's office.
"At the same time, it will provoke other powers to take more aggressive action in this region, especially in the South China Sea," the Malaysian leader warned in a Saturday statement. He also asserted that Malaysia would continue to ensure its regional waters are a "Zone of Peace, Freedom and Neutrality"—as declared under a 1971 agreement with Indonesia, the Philippines, Singapore and Thailand.
"A free and open Indo-Pacific region is critical to the security and prosperity of the American people and for our allies and partners. This partnership will help defend our shared interests there for generations," the spokesperson told Newsweek.
"This enhanced security partnership is especially important given the changing strategic environment in the region. It demonstrates U.S. commitment to revitalizing our alliances and strengthening them to take on the challenges of the 21st century."
The plan with Australia has drawn substantial criticism from several nations. China—the regional superpower—condemned the decision as "extremely irresponsible." Chinese foreign ministry spokesman Zhao Lijian said during a press briefing that it "seriously undermines regional peace and stability and intensifies the arms race."
China claims most of the South China Sea as its own despite conflicting claims with regional nations—including Malaysia—and an international tribunal ruling against its claim in 2016.
France—a key ally of the U.S. and Australia—was outraged by the decision, as Australia canceled a previous deal for diesel submarines with the European nation in favor of the nuclear-powered submarines, which are stealthier and more durable, among other advantages.
"This brutal, unilateral and unpredictable decision reminds me a lot of what Mr. Trump used to do," French Foreign Minister Jean-Yves Le Drian told Franceinfo radio on Thursday. "I am angry and bitter. This isn't done between allies."
The European nation then recalled its ambassadors from the U.S. and Australia on Friday.
"At the request of the President of the Republic, I have decided to immediately recall our two ambassadors to the United States and Australia to Paris for consultations," the French foreign minister said in a statement. "This exceptional decision is justified by the exceptional gravity of the announcements made on 15 September by Australia and the United States."
State Department spokesperson Ned Price responded to France's anger by calling the European nation a "vital partner."
"We have been in close contact with our French allies. We understand their position, and we are aware of their plans to recall Ambassador Etienne to Paris for consultations. France is a vital partner & our oldest ally, and we place the highest value on our relationship," Price wrote in a Twitter post.
[1 of 3]: We have been in close contact with our French allies. We understand their position, and we are aware of their plans to recall Ambassador Etienne to Paris for consultations. France is a vital partner & our oldest ally, and we place the highest value on our relationship. pic.twitter.com/xLci8Y8V6V
Meanwhile, Singapore spoke favorably of the new Australia-U.S. deal. The island nation's Ministry of Foreign Affairs said Prime Minister Lee Hsien Loong spoke to Morrison by phone this week. Lee told the Australian leader he hopes the deal will "contribute constructively to the peace and stability of the region and complement the regional architecture," according to the ministry.
Join half a million readers enjoying Newsweek's free newsletters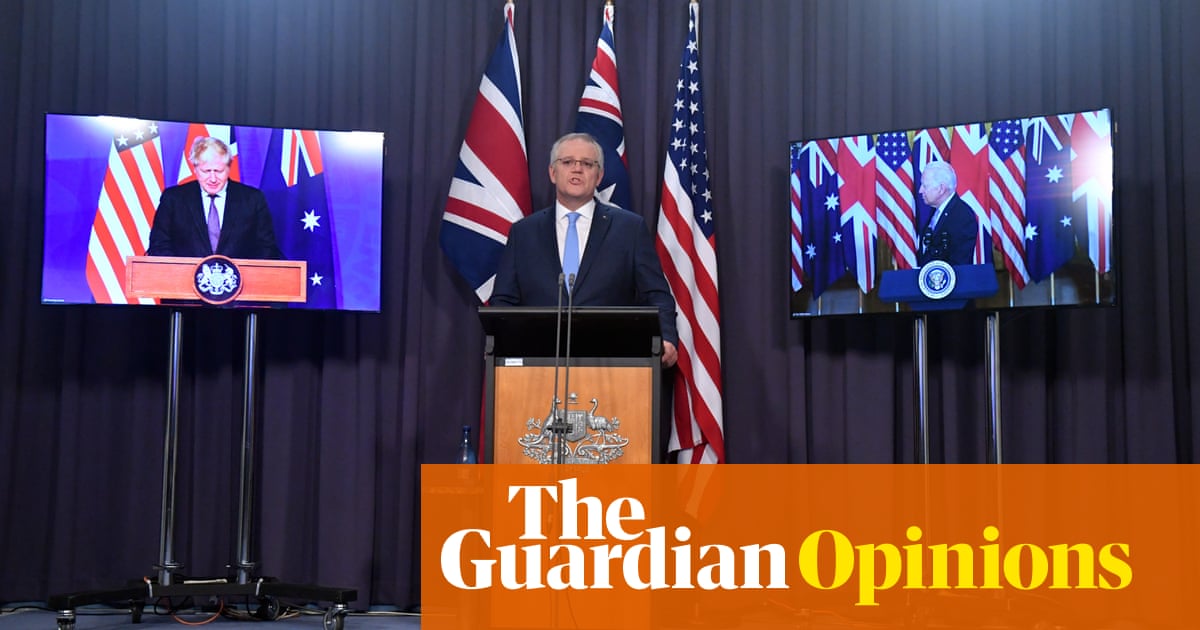 The Guardian 16 September, 2021 - 01:03pm
Joe Biden appears to be realising Barack Obama's pledge of a pivot to Asia, with US capacity freed by withdrawal from Afghanistan, and China's behaviour ringing alarm bells internationally. The Aukus pact binds the UK and Australia more closely to the US position, and should augment US military power in the region (though France, Europe's most significant Indo-Pacific player, is openly furious). Though Boris Johnson has highlighted the promise of UK jobs, a White House official described the deal as a "downpayment on global Britain".
Three years ago, Australia's prime minister, Scott Morrison, insisted Canberra need not choose between Beijing and Washington. Now he seems to have judged that China has made the choice for him, given the punishing trade war, the treatment of Australian citizens, mammoth hikes in military spending (albeit from a lower base than the US) and its broader behaviour. Donald Trump's presidency gave China an opportunity to strengthen relationships with US allies; the pandemic gave it an opportunity to rebalance towards cooperation. Instead, it accelerated course with Wolf Warrior diplomacy, trade pressure, clashes with India and more frequent incursions into Taiwan's air defence identification zone, and upped the ante in the South China Sea.
The result is growing coordination among anxious nations. The anglophone "Five Eyes" intelligence-sharing nations have increased cooperation; Australia and the US have worked more closely with India and Japan in the "Quad"; the UK invited India, South Korea and Australia (as well as South Africa) to the G7. At US prompting, Nato has taken a stronger line on China.
A firm and unified response to China's actions by democratic nations is both sensible and desirable. Whether the new pact will restrain it – or prompt it to boost its military even further, pursue closer relations with Russia, and intensify other forms of pressure – remains to be seen. Beijing's attacks on "cold war mentality" are about perception, not just rhetoric. This week we learned that the top US military officer reportedly called his Chinese counterpart fearing that Beijing believed the Trump administration was preparing to attack. Mr Biden may believe he can pursue "extreme competition", confronting Beijing in some areas and engaging it in others, but China clearly disagrees. It sent a junior official to meet John Kerry for climate change talks. Reportedly, Xi Jinping did not respond to the president's proposal of a face-to-face summit.
While many herald Aukus as a momentous step, this is not a treaty but a statement of intent, with even the details of the submarine agreement 18 months away. Setting aside that project (and the real concerns it might open the door to proliferation), we cannot yet tell how significant the pact will be. Faith in US commitments is shakier in the wake of Mr Trump. What is certain is that this further sharpens the divide between China and the west.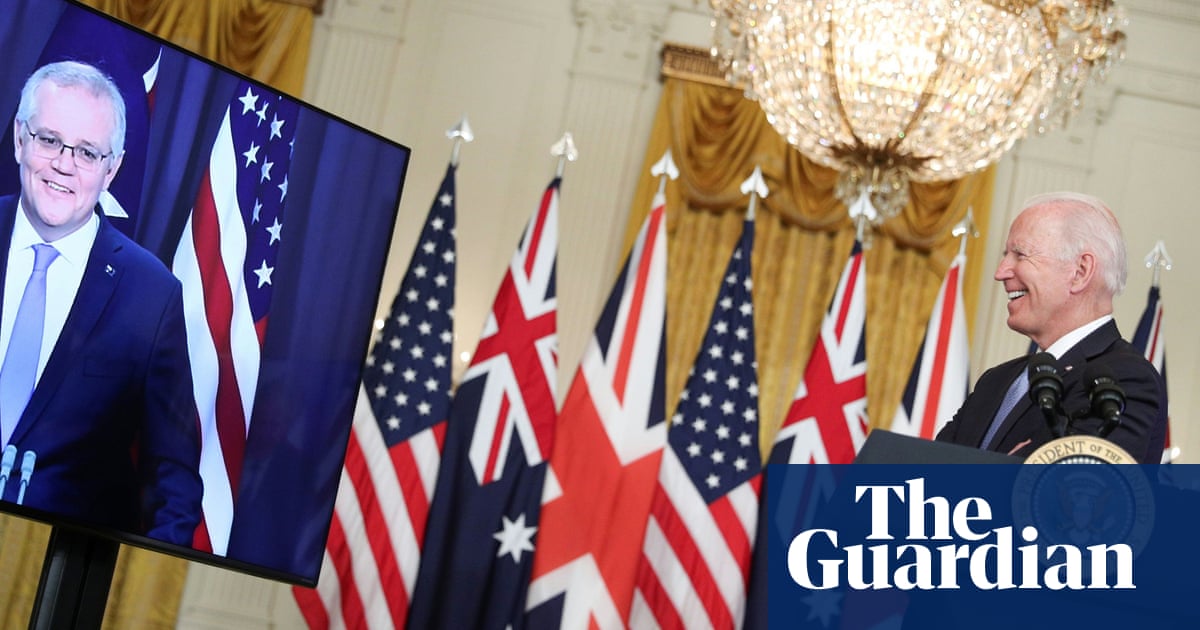 The Guardian Australia 15 September, 2021 - 11:14pm
It came as the US president, Joe Biden, announced a trilateral security partnership with Britain and Australia, called Aukus. It will see the US share nuclear technology that will help Australia create a multibillion-dollar fleet of nuclear-powered submarines.
During the historic announcement, Biden turned to the British prime minister to pay his gratitude for this new phase of cooperation.
"And I want to thank that fella down under. Thank you very much pal," Biden said. He added: "Appreciate it Mr prime minister."
The US president eventually got it right.
"I'm honoured today to be joined by two of Australia's closest allies, Australia and the United Kingdom, to launch a new phase of the trilateral security cooperation among our countries," he said moments later. "As prime minister Morrison and prime minister Johnson said, I want to thank you for this partnership …"
But it was too late. The damage was already done.
Biden just laid the "Scotty From Marketing" nickname to rest permanently. #ThatFellaDownUnder
It didn't take long for #thatfelladownunder to start trending on Twitter.
It's embarrassing enough when someone forgets your name while speaking to you.
It's another thing if they forget your name while addressing the global press with a historic trade deal.
Tres Aukus.
Surely "That fella Down Under" is the equivalent of running into someone in the pub whose name you can't remember and can only come up with "Maate".
Oh Joe! You have made our day. #ThatFellaDownUnder pic.twitter.com/HhWHnmm1wL
Others were more interested in what Morrison had to say about the deal.
Morrison said the agreement with the US and UK is a "forever partnership for a new time between the oldest and most trusted of friends".
Email: sign up for our daily morning briefing newsletter
App: download the free app and never miss the biggest stories, or get our weekend edition for a curated selection of the week's best stories
Social: follow us on YouTube, Facebook, Instagram, Twitter or TikTok
Podcast: listen to our daily episodes on Apple Podcasts, Spotify or search "Full Story" in your favourite app
"forever partnership"– who said it, ScoMo or that one couple you and your mates follow on Instagram to make fun of?