Read full article at GameSpot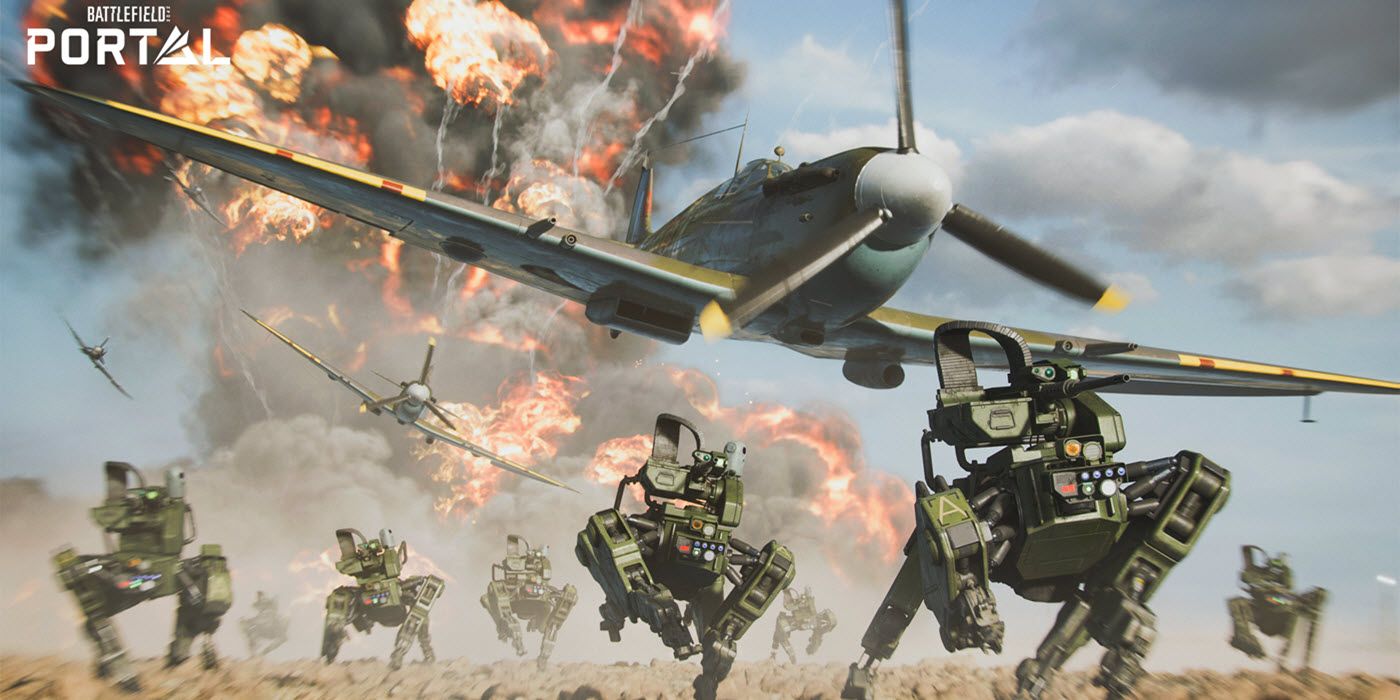 GameRant 22 July, 2021 - 04:02pm
With Battlefield 2042 still a few months away, Game Rant got the chance to go hands-on with the online experience thanks to a remote preview event hosted by Electronic Arts. Prior to the main reveal at EA Play 2021, members of the media got an opportunity to look at the game, chat with a number of the developers, and learn about that mysterious third game mode that had been teased during the game's reveal. During our Battlefield 2042 preview, we got a first look at the work Ripple Effect Studios has been putting into its brand new sandbox mode known as Battlefield Portal.
Battlefield Portal is a highly customizable and community-driven experience created by Ripple Effect Studios. Through this mode, players can not only build and share their own custom game modes, but all players will also be able to browse and play these modes right from the game. The main Portal menu will have three options, one for DICE-created experiences, a second for Community-generated modes curated by DICE which rotate periodically, and then the editor itself.
Better yet, all assets from these maps have been rebuilt from the ground up in the Frostbite engine and reimagined for modern technology. The map layouts themselves remain as close as possible to how fans remember them, but for the older maps from Battlefield 1942, destruction physics have been added.
When building content in the Portal editor, players have unprecedented control. Senior Design Director Justin Wiebe provided an early look at the process. Starting off, players select the game mode they want to center their experience around and this includes modes like Rush which isn't featured in the main Battlefield 2042 game. In addition, players have the option to center each team on a specific Battlefield game, meaning WW2 soldiers can go up against the new Battlefield 2042 specialists if the player wants. However, teams themselves can't be mismatched with different era soldiers.
These more granular details are added is through the final piece of Portal, the Rules Editor. This is likely going to be a little intimidating for those not familiar with programming, as it utilizes a very impressive visual scripting editor, allowing users to input their own logic and custom rules. During the demo, Wiebe added logic that healed players after earning a kill as well as swapping the team's weapons in a Gun Game style mode. While the programming may seem overwhelming at first, Grass did confirm that the studio would be producing tutorial-style content and videos to help get all players up to speed if they want.
In addition to publishing their experiences, players can even share the custom logic they've created with the community. From a development perspective, this could really help those who are stuck at a certain part, overcome some hurdle, or perhaps those wanting to develop a game mode with a group. Better yet, every time a change is made to the logic file, the original version isn't overwritten. Instead, it is saved as a new file to be shared, making sure the original version is left untouched.
All in all, the lifespan of Battlefield 2042 appears nearly infinite thanks to this major community feature. While Battlefield 2042 won't have a Battle Royale at launch, perhaps some aspiring player will go ahead and create something along those lines using Portal. At this point, only imagination is the limit.
Now all that's left is for EA and DICE to reveal the game's last mysterious mode known as Hazard Zone. According to members of the development team, this mode will be revealed closer to launch, though they teased that it's quite different from the All-Out War side of the Battlefield 2042 experience. Instead of massive maps with tons of players on each side, Hazard Zone places a focus on tight, squad-based action. Unfortunately, no more was said about the game mode but with only a couple of months left before launch, players won't have to wait too much longer for answers.
Battlefield 2042 is scheduled to release on October 22 on PC, PlayStation 4, PlayStation 5, Xbox One, and Xbox Series S/X.
Push Square 22 July, 2021 - 04:02pm
Looking for the EA Play Live 2021 livestream? You can watch it live right here. This is Electronic Arts' annual E3-esque event – it's just happening a little later this time around. Expect the usual string of FIFA, Madden NFL, and The Sims updates – along with new information on Battlefield 2042, Apex Legends, and more. A little Necromorph tells us Dead Space could be making a comeback, too. The broadcast will get underway, with a short pre-show, from 10AM PDT / 6PM BST.
Live Blog
And that's the end of the show, thanks for joining us everyone.
Dead Space is coming to PS5 only. There's no PS4 version.
Dead Space is officially back. Join us NOW.
And it's time for one last thing... It's Dead Space!
Battlefield 2042 Portal looks absolutely amazing. It's basically a creation suite for the game. If you didn't see the trailer, check it out when you can.
Battlefield 2042 is live on EA Play now. Join us.
A new season of Knockout City is coming, and it's got a movie theme.
And now we're onto Lost in Random for the next segment of the livestream.
The next section is on Apex Legends and its latest content.
GRID Legends has a story mode with FMV cut-scenes and it looks hilarious.
GRID is getting a new game: GRID Legends.
We're starting out with a section on Codemasters. Nothing new here so far, just a recap of what Codemasters do.
EA Play Live 2021 is officially LIVE now. Join us for the full show.
There's no FIFA 22 in the main event, so here are Americans talking about new FUT Heroes, including Ole Gunnar Solskjaer.
Andy McNamara looks about 15 years younger since leaving Game Informer. The perils of games media on display, folks!
EA Play Live is starting now, with a 15 minute pre-show.
Just about 10 minutes to go until EA Play Live gets underway.
Join us from 10AM PDT / 6PM BST for EA Play Live. What are you hoping to see?
Join 368,245 people following Push Square:
© 2021 Nlife Media, partner of ReedPop. Hosted by 44 Bytes.