Katie Roof, vaccinated 💉
Katie_Roof
Took a break from my usual deals programming to write about the new Bay Area guidance on masks. Recommended indoors again for all, including vaccinated www.bloomberg.com/news/articles/2021-07-16/san-francisco-area-recommends-masks-indoors-even-if-vaccinated
Jesse Arreguin #GetVaccinated
JesseArreguin
Today, the @CityofBerkeley, along with @Dare2BWell (Alameda County) and health officers from most Bay Area counties issued a recommendation for everyone to wear masks in indoor public places. Full announcement here: www.cityofberkeley.info/City_Manager/Press_Releases/2021/2021-07-16_As_COVID-19_cases_rise,_Bay_Area_Health_Officers_Recommend_that_Everyone_Mask_Indoors.aspx Thread (1/4)
Janelle Bitker
JanelleBitker
Some Bay Area restaurants plan to once again ask diners to mask up. But others say it's unrealistic without a mandate www.sfchronicle.com/food/restaurants/article/Bay-Area-restaurants-scramble-with-new-mask-16320459.php

Roland Li
rolandlisf
Seven Bay Area counties urge, but don't require, indoor masks www.sfchronicle.com/bayarea/article/Bay-Area-counties-urge-vaccinated-people-to-wear-16319863.php @juliejohnson
Health officials in seven Bay Area counties — Alameda, Contra Costa, Marin, San Francisco, San Mateo, Santa Clara and Sonoma — on Friday urged vaccinated people to wear masks again indoors to prevent the spread of the highly infectious delta variant of the coronavirus.
Masks remain a crucial tool for people who haven't yet received the vaccine to stay healthy. A universal recommendation that all people wear masks in public indoor places makes it easier to verify that unvaccinated people are masking up, the officials said.
Napa and Solano counties did not join other Bay Area counties in recommending masks.
The announcement follows Thursday's declaration in Los Angeles that masks will be required indoors starting Sunday for all people regardless of vaccine status.
Los Angeles is the only California county to reinstate a mask mandate since the state dropped the requirement for vaccinated people on June 15.
Yolo and Sacramento counties have also recommended that vaccinated people mask up again.
"The Delta variant is spreading quickly, and everyone should take action to protect themselves and others against this potentially deadly virus," Alameda County Health Officer Dr. Nicholas Moss said.
Earlier this month, the California Capitol began requiring people wear masks again after nine legislative staffers — including four fully vaccinated people — tested positive for the virus.
And in Sonoma County, at least 59 residents of a Santa Rosa homeless shelter tested positive for the virus, nearly half were fully vaccinated, county health officials said.
Christina Hatcher, health education specialist for Solano Public Health, said earlier this week that county has seen an increase in cases after the Fourth of July holiday, mostly due to younger people with lower vaccination rates.
Dr. Karen Relucio, public health officer at Napa County, attributed rising cases to Fourth of July and reopening in comments earlier this week. She said that while the county is worried about rising case rates, particularly among unvaccinated people, hospitalizations are still low.
Therefore the county will not "not be implementing masking guidance that is more restrictive than state guidance," she said.
Julie Johnson is a San Francisco Chronicle staff writer. Email: julie.johnson@sfchronicle.com. Twitter: @juliejohnson.
Read full article at KTVU San Francisco
KRON 4 16 July, 2021 - 07:01pm
SAN FRANCISCO, Calif. (KRON) – As Los Angeles County orders a new indoor mask mandate, even for those fully vaccinated, many are wondering if the Bay Area will follow.
Dr. Peter Chin-Hong says the move out of LA doesn't surprise him. They're seeing numbers that they haven't seen in months, however, he says the mandate seems to be an emotional response and he's not ruling it out for any of our Bay Area counties.
"Because there's uncertainty with Delta and with a relatively lower vaccination in Southern California compared to Northern California it is actually not surprising that the public health and political leaders there would enact such a mandate," Dr. Peter Chin-Hong said.
On Thursday, Los Angeles County reinstated its indoor mask mandate now raising questions on what this may mean for the Bay Area.
Infectious disease expert, Dr. Peter Chin-Hong says while Los Angeles County has higher cases and lower vaccination rates than the Bay Area counties.
Its numbers could have a future impact on our mask mandates.
"I'm a little concerned for the Bay Area as a whole because when you look at where the hot spots are now in the state it's actually above us in the Sacramento area and below us in the LA area so you have the top and the bottom and I feel like we're being encroached because again people are moving freely and just because we have a high vaccination rate doesn't make us completely immune from what's happening around us," Dr. Chin-Hong said.
Instead of a widespread mask mandate, Dr. Chin-Hong says we could see county by county decide to follow LA's footsteps, specifically for those with higher cases and lower vaccination rates, like Solano County for example.
Meanwhile, San Francisco's COVID case rates and vaccinations have been some of the best.
As of Tuesday, 83% of those eligible have received at least one dose of the vaccine, and 76% of those eligible are fully vaccinated.
Still, forward-looking data through this week projects case rates will rise to 73 cases per day, a seven-fold increase from mid-June.
"It's anybody's guess whether or not San Francisco and other counties around it will enact these mask mandates. Again is hospitalizations and deaths remain low it will be more of an emotional response or a call for people to get vaccinated," Dr. Chin-Hong said.
Dr. Peter Chin-Hong says the recent rise in cases doesn't mean that vaccines aren't working but rather it reveals that many Californians still aren't vaccinated.
He says this is the group at the largest risk of the Delta variant which is now making its way through the Bay Area.
Copyright 2021 Nexstar Media Inc. All rights reserved. This material may not be published, broadcast, rewritten, or redistributed.
McRAE, Ark. (KARK) – A dog named Razzle disappeared from his Arkansas home more than ten years ago.
While his family kept him in their hearts, they had no idea what might have happened to their beloved pooch — until they received a phone call recently from 1,900 miles away in California. They're now anxiously awaiting an emotional reunion a decade after the disappearance.
SF Gate 16 July, 2021 - 07:01pm
Public health departments in seven Bay Area counties and one city issued advisories Friday morning recommending that everyone, regardless of vaccination status, wears masks in public indoor places as COVID-19 cases spread across the region because of the highly contagious delta variant.
Alameda, Contra Costa, Marin, San Francisco, San Mateo, Santa Clara, Sonoma and the city of Berkeley issued a joint statement: "Out of an abundance of caution, people are recommended to wear masks indoors in settings like grocery or retail stores, theaters, and family entertainment centers, even if they are fully vaccinated as an added layer of protection for unvaccinated residents. Businesses are urged to adopt universal masking requirements for customers entering indoor areas of their businesses to provide better protection to their employees and customers."
This news comes after Sacramento and Yolo counties issued similar voluntary rules earlier this week and Los Angeles County reinstituted a mandatory mask requirement for public indoor spaces beginning Saturday. It also comes as the state and the Centers for Disease Control and Prevention continue to say that vaccinated people generally don't need to wear masks.
The delta variant of the coronavirus accounted for 43% of all COVID-19 specimens sequenced in California in June, according to the statement. The latest data from the Centers for Disease Control and Prevention reveals the delta variant is responsible for 58% of new infections across the country.
"We are asking our residents to collectively come together again in this effort to stem the rising cases until we can assess how our hospital capacity will be impacted," said San Francisco Health Officer Dr. Susan Philip.
Solano and Napa counties weren't a part of the joint advisory.
"Napa County will not be more restrictive than state guidance," Napa County spokesperson Danielle Adams wrote. "Although Napa County has had more cases, hospitalizations are still low. We will continue to monitor cases and hospitalizations."
"Solano Public Health will continue to monitor the situation and remove barriers to vaccination by focusing on under-resourced neighborhoods and partnering with community-based organizations," Solano County said in an email. "Vaccinating as many people as possible, as soon as possible, is our best defense against COVID-19, the delta variant and the harm it can do to our communities."
KPIX CBS SF Bay Area 16 July, 2021 - 07:01pm
KPIX CBS SF Bay Area 16 July, 2021 - 07:01pm
WFLA News Channel 8 16 July, 2021 - 07:01pm
San Francisco Chronicle 16 July, 2021 - 04:48pm
Many restaurants were rushing Friday to respond to a new public health recommendation in seven Bay Area counties that advises vaccinated people to again wear masks indoors — with one cautious owner deciding to lay off any unvaccinated employees and others quickly announcing changes in their mask requirements for customers.
Zareen Khan of Zareen's in Palo Alto, Redwood City and Mountain View, said she sent a notice about letting go of unvaccinated employees to her managers on Friday after reading about Los Angeles County's new mask mandate. Her staff never stopped wearing masks at work, but she doesn't want to take the risk as concerns increase about the highly infectious delta variant of the coronavirus.
Health officials said that fully vaccinated people are protected from getting seriously ill, and the new guidance is in hopes of preventing the spread of the contagious delta variant among unvaccinated people. A universal recommendation, officials said, would make it easier to verify that the unvaccinated are masking up. The guidance was issued in Alameda, Contra Costa, Marin, San Francisco, San Mateo, Santa Clara and Sonoma counties; Napa and Solano counties did not join the recommendation.
Though restaurant staffers were given priority for vaccinations and infections were dramatically reduced, the coronavirus is still infecting people in the hospitality industry. Recently, restaurants such as Khom Loi in Sebastopol, Trinks Cafe in Gualala (Mendocino County) and the reopened Tosca Cafe in San Francisco have had to temporarily shut down due to a positive coronavirus case on their staffs.
"If anyone doesn't want to get vaccinated, we will let them go. It's terrible but we need people to understand this is serious," said Khan, who noted that most of her employees are vaccinated. "It's better to be cautious than to be sorry."
Others reinstated mask mandates for their staffs. At Wursthall in downtown San Mateo on Friday afternoon, General Manager Xian Choy was handing out masks to employees in response to the new guidance. Before Friday, any employee who showed proof of vaccination did not have to wear a face covering at work, Choy said. El Rio, the 42-year-old queer bar in San Francisco's Mission District, had let employees decide on their mask-wearing, but as of Friday, staffers will be required to wear them, according to General Manager Lynne Angel.
It's unclear is what restaurants will ask of diners. Bay Area health officials said in their announcement that "businesses are urged to adopt universal masking requirements for customers entering indoor areas of their businesses to provide better protection to their employees and customers."
As of Friday, Zareen's will require customers to wear masks indoors again. Daly City Korean restaurant Bart Grocery alerted customers on Instagram that it would be reinstating a mask requirement: "With delta variant numbers continuing to rise and for the safety of our staff, we kindly require masks to be worn while in our store."
But the new guidance is likely to spark confusion — and perhaps pushback — among customers. Choy of Wursthall said the restaurant won't force customers to put masks on inside yet, wanting to avoid confrontations. "There's so much friction if we're the first restaurant to be like, 'You gotta wear your mask inside,'" Choy said.
It simply doesn't seem realistic to get diners to cover their faces again, said Bob Cina, executive chef of District in San Francisco, San Jose and Oakland.
"I just don't feel like we're in a position to make requirements beyond what is mandated," he said. "People can make their own decisions."
Alexis Solomou of Russian Hill Italian spot Seven Hills said part of him wishes San Francisco would mandate mask-wearing again so he's not in the challenging position of requesting diners to wear masks when other restaurants might not. At the same time, he said another mask mandate would likely freak people out.
"I know if they do enforce masks, we'll get a bunch of cancellations," he said. Solomou said he is considering asking diners to wear masks when not at their table and having employees mask up again.
Some Bay Area restaurants won't have to change much because of this guidance. After the bulk of restrictions were lifted in June, some safety-minded restaurants set their own masking rules to be more cautious in case of this exact scenario: new public health guidance.
Still, even these restaurateurs are prepared to make more changes if necessary. "We probably will have another meeting about it as a staff and see how everything is feeling," Sobolewski said.
Hanging over all of this is fear of another shutdown. In a statement, the Golden Gate Restaurant Association said they were not surprised by the new guidance and that it underscores why outdoor dining is an ongoing, crucial lifeline for restaurants. The San Francisco Board of Supervisors this week voted to allow small businesses to continue to use public sidewalks and parking spots for parklets and dining spaces. But other Bay Area cities have yet to decide whether street closures and outdoor parklets will become permanent or longer-term fixtures.
And while Friday's news won't change Ioroi's plans to reopen indoor dining at her Outer Richmond restaurant next month, she emphasized the importance to take the mask recommendation seriously to prevent more closures.
"I don't think a lot of restaurants can handle another shutdown," she said. "It might mitigate the risk of that."
Elena Kadvany and Janelle Bitker are San Francisco Chronicle staff writers. Email: elena.kadvany@sfchronicle.com, janelle.bitker@sfchronicle.com Twitter: @ekadvany, @janellebitker
The Mercury News 16 July, 2021 - 01:11pm
Amid a sharp rise in COVID-19 cases among the unvaccinated, eight Bay Area health officers made a united stand Friday and urged everyone to wear face masks while in public places indoors regardless of whether they've gotten their shots, walking back some face-covering freedom granted to the inoculated just a month ago.
With increased circulation of the highly transmissible Delta virus variant, Alameda, Contra Costa, Marin, San Francisco, San Mateo, Santa Clara, Sonoma and the city of Berkeley made the recommendation to ensure easy verification that all unvaccinated people are wearing masks and as an extra precaution for all.
Santa Clara County Assistant Health Officer Dr. Sarah Rudman said Friday that despite the Bay Area's high vaccination rates, COVID-19 infection rates in the county have tripled in the last three weeks, driven by the highly contagious Delta variant.
"We are seeing a similar rise in case rates across the Bay Area and California," Rudman said.
Miguel Gandarilla, of Gilroy, was grabbing a bite Friday without a mask at the Old Wagon Saloon & Grill in downtown San Jose but said masking up inside wouldn't be a problem for him, even though he's fully vaccinated.
"I'm the son of a retired nurse, so I would rather err on the side of caution," Gandarilla said. "I would have no problem if they made it mandatory."
Cheryl Allison, 47, a bus driver from Antioch who has recovered from COVID-19 and knew someone who died from it, also is happy to comply.
"People are still getting infected even with the vaccine shot," said Allison, who was wearing a mask. "If everybody takes them off too fast, we're back to square one."
Dawn Behie, 46, of Riverbank, is vaccinated. She wore a mask Friday as she played FunHouse at the Pacific Pinball Museum in Alameda and is uncomfortable trusting that unmasked people are immunized.
"It's based on the honor system," she said, "and people as a whole have no honor."
The move by Bay Area health officers comes a day after Sacramento and Fresno counties announced they would join Yolo County in a similar recommendation for everyone to wear masks indoors in public, and Los Angeles became the first county to make that an order again starting Saturday. The recommendations now cover half the population of California.
Rudman said the Bay Area health officers did not yet see a need to reimpose a mask requirement as Los Angeles did, given the high vaccination rates in the region. The recommendation, she said, would help provide additional protection for those who remain unvaccinated, including children under age 12 who aren't yet eligible, and time for those just getting vaccinated now.
The most widely used vaccines by Pfizer and Moderna require a two-dose regimen three to four weeks apart, while the Johnson & Johnson vaccine is a single dose. A person is considered fully immunized two weeks after the final dose, so those just receiving their first Moderna shot won't be protected for six weeks.
The health officers are urging businesses to adopt universal masking requirements for customers entering indoor areas of their businesses to provide better protection to their employees and customers. Workplaces must comply with Cal/OSHA requirements, and fully vaccinated employees are encouraged to wear masks indoors if their employer has not confirmed the vaccination status of those around them.
Matthew Santo, one of the managers at downtown San Jose restaurant Olla Cocina, who is fully vaccinated, said he's happy to go along.
"We all survived last time, we'll survive this time," Santo said. "It's just about being a community I guess, following the rules."
State public health orders continue to require the unvaccinated to wear face masks in indoor public places, including stores, malls, movie theaters, museums, places of worship and workplaces.
Masks remain optional for everyone outdoors, where air circulation makes transmission of the virus much less likely.
The mask recommendation comes a month after California adopted the U.S. Centers for Disease Control and Prevention's mid-May guidance that those who are vaccinated may go without masks in most indoor places, with exceptions for public transportation, schools, health care, correctional and shelter facilities.
But surging COVID-19 cases have led a number of health experts to beg the CDC to reconsider.
"Public health officials made a mistake by removing behavioral measures before achieving enough vaccination for herd immunity vs. the more contagious Delta," Dr. Michael Lin, an associate professor of neurobiology and bioengineering at Stanford University, said July 10 on Twitter.
In a White House briefing Friday on the COVID-19 pandemic, CDC Director Dr. Rochelle Walensky did not address the mask guidance but urged more Americans to get vaccinated.
Though 48.3% of all U.S. residents and 56.5% of those 12 and older who are eligible are fully vaccinated, the 7-day average of new cases is up 69.3%, the 7-day average of hospitalizations is up 35.8%, and the 7-day average of deaths from the virus is up 26.3% from the previous week.
"There is a clear message that is coming through: This is becoming a pandemic of the unvaccinated," Walensky said, adding that 97% of those hospitalized now have not gotten their shots. "We are seeing outbreaks of cases in parts of the country that have low vaccination coverage, because unvaccinated people are at risk."
In California, 0.069% of COVID-19 cases have been in fully vaccinated people.
Solano and Napa were the only Bay Area counties that didn't join in the Bay Area health officers' recommendation.
"We continue to monitor but at this juncture, the numbers are not cause for alarm," said Dr. Karen Relucio, Napa County's public health officer. "Individuals who are not required to wear masks can always choose to do so."
Sharyn Amoroso, of Walnut Creek, sighed hearing she'll have to wear a face mask again indoors.
"It's just unfortunate," she said, "that everyone has to suffer."
Get Morning Report and other email newsletters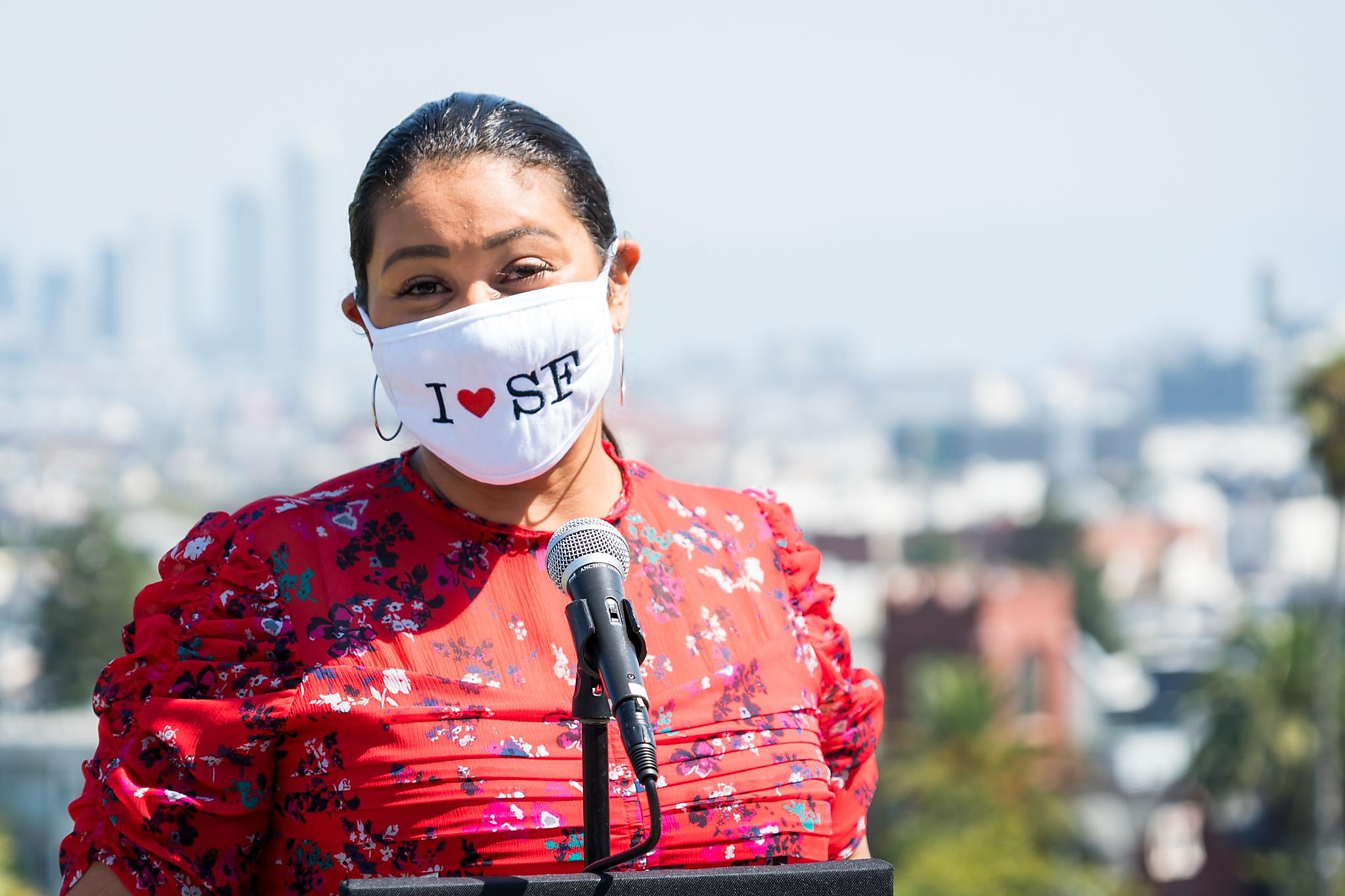 SFGate 16 July, 2021 - 09:25am
Read our full story on the advisory issued by Alameda, Contra Costa, Marin, San Francisco, San Mateo, Santa Clara, Sonoma and the city of Berkeley.
July 16, 7:30 a.m. Los Angeles County was the first California region Thursday to reinstitute a mandatory indoor mask requirement for all residents, regardless of their vaccination status against COVID-19, as COVID-19 cases increase due to the more contagious case delta variant.
Yolo and Sacramento counties are now recommending that all individuals, even those who are fully vaccinated, wear face coverings in public indoor settings.
San Francisco residents may be wondering, is the city next?
"We are considering, basically, providing guidance on suggested mask-wearing in certain instances," Mayor London Breed said Thursday in a press conference with reporters. "We do ask that people who are not vaccinated, when they go indoors, that they wear masks and those that are vaccinated we don't necessarily have a mask requirement further than that, but we are looking at a change to the policy, but not necessarily a mandate."
With this news, the city also released a statement sounding the alarm bells and encouraging all eligible residents to get vaccinated. In the city, 83% of the eligible population have received at least one dose and 76% of the eligible population are fully vaccinated as of July 13.
Over the week ending July 7, average daily new cases increased more than fourfold to 42 new cases per day day from a low of 9.9 cases per day on June 19, according to city officials.
The city didn't indicate how many of those cases were in unvaccinated individuals, but Dr. Monica Gandhi, an infectious disease doctor at UCSF, said 99% of those who are in the hospital with COVID across the country are unvaccinated (including the 19 in San Francisco). "The most important thing to know about delta is that unvaccinated are susceptible," Gandhi said.
"I don't because I am very convinced that the approach by our top ID doctor (Dr. Fauci) in the country and the CDC is taking is sound," Dr. Gandhi wrote in an email. "They are very clear that they do not intend to recommend masks for the vaccinated countrywide (White House task force briefing July 8 21:33) but that we should focus on vaccination efforts and outbreak management with surge testing, treatment and vaccination for places in the country with high hospitalization rates among the unvaccinated."
UCSF infections disease expert Dr. Peter Chin-Hong, on the other hand, said that he thinks that with travelers coming into the Bay Area from other parts of the country and with different levels of circulating virus and vaccination rates, it makes increasing sense to don masks indoors, particularly as cases rise locally.
"The point is that we want to protect the unvaccinated as there are increasing reports of vaccinated persons getting infected," Chin-Hong said. "This is still a rare circumstance, and vaccinated persons will rarely get ill after infection, but nonetheless a moving target. It would still be a bummer (school, work missed) to even get infected as a vaccinated person and anxiety provoking so wearing that mask indoors is not a bad idea for an intervention that is cheap and doesn't hurt."