The players don't seem to particularly enjoy when reporters ask about it, but the possibility hangs over the Tokyo Olympics all the same: For the icons of the U.S. women's national team, this might be their last hurrah before they hang up their cleats for good.
It's a possibility that seems to come up with every major tournament that the women's team competes in, a byproduct of the number of stars on the team and the longevity of their careers. This time, those questions have mostly been directed at Megan Rapinoe, who turned 36 earlier this month, and Carli Lloyd, who last week turned 39.
While they have been noncommittal about what they plan to do after the Olympics, Rapinoe and Lloyd will be leading a team that has some important young players but is still heavily relying on its veterans.
For anyone searching for a reason why the U.S. team might not be the gold-medal favorite, the average age of the team's core -- 30.8 years old for the initial 18-player roster -- offers a glimpse of vulnerability. The team will need to play three games in just six days through the group stage, a grueling gauntlet that seems to favor the younger teams in Japan.
Well, it's a nice theory anyway. But anyone who has watched the team will have reason to doubt it.
"I don't look at players by age, because there are so many other things we look at before we see how old they are," U.S. coach Vlatko Andonovski said last month. "The most important thing is whether they perform or not, whether they're going to be able to help us win the Olympics or not.
"We do look at data, and every data [point] we get from a physical perspective, they're hitting all the numbers that they need to fulfill the tests we believe are going to be given to them," he added. "On top of that, you can look at the statistical data, you'll see that Megan Rapinoe has scored the most goals in 2021, and Carli Lloyd has the most assists."
For Lloyd, the doubts based on her age, not her form, have clearly annoyed her, but not as much as when they came from her own coach, Jill Ellis, who denied Lloyd a starting role at the 2019 World Cup. Lloyd openly disagreed with the decision. Coincidentally, Lloyd plays best with a chip on her shoulder, which she certainly has going into this Olympics.
Rapinoe, meanwhile, has seemingly started to embrace what a post-playing career could be like, expanding her profile in the realms of entertainment, fashion and social justice. That well-rounded approach figures to only make Rapinoe more, well, Rapinoe-like on the soccer field. She was at her most outspoken at the 2019 World Cup, talking less about soccer than perhaps any tournament before, and also played with her most confidence ever.
Becky Sauerbrunn, the U.S. team's captain and most reliable defender, is 36, and could also be embarking on her last major tournament. As former national team coach Anson Dorrance told ESPN recently, however, "the first five yards are played with your head," meaning Sauerbrunn's experience and expert positioning should make up for losing a step of speed -- an attribute Sauerbrunn has never primarily relied on as a defender anyway.
Meanwhile, U.S. team's best attackers are all veterans over the age of 30. Tobin Heath is 33. Christen Press and Alex Morgan are 32. The lone exception is 28-year-old Lynn Williams, who initially made the roster as an alternate before the International Olympic Committee and FIFA allowed alternates to join the full roster.
The only part of the field where the U.S. team's likely starters are all under 30 is the midfield -- and that is crucial for helping the team play with the right balance. Rose Lavelle is 26 and playing in her first Olympics. Lindsey Horan is 27, Samantha Mewis is 28, and Julie Ertz is 29.
While the team's superstar wingers and strikers tend to get the attention for their sensational goal production over multiple tournaments, its relatively new central midfield has, in many ways, been the catalyst for the its utter dominance, particularly at the 2019 Women's World Cup.
What's more, when the Olympic rosters expanded from their original 18 players to 22 by allowing alternates to play in any game, no team gained an advantage more than the U.S. team. There is not a side with more depth in the Olympics, and being able to swap players without losing much in terms of quality could be a deciding factor in Tokyo. When Andonovski selected 21-year-old Catarina Macario as an alternate, he surely did not expect her to play in Japan. But now that she can, the team has added even more youth and exuberance to its midfield.
So, the U.S. team's higher average age relative to the competition may not matter immediately in Tokyo, but what about afterward? If this is the last hurrah for Rapinoe and Lloyd, the question is: Who will be coming up, ready to play behind the likes of Morgan, Press and Heath, all three of whom will be in their mid-30s at the next World Cup?
For a time, it seemed like Mallory Pugh was the future of the team after she became the youngest American to score at an Olympics in 2016 at the age of 18. But the now-23-year-old has struggled with injuries and form, losing her spot as a regular call-up.
Dan Thomas is joined by Craig Burley, Shaka Hislop and others to bring you the latest highlights and debate the biggest storylines. Stream on ESPN+ (U.S. only).
Midge Purce, 25, barely missed out on joining the team in Japan as an initial alternate, but national-team coaches have never really seen her as the forward she is, instead preferring to utilize her as a converted full-back. Ashley Hatch, 26, or the even-younger prospects Sophia Smith, 20, and Ashley Sanchez, 22, are viable options who have been finding success in the NWSL, but are ultimately still unproven at the top level.
That, of course, is the concern whenever the U.S. team looks to move beyond one of its veteran players, whether it was Abby Wambach at striker or Hope Solo at goalkeeper: Sometimes it's hard to imagine someone else filling that role until it happens. And sometimes there are some growing pains until the right replacement is found.
Worryingly, for all the team's dominance at the senior level, the Americans have struggled in the youth ranks in the past several years, raising questions about how strong that talent pipeline will continue to be. Both the U20 and U17 national teams crashed out of their most recent World Cups in the group stage, setbacks that have been part of a bigger trend.
But the U.S. team may not need to find its next generation of talent anytime soon. After all, the team had the oldest average squads at both the 2015 and 2019 World Cups and it won both. This squad does include a lot of veterans, but there's little reason to doubt the players can keep going.
If this is going to be the last tournament for any players -- whether it's Rapinoe, Lloyd, Sauerbrunn or anyone else -- then they can try to prove the doubters wrong, and just might go out with gold.
Read full article at U.S. Soccer
The Mainichi 21 July, 2021 - 01:00am
SAPPORO (Kyodo) -- The Japanese women's soccer team will face a critical test of their gold medal aspirations when they kick off their Tokyo Olympic campaign against Canada, captain Saki Kumagai said Tuesday.
On the eve of the clash in her home town of Sapporo, the Bayern Munich defender said Nadeshiko Japan were determined to take the points against an accomplished Canadian outfit ranked two places above them at No. 8 in the world.
"The result is going to be very important and I hope we can get off to a good start for our team," said Kumagai, a veteran of Japan's 2011 World Cup-winning side.
While Kumagai and her teammates aim to improve on Japan's best-ever result of silver at the 2012 London Games, their work will be cut out for them in a challenging Group E that includes Great Britain and Chile, along with back-to-back bronze medalists Canada.
The 30-year-old said last week's 1-0 friendly win over another potential medal contender, Australia, had given Japan a good assessment of their progress coming into the games.
"In our match against Australia, which was our closest (Olympic warm-up) match, I think we were able to prepare well. We performed well on both the attacking and defending ends," Kumagai said.
Japan head coach Asako Takakura acknowledged concerns about holding the games amid the coronavirus pandemic, but said she hoped to highlight the positive side of sports in Wednesday's match, which will be played behind closed doors at Sapporo Dome, two days before the Olympic opening ceremony.
"It's been a difficult situation that we've been going through before the Olympics," Takakura said. "But many people will be gathered there for the opening game with Canada, and this simple act of gathering together is something we are looking forward to."
After leading her side to a second straight bronze at the 2016 Rio de Janeiro Games, longtime Canadian captain Christine Sinclair is hoping to take home a different color medal from what are likely to be her last Olympics.
The 38-year-old said the strict entry rules and other safety regulations aimed at curbing the spread of the coronavirus posed a challenge for visiting athletes, but one her squad was well-prepared to meet.
"It's been a different preparation...with quarantining and the restrictions that have been put in place. But I think our team has adapted very well," Sinclair said.
"(In) the U.S. last season, we played under the same restrictions we have here, so we're used to it. Everyone's health and safety is No. 1. But within that, you've got to be able to perform. And we're ready to do that."
Copyright THE MAINICHI NEWSPAPERS. All rights reserved.
Yahoo Sports 20 July, 2021 - 05:05pm
Dan Wetzel, Pat Forde, Pete Thamel
They failed to medal in Rio, but are considered favorites to win golf in Tokyo. The team won the 2019 World Cup, and 17 players from that team are on the roster for these Games.
Here's what you need to know about the team and how to watch them take the field starting July 21.
Are you an early bird? We hope so. Here's the USWNT schedule:
Game 1: vs. Sweden, Wednesday, July 21, at 4:30 a.m. ET. (USA Network)
Game 2: vs. New Zealand, Saturday, July 24 at 3 a.m. ET. (NBCSN)
Game 3: vs. Australia, Tuesday, July 27 at 3 a.m. ET. (USA Network)
If they advance out of the group stage, the knockout schedule is as follows:
Quarterfinals: Friday, July 30 (NBCSN)
Semifinals: Monday, Aug. 2 (USA)
Medal round: Thursday, Aug. 5 (NBC)
Matches will air on USA Network and NBCSN for the group stage. The knockout round will be on those two networks as well as NBC.
Stream the games using Peacock, NBCOlympics.com, NBC Sports and YouTube TV.
The complete roster includes 22 players.
Goalkeepers: Jane Campbell (Houston Dash), Adrianna Franch (Portland Thorns), Alyssa Naeher (Chicago Red Stars)
Defenders: Abby Dahlkemper (Manchester City/ENG), Tierna Davidson (Chicago Red Stars), Crystal Dunn (Portland Thorns FC), Casey Krueger (Chicago Red Stars), Kelley O'Hara (Washington Spirit), Becky Sauerbrunn (Portland Thorns FC) and Emily Sonnett (Washington Spirit)
Forwards: Tobin Heath (Unattached), Carli Lloyd (NJ/NY Gotham FC), Alex Morgan (Orlando Pride), Christen Press (Unattached), Megan Rapinoe (OL Region), Lynn Williams (North Carolina Courage)
Midfielders: Julie Ertz (Chicago Red Stars), Lindsey Horan (Portland Thorns FC), Rose Lavelle (OL Reign), Kristie Mewis (Houston Dash), Catarina Marcario (Olympic Lyonnais), Samantha Mewis (North Carolina Courage)
The team will be coached by Vlatko Andonovski.
Check out more of Team USA's full roster and learn more about each athlete representing
The USWNT is part of Group G, which includes Sweden, Australia and New Zealand. The tournament is made up of 12 teams divided into three groups of four.
Teams will acquire three points per win, one point per tie and zero points per loss. Each team will play 3 games against the other teams in their group with the top two teams from each group advancing to the knockout stage. The knockout stage will also include the two best third-place teams for a total of eight teams reaching the quarterfinals.
Team USA took home gold medals at the 1996 Atlanta Games, 2004 Athens Games, 2008 Beijing Games and 2012 London Games. The team won the silver medal in 2000.
The Tokyo Olympics are right around the corner and NBC Sports has you covered with all you need to know including the start time, date, Opening Ceremony schedule, how to watch and more. RELATED: Learn more about how to get Peacock here. When do the Tokyo Olympics start? The Games of the XXXII Olympiad will begin
USWNT's loss to Sweden in quarterfinals at Rio Olympics in 2016 was its earliest exit ever at a major international tournament
Sportico released its 2021 MLS team valuations last week, and Los Angeles FC topped the list with an estimated worth of $860 million, around 10 times 2019 revenues. Surprisingly, that seemingly frothy revenue-to-value multiple was below the league average (12.2x). Double-digit revenue multiples are typically reserved for high-flying tech stocks, not pro sports franchises (the […]
There's some value to be had in the MLB division winners market.
Arsenal were planning to participate in this month's Florida Cup alongside fellow Premier League team Everton, Serie A champions Inter Milan and Colombian outfit Millonarios. "Following a small number of positive COVID tests among the planned party to travel to America tomorrow, we have sadly been forced to withdraw from the Florida Cup," Arsenal said on their Twitter account.
Well, you don't see that every day.
Perennially a juggernaut on the womens soccer stage, the United States enters the Tokyo Olympics in uncharted territory. Thats because the last time this team walked off the field at an Olympics, it was walking away without a gold or silver medal.
If you ever wondered how pole vaulters practice their pole vaulting, here you go. #TokyoOlympics(📽️ @sandicheekspv) @usatf pic.twitter.com/g0OI1K8NkH- #TokyoOlympics (@NBCOlympics) July 20, 2021 Pole vaulters make it look so effortless: they run, stick their massive poles in the ground, and leap over super-high bars onto a mat.
Learn more about the 22 U.S. women's national team players who traveled to Japan for the Tokyo Olympics.
The Bills added veteran receiver Emmanuel Sanders in the offseason, signing him to a one-year deal to help elevate Buffalo's offense. Sanders has been around the block, as he's entering his 12th pro season. And he's already positively influenced at least one of his younger teammates. Second-year Buffalo wideout Gabriel Davis joined the "One Bills [more]
Tom Brady embraced his inner comedian to deliver jokes at old friend Donald Trump's expense Tuesday when he and the Super Bowl-winning Tampa Bay Buccaneers visited President Joe Biden at the White House, the first visit by the reigning NFL champions since 2017. The seven-time Super Bowl champion who once was gifted a "Make America Great Again" hat from Trump that he displayed in his locker at Gillette Stadium compared those backing Trump's false assertion that he won the 2020 election to people who couldn't believe the underdog Buccaneers beat the Kansas City Chiefs. "Not a lot of people think that we could have won, and in fact I think about 40% of the people still don't think we won," Brady said.
Memories of Mexico's 2012 Olympics triumph remain vivid, but can Mexico win gold again for the second time in less than 10 years at the Tokyo Games?
Textron Inc. (NYSE: TXT) announced that Surf Air Mobility had signed a purchase agreement with Textron Aviation for up to 150 Cessna Grand Caravan EX single-engine turboprop aircraft, with an initial fleet order of 100 aircraft and an option for 50 more. The order from Surf Air Mobility, a company accelerating the adoption of electric regional air travel, is part of an exclusive relationship between the two companies supporting Surf Air Mobility's development of electrified Cessna Grand Caravan
LeBron James, Kevin Durant, Trae Young and many others congratulated Milwaukee.
Find all the info you need to watch the Opening Ceremony and all the most anticipated events.
The sisters from Texas say the sexual abuse began when they were 15 years old, according to a lawsuit they announced with their attorneys at a news conference Monday.
The team took a stand against a 'nonsense rule' that makes bikini bottoms part of the dress code.
A sporting revolutionary, Brown is one of Great Britain's brightest young stars and will hope to shine at the Tokyo 2020 Olympics
Scott Pianowski is joined by Corbin Young of Fantrax, RotoViz, FantasyData and Roto Underworld to break down the Cam Akers' injury news and discuss what comes next for the Los Angeles Rams and their running attack.
These are the equipment changes that helped Collin Morikawa win the 2021 British Open.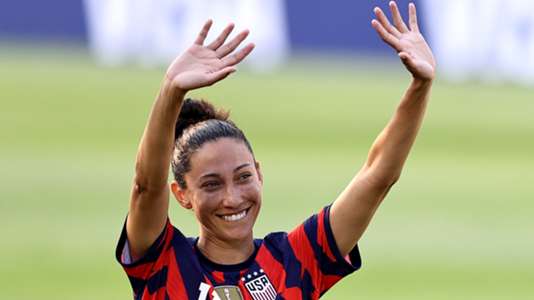 Goal.com 20 July, 2021 - 03:00pm
The U.S. women's national team begins its Olympic journey on Wednesday with a Group G match against Sweden, the team that ended their hopes of a medal in 2016.
This could be the last dance for several USWNT stars, so the stakes couldn't be higher as they try to complete their international careers by securing their nation's fifth gold medal.
Ahead of the game, Goal has the details of how to watch on TV, stream online, team news and more.
In the United States (US), this year's Olympics soccer games can be watched live and on-demand with fuboTV (watch with a 7-day free trial).
New users can sign up for a free seven-day trial of the live sports streaming service, which can be accessed via iOS, Android, Chromecast, Amazon Fire TV, Roku and Apple TV as well as on a web browser.
The health of defensive midfielder Julie Ertz, considered a game-time decision, will have a major effect on the lineup plans of head coach Vlatko Andonovski.
If Ertz does return from injury, it would enable Lindsey Horan to move forward into her more natural box-to-box role. Otherwise, Horan would maintain the number six duties she has carried of late in Ertz's absence.
Predicted USWNT starting XI: Naeher, Dunn, Sauerbrunn, Dahlkemper, O'Hara, Horan, Sam Mewis, Lavelle, Rapinoe, Press, Morgan
Sweden are medal hopefuls having gone unbeaten in eight straight matches and fighting to a draw against the Americans earlier this year.
They are ranked No 5 in the world right now and finished third in the last World Cup.
Predicted starting XI: Falk, Eriksson, Bjorn, Illestedt, Bennison, Seger, Angeldal, Asllani, Janogy, Jakobsson, Blackstenius
The Philadelphia Inquirer 20 July, 2021 - 11:00am
Women's soccer is the big highlight of Wednesday's action in Japan, with all 12 teams in the field playing their group stage openers. There's also softball action.
In addition to TV coverage on NBC's broadcast and cable channels in English and Spanish, every event of every Olympic competition will be available to stream live on NBCOlympics.com. You'll have to log in with your pay-TV provider, whether cable, satellite, or streaming platforms including YouTube TV, FuboTV and Sling TV.
Some track and field, gymnastics and U.S. men's basketball events will also be available outside that paywall on Peacock, NBC's online streaming service. All events except U.S. men's basketball games will be on Peacock's free tier; men's basketball will be on the paid subscription tier.
Replays of some events from across the Olympics will also be available on Peacock, along with highlight shows and features.
If you have a Comcast Xfinity cable subscription with an X1 box, live online streams of events are integrated into the sports tab right next to TV broadcasts.
NBC also has apps for mobile devices, tablets, and connected-TV devices including Android TV, Apple TV, Google Chromecast, Amazon Fire TV, Roku, Samsung TV, and more. There's a FAQ page on NBC's website here if you have more questions.
The full event schedule for the entire Olympics is available here. Live scores and results are available here.
As a general rule, these schedules will include all live broadcasts on TV channels and Peacock, but not most tape-delayed broadcasts. We will let you know what's on NBC's flagship prime time show, whether or not it's live, once those broadcasts start later this week. NBC's schedule of tape-delayed broadcasts can be found here.
4 a.m. to 4:30 a.m.: Women's soccer pregame show
4:30 a.m. to 6:30 a.m.: Women's soccer — United States vs. Sweden
7:30 a.m. to 9:30 a.m.: Women's soccer — Australia vs. New Zealand
2 a.m. to 4 a.m.: Softball — Mexico vs. Canada
4 a.m. to 6 a.m.: Women's soccer — China vs. Brazil
6:30 a.m. to 8:30 a.m.: Women's soccer — Japan vs. Canada
8 p.m. to 10 p.m.: Softball — United States vs. Canada
11 p.m. to 1 a.m.: Softball — Japan vs. Mexico
3:30 a.m. to 5:30 a.m.: Women's soccer — Great Britain vs. Chile
7 a.m. to 9 a.m.: Women's Soccer — Netherlands vs. Zambia
4 a.m. to 4:30 a.m.: Women's soccer pregame show
4:30 a.m. to 6 a.m.: Women's soccer — United States vs. Sweden
3 a.m. to 3:30 a.m.: Women's soccer pregame show
3:30 a.m. to 5:30 a.m.: Women's soccer — Great Britain vs. Chile
6:30 a.m. to 8:30 a.m.: Women's soccer — Japan vs. Canada