There are lots and lots of Independence Day sales and deals out there for people who want to get in a little shopping in this holiday weekend amidst the backyard barbecues, camping and fireworks. There's sure to be sale items here that will catch your eye whether you're the outdoorsy type looking for a deal on new camping and grilling gear, or the more indoor, homebody type who wants a new mattress, to update your decor or to veg on the couch with the latest video games.
Keep reading for our picks for the best July 4 sales.
If your summer plans include hiking, camping and grilling, the time is right to pick up some new gear and save during the Independence Day holiday.
This CNET-tested and approved smokeless grill and fire pit combo is a cool 20% off -- down to $225 (plus free shipping). It's the BioLite wood and charcoal burning FirePit Plus and it doubles as a hibachi grill. Or it's an easy hibachi grill that doubles as a fire pit -- it's up to you. I tested one in the spring and found that it excelled in both roles, landing it on my list of best portable grills for 2021. 
I'm a charcoal-grill man myself, but if you're looking for a new gas grill this summer, you can put a $300 dent in the price of this big Nexgrill stainless steel grill from BBQGuys.com. A free grill cover is also included. You can save up to 60% on other BBQ items, and orders over $49 ship free.
Maybe it's not the hot summer nights that are keeping you from a good night's sleep but your mattress. Ready for an upgrade? Mattress buying is easier than you might think and doesn't require a trip to a mattress store and awkwardly conversing with a salesperson. Skip the store and buy a mattress online. You can usually find a mattress sale no matter the time of year, but they really get good during holiday weekends, including July Fourth. 
Layla happens to make one of our favorite mattresses. For the Fourth of July, it's discounting its mattresses by up to $200, plus throwing in two free Layla memory foam pillows. Free shipping and no-contact delivery is included.
Appliance sales are nearly as widespread over the Fourth of July as fireworks. You'll find large appliances on sale at Best Buy and Samsung, and you can also save on computers and PC hardware this weekend.
Besides tracking activity and unlocking fun games upon completion, this Garmin connects to an app that enables parents to assign chores and dole out virtual rewards once they're finished, and set timers for things like homework, brushing teeth and bedtime. The Vívofit Jr. has a one-year battery life and comes in three fun kid-friendly colors at this sale price.
This deeply discounted desktop from HP serves up tons of memory, a huge solid-state drive and Radeon RX 580 graphics to handle both work and play. It's less than half its usual cost and features a ninth-gen Core i7 CPU, 32GB of RAM, a 1TB of storage and an older GPU that should still let you play casual games at a good clip. You'll also find discounts on laptops, monitors and more during HP's Fourth of July sale.
Independence Day weekend is a good time to save on cookware and the ingredients you'll cook in it, as well as the wine you'll sip while cooking with your new cookware.
This American-made, stainless-steel cook set features two pans -- a seven-quart stainless steel pot and 12-inch skillet -- and a lid that matches both. You can also use the skillet as a lid on the pot to create a Dutch oven. Clever and space-saving! And $50 off for July 4, with the discount applied when you add it to your cart.
June's E3 show gave gaming fans a lot to look forward to -- and some fresh new gaming deals. Here are some of the best we've found for the PS4 and PS5, Xbox, Switch and PC platforms.
If you have Xbox Game Pass Ultimate, you now have access to Xbox Cloud Gaming on a wider variety of platforms, including Android and iPhone. This streaming version of Xbox's subscription gaming library still has plenty of kinks -- you'll need a high-speed connection, and prepare yourself for some control lag -- but anyone looking to play serious games like Doom Eternal on their phone will appreciate real thumbsticks, triggers and buttons like those found on the Kishi. And now the Android version is still at its lowest price to date (a holdover from Prime Day).
Be the first to know the newest hot deals from CNET.
Read full article at CNET
How-To Geek 04 July, 2021 - 01:12pm
By submitting your email, you agree to the Terms of Use and Privacy Policy.
Upon launching the Settings app in Windows 11, it's obvious that Microsoft has put a big effort into streamlining: It's sleeker and easier to use than its Windows 10 counterpart. Here's a quick tour of Settings' new features in Windows 11.
When you launch Settings in Windows 11 (from the Quick Settings menu or Start menu, or by pressing Windows+i), you're greeted with the System panel first. Its sleek, uncomplicated design makes finding a particular setting fairly easy. Unlike Windows 10's Settings, there's no overview screen that shows all of the sections as a large menu of icons. Instead, a new sidebar has taken its place.
As we just mentioned, Windows 11 Settings presents the main configuration sections within the app as a new sidebar on the left side of the Settings window. As soon as you click one of the options in the sidebar, a new panel of options will open in the right portion of the window.
If you keep the Settings window large enough, the sidebar stays on the screen at all times. If you make the windows too small, though, the sidebar disappears to save space. It can be called back with a special three-lined menu button at the top of the window.
After clicking a sidebar option in Settings, you're presented with sub-options in the form of buttons. They're well-organized, easy to see, and thoughtfully laid out. Clicking these lead you to changing options in detail.
As you navigate through Settings, the app keeps track of where you are at all times with breadcrumbs at the top of the Window. For example, we're in System > Display > HDR. If you want to go back one level, you can click the back arrow in the upper-left corner of the window or click "Display" in the breadcrumbs.
As long as the sidebar is visible, you'll always have access to a search bar in Windows 11 Settings. Upon typing in a term, you'll see a small pop-up menu below it with top suggestions. If there are too many results to fit in the small pop-up, you can see the complete list in the right portion of the window by clicking "Show all results."
In Windows 11, there's one section, Accounts, that's not accessed through the regular sidebar list of sections. Instead, to change your account settings or manage accounts on the PC, you click your account name in the upper-left corner of the window. This option stays in the sidebar at all times.
And for no particular reason, here's a look at the Windows Update section, which sports a clean and sleek interface. Overall, the way that Microsoft has organized the elements into the Settings window makes good visual sense, and it feels much less confusing and jumbled than Settings in Windows 10.
Despite rumors of its eventual demise, Control Panel is still present in the Windows 11 Preview release. It includes a nearly identical layout to the Windows 10 Control Panel (with a few options changed here and there), but it uses new icons.
In the grand Microsoft tradition, there's plenty of legacy verve still left in Windows 11, but it's clear that times are changing, and likely for the better.
RELATED: Don't Worry: Windows 10's Control Panel Is Safe (For Now)
The Best Free Tech Newsletter Anywhere
By submitting your email, you agree to the Terms of Use and Privacy Policy.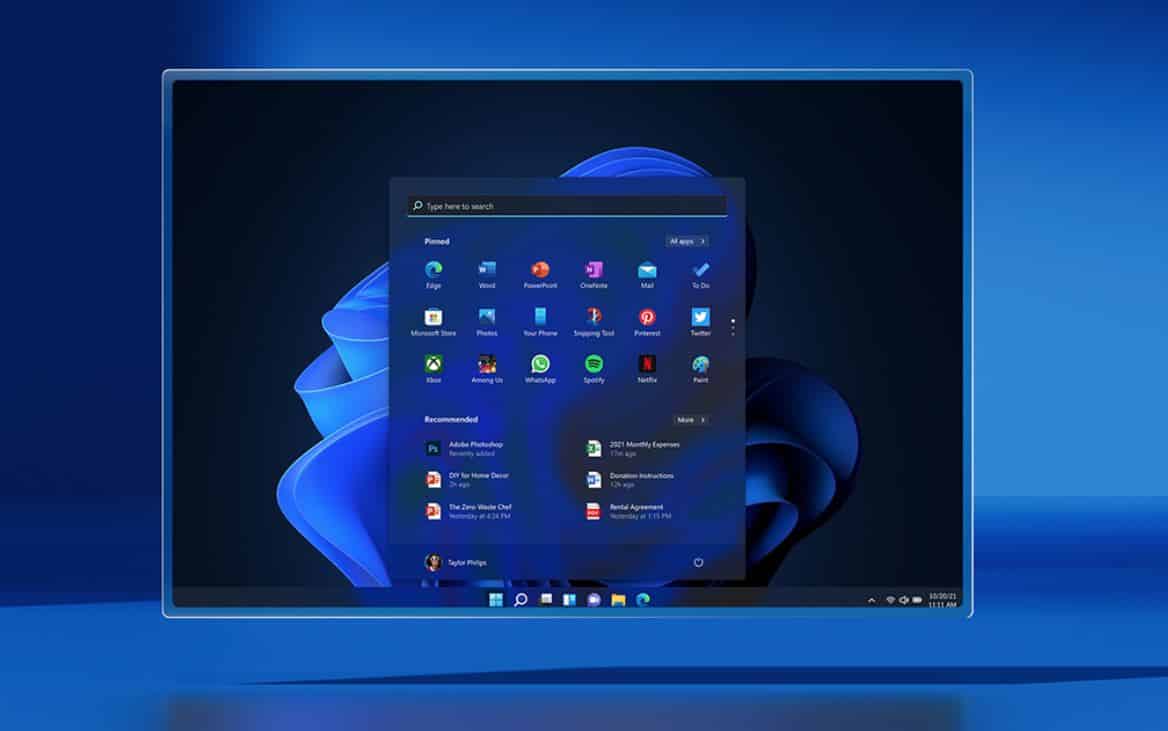 MSPoweruser 04 July, 2021 - 01:12pm
Windows 11 is still in development, and there is still an opportunity for the Insider community to influence the design of the OS prior to its release.
On the Windows 11 Reddit community members have been posting some great ideas which would benefit from a bit of exposure.
In the order of which ones I find most compelling:
1. Bluetooth devices should be listed in the Action Centre the same way WIFI networks are, says JT95Art.
Currently, in Windows 11,  you can connect to a WIFI network without leaving the context of the action menu, and it would be useful to do the same for Bluetooth devices, particularly Bluetooth headphones, which are often shared between phones and PCs. If you like this idea you can vote for it in the Feedback Hub here.
2. There should be a shortcut for the Snipping tool in the Action Centre says obnylaka.
3. The Notification Area pop-up should also have rounded corners says batclark06.
Seemingly an area Microsoft forgot to style in Windows 11, this pop-up still looks like it dates to 2016.
Microsoft appears to be monitoring the subreddit, with JenMSFT for example saying they are tracking the collection, so hopefully, this feedback and more will make their way into the final release, which is expected later this year.
Amazon is offering a decent $55 discount on Logitech G613 Wireless Mechanical Gaming Keyboard. It's now available at $75, down from $130 — that's a straight $55 discount if you...
The i7 variant of the Dell XPS 13(9310) is now selling at a discounted price at Amazon. The laptop that has 11th gen processor, 16GB of RAM, 512GB of SSD is now available at a price point of...
Amazon is offering a handsome $200 discount on Microsoft Surface Book 3. The i5 variant of the Book 3(8GB+512GB) is now available at a price point of $1,399.00, down from $1,599.99. If you d...
Amazon is offering a handsome $22.25 discount on the Razer DeathAdder Essential Gaming Mouse. You can get the mouse at a price point of $27.74, down from $49.99 — $22.25 cheaper than the o...
The 15-inch Microsoft Surface Laptop 3 Intel variant(8GB+256GB) is now selling at a discounted price. The laptop is now available at $1,060, down from $1,499 — a straight $439 discount! Th...
Amazon is offering a handsome $279 discount on Microsoft Surface Pro 7(8GB/256GB) device. The Surface Pro 7 is a versatile and lightweight computer and comes with full Windows 10, meaning yo...
B&H is offering a massive $400 on the OnePlus 8 smartphone. The smartphone offers flagship-tier hardware at an affordable price, and a $400 discount has made it even more affordable. Th...
Amazon is offering a handsome discount of $251 on the unlocked Pixel 4 XL smartphone(renewed). The price of the Google Pixel smartphone is now at $327.87(was at $580) at Amazon. So if you do...
Amazon Prime Day Deal 2021 is still going on, and that means you can still cash in on some attractive deals. Microsoft Arc Mouse, for example, is now available at a price point of $51.99(was...
Microsoft Surface Duo features an iconic super-thin design with dual screens designed for effortless multitasking and productivity. You can now get a massive discount on unlocked Surface Duo...
On MSFT 04 July, 2021 - 01:12pm
How-To Geek 04 July, 2021 - 01:12pm
By submitting your email, you agree to the Terms of Use and Privacy Policy.
Apple opened up FaceTime in iOS 15, iPadOS 15, and macOS 12 to be able to video call people on other platforms, including Android. That means you can finally use FaceTime on Windows—kinda. We'll show you how it works.
Unfortunately, Apple didn't release a FaceTime app for Windows. Instead, anyone with an iPhone, iPad, or Mac can create invite links that work with Google Chrome or Microsoft Edge on Windows. That means it's not possible to start a FaceTime call from Windows, but you can join one.
RELATED: How to Use FaceTime for Android
First, you'll need to make sure that you have Google Chrome or Microsoft Edge installed on your Windows PC.
Next, your friend or family member with an iPhone or iPad needs to open the FaceTime app and then tap the "Create Link" button found at the top of the screen.
They can then share the link with you however they want.
On Mac, as long as they're running macOS 12 Monterey or newer, they can find the "Create Link" button at the top of the FaceTime app.
Next, they can share the FaceTime link with you using any messaging platform.
Open the link in Google Chrome or Microsoft Edge on your Windows PC. Enter your name in the box and click "Continue."
From there, click "Join" from the floating toolbar found at the bottom of the screen.
The person on the other side of the FaceTime call will need to accept your request before you can join on their iPhone, iPad, or Mac.
Once you're in, you'll see options in the toolbar for typical video conference options, such as Full Screen, Mute Microphone, and Show/Hide Video.
That's pretty much it! This is simply a basic version of a FaceTime call running in your browser. When you're done, simply click the "Leave" button to hang up.
The quality of FaceTime on the web is really good considering that it's not a native app. It would be great if you could actually start a FaceTime call from Windows, but this is a good solution for the time being.
RELATED: How to Turn Off Fake Eye Contact in FaceTime on iPhone
The Best Free Tech Newsletter Anywhere
By submitting your email, you agree to the Terms of Use and Privacy Policy.